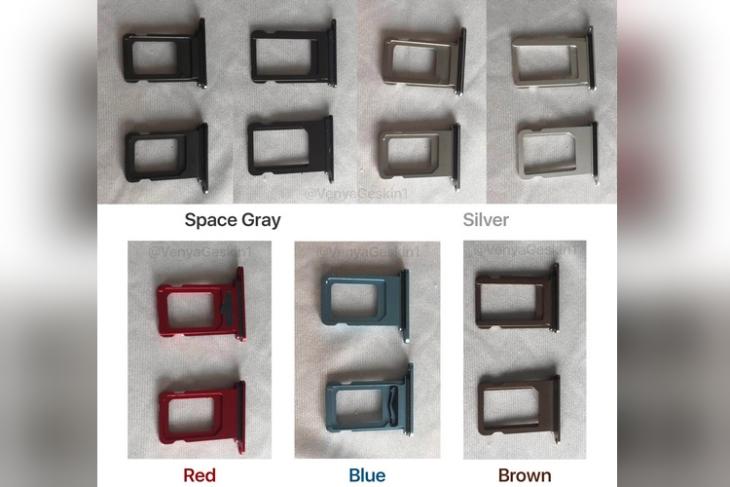 Apple is all set to announce the new line line-up of iPhones today, and this year, the company is expected to unveil three new iPhone models that will reportedly be called the iPhone XS, iPhone XS Max, and the iPhone XC.  Just a few days ago, dummy models of the iPhone XC were leaked which depicted the device in red, blue, gold, and white color options. Today, we have yet another leak which suggests the iPhone XC might not come in four, but five color options. 
Noted tipster, Ben Geskin, has tweeted an image which allegedly shows the SIM trays of the iPhone XC in five colors: space gray, silver, red, blue and brown. While we've seen renders of the device in red, blue and gold colors, the space grey, silver and brown hues are a new addition.
iPhone XR/XC (6.1-inch LCD) SIM Trays pic.twitter.com/i5IiYq3t0v

— Ben Geskin (@BenGeskin) September 11, 2018
As we all know, Apple anodizes the SIM tray of the iPhones with the same color as the rest of the body,  so the trays might very well tell us in what colors the iPhone XC will be available, provided they are the real deal. Another interesting tidbit of information revealed by Geskin is that the SIM trays will be reversible as they can accommodate one SIM card on either side, which is quite clever since the SIM trays shown in the image appear to be made only for a single SIM card.
iPhone Xc (6.1" LCD) clones/dummy models in new colors. pic.twitter.com/RybRhE7XSO

— Ben Geskin (@BenGeskin) September 6, 2018
But this is where the confusion begins. A couple of days ago, China Mobile published a teaser poster which revealed that the upcoming iPhone will come with dual-SIM capabilities, with the teaser poster showing the image of a SIM tray with two separate slots. On the other hand, the image shared by Geskin suggests that the SIM tray will be smaller and double-sided to accommodate two cards.
It is now clear that one of the leaks might be inaccurate, but one thing appears to be certain, and that is the presence of dual-SIM functionality on the iPhone XC. As for the device itself, it is expected to pack a 6.1-inch LCD display, unlike the higher end iPhone XS and the iPhone XS Max models that will feature an OLED panel. The iPhone XC is expected to be priced at $699, but as per a report, it will only be available in limited quantities at launch.