Reliance is planning to launch a preview of the much-hyped Jio Fiber broadband service in the coming weeks. Mumbai will be the first city to get the company's preview services, and it will come with a monthly cap of 100 GB of high-speed data. Users who are interested can register for the service, but they will have to pay a refundable security deposit of Rs 4500.
During the preview, the company will be offering speeds of up to 100 Mbps, with an FUP of 100 GB, after which the speeds will be throttled at 1 Mbps. That being said, it's hugely expected that Jio Fiber will be offering up to 1 Gbps internet speeds once the service is fully up and running, but we'll have to wait and see how that works out. As discussed earlier, customers in Mumbai will get the taste of the service first, but other cities are also expected to receive the preview in the following weeks.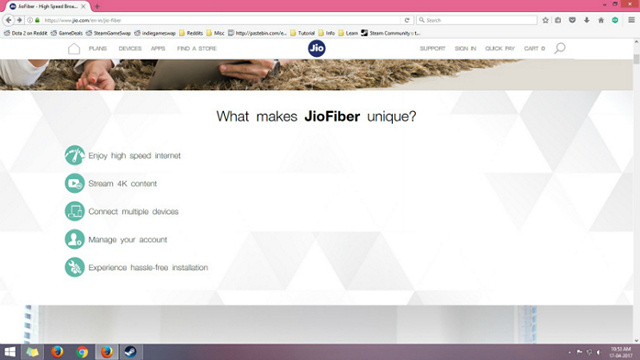 As far as authenticity of this report is concerned, nothing has been made official so far, but it's expected to be officially announced very soon. India Today has managed to grab screenshots of the Jio Fiber's official website, that's currently not visible to the general public.
Well, the hype for Jio Fiber is very clear. Similar to Jio 4G, the company has already indicated that their FTTH (Fiber-To-The-Home) service will be aiming "value for the customer". So, we can expect the final subscription charges to be more affordable compared to most of the competition. So, Mumbaikars, are you ready to avail the Jio Fiber Preview by paying a security deposit of Rs 4500? Do let us know in the comments section down below.