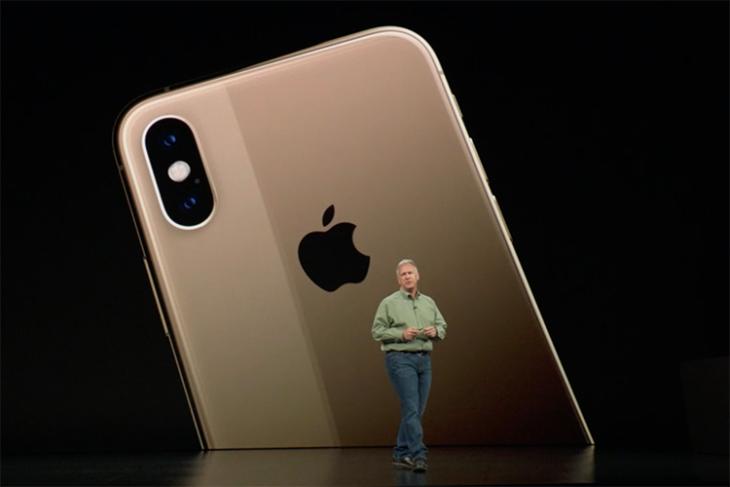 As Apple refreshed its iPhone lineup last week, Manu Jain who is Vice President, Xiaomi Global and Managing Director, Xiaomi India, tweeted: "Choose wisely — MI (Xiaomi) or EMI".
Jain reacted to a follower who mentioned that one has to shell out Rs 12,075 a month as zero-cost EMI for a period of one year to own the 512GB variant of iPhone XS Max that will come for a mind-boggling Rs 144,900 in India.
Apple this month announced two other new models. The iPhone XS with 512GB storage model will cost Rs 134,900 and the cheapest of the lot, the iPhone XR, has a starting price (64GB) of Rs 76,900 in India.
Choose wisely – MI or EMI 🤣

This is hilarious @iKunaal 😂😂 https://t.co/oejwWRiKJq

— Manu Kumar Jain (@manukumarjain) September 15, 2018
The message from the $1 trillion company is loud and clear: Come what may, either own a new iPhone with a higher price tag or adjust with older and discounted models.
Here is the truth: Apple shipped 63 million iPhone X's (now discontinued) till August this year. According to Counterpoint Research, iPhone X is on track to become the most successful revenue and profit-generating iPhone ever.
These 63 million-odd consumers are set to upgrade to new "luxury" iPhones so the global smartphone powerhouse is safe here.
India contributed to just one percent of the total iPhone X shipments till August. In 2017, Apple sold nearly 3.2 million iPhones in India and the company does not appear to be either in a panic or aggressive mode to change the status quo at the moment.
The company is also not in a mood to compete with Xiaomi or other Chinese brands but aims to keep its brand image and aspirational value intact, say experts.
"Apple remains a luxury brand and this has been their overall strategy for years. India is not in the list of top 10 global markets for them when it comes to new iPhone launches. The company has a strong loyal base globally who will buy its devices despite the hefty price tag," Jaipal Singh, Associate Research Manager, Client Devices, IDC India, told IANS.
"For the Indian market, Apple will never compete with Chinese brands by lowering prices of new iPhones," Singh added.
According to Tarun Pathak, Associate Director, Mobile Devices and Ecosystems at Counterpoint Research, hardcore Apple users would be willing to shell out the hefty price because owning a new Apple device is a status symbol for them.
"However, that section is still small. We believe that Apple strategy in India should be to sell more iPhones rather than new iPhones. Given the stickiness of the iOS ecosystem, these older iPhone users are likely to upgrade to iPhone only," Pathak told IANS.
This is exactly what Apple has done. The company has slashed prices of older iPhones for the Indian consumers who want to upgrade to iPhone 7, iPhone 8 and even iPhone X.
Apple has discontinued the "super premium" iPhone X that actually did quite well despite low sale predictions.
The Cupertino-based company has also bid goodbye to iPhone SE, its least expensive model which was being assembled in India and the iPhone 6s, marking the end of iPhones with headphone jacks.
According to Pathak, the fact is that aspirational user audience is more in number than hardcore iPhone users in India. So there can be uptick in Apple numbers driven by cheaper older generation iPhones.
Depending on the quarter, the older generation iPhones capture somewhat half to two-third of Apple's total sales in India.
"As custom duty continues to have impact on iPhone prices and making new iPhones is costlier, the price cut and subsequent promotions of older generation iPhones can increase iPhone sales in India. iPhone 7 can be the new iPhone 6 for Apple in the country," noted Pathak.
Since Apple does not manufacture or assemble its products in India, the price will always be on the higher side.
"What Apple can do for the Indian market is to open experiences centres, the way Samsung and OnePlus have done, to pull more Android users towards its ecosystem. A bigger retail presence will help Apple gain more share in the price-sensitive Indian market," Singh emphasized.
Apple is currently going through an overhaul under Michel Coulomb, the new head of the India operations who took over from Sanjay Kaul in December last year.
The iPhone maker is also seeking tax relief and other incentives from the government to begin assembling more handsets in the country and its proposal to set up a manufacturing unit is reportedly being evaluated.
According to Pathak, new iPhones can still be a good upgrade for users in India which have skipped the previous iPhone generations but the company will never lower the prices for new iPhones.
In a nutshell, CEO Tim Cook has clearly told India that Apple is the Ferrari in the world of smartphones and to own that exclusiveness, shell out extra as others are doing.