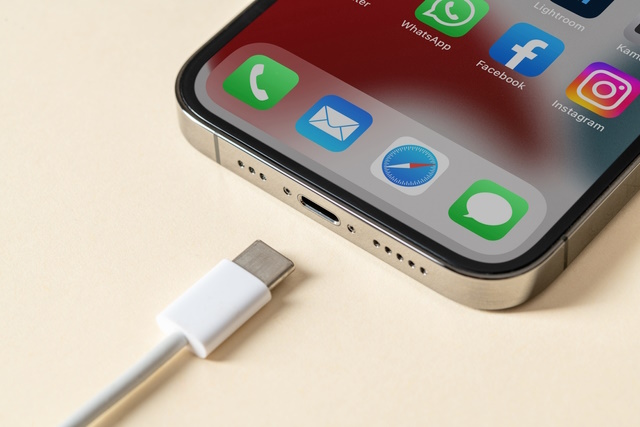 We have been hearing a lot about the iPhone 15 series getting a USB Type-C port to comply with EU law. It now feels like it's totally happening and to further corroborate this, we have new details regarding the iPhone 15's USB-C port, which could include a chip. Here's what this could mean.
iPhone 15 USB-C Could Support Thunderbolt
Tipster Majin Bu has showcased the components of the USB-C port of the iPhone 15 (via X) and the leaked images hint at the inclusion of a chip (probably a Retimer chip) with the model number 3LD3. There's no word on its functionality as of now but this could possibly be used for transmission encryption to enhance the security of data transfers.
There might be support for Thunderbolt too (as hinted by ChargeLAB), which could mean high-speed data transfer (up to 40Gbps). While this could also mean support for faster charging speeds, there are chances that this may be limited. Plus, this might be for the iPhone 15 Pro models and the iPhone 15 and the 15 Plus could go for a toned-down USB-C port, as rumored earlier.
For those who don't know, we got a hint of the iPhone 15's USB-C port having an IC a while ago and it was suggested that this could be limited to the MFI (Made for iPhone/iPad)-certified accessories, which might be a way for Apple to ensure that only its cables are used!
We are yet to get concrete details on this but from the looks of it, the USB Type-C port seems like a confirmed inclusion. We are also expected to see Dynamic Island for all iPhone 15 models, along with support for a 48MP main camera. Several design changes, performance upgrades, and more could see the light of the day with the new iPhone 15 series. You can check out our in-depth article about the iPhone 15 leaks for a better idea.
The iPhone 15 lineup is likely to launch on either September 12 or September 13, so, we are just a few days away from seeing how the new iPhones will turn out. We will surely keep you posted with official details. So, stay tuned. Also, are you excited about a USB-C-enabled iPhone? Let us know your thoughts on this in the comments section.
---