Intel ruled the high-end desktop processor market virtually all by itself for the better part of the past decade and a half, before its dominance was spectacularly halted earlier this year by AMD's announcement of its Ryzen lineup. However, the Santa Clara-based chipmaker is now well and truly pushing back at its critics and naysayers by announcing its highly-anticipated and much-rumored 8th-generation Core processor lineup among speculations of whether the company can reclaim the top spot on the podium in the mainstream market from AMD. While we're still waiting to get our hands on the latest silicon from Intel, let's pit them against the Ryzen lineup and see how they compare against one another:
What is Intel Coffee Lake?
Launched as the company's eighth-generation Core lineup, Coffee Lake is Intel's codename for the 14nm++ process refinement for its 'Kaby Lake' processor lineup, which itself the 14nm+ refresh for the 'Skylake' processors that were launched back in 2015 as an update for the Broadwell lineup. While the U-series 'Kaby Lake Refresh' eighth-generation laptop chips were launched just a few weeks ago, Intel took the wraps off of the desktop processors last Monday, revealing details about six different CPUs that will be officially launched on October 5th. All the chips come with two extra cores each when compared to their predecessors, with the top-of-the-line Core i7 chips boasting of 6 cores and 12 threads (thanks to hkyperthreading) instead of the 4 cores and 8 threads that the previous 7 generations of (mainstream) Core i7 chips shipped with. Meanwhile, the Core i5 and Core i3 chips have also picked up a couple extra cores each, and now come with 6 and 4 cores respectively. Keeping in line with previous-generation Core processors, neither have Hyperthreading unlike their i7 brethren.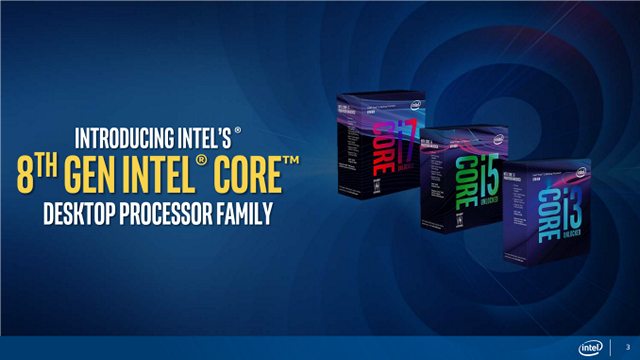 Intel Coffee lake: Socket and PCH Compatibility
While the Coffee Lake processors will use the same LGA 1151 socket that is currently being used by the Skylake and Kaby Lake lineups, they will not be compatible with the current 200 and 100-series motherboards. So in case you want to upgrade to a Coffee Lake system, you'll have to get yourself an all-new 300-series board to go with your brand new processor. Only the high-end Z370 chipset boards will be available initially, although, the more affordable B350 and H370 boards are expected to start appearing early next year. While Intel's official reasoning for the lack of backwards compatibility is the increased core count of its new processors (and hence, increased power draw), many experts have raised serious doubts over that chain of thought, suggesting instead that it might be a purely business decision more than anything else.
That assertion gets further credence from the fact that the all-new Z370 boards will also not be backwards compatible with older Skylake and Kaby lake processors, in spite of being perfectly capable of supporting those chips right out the box. However, if reports are to be believed, Intel is deliberately instructing its motherboard partners to block support for earlier CPUs on the 300-series boards through firmware. Some online reports seem to suggest that it's the BIOS post code 26 (GPU pass) that's proving to be a stumbling block for older processors on the latest boards. At least some seventh-gen Core processors seem to get through to post code 26 before getting halted, which means all passes before that, including memory and CPU, get validated just fine.
Intel Coffee Lake: Specifications
The latest lineup from Intel brings quite a few enhancements and the chart below will help you get a quick look at some of the key specs of each and every Coffee Lake chip announced this week.
CPU
i7-8700K
i7-8700
i5-8600
i5-8400
i3-8350K
i3-8100
Cores
/Threads
6 / 12
6 / 12
6 / 6
6 / 6
4 / 4
4 / 4
Base
Clock
3.7 GHz
3.2 GHz
3.6 GHz
2.8 GHz
4 GHz
3.6 GHz
Turbo
(All Cores)
4.3 GHz
4.3 GHz
4.1 GHz
3.8 GHz
N / A
N/A
Turbo
(Single)
4.7 GHz
4.6 GHz
4.3 GHz
4.0 GHz
N / A
N/A
L3
Cache
12 MB
12 MB
9 MB
9 MB
6 MB
6 MB
TDP
95 Watts
65 Watts
95 Watts
65 GHz
91 Watts
65 Watts
Intel Coffee Lake Vs AMD Ryzen
The table below showcases a quick comparison between some of the AMD Ryzen and Intel Coffee Lake chips. While Intel has only announced six CPUs as part of its latest lineup, AMD has already launched several models, with more to follow. However, we're only comparing the unlocked chips that we believe are comparable to each other both in terms of price as well as performance in an effort to better understand which ones represent better overall value for gamers and DIY enthusiasts.
CPU
Core i7-8700K
Ryzen 7 1700X
Core i5 8600K
Ryzen 5 1600X
Core i3 8350K
Ryzen 3 1300X
Cores / Threads
6 / 12
8 / 16
6 / 6
6 / 12
4 / 4
4 / 4
Base Clock
3.7 GHz
3.4 GHz
3.6 GHz
3.6 GHz
4.0 GHz
3.5 GHz
Turbo / XFR
4.3 GHz (All Cores)
4.7 GHz (Single Core)
3.8 GHz
3.9 GHz (XFR)
4.1 GHz (All Cores)
4.3 GHz (Single Core)
4.0 GHz
4.1 GHz (XFR)
N / A

3.7 GHz
3.9 GHz (XFR)
Integrated GPU
UHD Graphics 630 (GT2)
N / A
UHD Graphics 630 (GT2)
N / A
UHD Graphics 630 (GT2)
N / A
L3 Cache
12 MB
16 MB
9 MB
16MB
6 MB
8 MB
TDP
95 Watts
95 Watts
95 Watts
95 Watts
91 Watts
65 Watts
Socket (PCH)
LGA 1151 (300-Series)
AM4
LGA 1151 (300-Series)
AM4
LGA 1151 (300-Series)
AM4
Memory Support
DDR4-2666 MHz (Dual Channel)
DDR4-2666 MHz (Dual Channel)
DDR4-2666 MHz (Dual Channel)
DDR4-2666 MHz (Dual Channel)
DDR4-2666 MHz (Dual Channel)
DDR4-2666 MHz (Dual Channel)
Price
$359
$399
$257
$249
$168
$129
As can be seen in the table above, Ryzen chips typically come with more threads than their Intel counterparts at similar price-points, but the latter, more often than not, are clocked a bit higher, even if it is just by a few hundred MHz here or there. However, both these points are just technicalities that mean very little when taken in isolation because of how different the underlying architectures of these chips are. Although, with Intel's chips expected to retain their dominance in single-threaded benchmarks, the additional core count and higher frequencies will very likely make them a huge threat to AMD even in multi-core applications, such as 3D modelling and rendering, which is where the extra cores (and threads) really kick in.
Another interesting thing to note are the socket and chipset compatibility issues that have been dominating tech news cycles over the past few weeks, ever since Asrock jumped the gun and confirmed rumors about the lack of backward compatibility of the Coffee Lake chips with current 200 and 100-series motherboards in spite of having the LGA 1151 socket. In stark contrast, AMD has already announced that their AM4 socket (PGA 1331), which was launched last year with the Bristol Ridge APUs, will continue to remain compatible with all future AMD CPUs until 2020.
Intel Coffee Lake: Pricing and Availability
Intel's next generation (8th generation) Coffee Lake chipsets are set to launch on October 5th of this year. That is just a week or so away. Due to stiff competition from AMD Ryzen chipsets, Intel has competitively priced their new chipsets. The quad-core i3 processors will start at $139 while the top-of-the-line 6-core, 12-thread Core i7-8770K has been priced at $359.
SEE ALSO: Intel Core i9 vs AMD Ryzen Threadripper: Quick Comparison
Intel Coffee Lake: Finally Some Competition For Ryzen?
In a throwback to the early years of the 'personal computer' revolution when clock-speed was king, cores have become all the rage in recent times. With AMD starting to offer an insane number of cores in its Threadripper CPUs, how could Intel possibly have remained far behind? While we're yet to get our hands on the verified real-world benchmarks that would give us a better idea of how things will shape up going forward, most industry watchers, media commentators, and tech enthusiasts seem to believe that the new CPUs will bring Intel right back in the game after AMD stole their thunder earlier in the year with its Ryzen lineup. It remains to be seen how things develop going forward, but no matter what, PC enthusiasts will finally get some real choice after well over a decade, which is certainly a good thing.
So in case you're also looking to build yourself an all-new PC, do let us know which platform you're interested in and why. Is the lack of backwards compatibility a deal-breaker for you, or would it not matter because you're looking to build from the scratch anyways? Whatever be the case, do let us know, because we love hearing from you.
---
Load More