If you've been keeping track of the CPU market in the last few years, lack of competition from AMD has been a major problem. The company has always been considered as the inferior CPU manufacturer especially due to their completely outdated FX range of desktop processors, which were no match for Intel's Core i7 processors. Well, this year so far, the tides have turned to an extent, as AMD's Ryzen line-up of desktop processors have been giving a hard time to Intel's high-end processors, especially due to the price-to-performance ratio that AMD brings to the table.
Although Intel still has the performance crown with the i7-6950X processor, the company is not planning to rest on their laurels. Instead, they're going all guns blazing against their rivals with the new Intel Core i9 X-series processors. Well, AMD is not sitting back and watching either, as the company just unveiled their highest-end AMD Ryzen Threadripper line-up at Computex 2017. After years of waiting, consumers are finally excited that the processor war is all set to begin again, once they hit the stores. Well, if you want to have a brief look at what both the companies have to offer, let's pit the Intel Core i9 vs AMD Ryzen Threadripper to find out which is the ultimate processor:
Variants
Let's start with Intel here. The company's Intel Core i9 range comprises of four X-series processors namely, the i9-7900X, 7920X, 7940X, 7960X and 7980XE packing 10, 12, 14, 16 and 18 cores respectively. All the i9 X-series processors will make use of the latest X299 chipset. Yes, you read that right. Intel is naming all their processors having 10 or more cores, after the i9. That's a lot of 10+ core processors in just a year since the release of 6950X. Seriously Intel, where were you hiding all these enthusiast grade processors?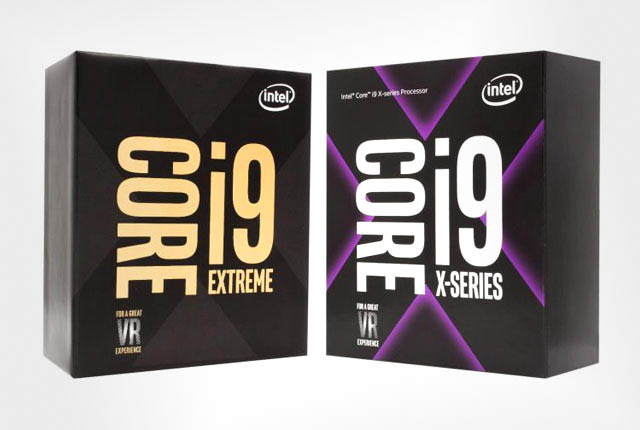 On the other hand, we have barely any details regarding the AMD Ryzen Threadripper, as the company only boasted about the specifications of the highest-end variant. However, we're sure that there will be multiple processors with fewer cores in the Ryzen Threadripper line-up. AMD will be making use of the X399 chipset for their upcoming range of enthusiast processors. That being said, the highest-end variant will pack 16 cores and 32 threads of computing performance that might give Intel a run for its money, if AMD can price it right.
Performance
It's pretty hard to predict the actual performance of a processor before its launch, due to the lack of real-world benchmarks. However, if we're to talk about what both the companies offer on paper, neither of them fails to overwhelm us.
Let's take a look at Intel's highest-end i9-7980XE, an extreme edition processor which we barely have any details on. This 18-core, 36-thread behemoth looks like it's going to outshine the 16-core, 32-threaded Threadripper on paper. It supports the 2066 pin LGA socket which requires the latest X299 chipset. Manufacturers have already announced some X299 motherboards, just in time for the processors' release.
All of the processors in Intel's line-up has support for Optane memory, which promises to give you SSD-like performance on your mechanical hard drive. Apart from this, the i9 also has support for Four-channel DDR4 memory and features an improved Intel Turbo boost max technology for better boost clocks.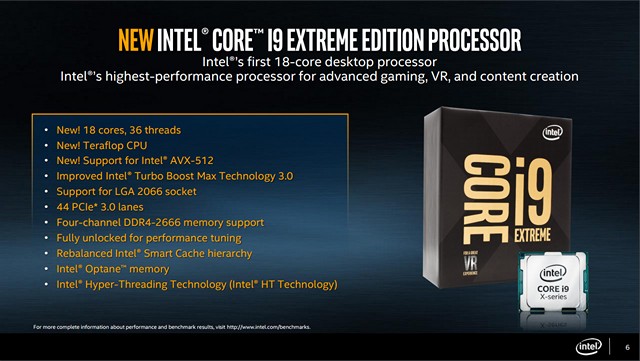 Now, Ryzen Threadripper on the other hand, features fewer cores than Intel's highest-end desktop processor. That's not to say that this 16-core, 32-threaded enthusiast class CPU is not inferior to Intel by any means, as we have not seen real world benchmarks, just yet. However, there's one department where AMD easily outshines Intel and that's the number of PCIe lanes. That's right, the Ryzen Threadripper will feature 64 lanes of PCIe 3.0. This is well above the 44 lanes offered by Intel on their highest-end i9-7980XE processor. More PCIe lanes essentially means more options for connecting multiple graphics cards, storage devices and several other components that can take advantage of it.
AMD has made it clear that, no matter which variant of the Threadripper you're opting for, you will be getting the same number of PCIe lanes and Quad channel DDR4 support, as the only thing that's going to change is the core/thread count. The company will take full advantage of the X399 platform for their upcoming processors. Manufacturers are all set to launch the X399 motherboards for the Threadripper line-up, this summer.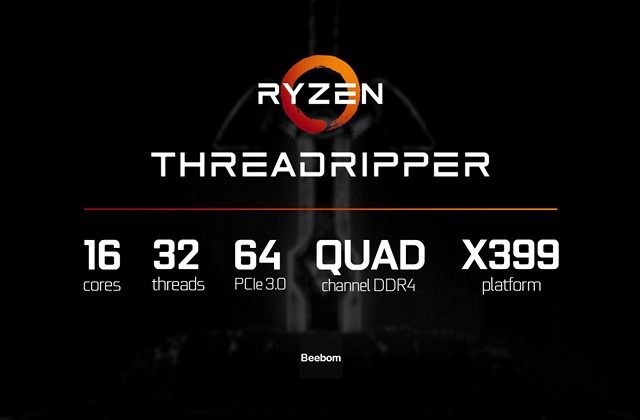 Overclocking Capabilities
Although Intel turbo boosts their processors to above 4 GHz depending on the scenario, people expect overclocking headroom, especially from an enthusiast CPU. All of the Intel Core i9 X-series are unlocked, so you can easily overclock it according to you desire, if you have the necessary components to keep the CPU temperatures down. These Intel processors offer AVX ratio controls and VccU voltage controls for better stability while overclocking. It's highly recommended to use high-end AIO liquid coolers like the Corsair H115i or the NZXT Kraken X62 if you're planning to push your CPU to its limits. You could also build a custom water cooling loop if you don't prefer using an AIO cooler.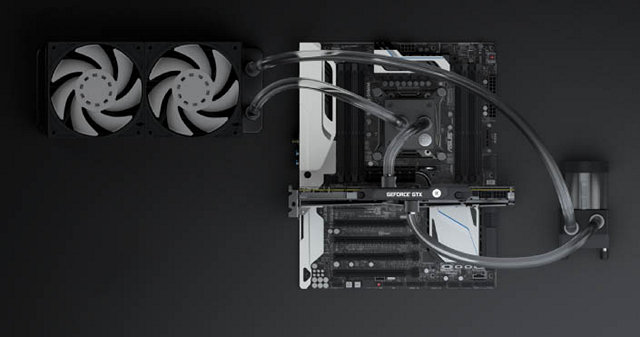 AMD Ryzen Threadripper, on the other hand, comes with unlocked multipliers as well, meaning you can overclock your enthusiast processors with ease depending on your headroom. Asus recently hinted at a possible 5 GHz overclock on the Threadripper CPU using the company's ROG Zenith Extreme X399 Motherboard, so we can expect the Threadrippers to pack some impressive overclocking capabilities. Now that's a good comeback by AMD, after they got panned due to poor overclocking potential on the Ryzen 7 processors which released earlier this year. However, AMD processors including Ryzen have been known to run hot, so if you don't have a high end cooling solution to keep the temperatures down, it's highly recommended that you stay away from heavily overclocking your CPU.
Pricing and Availability
Thankfully, this time around, Intel did give out all the details regarding the pricing and availability of their upcoming enthusiast processor line-up. The 10-core i9-7900X is expected to be available "in the coming weeks" for a price tag of $999. The 12-core i9-7920 will arrive this August for an asking price of $1199. The higher-end variants which includes the i9-7940X, 7960X and 7980XE don't even have an official release date yet, but their prices have been set to $1399, $1699 and a whopping $1999 respectively. The prices may seem pretty insane at first, but if you turn the clock back to 2016 and take a look at the $1723 asking price for their i7 6950X, this might not seem that bad, at all.
AMD on the other hand, have been mum on the pricing so far. That's actually a good thing though, as it looks like the company has been waiting on the i9 line-up's pricing, so that they could compete against Intel in terms of price-to-performance ratio. As far as availability is concerned, the Ryzen Threadripper is all set to launch this summer, so you can expect these processors to hit the shelves along with Radeon Vega, by the end of August. It looks like we might have to wait longer, for more official details.
Intel Core i9-7980XE vs Ryzen Threadripper: Quick Specs Comparison
| Processor | Intel Core i9-7980XE | AMD Ryzen Threadripper (Highest-end variant) |
| --- | --- | --- |
| Cores | 18 | 16 |
| Threads | 36 | 32 |
| Lithography | 14 nm | 14 nm |
| PCIe Lanes | 44 | 64 |
| L3 Cache | 24.75 MB | 32 MB |
| Memory | Quad Channel DDR4 - 2666 MHz | Quad Channel DDR4 |
| Base Clock | TBC | TBC |
| Boost Clock | TBC | TBC |
| Unlocked Multiplier | Yes | Yes |
| Intel Optane Support | Yes | No |
| Pricing | $1,999 | TBC |
| Availability | Late 2017 | Summer 2017 |
SEE ALSO: PCIe vs SATA: Which SSD Interface You Should Choose?
Core i9 vs Ryzen Threadripper: The Best Year For CPU Upgrades
Well, after years of no competition, we're all set to witness the long-awaited processor battle between Intel and AMD, who're the top dogs in the industry. Both of these companies will be aiming for the majority of the market share, by competing in terms of value to the consumer. Looking at how we've jumped from 10-core desktop processors to 18-core processors in just a year, it certainly looks like 2017 is the best year for CPU upgrades. So, are you planning to upgrade to a higher-end CPU with much more cores? Make sure you let us know, by simply dropping a few words in the comments section down below.