Huawei's Mate 10 Pro may be one of the most advanced phones on the market, but the company has resorted to one of the oldest plays in the book to drive up the hype around the flagship.
The Chinese electronics giant allegedly persuaded fans to add over 100 dummy reviews for the Mate 10 Pro on US retailer Best Buy to drive up its rating. The reviews, which were written by Huawei fans who were competing to get a chance to become a "beta tester" of the phone, drove the rating of the phone to 4.9 stars.
As 9to5Google reports, a Huawei private Facebook group post asked some of its 60,000-plus members to post why they want to buy a Mate 10 Pro. They urged fans to post it on the Best Buy listing. At the time of the report, 105 out of 108 total reviews were favourable to the Mate 10 Pro after Huawei's Facebook post on January 31st.
What's most curious is that the reviews came from fans who had never used the device, and some fans actually did manage to win a Mate 10 Pro for their opinion on Best Buy, fake as it may be. Even though it's clear that the fans had not used the phones, Huawei claims they had the expertise to review them.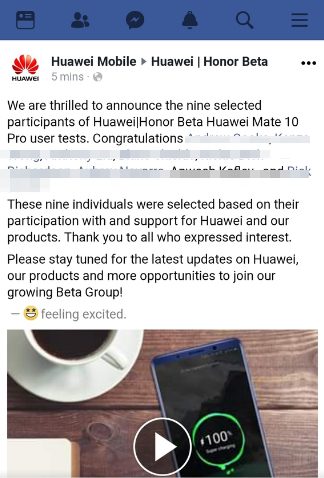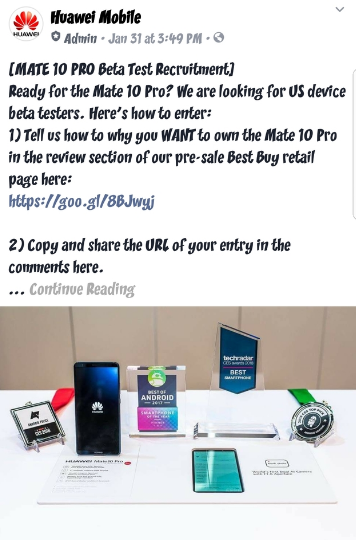 In response to the allegations, Huawei told Android Authority that it had created a campaign to the effect, even though it didn't fully admit to rewarding users for fake reviews. "Huawei's first priority is always the consumer and we encourage our customers to share their experiences with our devices in their own voice and through authentic conversation. We believe there is confusion around a recent social media post reaching out to recruit new beta testers. While there are reviews from beta testers with extensive knowledge of the product, they were in no way given monetary benefits for providing their honest opinions of the product. However, we are working to remove posts by beta testers where it isn't disclosed they participated in the review program."
As the Mate 10 Pro is not available with any carriers in the US, Huawei has to resort to retailers and online stores to sell the unlocked variant. A big astroturfing scandal is the last thing the company would have wanted, coming as close as it does to the market trust issue which was brought up by Huawei at CES 2018.