Google rolled out the new Android P Beta today at Google I/O, and boy is it feature-loaded. While the gesture navigation steals the limelight, another great feature introduced is the addition of Google Lens to Google Assistant. The Google Lens which was earlier available via the Google Photos app, allows the user to scan an image and make searches based on Google's analysis of the image. With Android P, Google has updated Google Lens, allowing the user to easily select text from any text that it scans, for searching online or simply copying to the clipboard. So, would you like to know how to do this? Well then, read on, as we show you how to use text selection in Google Lens on Android P:
Use Text Selection in Google Lens on Android P
Note: I tested the following method on my Google Pixel 2 XL running Android P beta 1. The method should remain the same for all other devices running Android P beta.
1. First off, launch Google Assistant by holding down the home button. Then, tap on the Google Lens icon in the bottom-right.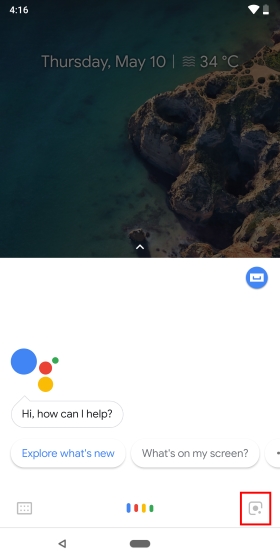 2. Now, point the camera at the text you want Google Lens to capture, and tap on the screen. Google Lens will now automatically scan and highlight the text in the image it captured.
3. And that's it. Simply tap on the highlighted text of your choice, and you will get options to either "Search" for it, or "Copy" the text to the clipboard.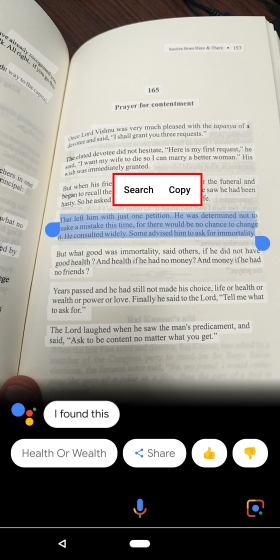 SEE ALSO: How to Use Apps in Split Screen on Android P
Copy Text from Images using Google Lens on Android P
Well, that's pretty much it. Google Lens is definitely a great feature, that using Google's advanced searching capabilities, does make day-to-day smartphone usage easier. Personally, I love using the ability on my Android P device. Using Google Lens is pretty useful, and with the ability to easily select text, it is all the more powerful now. But what about you? How do you intend to use the new text selection feature in Google Lens? Let us know in the comments down below.