Video game fan creations are always a sight to behold. Be it something as simple as fan art or something complicated like a mod, everyone appreciates them, and even the developers look forward to them. So, when you have a game as large as Starfield launching, you can expect various creations from the fans, with one of them being a build planner. In line with this, a Reddit user has made a Starfield build planner that lets you create your ideal character while playing the game. So, if you are planning to play Starfield in early access or want a headstart for the official launch, learn how to use this Starfield Build Planner.
Starfield Build Planner: What is It?
As the name suggests, the Starfield build planner is a fan-made planner for the latest sci-fi RPG by Bethesda Game Studios. Given that the game lets the players choose from around 16 backgrounds and multiple traits and skills, it can be confusing to make the correct picks while building your character. Moreover, every user might have a different build, leading to a different gameplay experience. While the game is a few days out, you might want to prepare beforehand.
That is why Nukes and Planners, a website specializing in creating build planners, has prepared one for Starfield. They have made build planners for various titles, including Skyrim and Fallout 4, two previous Bethesda titles.
In the character build planner for the game, users can choose their preferred traits, backgrounds, and skills accordingly. Based on the data, users can see how well their build performs when completed, tweak it as required, and then use it in-game. The planner is intuitive, follows the Nasapunk aesthetics of Starfield, and is an overall great way to experiment without wasting skill points in-game.
How to Use the Starfield Build Planner
Using the build planner is a simple process and requires only a few steps, so let's not waste any time and get into it. Here's what you need to do: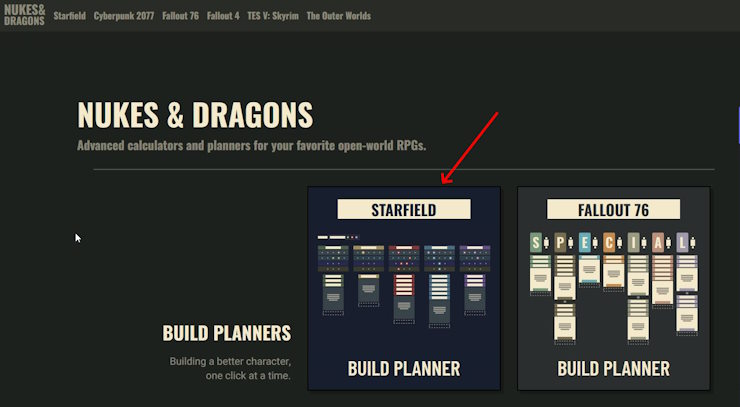 Open the Starfield build planner, and the first thing that you need to do is select a background. This determines your player character's background and makes them great at select skills. Furthermore, you start with some skills by default when you choose the background.
Then, select from one of the many Starfield traits for your character. This gives you some performance buffs, such as increased health, oxygen levels, a house, religion, and more.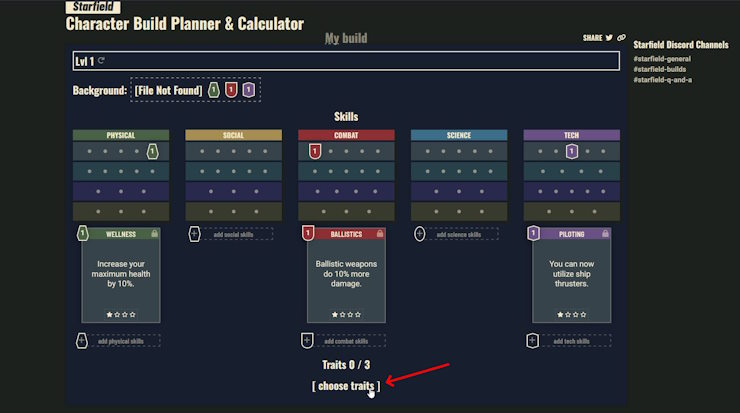 Then, start allocating points according to each of your desired skills. Each skill has four tiers, allowing you to allocate more points and experimenting with it.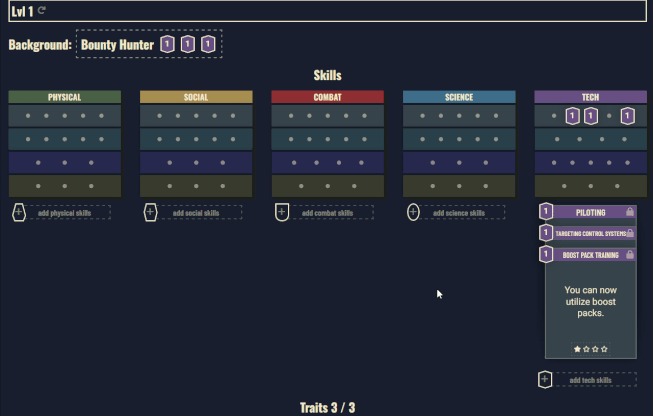 And that is how you use the Starfield build planner. Remember that the website creators are still updating the skills tree based on the game release, but we expect it to be perfect on launch day. Furthermore, you cannot import your build from the planner into the game. Since this is a third-party planner, it does not support with capability. Additionally, Starfield does not have the option to import custom builds. But, if you want, you can share your custom builds with friends or people online.