Ever wanted to use a single app with different accounts? Well, we feel you and while apps like Twitter, Gmail, Instagram etc. allow users to login their multiple accounts and switch with ease, most other apps don't. Having the ability to use multiple accounts especially matters when it comes to messaging apps like WhatsApp. Most of us tend to use a separate work & home mobile number and we would love the ability to separate our WhatsApp accounts as well. Moreover, some people love using different accounts for their games. The good news is, there's an Android app dubbed Parallel Space, which lets you login to multiple accounts and use a single app in two iterations separately.
Along with the ability to run multiple iterations of an app, Parallel Space also lets you install apps in incognito mode, which means those apps won't be available anywhere in the UI but in the Parallel Space app. Sounds interesting, right? Let's dive in!
How to use Parallel Space to run multiple iterations of an app
1. Firstly, install the Parallel Space app from the Play Store. After you've installed the app, open it and you'll be presented with cool slides letting you know about the usefulness of the app. Tap on "Start".
2. You will then see the "Clone apps" page in the app open up, where you can choose the app you want to run or clone in Parallel Space. Almost all the apps that you have on your device are supported. For instance, select WhatsApp. You will then see that WhatsApp has been added to the home page of Parallel Space along with a message saying "Tap to open WhatsApp and sign in your second account".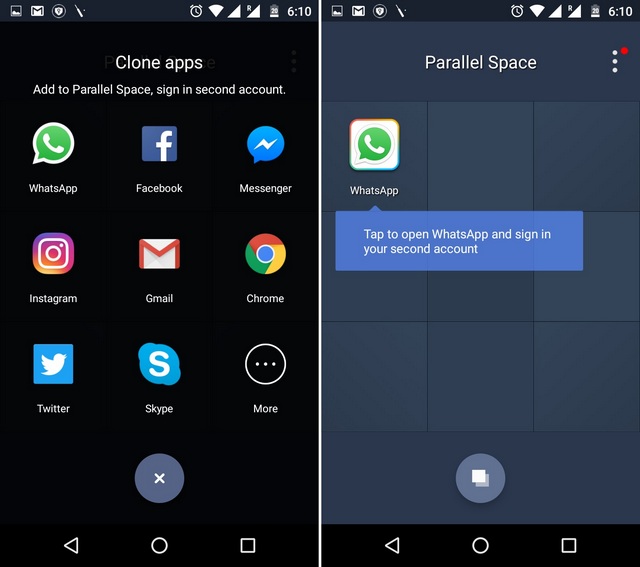 3. Then, open the app and you should be able to sign into a second WhatsApp account with ease. You can then add more apps easily and run multiple accounts on almost any app or game.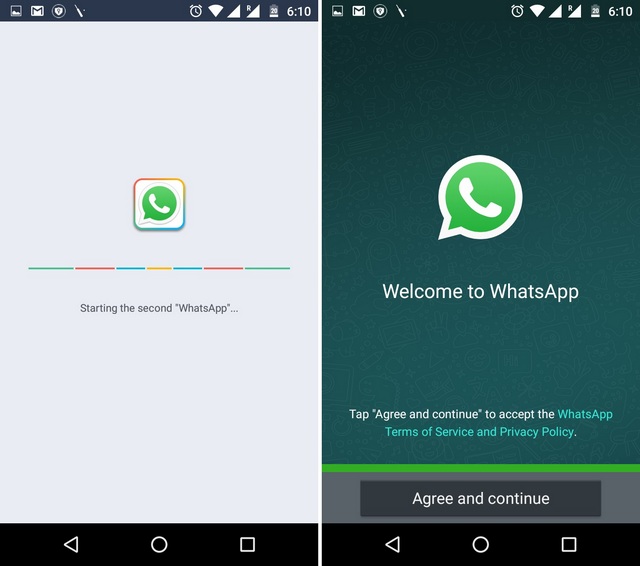 Parallel Space not only lets you run multiple iterations of an app but also brings separate notifications of the cloned apps. Along with app notifications, the app also brings notifications from Play Services and Play Store. There's also an option to block notifications from apps or just put them into a "Do not Disturb" mode.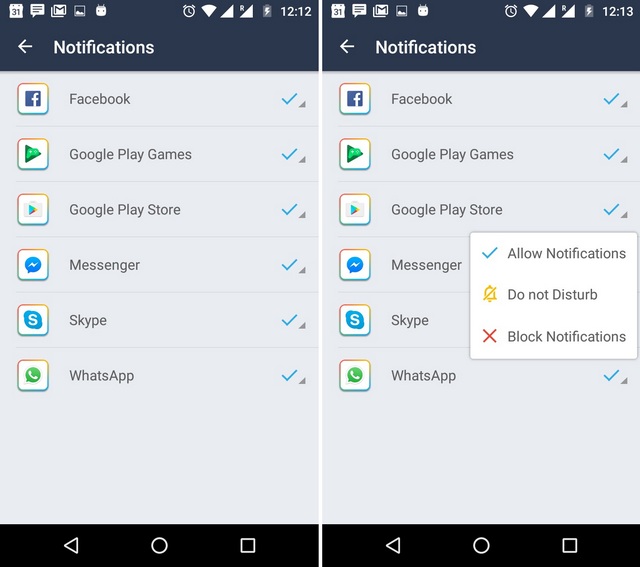 Also, you can add cloned apps to the homescreen, so you'll have both your first and second iterations of an app available on the go.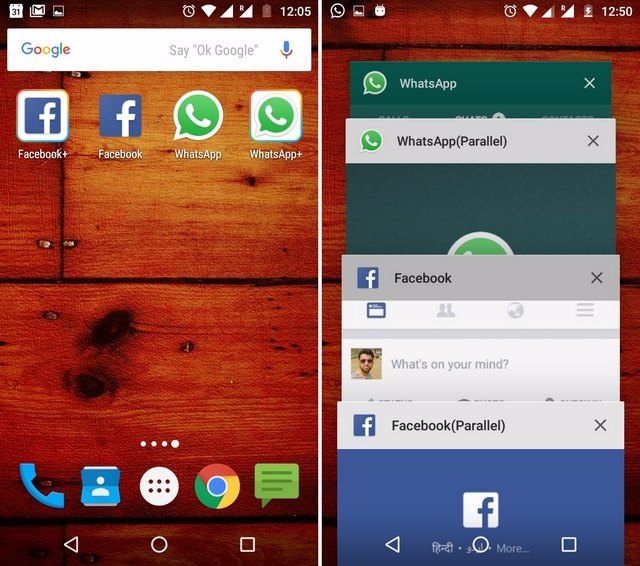 Note: You can only add a single clone of the apps installed on your device, which means you can only use two accounts of an app. 
Since Parallel Space is powered by MultiDroid, claimed to be the first app virtualization system in Android and thus, it runs as its own entity in Android. Along with cloning apps, the app also brings a few other noteworthy additional features:
Other Parallel Space Features to Note
Incognito App Installation
Want to use an app but don't want anyone checking your phone to know about it? You can use the "Incognito installation" feature from Parallel Space. The feature lets you install and access apps into Parallel Space, so these apps will never listed in the Android homescreen or app drawer or even the App Settings page.
To install an app in Parallel Space, just hit the second floating icon the main page, search for the app you want and hit the install button in the Play Store. After the app is downloaded and installed, you will have to uninstall the app from Android, which will make sure it only remains in Parallel Space.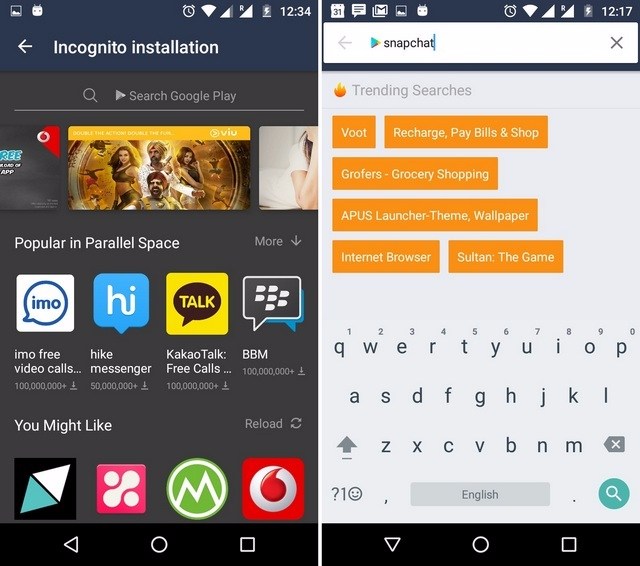 Parallel Space includes the option to lock it through a pattern password, which is fairly important, considering you don't want anyone else to know about your dual social media accounts or incognito apps. To set up a pattern password for the app, just the hit three-dot menu button in the main page of the app and go to "Password".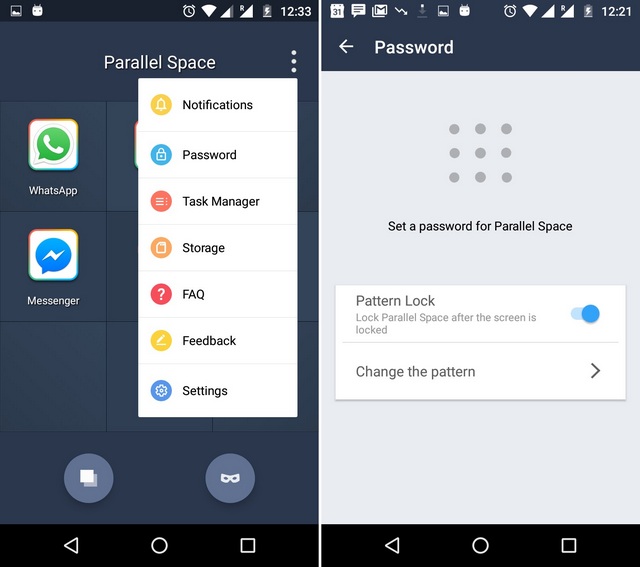 Since the cloned apps and incognito installed apps run inside Parallel Space, it's great that the app includes a Task Manager and Storage manager. The Task Manager feature lets you check the apps that are running and taking up space in the device's RAM. You can also stop one of these apps to free up RAM. The Storage option lets you check the amount of memory the apps inside Parallel Space are taking.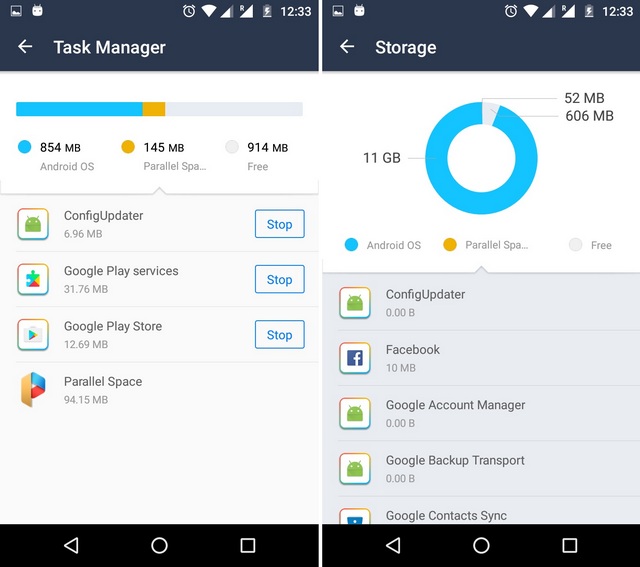 SEE ALSO: How to Hide Apps on Android Devices
For those who prefer videos over text, here is our video tutorial on how to use two Snapchat accounts on Android:-
Clone and hide apps with Parallel Space
Using multiple social media accounts or gaming accounts is certainly very easy now and all the credit goes to Parallel Space. After you have used the app, we are pretty sure you'll be impressed. Since the app is available for free, it does bring app recommendations but with its functionality, we have no qualms against it. So, try out Parallel Space to run multiple WhatsApp, Snapchat, Facebook accounts and more. Also, hide apps from prying apps with Parallel Space. Don't forget to let us know your experience in the comments section below.