When I encounter a persistent issue that I can't seem to fix with usual solutions, the one thing I never fail to try out is factory resetting my iPhone. Credit where credit's due, I must say it helped solve the problem for me more often than not. Now, with the release of iOS 15, Apple has slightly tweaked the process to reset all settings on iPhone and iPad. Considering how essential this feature is for users, here's a quick hands-on guide that would be helpful for those who are new to the ecosystem as well as for those who have just upgraded to the latest iteration of iOS. If that's you, let's find out how to reset all settings in iOS 15 or factory reset your iPhone and iPad!
How to Factory Reset iPhone on iOS 15 (2021)
So, what happens when you factory reset your iPhone or iPad? And more importantly, does it wipe out the entire data from your iOS 15 / iPadOS 15 device? Well, when you factory reset your iOS device, all the existing settings are removed. However, all of your media and data remain safe. So, there is no need to worry about anything. If you don't mind customizing all the settings from scratch, you would be fine with this approach. With that said, check out the steps to reset the settings in iOS 15:
To get going, launch the Settings app on your iPhone or iPad.
2. Then, choose General.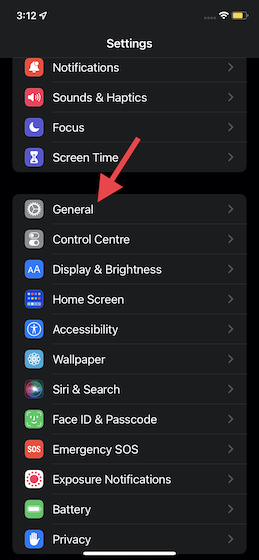 3. Next, scroll down to the bottom and select Transfer or Reset iPhone. This is the change we were talking about above. The 'Reset All Settings' option has been moved to 'Transfer or Reset iPhone' section instead of simply the 'Rese
4. Next up, tap Reset at the bottom of the screen and choose Reset All Settings from the menu that appears.
5. Up next, you will be prompted to enter your device passcode. Once you have entered the passcode, a menu will show up from the bottom, saying – "This will reset all settings. No data or media will be deleted." Tap Reset All Settings again to confirm.
And that's it. Your iPhone or iPad will now restart, and all your settings will be reset. This method comes in handy when fixing Bluetooth or Wi-Fi issues on iPhone. You can also take this route if your AirTag is not working or you are facing no sound issues on iPhone 12.
Factory Reset Your iPhone or iPad without Losing Any Data
That's all there is to it! So that's how you can reset all settings on your iOS 15 / iPadOS 15 devices without losing any data. As I said above, it's a pretty reliable solution for fixing common iOS issues. If you ever happen to run into any problems that don't seem to get resolved by basic tips and tricks, do not forget to give this a try. That said, do you have any questions regarding the iPhone settings reset process? If so, feel free to let me know in the comments section below.