Android smartphones have suffered from numerous malware attacks in the past. The latest addition to this malware problem is "Judy", which has reportedly affected over 36 million Android devices till now. Judy is a malware that was found in almost 50 apps present in the Play Store. It contains a code which redirects the infected devices to targeted websites to generate fraudulent ad clicks. At the time of writing this article, Google has removed the affected apps from the Play Store. However, in wake of recent WannaCry ransomware attack on Windows and now Judy's attack on Android, users are paying more attention to security than ever before. Android as an OS is pretty secure itself, however, the misuse of the openness of the platform results in devices being infected by malware. If we as users are informed and use our devices judiciously, we can minimise our chances of being attacked by a malware. To make things easier, we have created a list of things you should do to protect your Android device against Malware:
1. Install Apps from Trusted Sources Only
One of the biggest reasons Android suffers from malware attacks is that users, for various reasons, download apps from untrusted sources. Whatever your reasoning might be behind this, if you want to keep your device secure, stop it immediately. It is very easy for attackers to include malware inside the cracked APK file of an app.
As a rule of thumb, remember to install apps from Google Play Store only. Even if there's an app you need which is not available on Play Store, first try to find its alternative. The Play Store has over 2.8 million verified apps, the probability of not finding a suitable alternative is pretty slim. If you have to download an app outside the Play Store, be sure to do your due diligence and download apps from verified and trusted sources only.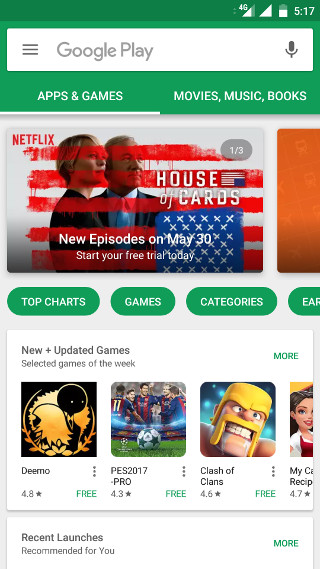 To stop accidental installation of apps from untrusted sources, manage its permission in the settings menu. Head over to Settings menu and tap on Security. Find the option which allows installation of apps from unknown sources and disable it.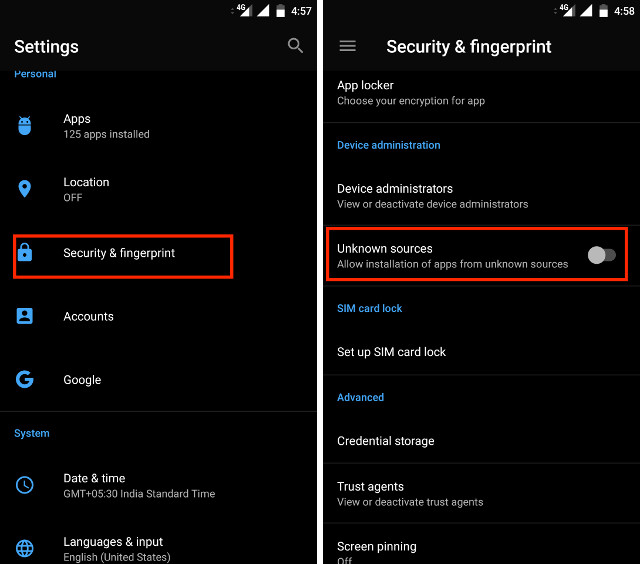 Read App Description and User Reviews
At the Google I/O event 2017, Google showed that to keep the Android platform secure, it scans more than a million apps daily including the apps available on its Play Store and the ones installed on user's devices. However, some apps still manage to filter their way out of Google's screening process. The latest example being the apps which contained the "Judy malware". For this reason, you need to be a little careful even if you are installing from the Play Store. Keep away from lesser known apps and the apps which have a lot of negative reviews. Also, if you are trying a new app, go through its description to make sure they are from verified developers.
Know your App Permissions
Since the launch of Android Marshmallow (6.0), Google allows us to see and manage the permission required by apps which run on our devices. The permissions include access to our device's hardware such as camera, sensors, and storage among others. While some apps require these permissions to function properly, it is not the case with all of them.
For example, a simple text editor app does not need to access your camera. When you are installing a new app, look for the permissions it is asking and grant only those which are really required by the app. To manage the permissions for the installed apps go to Settings>Apps>App permissions to manage them.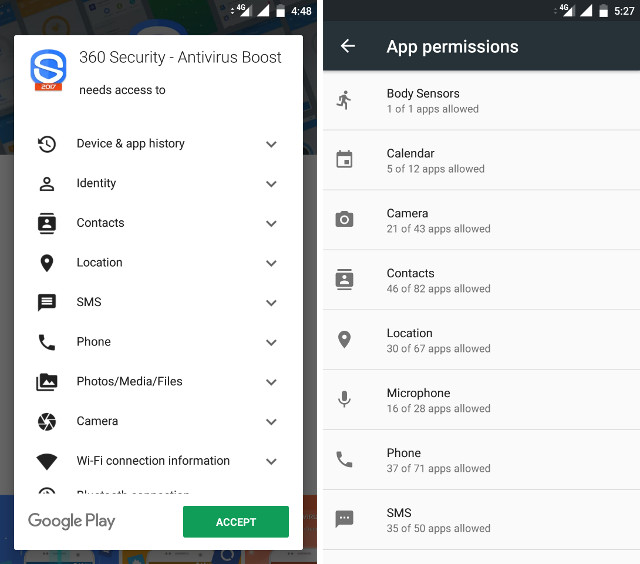 2. Do Not Use Pirated Apps or Files
Piracy is unethical and illegal. However, we are not here to discuss its legitimacy but we do want to inform you that pirated apps and files come with their own associated risks. As mentioned earlier, it is very easy to include malware in cracked APK of an app. The same stays true for any pirated files like audios, pdfs and videos. If you are downloading pirated apps or files, it is only a matter of time when your device will get infected. So, it is in your best interest to keep away from them.
3. Do Not Access Private/Sensitive Data on Public WiFi
Public WiFi networks enable us to browse the internet and remain connected on the go without eating up our mobile data. But, while using a public WiFi connection, you should keep in mind the fact that it is nowhere as safe as your home/office WiFi. It is very easy to access your browsing data while you are on a public WiFi network. Hence, never access your private/sensitive content on a public WiFi network. So, next time you are in Starbucks, refrain from checking your bank account there.
4. Stay Away From Suspicious Links
This one seems like a no-brainer yet many people fall for it. Do not be a tap friendly user and open any link you can get your thumb on. Malicious links can redirect you to websites containing malware and viruses. Only open those links which originate from a verified source. Even if a friend texts you a link, ask before opening it, as some malware can automatically send messages or emails from an infected device.
5. Keep Your Phone Updated
Google launches monthly security patches for its Android platform and although your device's update status depends upon the OEM you are using, be sure to install all the updates and security patches you get on your Android device as soon as it is available. The security patches close the security loopholes Google discovers over time. If you do not update immediately then your device will be at a risk of getting infected.
6. Install Third-party Anti-virus and Anti-malware Apps
If you follow all the above steps, you do not necessarily need a third-party anti-virus app. However, there is no such thing as total security and if you want an extra pair of eyes to bolster the defense of your device, you can install third-party anti-virus or anti-malware apps. There are many good third-party anti-virus apps out there and you might need to look into their specific features to decide which one is the best for you.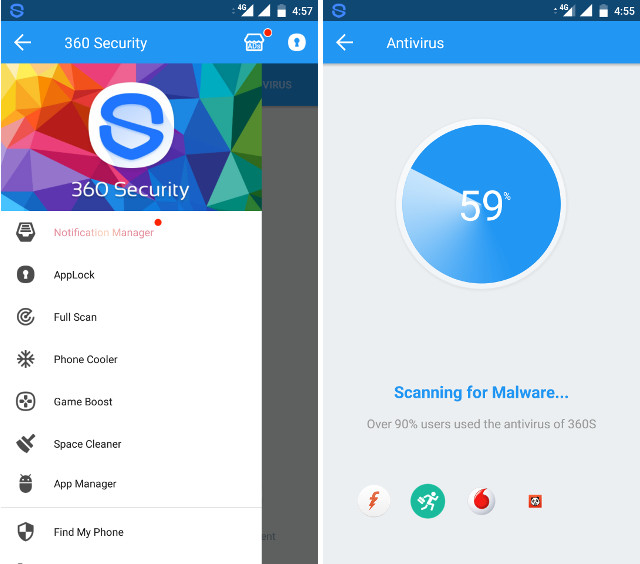 360 Security – Antivirus Boost is one of the best ones available on Play Store right now. It is totally free and comes with a lot of handy features. Apart from providing real-time protection, it can also scan your device and installed apps for any malware or virus. It also has an inbuilt junk cleaner and app lock, along with anti-theft features which let you erase your data remotely if you happen to lose your device. All in all, it is a good app and should fulfill most of your needs when it comes to an antivirus software.
SEE ALSO: How to Protect Your PC From WannaCry Ransomware
Learn to Protect Your Android Device from Malware
You might have noticed that most of the steps involve you being vigilant about your usage pattern. It is because Android is really secure from a malware's point of view, until you give it an opening. Your common sense can go a long way in protecting your device from being infected. Think before you download an app or open a link which is not from a trusted source. In any case, nothing can be totally secure, hence try to keep a backup of your data.
If you keep the points mentioned in this article in your mind, you can drastically reduce your chances of getting infected by a malware. We hope this article will help you in keeping your Android device safer. Do mention in the comments if there is something you would want to add to this list.
---
Load More