As announced earlier this year, Apple has rolled out Spatial Audio and Lossless Audio support to Apple Music subscribers. The Cupertino giant is kicking things off with over 20 million lossless tracks, with the ambition to feature a library of 75 million lossless tracks by the end of 2021. However, the best part has to be that you get Lossless Audio support at no extra charge over your existing Apple Music subscription. So if you are eager to experience high-fidelity audio on your Apple device, here's how to play lossless audio in Apple Music on iPhone and iPad.
How to Stream Lossless Audio in Apple Music (2021)
For those uninitiated, Lossless Audio is a file format that compresses the original song without any loss of quality. With the help of advanced compression algorithms, ALAC (Apple Lossless Audio Codec) preserves all the attributes, including depth and texture, to ensure the originality of the music remains intact. That means you will hear music the way it was intended to be heard by the artist. With that out of the way, let's dive in!
What Do You Need to Stream Apple Music Hi-Res Lossless Audio?
Before diving straight into the step-by-step process, it would be better to check off the basic requirements.
First things first, ensure that your device is compatible to stream lossless audio. Apple Lossless Audio requires iOS 14.6, iPadOS 14.6, macOS 11.4, and tvOS 14.6 and later. Android users need to be running Apple Music version 3.6.0 to enjoy a lossless audio experience.
Apple offers two types of Lossless Audio tiers – standard CD-quality and Hi-Res lossless audio. While the standard CD-quality lossless audio is 16-bit/ 44.1kHz and tops out at 24-bit/ 48 kHz, the Hi-Res lossless tier goes all the way up to 24-bit/ 192 kHz.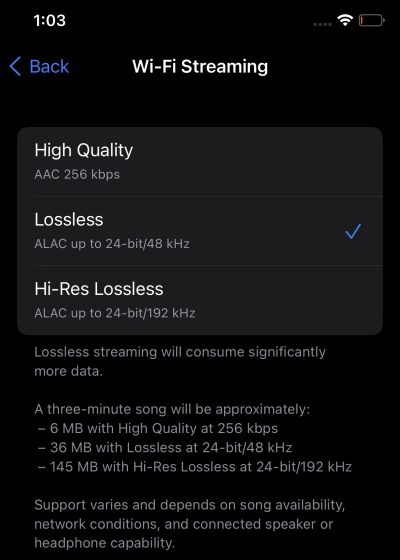 The iPhone comes with a built-in DAC that supports 24-bit/ 48kHz and allows you to use Lightning headphones. Besides, the 3.5mm headphone jack on the Mac also has support for 24-bit/ 48kHz audio. It's worth pointing out that Apple's 3.5mm Lightning headphone adapter comes with its own DAC that supports 24-bit/ 48kHz.
As a result, Apple's popular 3.5mm Lightning headphone adapter can work with high-end wired headphones. Bear in mind that Apple's Lightning to 3.5 mm audio cable for AirPods Max doesn't support Lossless streaming. Apple Lossless Audio streaming requires wired headphones or speakers. You can check out the best audiophile headphones for a Hi-Fi listening experience via the linked article.
Do note that you will also require additional hardware like a digital-to-analog converter (DAC). It should be capable of handling 24-bit audio up to 192kHz to stream High-Res Lossless Audio on Apple Music.
AirPods and HomePod Don't Support Apple Lossless Audio
Ironically, none of Apple's headphones/ earphones, including AirPods, AirPods Pro, and AirPods Max, have Lossless Audio support. The story isn't any different for HomePod and HomePod mini either. The limitations of Bluetooth, analog-to-digital conversion, and the Apple Lossless Audio Codec have held Apple's headphones back. Though HomePod uses AirPlay to connect to devices, they are incapable of taking advantage of Apple Music's higher bitrate.
Unfortunately, there is no clarity regarding when Apple will add the ALAC support to its headphones. As Bluetooth 5.0 supports higher bitrates, it shouldn't be a huge deal for the Cupertino giant to make its popular headphones compatible with the lossless audio.
Enable Apple Music Hi-Res Lossless Audio on iPhone and iPad
To get started with Hi-Res lossless audio streaming, you will first need to enable it on a compatible iPhone or iPad. To do that, follow the steps below:
1. Launch the Settings app on your iPhone or iPad. Then, scroll down and move to the "Music" settings.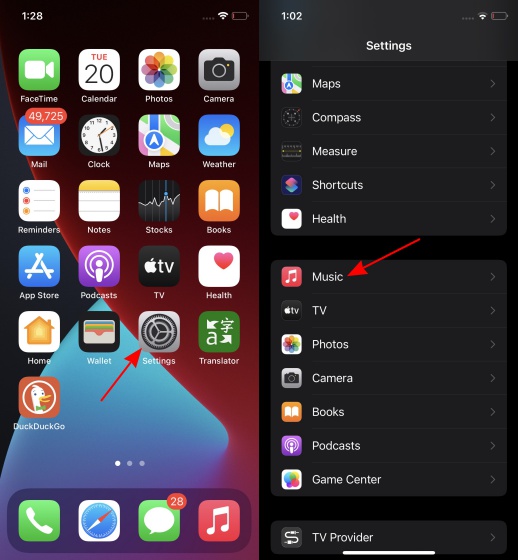 2. Here, select "Audio Quality" and enable the "Lossless Audio" toggle at the top.
3. Next up, you will get the option to choose between Lossless and Hi-Res Lossless for Wi-Fi and Mobile Data streaming. Now, choose Hi-Res Lossless to listen to high-quality music (ALAC up to 24-bit/192kHz).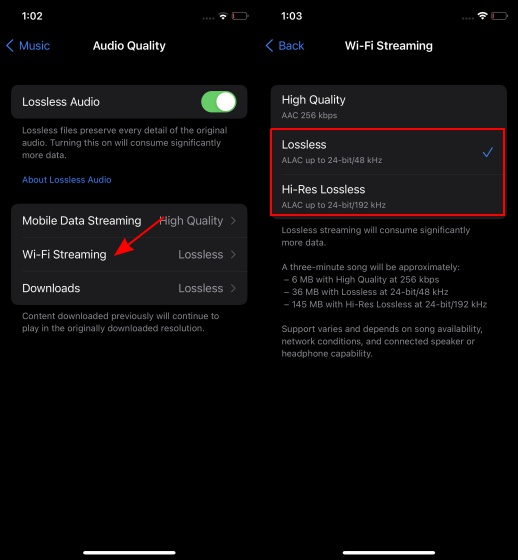 4. That's it. Now head to the Apple Music app. You will see the "Lossless", "Apple Digital Master" tags under many albums and tracks. Tap play and enjoy a Hi-Res lossless audio experience in Apple Music.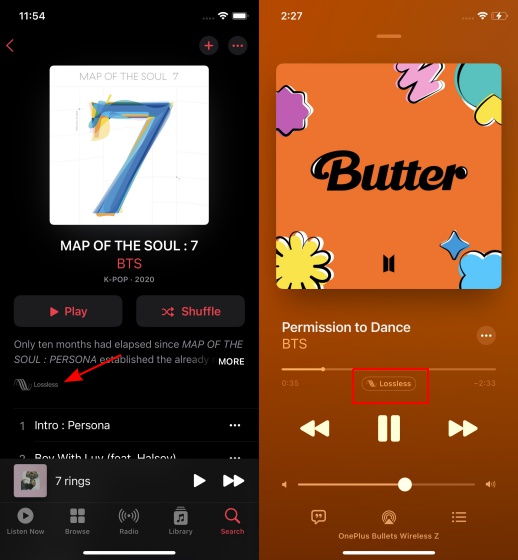 Moreover, you can also head into the Settings on your Apple TV and Mac to customize the lossless audio listening experience on the respective device.
Best Digital-to-Analog Converters (DACs) for Apple Music Lossless Audio
As mentioned above, you will need a capable digital-to-analog converter (DAC) to listen to lossless audio in Apple Music on your iPhone or iPad. If you are hunting for one, check out these notable picks.
1. Chord Mojo
If you are looking for an all-in-one digital-to-analog converter to stream lossless audio in Apple Music, Chord Mojo could be the perfect pick. This DAC features a lightweight and compact design. Thus, you can comfortably carry it even in a tiny pocket.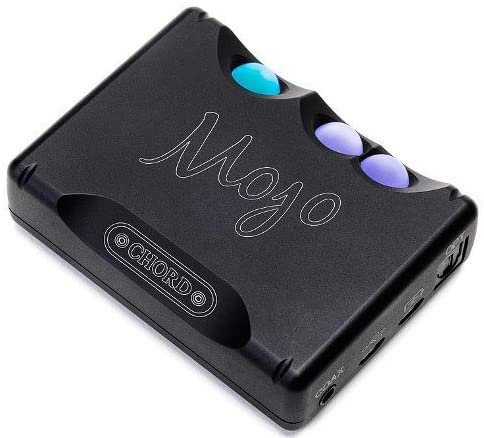 Chord Mojo is designed to work with iPhone, Android, PC, and Mac so that you can stream music without having to deal with incompatibility issues. The headphone amplifier supports numerous audio file formats and is well-known for delivering clear audio. It comes with a built-in battery that can run up to 8-10 hours on a single charge. Even though Chord Mojo is quite expensive at $700, it has all the features to live up to the high price tag.
Buy from Amazon: $699
2. AudioQuest Dragonfly Cobalt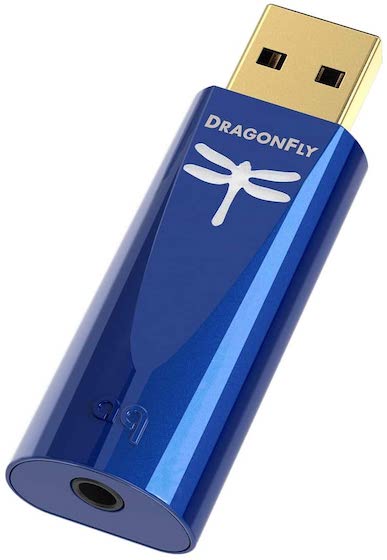 Sporting a neat form factor, AudioQuest Dragonfly Cobalt is a capable digital-to-analog converter. The Dragonfly Cobalt includes an ESS ES9038Q2M DAC chip and can play all music files from MP3 to Hi-Res audio (up to 24-bit / 96kHz). Plus, you can use it with both iPhone and Android devices. As for sound quality, it's up to the mark thanks to the minimum phase slow roll-off filter that enables it to deliver crystal clear audio.
Overall, Dragonfly Cobalt is one of the best digital to analog converters you can buy to stream Lossless Audio in Apple Music on your iPhone.
Buy from Amazon: $299
3. XtremPro
Should you wish to get a relatively cheap yet efficient USB DAC to stream Hi-Fi audio (up to 24-bit/ 96kHz) on your iPhone, XtremPro sounds like a great pick. Apart from being affordable as compared to most digital to analog converters, it has support for all types of music files. Even in terms of sound quality, it can give tough competition to its pricey counterparts.
Buy from Amazon: $32.99
Note:  Bear in mind that you will also need an efficient USB adapter that you can use with a digital to analog converter. If you want to get a reliable one, I recommend you to check out Apple Lightning to USB camera adapter to play lossless audio in Apple Music.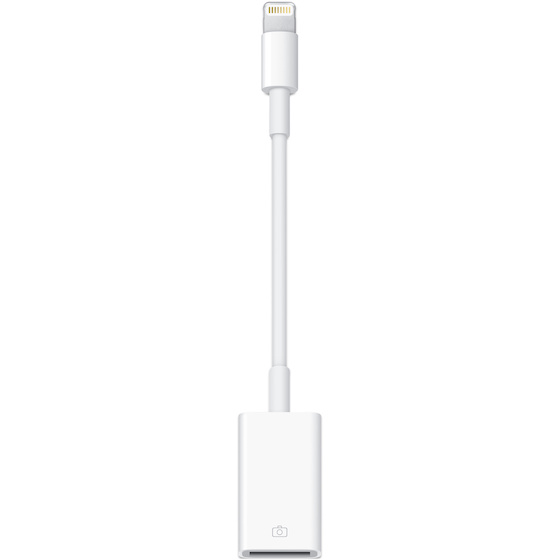 Buy Apple Lightning to USB camera adapter: $24
Is Apple Music the Only Service That Supports Lossless Audio?
No. There are a few other streaming services that support lossless audio, including Amazon Music HD, Tidal, and Qoboz. Spotify has also teased Hi-Fi streaming for its platform earlier this year but is yet to rollout lossless audio support for all users. So if you aren't a fan of Apple Music, you can surely try other music streaming services for a lossless audio experience.
However, do keep in mind that Apple doesn't charge any additional fee for streaming lossless or Hi-Res audio, unlike some other music streaming services. Amazon Music followed in Apple's footsteps shortly after, making its "HD" lossless tier available at no extra charge to existing subscribers.
Use Apple Music to Stream Lossless Audio on iPhone and iPad
That's pretty much it! So, that's how you can play lossless audio in Apple Music on your iPhone or iPad. While the arrival of lossless audio fares well for Apple Music, the lack of AirPods and HomePod support has kind of dampened the excitement for many. Hopefully, the Cupertino giant will launch audio products that support lossless audio streaming sooner rather than later. Anyway, what's your take on lossless audio? Do you think it will offer Apple Music a competitive edge over rivals like Spotify and YouTube Music? Be sure to share your thoughts with us in the comments section below.
---
Load More