Apple's Screen Time comes with many parental control features to help keep track of your device usage and also block access to things like apps, cameras, and even set communication limits. Another equally helpful parental control feature is the ability to limit adult content on iPhone and iPad. Before handing over the iPhone to your kid, you should take advantage of this feature to shield your child against offensive content. Whether you want to safeguard your child against adult content or wish to keep any explicit stuff away from your iOS 14 device, this guide is what you need to get started.
How to Restrict Adult Content on iPhone and iPad
Screen Times offers comprehensive tools for content restrictions on iOS. So, depending on your needs, you can block access to not only shady websites but also ward off explicit books, movies, and TV shows. Not just that, you can even stop Siri from using explicit language. So, if you often see your little kid triggering the virtual assistant, make sure to filter Siri's language.
What if you wish to allow only a handful of kid-friendly websites on your iOS device so that your child can continue to enjoy learning? Well, there is a way to limit adult content as well as enable access to trusted sites for a more personalized experience. That said, let me walk you through the steps to limit adult content on iPhone and iPad:
Launch the Settings app on your iPhone or iPad.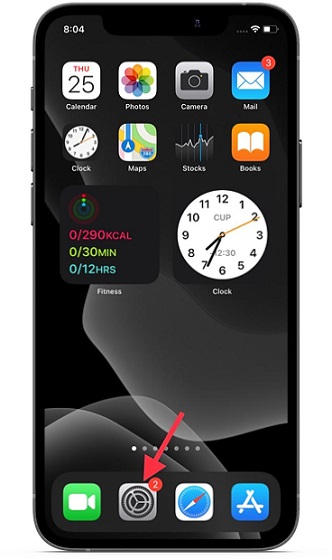 2. Now, tap on Screen Time.
3. Next, tap on Content & Privacy Restrictions.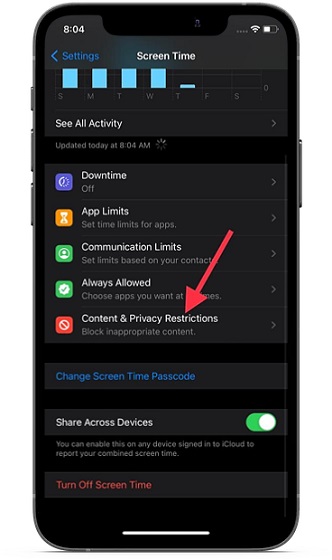 4. Next up, ensure that the 'Content & Privacy Restrictions' toggle is turned on.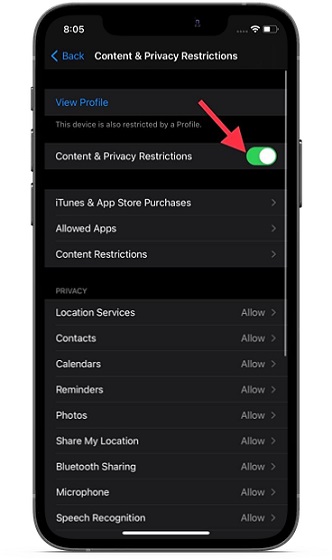 5. Up next, tap on Content Restrictions.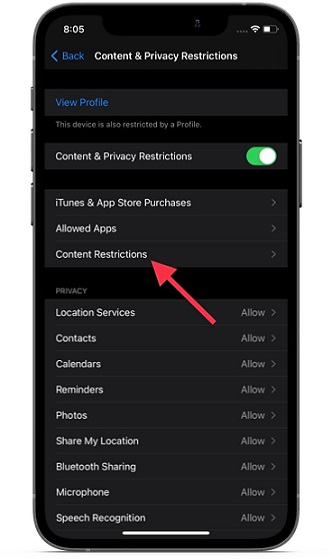 6. Now, enter your Screen Time passcode. If you have forgotten your Screen Time passcode, here are the steps to reset it.
7. Next, locate the 'Web Content' option and tap on it.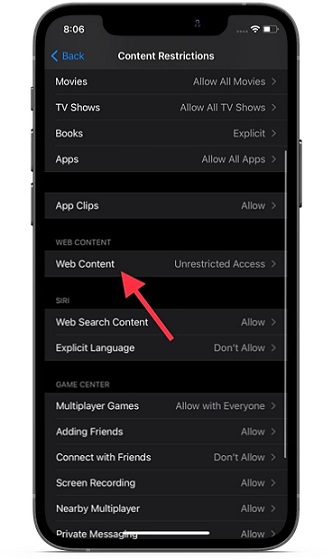 8. Here, you will have three options to choose from: Unrestricted Access, Limit Adult Websites, and Allowed Websites Only.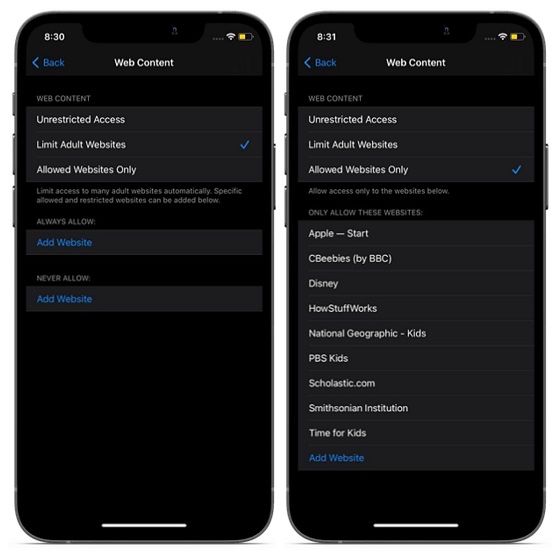 Unrestricted Access: Allow access to adult content on your iPhone or iPad without any restriction (it's the default option). 
Limit Adult Websites: Limit access to adult content. When you choose it, you get the option to allow kid-friendly websites and block access to some suspicious websites. You can edit the Always Allow and Never Allow sections as per your liking. 
Allowed websites only: Allow access to only trusted websites. When you select it, you will see some kids-friendly websites under the "Only Allow These Websites" section. You also have the option to add some more trusted websites to the list.
I would recommend you to go with the 'Allowed websites only' option to better safeguard your kids' online browsing experience. It will only let the kids access select websites. You can expand the allowed websites list at any time. If you select the 'Limit Adult Websites' option, we suggest you also limit websites like Twitter, Reddit, Tumblr, Mastodon, Sharesome, and others that are known to host adult content.
If you wish to further restrict adult content, go to the 'Allowed Store Content' section under Content Restrictions. After that, tap on Music, Podcasts, News & Workouts and choose 'Clean' to disallow Explicit content.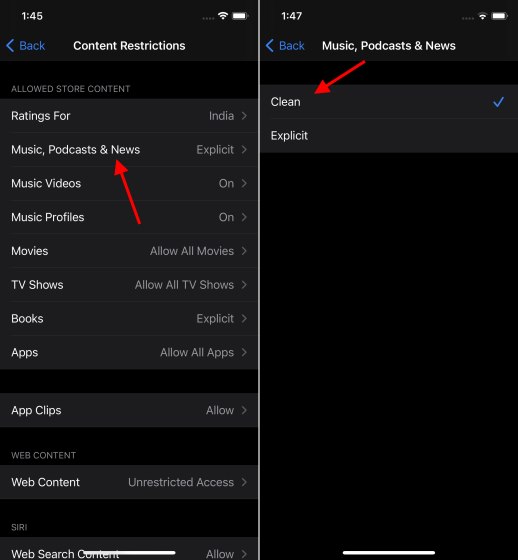 Next, tap on Movies/TV Shows/Apps/Books and choose the preferred option to keep explicit content at bay. The steps look the same as above.
Under the Siri section, tap on Explicit Language and then choose 'Don't Allow' to prevent the personal assistant from using bad language.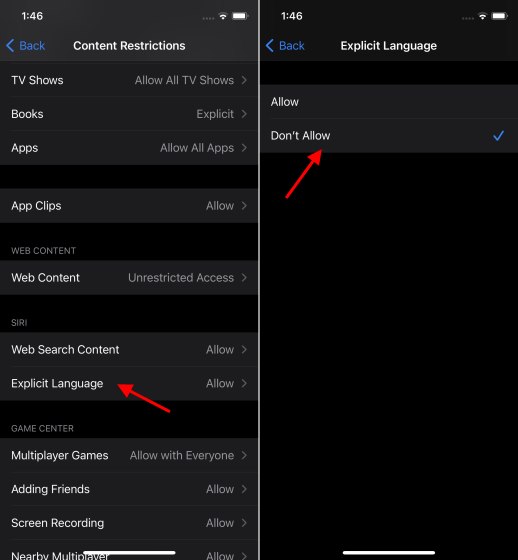 Restrict Explicit Content on iPhone and iPad with Ease
That's pretty much it! Now that you know how to keep adult content away from your iOS and iPadOS devices, make the most of this parental control feature to safeguard your kids. Also, don't forget to prevent Siri from using explicit language on your device. Make sure to limit more websites that you think may host adult content and be accessible on your kid's iPhone or iPad.
What do you think of Screen Time, and what more improvements would you like to see in this helpful feature? Be sure to offer up your views in the comments section below.