Google announced the Android P Beta on stage today at Google I/O and the next flavor of the company's mobile OS is looking absolutely stunning. The new Android P Developer Preview 2 has been made available for plenty of devices apart from Google's Pixel lineup, and brings along a ton of features. With Android P, Google has also brought on an update for the Pixel Launcher, which is the default launcher for all Pixel devices. Now I know many of you would be intrigued to try out the new Pixel Launcher from Android P on your Android devices. If so, read on, as we show you how to get Android P Pixel Launcher on your Android device.
In order to get the new Pixel Launcher for Android P Beta, simply download the .APK file from here, and install it just like a normal APK file. I tried the method on my OnePlus 5T running Android Oreo 8.1, and boy, does the Pixel Launcher look great. Here are some screenshots of the new Pixel Launcher in action: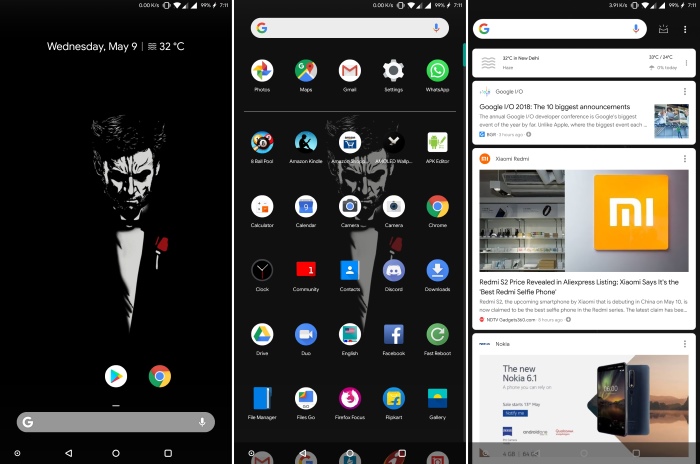 Truth be told, there aren't a ton of differences in the new Android P Pixel Launcher and the one that has been available for users otherwise. Most of it are just a few visual tweaks. For instance, earlier, when you had to enter the Launcher Settings, holding the screen would present you with a set of options at the bottom. However, in the new Pixel Launcher, the list of Launcher Settings are shown in a new dialog box, as shown below:
Overall, the new Pixel Launcher feels fresh and snappy. I would further like to point that in order to use the launcher to change your launcher's wallpaper, you need to install the Google Wallpapers app (free), without which the app won't work. Additionally, do note that the following launcher only works on devices running Android Oreo or above (8.0+).
So, did you try out the new Pixel Launcher from Android P Beta? Let us know your thoughts about it in the comments down below.
---
Load More