Everyone loves a discount when buying stuff online. Whether it's on grocery items, electronic gadgets, or household things, every bit of discount helps. You can also get great deals on apps you use everyday for Mac and PC. Every day developers put their apps on sale through software deals sites, app bundles, or through the App Store. But App Store doesn't help you find these deals and it's not possible to go and visit each developer website.
Although you may get a deal on apps on Facebook or Twitter, there are websites out there wherein you can track large number of apps going on sale. In this article, we'll show you some of the best app deals sites and how to track the price of apps you have your eye on:
1. MacUpdate
MacUpdate is a software download website. The site updates daily, lists all the newest app updates (free or paid) for macOS. Although the website is free to use without any signup, you get lots of benefits if you signup. It offers services such as email notifications, wish lists like Amazon, email newsletters, rating system to review apps, and discount on apps through MacUpdate Promo.
When you visit the website, you'll notice an image slider featuring popular apps, bundles, and apps trending right now. On the sidebar, you'll see a section "On promo right now…", where you can see the list of all the apps running on sale.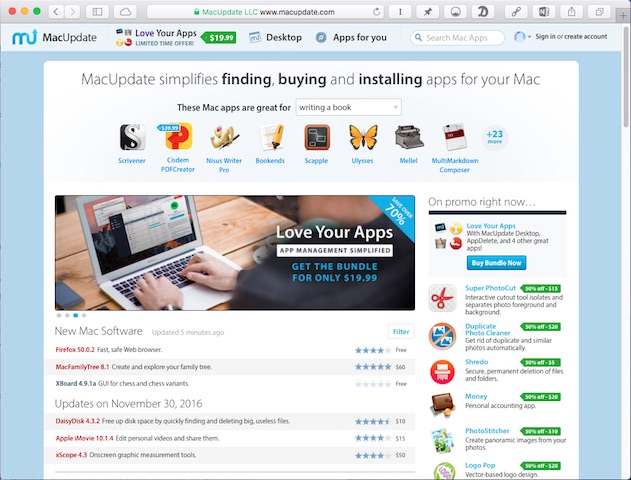 MacUpdate Promo offers a different Mac app at an exclusive discount for a short period of time, six days a week. If you decide to buy the app through MacUpdate Promo, then it will keep in track of license keys and alert you when updates are available. A few times every year, they also offerbundles of apps with discount ranging from 50%–90%. You can subscribe to MacUpdate through:
2. StackSocial
Unlike MacUpdate, StackSocial doesn't feature just Mac apps. You'll notice a broad selection of electronic gears and gadgets, online courses, design resources, and subscription web services arranged in different categories. The discounts vary wildly—ranging from 30% or more, or may range from 10–15%.
When you visit the website, go to "Categories > Software" and you'll see all the apps and web services, which are on sale right now. StackSocial arranges those deals in different ways— Newest sales, Best Sellers, Pay What You Want, Bundles, and deals which are expiring soon. Every year, they also feature bundles of great Mac apps  a few times.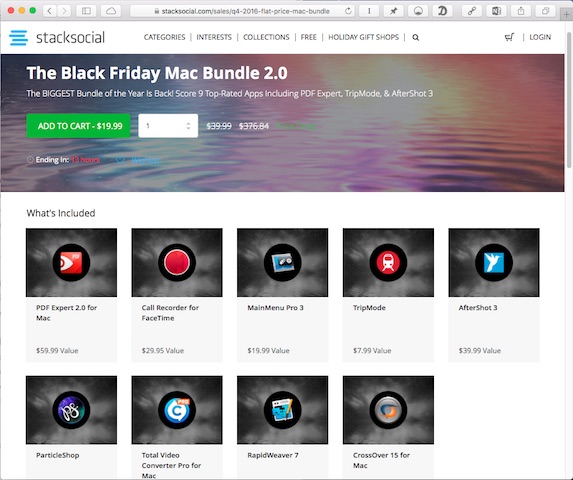 The best feature of StackSocial is the "Name Your Own Price" bundle. In this, the apps are available for any price, but to unlock all the apps, you need to name a price higher than the average price. For instance – If the average price is ten dollars, you need to pay eleven dollars to unlock all the apps. A portion of the money is also given to the causes—when you buy the bundle you get to pick one from the list of available charities. You can subscribe to StackSocial through:
3. BitsDuJour
BitsDuJour is an all-in-one deals website to give exclusive discounts to PC and Mac apps. BitsDuJour uses coupon code system and you have to paste the code and buy it directly from the developer's website. The promotions typically lasts for 24 hours, although it may extend for an additional day.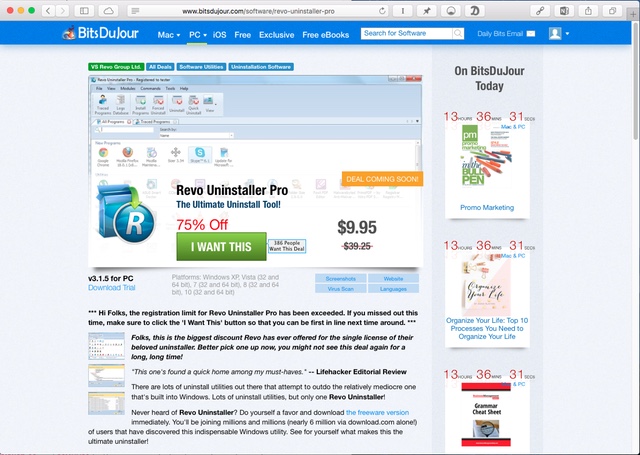 The website is intuitive and details every aspect of the app (app description, screenshots, developer website, support of additional languages, and more). The best feature of BitsDuJour is the community involvement. You can ask the developer for any doubts related to the app. You can also vote for the apps you want for a discount, upcoming app discounts, fine print related with the deal, and more. The deal they feature may or may not be useful to you, but occasionally you can pick up some great apps for your PC at a discounted price. You can subscribe to BitsDuJour through
4. Two Dollar Tuesday
Two Dollar Tuesday aims to help you discover great Mac App Store apps at significant discounts. As the name suggests, every Tuesday they feature a couple or more apps for two dollars or at a discount ranging from 50–90%. The apps they list are normally available in the Mac App Store.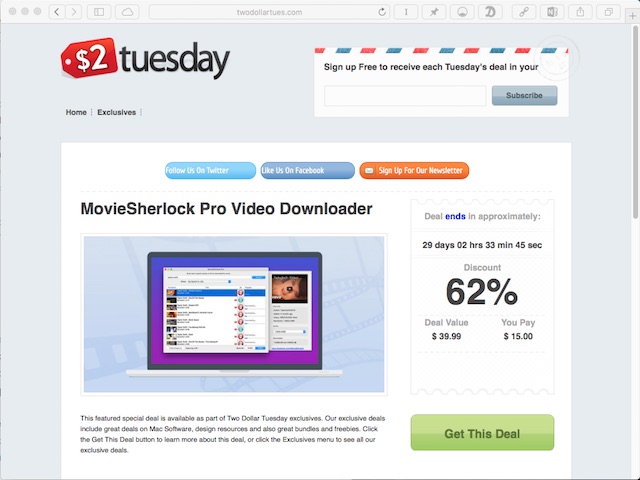 The deal they feature may or may not be useful to you, but occasionally you can pick up some great apps for a discount. You can subscribe to Two Dollar Tuesday through:
5. BundleHunt
BundleHunt is a one-stop daily deals site for design resources, Mac apps, online courses, creative professionals and bloggers. The bundle consists of large number of apps, out of which you have to select only a few of them at a fixed price. The app selection is not good, you may find only a handful of useful apps, but this is a bargain to get good apps for a cheap price.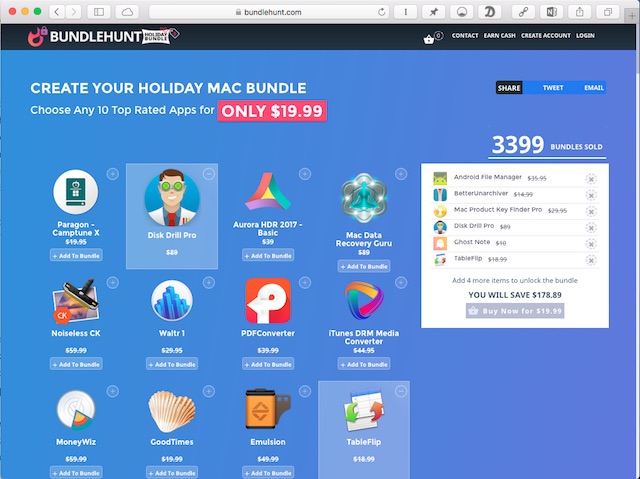 If you decide to buy the bundle through BundleHunt, then it will keep in track of the license keys. You can export the license key as .csv file and import them in 1Password. You can subscribe to BundleHunt through
6. OnTheHub
OnTheHub is your source for academic software discounts. It provides students, faculty, and staff with discounted and free academic software. A valid proof of academic or organisation affiliation is necessary prior to the order.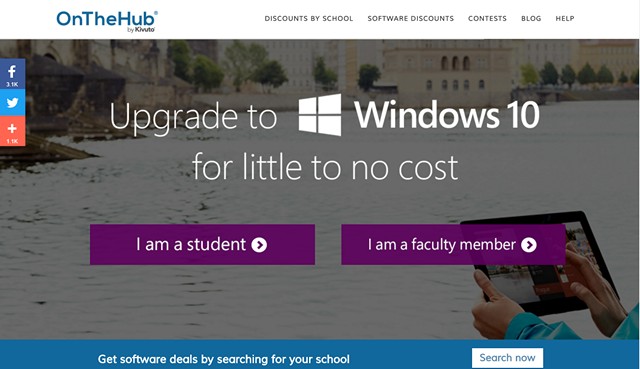 With OnTheHub, it's possible to save up to 90% off academic software or even get them for free. Software titles include Microsoft Windows 10 for Education, Microsoft Office 365, Adobe Creative Cloud, IBM SPSS Statistics, Parallels for Mac, Norton Security Antivirus, EndNote, and more. You can subscribe to OneTheHub through:
7. MacStories Deals
MacStories Deals is not a regular deals website. It recommends you a handful of well curated, popular Mac and iOS apps running on sale, selected by the Macstories team. The deals cover all the categories including — Productivity, Utilities, Games, Health, Lifestyle, Music and Video, and more.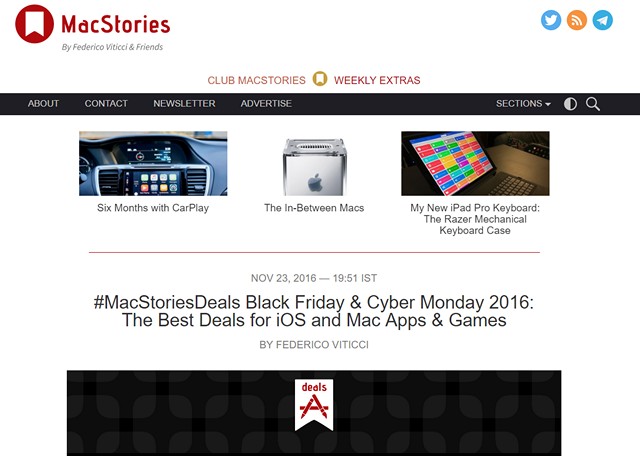 Every year thousands of iOS and Mac apps go on sale on Black Friday and Cyber Monday. The MacStories team handpick the best deals for iOS and Mac and collect them in a single page with link to buy discounted apps. Although Black Friday is over now, you can visit the MacStories Deals to get an idea of the coverage. You can subscribe to MacStories Deals through:
8. MacAppDeals
MacAppDeals provides deals to all great Mac apps and web services in a single place including MacUpdate Promo, BundleHunt, Two Dollar Tuesday, Exclusive Deals, and more. If you're overwhelmed with too many deals website, then subscribing to MacAppDeals will do the job for you. Although you must remember, the content is not regularly updated. You can subscribe to MacAppDeals through: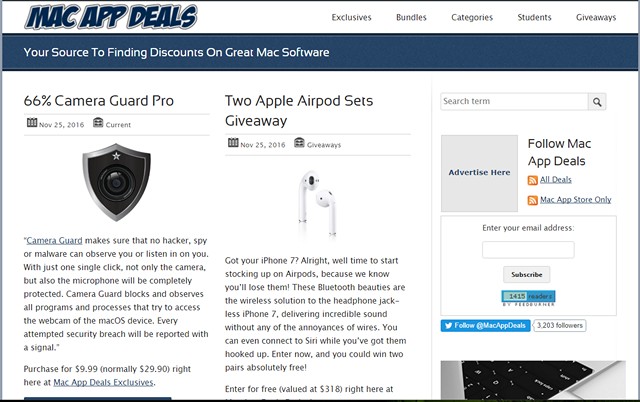 9. AppShopper
AppShopper is one of the largest iOS and Mac app directories. The directory consists of 1.9 millions apps. AppShopper not only helps you in finding new apps but also lets you receives notifications for updates and price changes. This is possible through Search, and Toggle bar situated in the header of the website.
You can search for any app with its icon, detail, price, and app last revision date. You can view All/Updates/New/price Drop/Price Increase, filter by category, type of app, and paid/free/both. Clicking on an app in the list opens a new single app page with Own, Wish, and Buy buttons, screenshots, description, changelog, app activity, and ratings by websites with a link to their reviews.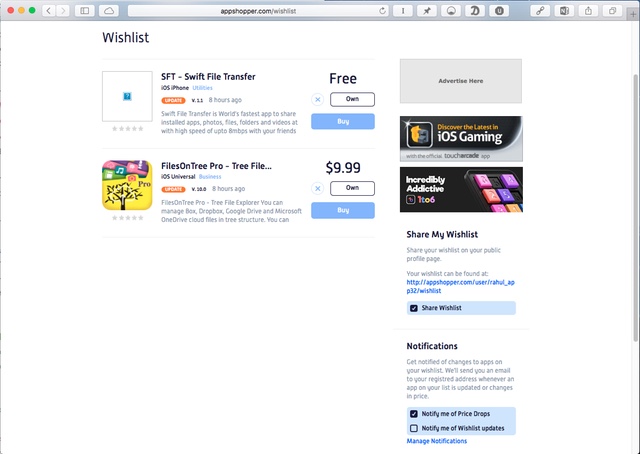 With AppShopper, you can create a wishlist of Mac and iOS apps you want. When the price of that app drops, you'll receive an email with all the details. You can track prices over times, so you can see if the an app has been on sale before, or if the developers is rigid on pricing or not.
Track your App Discounts
Add all the feeds to your RSS app: In all the deals websites, you have an option to subscribe to their RSS feed, to get daily or weekly updates. In your RSS app, make a folder and name it as Deals. Add all the feeds mentioned in the article. This will let you track all the app deals from a single place.
Twitter Lists: The idea behind Twitter lists is to essentially group a number of accounts together. When you view this list, you'll see all the tweets from those accounts. There are two advantages of making a Twitter lists. First, you don't have to add the user in order to add them to a list. Second, tweets from your lists do not show up in your primary feed. With this advantage, make a Twitter list and name it as Deals. Add all the Twitter accounts mentioned in the article. This will let you track all the app deals from a single place.
Ceceree app for Mac: Ceceree app for Mac lets you create app wish list from both Mac and iOS app store. When you add an app to Ceceree (either through search or browser extension), it watches them and notifies you about any updates or pricing changes. Click the + symbol, search for your favorite app to add them to your wish list. You can have list for Mac and iOS Apps, and any list which make sense for you. The app is not free, it will cost you $3.99 but it's worth a try if you track lots of apps.
SEE ALSO: Top 13 Legit Websites to Find Cheap Game Deals
Get the best deals on Mac and PC apps
Finding deals on Mac and PC apps is easy if you know where to look. Every day thousands of apps go on sale and if you follow the tips discussed in the article, you'll never have to pay the full price of an app. Even better, every year, many of these sites offer bundles of apps at good discounts—or they even let you name your own price. So, make sure to check the aforementioned websites and do let us know if you found them helpful. Sound off in the comments section below.