Gaming nowadays isn't cheap at all. New game releases are priced up to $60, which is quite steep for just a game. The value of various accessories, monthly subscription fees, and those expensive consoles to actually play the games hits your wallet harder than a truck. So, if you are looking for some affordable games and amazing deals on your favorite games, you are at the right place because we bring you some of the best places on the internet to score amazing game deals.
Without further ado, here are the top 13 websites to find cheap game deals:
1. GamerDeals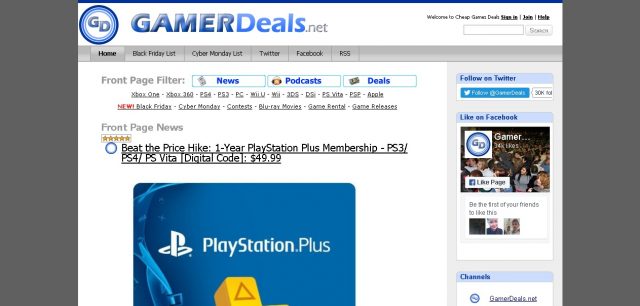 GamerDeals is one among the simplest websites to seek out the latest game deals on the market. The website is updated daily with cheap game deals for Nintendo consoles, Xbox One, Xbox 360, PlayStation 4, PlayStation 3, and everything in between. If there are any worthwhile game deals available across the web, chances are, you will definitely find them on GamerDeals. This website scours the internet for amazing and cheap gaming deals and brings them right to you, without you having to do the hard work. Just check back on the homepage every now and then for the latest game deals everyday.
2. Fat Wallet
Fat Wallet is one of the most popular websites for finding great deals and discounts on various types of products across the internet. However, it also offers great deals on games, which can be easily found in the Video Games category. You will see some of the cheapest deals from Walmart, Newegg, and GameStop. The page is also updated frequently with the cheapest game deals out there. Before all the deals are displayed on the site, Fat Wallet's consultants and community of price hunters check to make sure that each deal is spam-free and offers you the best price.
3. Game Deal Daily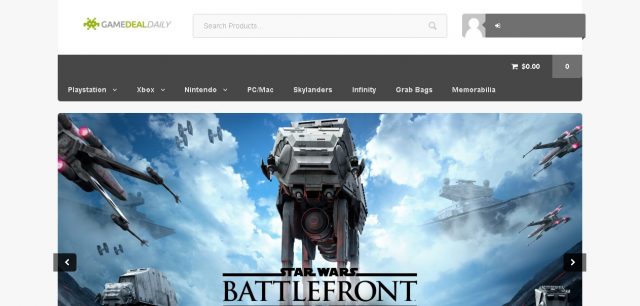 As the name suggests, Gamer Deal Daily posts its own gaming deals each day. Game Deal Daily claims to offer the cheapest deals on games, gaming accessories, and game keys. If you are looking for some huge savings on your game shopping, this website should help you save a good chunk of money. There is a new featured deal everyday on the homepage, along with other deals. However, the featured deal offers a huge discount on one of the most popular games. Apart from the game deals, you can score game DLCs and in-game content at highly discounted prices.
4. SlickDeals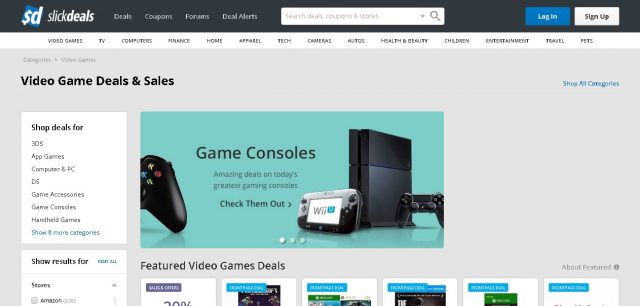 SlickDeals is one of the most popular websites for finding the cheapest deals on almost everything. However, the Video Games section of SlickDeals offers some of the best deals a gamer can wish for. From the hottest console bundles to the high-powered gaming PC components, SlickDeals offers amazing discounts on them all. Games like Halo 5 (Xbox One), The Last of US (PlayStation 4), etc. are all available at heavily discounted prices. You can even buy digital codes for subscription services like EA Access, Xbox Live Gold, PS Plus, etc. for a lower price than normal.
5. Cheap Ass Gamer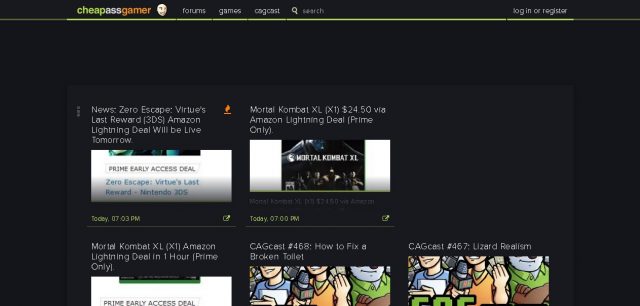 The community at Cheap Ass Gamer (CAG) specifically focuses on game sales, discounts, and promotions. All the deals, as well as the useful Sunday Ads are announced on the website's forums. All these deals are then specifically shown and featured on the homepage. The community also holds discussions on gaming related topics. All these price hunters scour the web for some of the amazing gaming deals and bring them to you on the CAG platform. In addition to that, you can also learn some handy tricks on the CAG podcast (aptly named CAGcast).
6. half.com/eBay
Half.com is an eBay company, which offers some of the cheapest deals on different items ranging from books to electronics. However, the video games section of Hal.com offers some of the latest gaming hits at heavily discounted prices. Apart from different video games, you can also score sweet deals on gaming controllers, headsets, and other accessories. Games are almost always half the price than their original price tag. These deals are not normally available on eBay homepage, so you'll have to visit Half.com for the best game deals.
7. Craigslist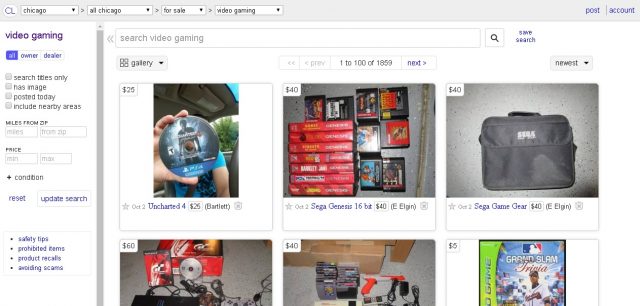 Who doesn't know about Craigslist? The site lets people sell off their used/new items by placing an ad and it's available worldwide. In the video gaming section of Craigslist, you will find some of the best consoles equipment, games, accessories, and peripherals for very cheap prices. Most people put up their gaming stuff for sale on CL for a cheap price. You can contact the ad owner, agree on a price, and score the sweetest gaming deal you have ever made without putting in much work. Beware of scammers and only deal via escrow services or PayPal to ensure maximum buyer protection.
8. Steam
One of the biggest gaming platforms for PC gamers, Steam offers a huge library of games and the biggest advantage Steam has over its competition is its seasonal sale. Steam offers huge discounts on the entire gaming library via sales and promotions during different seasons. Most of the time, you will find the most popular and latest games for up to 80% off of their original price. These deals, however, don't last long, so you always have to act quick and grab these deals before they are all gone.
10. Humble Bundle
The Humble Bundles is an amazing source for impressive sales and heavily discounted games. Humble Bundle offers a bundle of amazing games every week or month depending on the bundle. The most impressive part is that you get to decide the price of the bundle. If you want to pay a single buck, that's alright as well, however, paying above the average price would give you access to even more games in the bundle. Also, buying the bundle also supports charities, which is even better.
You can pay any price, get some amazing games for cheap, and support charities at the same time. It does not get any better for a gamer. Most of the times, these bundle would include awesome Indie games but every now and then, you will see AAA titles being offered in the bundles which is amazing.
9. Amazon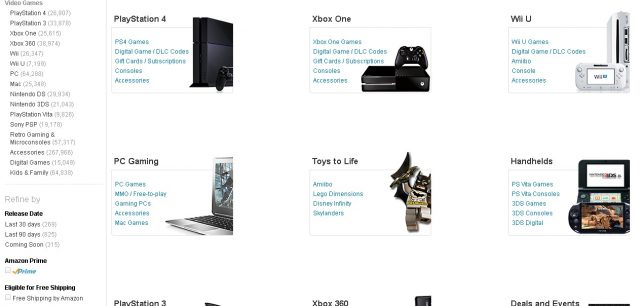 Amazon is one of the biggest online retailers and it offers anything you'll ever require, from electronics to groceries. Apart from that, Amazon has a complete gaming section that offers gaming consoles, games, and even downloadable games just like Steam. Amazon offers some great deals on games and various gaming accessories and at times, there are deals offering a game for as low as 20% of the original price. The downloadable game section lets you re-download your purchased games anywhere and anytime, as long as you have internet access. You can also purchase online game keys or subscription codes that will be emailed directly to you. 
11. Green Man gaming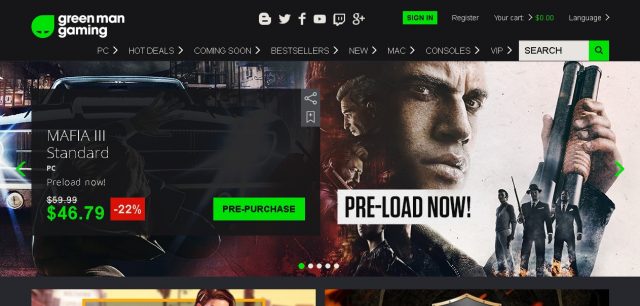 Green Man Gaming a.k.a GMG brings you the best and cheapest deals on all popular games out there. You can get cheap deals on games for PC and consoles alike. The console section is a bit lacking at the moment but according to the website, it will be updated soon. The PC section on the other hand offers the biggest games like GTA V, Arkham series etc. at discounted prices. Most of the times, you'll find AAA titles with an unbeatable price tag. Fifa 17 is a recently launched title, which is, at the time of writing, available for $49.99 (17% off the original price of $59.99).
12. Good old Games (Gog.com)
While you will not notice a large amount of contemporary AAA titles on Gog.com, it does offer a ton of older classics that you simply cannot get anywhere else, and typically for pretty affordable price. The website also includes user reviews, that give you an idea about the game and if you should actually buy it. If you are interested in playing all the classic games on your computer, you will be able to find all the retro games on Gog. It's the perfect place for quenching your thirst for some classic old games.
13. G2A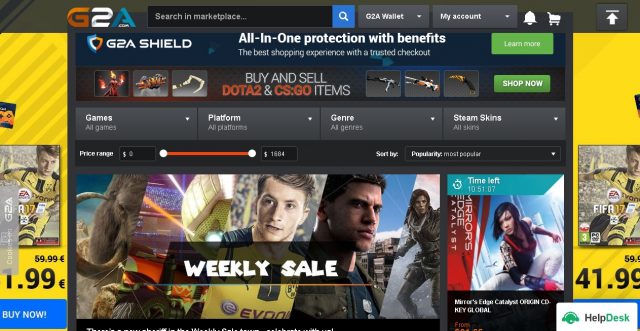 Right now G2A is considered to be one of the best places to find the cheapest deals on your favorite games. No matter which gaming platform you use, G2A offers the cheapest deals on almost all of the gaming platforms out there. From Xbox to Nintendo, Steam to Battle.net, you get to score the cheapest game keys and downloadable content for a fraction of the original price. The best thing about G2A is the payment system. The G2Pay system lets you use any payment method in the world from PayPal to Bitcoins and buy your favorite games without any hassle. The G2A shield ensures that you always get the product as advertised otherwise your money is refunded instantly.
Apart from the aforementioned websites, you can also keep a check on the Reddit subreddit "GameDeals", where users post some amazingly cheap game deals everyday.
SEE ALSO: 9 Best Shopping Apps to Help You Save Time and Money
Get the Best Game Deals with these Websites
There are hundreds of other sites out there that offer gaming deals and sales on different gaming systems. However, the above mentioned websites offer the best prices, user-friendly interface, customer-friendly policies, and secure payment systems to ensure you get exactly what you paid for. If you have other gaming sites, where you shop for some cheap game deals, feel free to list them in the comment section below.
---
Load More