Car Crash Detection is a feature in the Personal Safety suite for Android that we've seen Google boast about a lot. However, like many Pixel features, it wasn't available in many regions, until recently, when it was made available in five new countries, including India, Switzerland, Belgium, Austria, and Portugal. Although we hope you never need it, in this article, let's look at how to enable Car Crash Detection on Pixel devices.
How Does Car Crash Detection Work?
The Car Crash Detection feature uses the phone's microphone, accelerometer, gyroscope sensor, and location to detect a crash. Once a crash is detected, the phone vibrates and asks if you're okay. If you do not respond in a minute, your phone will automatically call 112, or if that doesn't work, it reaches out to your emergency contacts.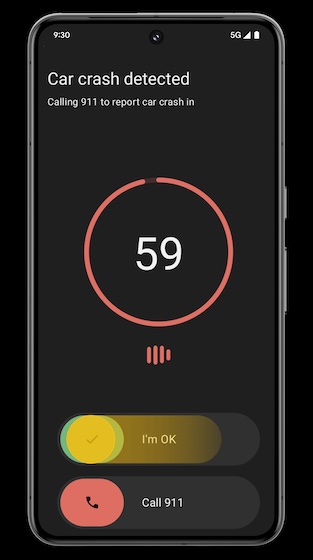 So far, there haven't been any instances with Pixels where the phones have detected a false crash but the same has happened with iPhones. If it's falsely triggered, you get 60 seconds to stop it by saying "I'm OK," or else, your phone will ring up the emergency contact in your country.
How to Turn On Car Crash Detection
There are a few ways to enable Car Crash Detection on Pixels. Here's how to enable it:
1. Make sure the "Personal Safety" app on your Pixel is up-to-date on the Play Store. You need to also make sure you have a SIM card installed with the Google Play System update on the latest version.
2. Open the Settings app, scroll down, and find and tap Safety and Emergency.
3. Tap Car crash detection and toggle it on.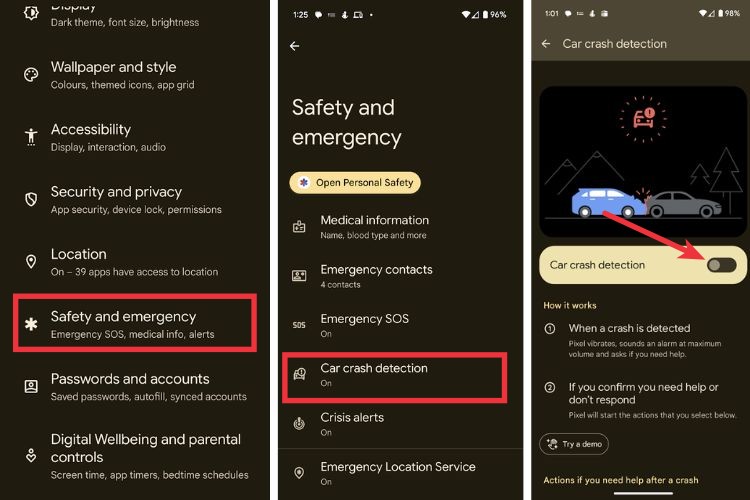 4. Click OK in the warning popup and allow the permission to detect Physical activity.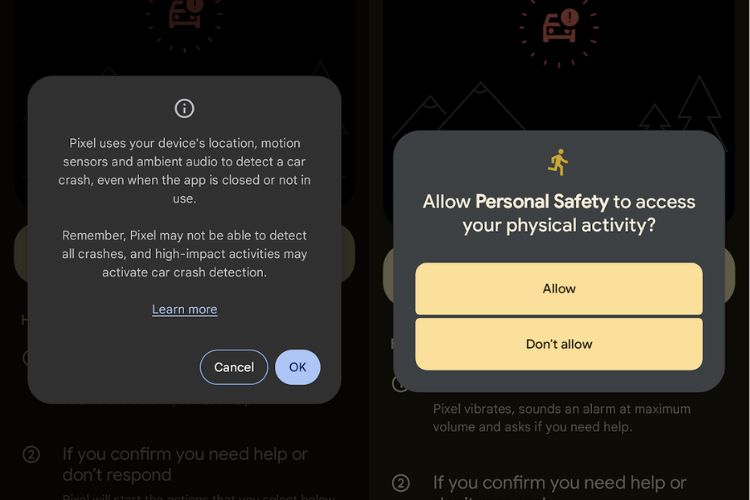 5. Once done, scroll down and toggle on Emergency Sharing.
6. Tap Set up on the "Notify emergency contacts after a car crash" page.
7. Add contacts on the Review emergency contacts page and click Next.
8. Enable Emergency Call and Phone Call toggles on the Send SMS updates page.
9. And voila! Car crash detection is now active!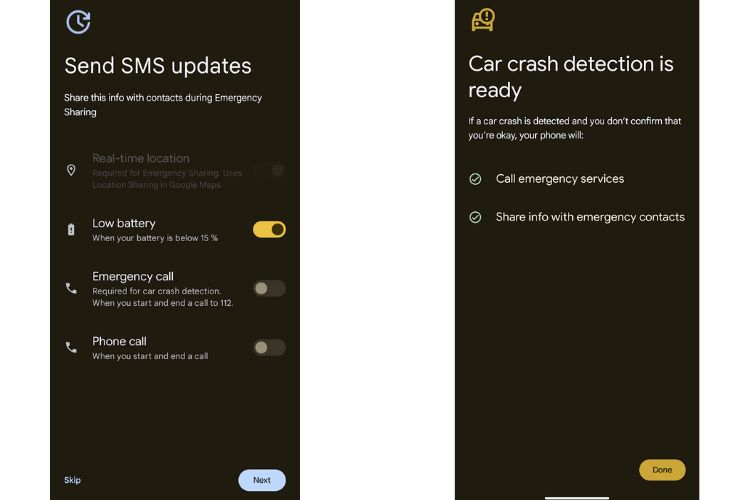 Another way to enable it is by opening the app drawer and searching for the app label "Safety." You can then go to the features tab and enable Car crash detection by going through the exact steps mentioned above.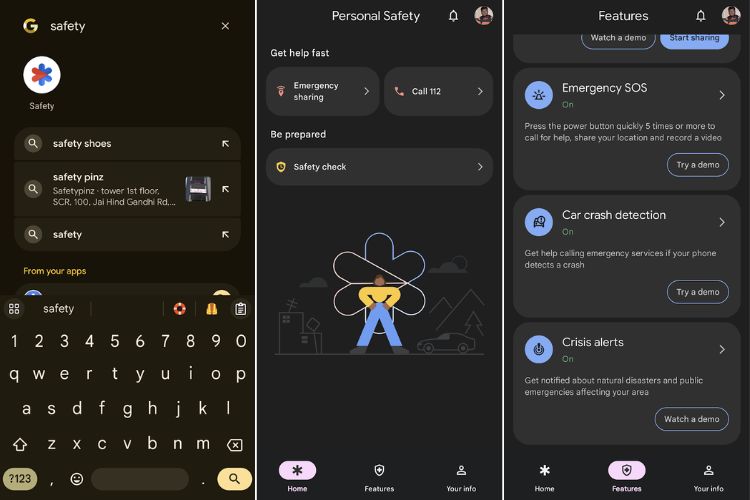 And that's how you can enable Car crash detection on your Pixel phone. Do let us know your thoughts and opinions about the feature in the comment section below.
Android Car Crash Detection: Supported Countries
With the addition of five new regions, Car Crash Detection on Pixel is now supported in 20 regions!
Australia
Austria
Belgium
Canada
Denmark
France
India
Ireland
Italy
Japan
Norway
Netherlands
Portugal
Singapore
Spain
Sweden
Switzerland
Taiwan
UK
US
---
Load More