The past couple of Android versions brought some of the major upgrades Android has gotten since its inception. Android 12 introduced Material You, which brought much-needed UI changes, and Android 13 added quality-of-life improvements over Android 12, making it a more polished experience. Much like Android 13, Android 14 may seem like an incremental upgrade, but you would be surprised by just how many internal changes it brings to improve the overall Android experience. Let's look at the 20 best Android 14 features.
Best Android 14 Features
1. Photo Picker
Before Photo Picker, an app would ask for access to your entire photo library if you wanted to upload a single picture. This causes privacy concerns as allowing an app to access your entire library isn't a wise move. Android 14 solves this problem using the Photo Picker feature. It's a new interface that allows you to pick only certain photos to ensure the app doesn't have access to all your photos.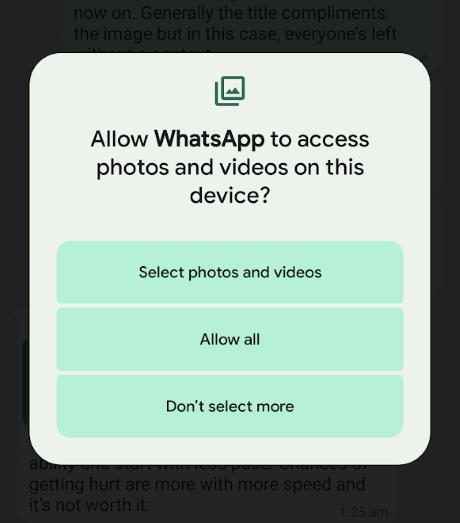 That said, popular apps such as WhatsApp don't yet utilize the Photo Picker API. The API works for the first time and then WhatsApp asks you to enable (allow all the time) permission rather than allowing you to select photos by asking every time. Although, Android apps should soon adopt the Photo Picker API once Android 14 releases to the masses.
2. Notification Flashes
Enabling the Notification Flashes feature is extremely useful for people who usually check their phones in a noisy environment where they can't hear a notification, or for differently abled people with improper hearing. To turn the feature on/off, go to Settings -> Display -> Flash notifications -> Toggle on Camera Flash and/or Screen Flash.
For Screen Flashes, you can also pick from a choice of colors and preview it to find out how it will look before closing the prompt.
3. Camera and Battery Life Improvements
General Quality of Life (QoL) improvements always come packaged in new Android versions, and the same is the case with Android 14. Google claims Android 14 is more optimized for battery consumption, and there are a lot of QoL improvements both in the UI and internally to ensure users have a smoother experience.
Similarly, Android 14 adds new camera extensions which help reduce the post-processing time and quality of images. This should be more noticeable on Pixel devices powered by the Tensor G2 chip as the same also brings a lot of improvements in the Camera department.
4. Lockscreen Customizations
One of the major features coming to Android 14 is in the customization category. Lockscreen customizations, as the name suggests, allow you to change the way your lockscreen looks. This includes changing the way your clock looks on the lockscreen and customizing the app shortcuts that show up on the lower corners of your lockscreen. h/t iOS 16, I guess?
As for the availability, they should be available in the stable Android 14 release which is due release next month if everything goes right for Google. That said, the lock screen clock styles shown off at I/O aren't the prettiest, so we hope the final versions end up looking more lively rather than the flat-looking styles.
5. Magic Compose
Google announced that Magic Compose would be coming to Pixels this Summer, but the feature is already rolling out in Messages Beta and Google One subscribers. Much like the "Help me write" AI generative features that Google showcased at I/O 2023 that will make their way to Google's Workspace apps later, Magic Compose in the Messages app can help you write your text messages in different moods. Based on the preview Google showcased at I/O, it looks very cool.
In the preview, after opening the options for the text message "Wanna grab dinner," Magic Compose showed various rewrites — from the text that adds excitement to that which sounds lyrical or Shakespeare-like. We really hope this also makes it to Gboard at some point in time because you can clearly tell this is an attempt from Google to encourage more people to start using RCS and Google Messages in general. Also, this is a Pixel-only feature.
6. App Pair
Google showcased app pairing in Google I/O 23 during the Pixel Fold announcement, and the same is coming to Android 14 later this year. As the name suggests, App Pair will allow you to, well, use apps in pair, in split screens, and minimize or maximize them together.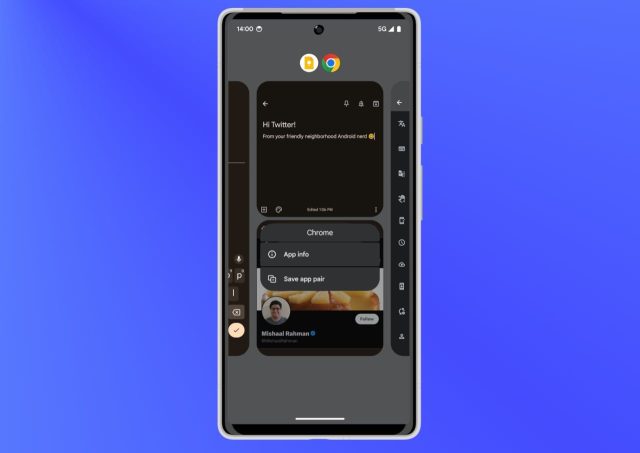 This feature may not seem useful for smartphones but given the rise in popularity of tablets, this may just be the feature that provides a solid reason why Android tablets are no longer inferior to iPads.
7. Charging Pill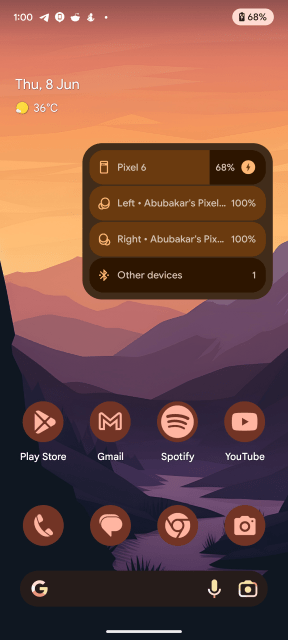 The recent Android 14 Beta update adds a new UI feature that shows you a cool animated pill that appears as soon as your plug in your device to charge. Spotted by Mishaal first, this UI was first accidentally revealed by the Android Beta Twitter account. While the pill doesn't do anything special when tapped on, it's a cool UI change that resonates quite a lot with the recent Material You changes.
8. Android 14 Easter Egg
Google finally pushed the long-awaited Android 14 Beta 4 update and it brought a few additions, including the Android 14 Easter Egg, which leads us to a game (!?). If you're already on Android 14 Beta 4, you can try it out by going to Settings > About Phone > Android version > Tap Android version thrice.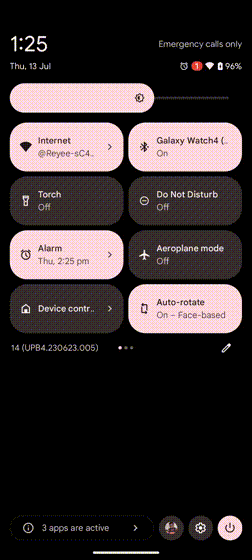 You should then see the Easter Egg, which at first glance may feel like a generic one; but there's a hidden game and to get into it, you'll need to press and hold the Android 14 logo and it'll start zooming with haptic feedback. Once you've held it for long enough, you can then play a game of maneuvering a rocket and discovering seven bodies. Pretty cool.
9. Phone's Manufacturing Date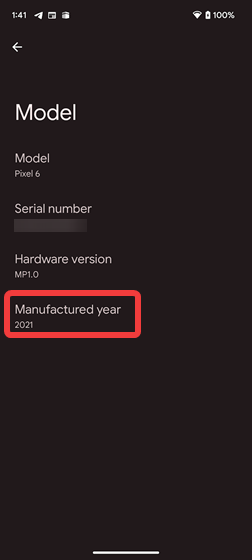 With Android 14, you'll now be able to see in which year your phone was manufactured. To look at the date of manufacture go to Settings > About Phone> Model. You'll then see the Manufactured year alongside the Hardware version, Serial number, and model. While we don't see this being useful, it may come in handy while buying refurbished or used devices that do not have their original retail packaging.
10. Auto-confirm Unlock
Remember the hassle of pressing the "tick" button after entering the passcode to unlock the device? Say no more! because Android 14 Beta 4 adds an Auto-confirm unlock feature. It does exactly what the name suggests, i.e., unlocks your device on the right passcode without you having to press any button.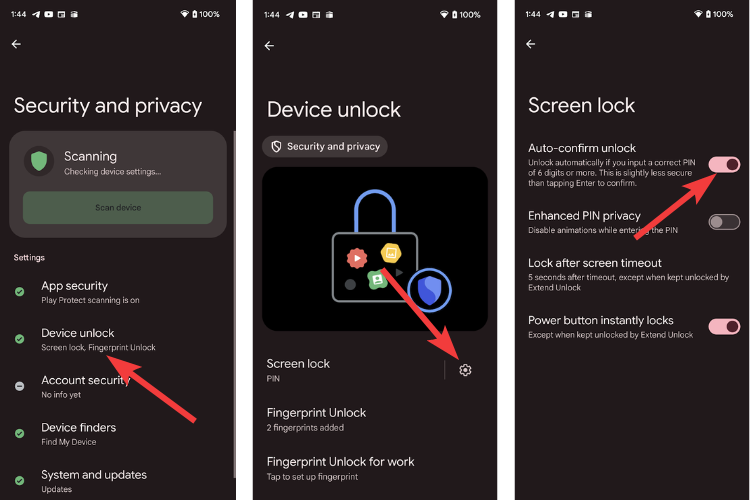 Although, do note that this only works for six-digit passcodes. To toggle on this feature go to Settings >Security and Privacy > Device unlock > Gear Icon > Toggle on Auto-confirm unlock. Pretty nifty, right?
11. Separate Ring and Notification volumes
If you used prior Android versions, you may remember there was one volume setting for ring volume and notification, which created a weird situation where if you wanted your phone to ring a bit quietly, your notifications would, too, which caused people to not know when they received notifications. Android 14 solves this issue by separating ring and notification volumes.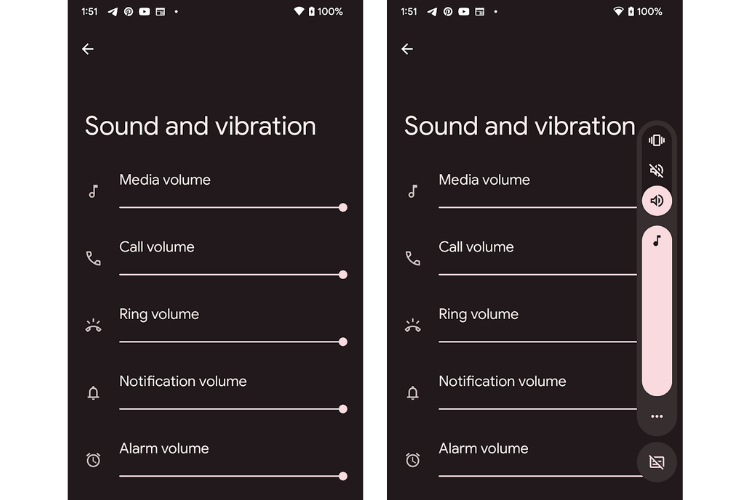 Speaking of volume, the icon for "silent" mode has also been changed from a crossed bell icon to a crossed speaker icon. Small bug significant changes.
Best Android 14 Features (Upcoming)
12 . Emoji, Generative AI, and Cinematic Wallpapers
Customization has always been Android's forte (maybe not Pixel UI's) and the addition of Emoji, Generative AI, and Cinematic wallpapers make it even more customizable. Emoji wallpaper picker lets you select a few emoji and a dominant color, after which it mashes up and creates an interactive wallpaper with your favorite emoji. (Update: Emoji wallpapers for Pixel is out now while the rest still haven't shown up)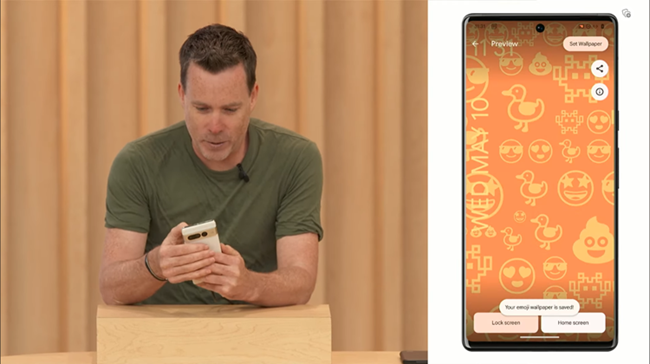 On the other hand, the AI Generative Wallpaper feature has to be our favorite. It takes a few words as input from the user for the type of wallpaper they want to generate. In the end, they're presented with a few unique wallpaper options that Google says, are completely unique and exclusive to your device.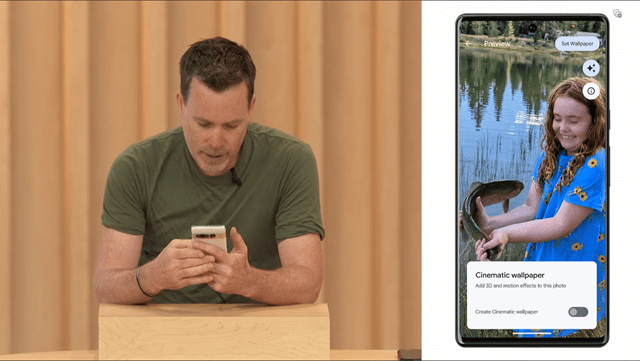 Cinematic wallpapers allow you to select a photo to which the feature later adds depth and a parallax effect using AI. Hence, the wallpaper moves whenever you move your device at an angle. This is quite similar to Google Photos' Cinematic feature.
13. App Cloning
App Cloning is hands down one of the most anticipated features in Android. Gone are the days when you had to download app cloning utilities containing spyware, Google will finally add a native App Cloning utility in Android 14. For those unaware, App Cloning allows you to use two instances of an app.
For example, if you have a phone with two SIM cards and want to use two WhatsApp accounts at the same time, you could clone the WhatsApp app, log in via your secondary SIM card, and have two WhatsApp accounts running. Now, Google hinted at App Cloning back in the Android 14 Developer Preview 1, but since then we haven't heard any recent developments about the feature. We speculate App Cloning won't make its way to the first stable Android 14 update, but Pixel users will get it in future Android 14 feature drop updates.
14. Predictive Back Gestures
Predictive back gestures in Android debuted in Android 14 Developer Preview 2, but the feature was shortlived and was removed in the Developer Preview that followed. Android apps use layers to remember app pages. For example, if you're in the Display section of the Settings app, it's a layer on top of the main Settings app layer.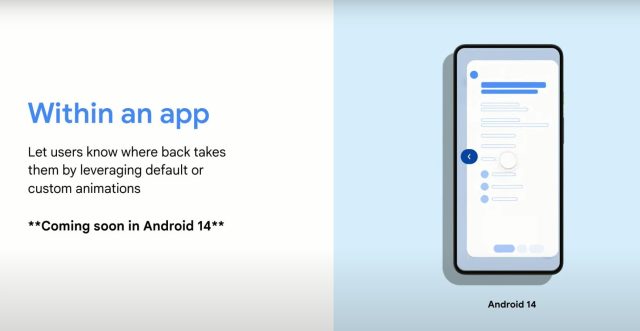 Using predictive back gestures, you could slowly do a back swipe to reveal the layer beneath. This is especially helpful if you forget what was the page or layer below the one you're viewing. If you're viewing something important and don't want to lose its contents while making sure the last layer is the one you want to visit, you could hold the back gesture and check if that's the layer you'd want to navigate to.
When it made its way to the OS in DP2, it was enabled by default and only supported in Settings and a few other system apps. In Android 14 Beta 3, the feature needs to be enabled in the Developer options and yet not all apps support it. Expect the feature to release in Android 14 Stable update.
15. New Find My Device Experience
The Find My Device app recently got a UI overhaul to match Android's latest design language, and it'll be getting a few new features this fall. Find My Phone will support an even wider range of devices and allow you to find your phones and accessories using other Android devices in the network.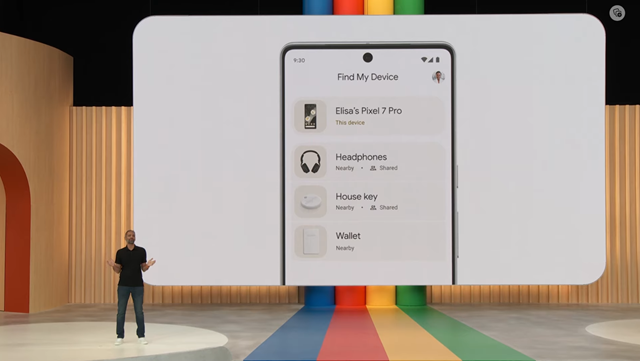 This is a much-appreciated addition to Android as Apple has been the pioneer in its Find My iPhone experience. As for your bicycle or bigger objects, manufacturers like Tile and Chipolo will have tracker tags that will work with Find My Device.
16. Tracker Prevention and Alerts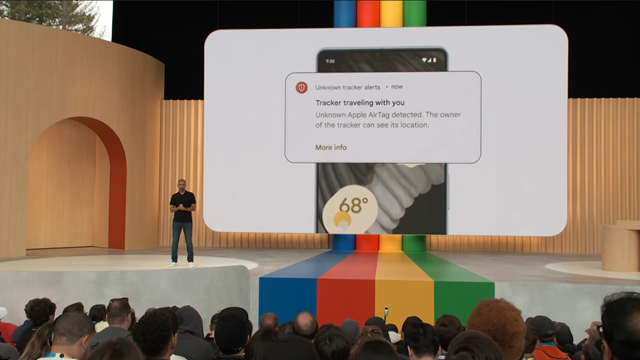 While Google's attempt at convincing Apple to adopt RCS may have been a failure so far, one thing that both giants have worked together on is in the privacy department with Tracker Prevention alerts. Irrespective of which Android device you're using, if an unidentified tracker is following you, your Android device will warn and help you locate the same. A big win for Google.
17. Forced Themed Icons
One of the drawbacks of adaptive mono icons that were introduced back in Android 12 is that app developers need to add support for them. If not, the overall experience may look half-baked, and incomplete. During Android 13 QPR Beta updates, Google announced a feature that'd automatically convert icons to themed icons if it were not supported by the devs, and we might see the same in Android 14.
As of writing this, the Pixel launcher currently has a hidden flag that forces themed icons, and the same has remained in the OS since Android 13 QPR Beta 3. Hence, the possibility that Google may enable the same is not far off. If enabled, the feature will help make the Android experience seamless and intuitive.
18. Using your Android device as a Webcam
The webcam quality of most laptops is ridiculously low at 720p. If you were thinking of purchasing an external webcam, you might want to hold the decision because Android 14 might ship with a feature that will allow you to use your Android device as an external camera and stream at 1080p.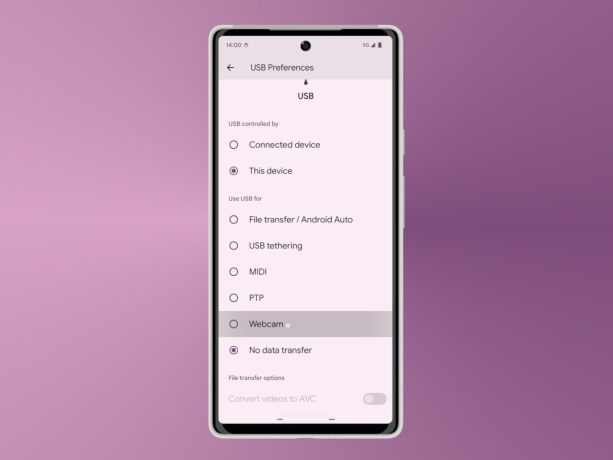 As for how you can use it, all you'll need to do is go to the menu that pops up whenever you connect your device to a PC. You'll then need to select "webcam" to switch to using your phone's camera. So far, the feature isn't available in the OS, even as a flag, but it should make its way to Android 14 if Google thinks it's ready.
19. Partial Screen Recorder
The name doesn't exactly reflect the functionality of the feature. By partial, you may think the screen recorder will now only record a selected area, but in reality, it will record a specific app. Partial screen recording may make its way to the Android 14 official release and will let you record an app without any UI elements or notifications appearing in the recordings.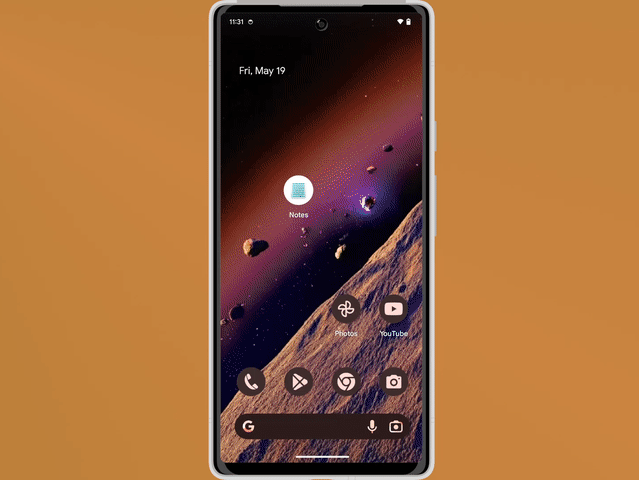 Like Discord, if you move to view another app or home screen, the recorded content will be black and will be visible as soon as you switch back to the app you want to record. Pretty neat.
20. Drag and Drop Text and Images to Different Apps
One of the highlights of iOS 15 was the text and images drag and drop feature, and the same should make its way to Android 14. In fact, you can already do it with text on the Android 14 Beta 3 build, and it works like a charm.
All you need to do is select the text, long press and drag it, use your other hand to switch to another app where you want to paste the text, and drop the text in the text area. You should be able to do the same with pictures after the official Android 14 update drops.
Frequently Asked Questions (FAQs)
1. When will Google release stable Android 14?
The stable version of Android 14 should be out in a month or two. The software is currently in Beta, specifically, the second beta update is available currently.
2. When will my device get Android 14?
Pixel devices starting from Pixel 4a 5G to Pixel 7 series will get the Android 14 update. Similarly, if you own a mid-range or premium Samsung phone that's less than four years old, you may get Android 14, although that'd be much later.
3. When will Google release stable Android 14?
The stable version of Android 14 should be out in a month or two. The software is currently in Beta, specifically, the second beta update is available currently.
4. When will my device get Android 14?
Pixel devices starting from Pixel 4a 5G to Pixel 7 series will get the Android 14 update. Similarly, if you own a mid-range or premium Samsung phone that's less than four years old, you may get Android 14, although that'd be much later.