Accidentally lost or deleted an important text message on your Android smartphone? Well, it happens! There are times when we wipe/reset our Android device and lose all our messages. We also tend to delete all the messages on our device when it starts to bulk up, forgetting that there might be some important messages from our work or bank. Well, that's when we frantically start searching for ways to recover those messages.
Well, the general consensus is that deleted messages cannot be retrieved but that's not true. There are ways on Android to recover deleted messages and if you are facing the same problem, don't worry, as we are here to help. While many apps and software claim to recover deleted text messages on Android, most of them fail to work. However, there are only a few apps and software that get the job done. Cutting to the chase, these are the best ways to restore deleted messages on an Android smartphone:
Note: If you have a rooted device, you can restore deleted text messages through an app but for non-rooted devices, you will have to do it with the help of a PC. You can sit back and relax because we are listing down ways for both rooted and non-rooted devices.
For Non-Rooted Android devices
For non-rooted devices, you will have to use the FoneLab software for Windows/Mac. The software not only lets you recover deleted text messages but a host of other stuff. With FoneLab, you can recover data like contacts, call logs, message attachments and files like documents, videos, music & pictures. The good thing here is that it's very easy to use and you don't need to install anything on your Android device for it to work. So, here's how to use it to recover SMS and more:
1. Firstly, you will have to download FoneLab software on your computer. The software is available for both Mac and Windows, so you can download it accordingly.
2. Enable USB debugging on your Android smartphone by going to Settings->Developer options-> USB debugging. Then, connect your Android device to PC and open FoneLab on your PC.
3. You will get a popup on your Android device asking you to allow USB debugging for your computer. Tap "OK" and you will see your Android device connected to FoneLab.
4. Select the data and files you want to recover. Select "Messages" to recover deleted text messages. Click "Next".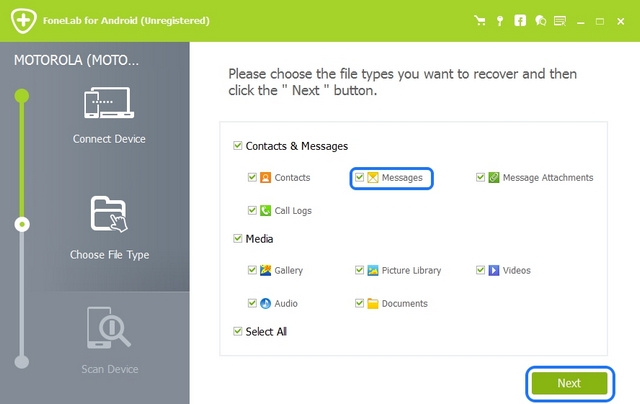 5. FoneLab will then analyze your device for details on deleted files. It will also try to root and unroot your device for advanced system wide search of files.
Note: FoneLab roots and unroots your device if you are looking for files that might be buried in system directories. It claims that the process is harmless, as your warranty will not be voided nor will it brick your phone. 
6. Even if the software fails to root the device, click "Continue Scanning" to resume recovery of files.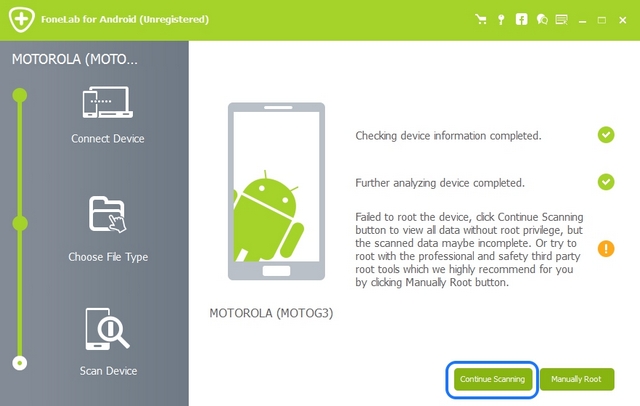 7. Once done, the software will show you the deleted text messages you can recover. Select the text messages you want to retrieve and click "Recover".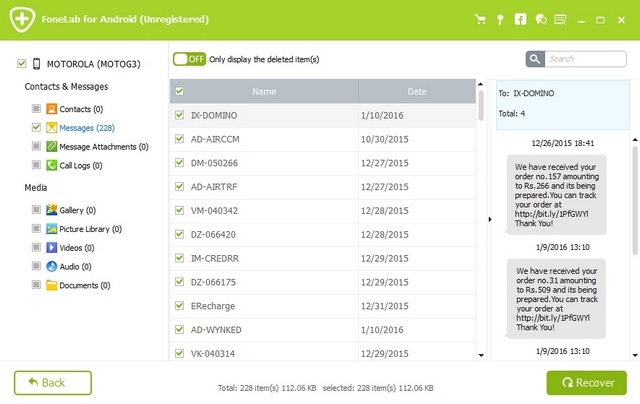 Note: The free trial of FoneLab does not let you recover any files or data (you can only see them), so you will have to buy the full version to recover deleted text messages and other data.
Buy FoneLab for Windows or Mac ($27.96)
For Rooted Android devices
If you have a rooted Android smartphone or tablet, you don't need a PC to recover SMS and instead an Android app will do. Moreover, the Android app is free while the aforementioned way for non-rooted devices requires you to buy a software.
Well, we tested the app "Undeleter" on a rooted Android smartphone and it works like a charm. The app is simple to use and brings a pretty straightforward interface. It lets you retrieve a lot more than just deleted text messages. You can also recover deleted WhatsApp or Viber messages, call logs along with files like pictures, videos, audios, ebooks, documents & archived or zipped files. Thus, you can do a lot more than just restoring text messages. Anyways, here's how to use the app to recover messages:
1. Install Undeleter app on your Android smartphone or tablet from the Google Play Store. Open the app on your rooted Android device.
2. Select "Restore data". Undeleter will check root access and prompt you to grant Superuser permissions. Select "Grant".
3. Choose the data you want to recover. Select "SMS" for text messages recovery. The app will then scan databases along with deep system scan to find any deleted text messages.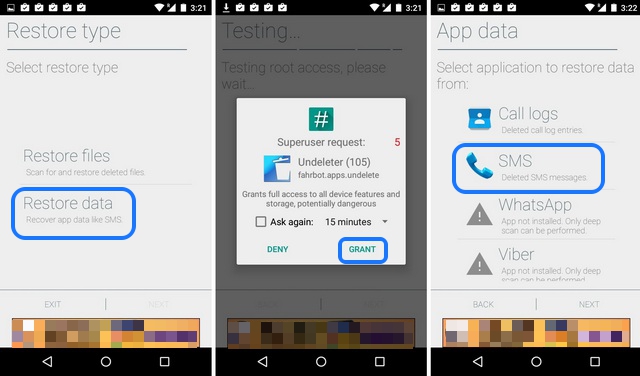 4. Once the process is over, it will show you the deleted text messages you can recover. Select the text messages you want to save and tap the save button on the top right.
5. You have the ability to save these messages in either your system log (Messaging app) or as a text file.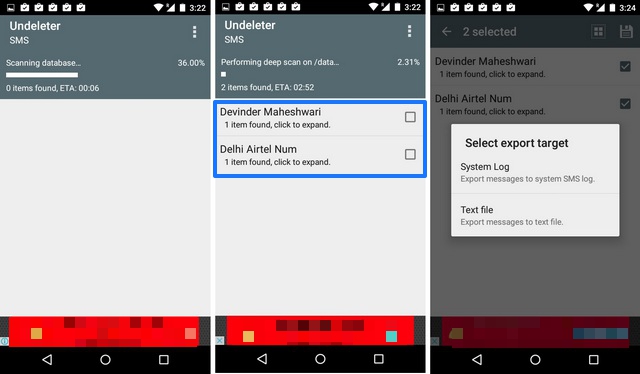 6. If you select "System log", you will see the recovered messages in your Messaging app's Inbox. If you save it as a text file, a notepad file with the text inside your recovered message will be saved.
Install: Undeleter (Free)
Backup your Messages for the future
Rather than going through the pain of recovering important messages, you should backup your messages to be on the safer side. You can use a simple app like SMS Backup & Restore to backup and then restore all your messages with ease. So, even if you are flashing a ROM or accidentally lose all your data, you can always be assured that your important messages aren't going anywhere.
SEE ALSO: How To Mirror Your Android Display to PC
Try these ways to retrieve deleted messages on Android
While there aren't a lot of apps and software that let you recover text messages on Android, but the aforementioned ones work flawlessly! So, do try them and let us know if you face any issues in recovering the messages.
---
Load More