Crunchyroll is currently one of the world's leading anime streaming platforms. It has a plethora of anime TV shows and movies, ranging from the classics to the latest releases like Chainsaw Man. However, if you have decided to opt out of using Crunchyroll, we have got you covered. We will teach you how to deactivate and delete your Crunchyroll account permanently in this guide. Check out this step-by-step guide if you need help closing your Crunchyroll account.
Delete Your Crunchyroll Account (December 2022)
If you are not sure where to start, we will explain how you can deactivate/ delete your Crunchyroll account in this tutorial. We have also added a section for users who wish to delete someone else's account in the event of their passing. That said, let's look at the steps:
How to Cancel Your Crunchyroll Membership
Before you can deactivate (read delete, explained below) your Crunchyroll account, the streaming platform reminds you that you need to cancel your active subscription. When you visit the account deactivation page for Crunchyroll, you get a prompt asking you to cancel any recurring membership.
So check our guide on how to cancel your Crunchyroll subscription and end your membership without any hassle. You would have already gone through this process if you discontinued using the platform a while ago. Well, right after you cancel your subscription, you can move forward with the steps to delete your account.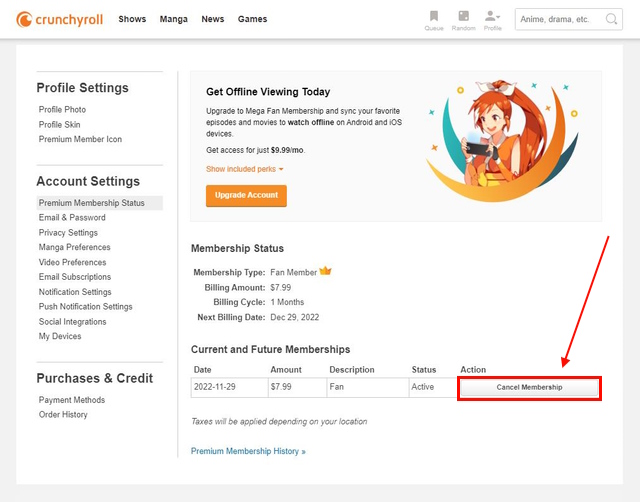 Delete Your Crunchyroll Account in 3 Easy Steps
Before we detail the process to delete your account, we would like to explain one confusing thing about this process. Crunchyroll actually does not have a dedicated "Delete Account" option in the settings or anywhere on its website. However, the streaming company offers an "Account Deactivation" page that, well, does not deactivate your account. Instead, it actually deletes your account forever. You cannot reactivate your account if you follow the steps below and deactivate your Crunchyroll account. Your account will be gone forever, so only read on if you have made up your mind.
With that out of the way, follow these steps to delete your Crunchyroll account on your Windows, macOS, or Linux desktop or laptop:
1. First, go to the Crunchyroll website and log in with your credentials. Then, navigate to Crunchyroll's account deactivation page via the link here. You won't an option to reach this page anywhere in the settings, so you need to rely on the link we attached.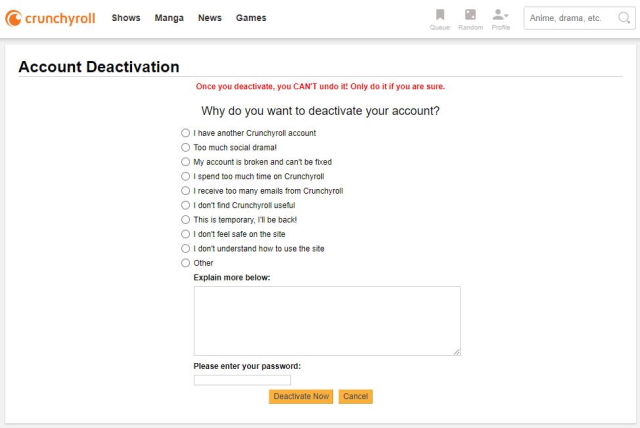 2. You can choose any of the listed reasons for deactivating your account and type any additional reasonings in the field below. Next, enter your password for confirmation before clicking the "Deactivate Now" button.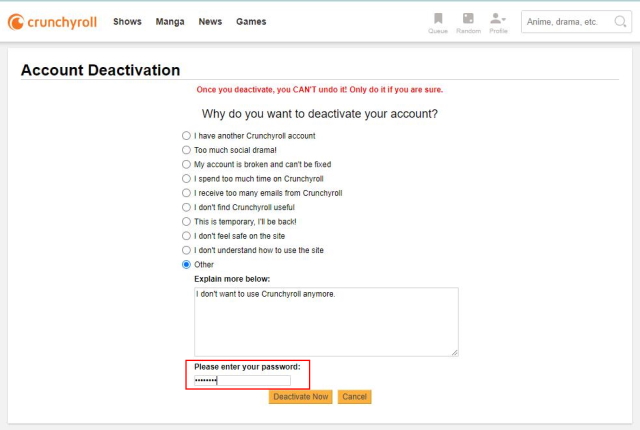 3. After clicking the deactivate button, you will see a pop-up asking for final confirmation to delete your account. The message in the pop-up window reminds you that "you cannot UNDO this!" action. Once you click OK, your Crunchyroll account will be deleted.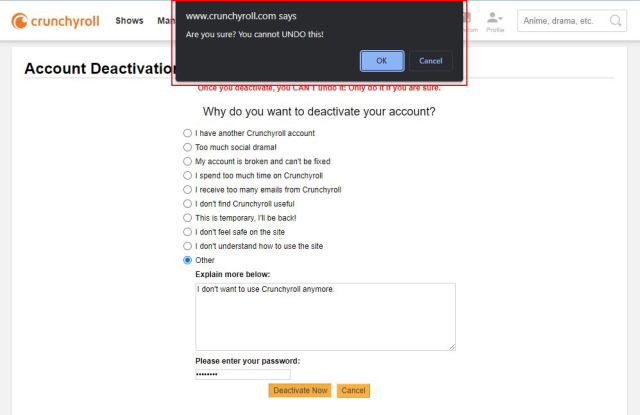 4. Once your process is complete, you will see a notification reading "Your account has been deleted" at the top of the homepage. Yeah, the account has been deleted and not deactivated, as the support page might have you believe.

Delete Crunchyroll Account for Someone Who Died
Though the process of closing a Crunchyroll account isn't easy, it's not the most difficult either. So if you are in charge of someone's digital legacy after their passing, follow the steps above to delete their Crunchyroll account if you have their login information.
On the other hand, if you don't have the login credentials of the deceased person, you need to contact the Crunchyroll support team using this "Contact Page" link and explain your situation to them.
Select "Membership" as the issue, enter your email address, and put "Request to delete account" or "Request for Account deletion" in the subject section. Then, type your application and remember to include the email address of the deceased user. The Crunchyroll support team will assist you immediately, and they will delete the account and all the data associated with it permanently.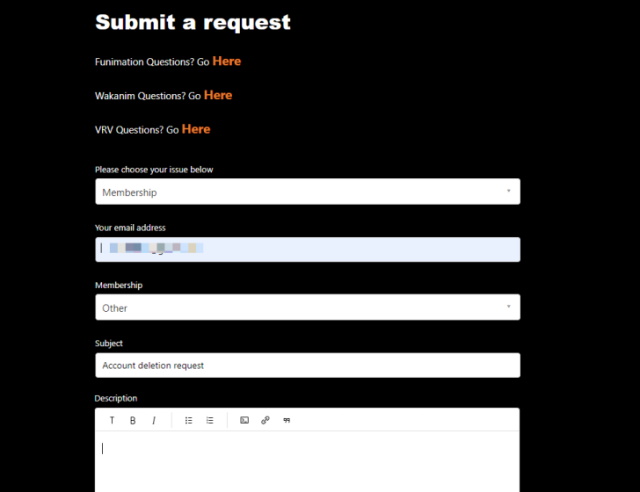 To close out this section, we would like to remind you that it's important to delete a deceased person's online accounts to prevent identity theft and to safeguard their accounts from hackers.
Frequently Asked Questions
Is Crunchyroll easy to cancel?
Yes! You can easily cancel your membership in a few steps. It does have a number of different methods depending on the payment method you use to get the membership. You can check out our guide on how to cancel your Crunchyroll subscription to get rid of it without any hassle.
Is Crunchyroll safe?
It is a perfectly safe and legal platform to stream anime as they own all the necessary licenses for all the content in their library.
Is it legal to watch anime on Crunchyroll?
Yes, it is completely legal to watch anime on Crunchyroll as it is an official platform with all the necessary licenses to stream anime like Chainsaw Man and One Piece. So, you don't have to worry about any legal issues while using Crunchyroll.
How do you restore a deleted Crunchyroll account?
Well, you cannot restore a deleted account. While Crunchyroll lets users nuke their accounts through the "Account Deactivation" page, the platform doesn't deactivate the account. It deletes your account permanently on request, and then you cannot restore that account. You will have to make a new Crunchyroll account and get a new subscription to watch anime.
Close Your Crunchyroll Account Permanently
That's it for our guide on how to delete your Crunchyroll account. We hope we were able to provide a solution to you with clear step-by-step instructions. Stay tuned to Beebom for more articles related to anime streaming websites like Crunchyroll, coverage of popular anime such as One Piece, Jujutsu Kaisen, and more. Well, make sure to watch some of the popular anime before you delete your account. Also, do let us know the reason why you decided to delete your account in the comments below.