The wait is over! One of the most anticipated manga adaptations of recent years is finally getting its own anime, and it's only a couple days away from its release. Unless you are living under a rock, you must have heard about the Chainsaw Man anime. It features an overpowered human with a chainsaw coming out of its face and arms. You wouldn't have seen anything like it before. So make sure to grab your popcorn and be ready to find out where you can watch Chainsaw Man anime! Because you wouldn't want to miss this!
Where Can I Watch Chainsaw Man Anime? (2022)
First, we will discuss the release date and streaming platforms where you can watch Chainsaw Man. It will be followed by the basic details of the anime, including the storyline, characters, and voice actors. If you are already familiar with the anime, use the table below to skip to learn about your region's streaming platforms.
Chainsaw Man Release Date: When is the Anime Coming Out?
The first episode of the Chainsaw Man anime will release on 11th October 2022 at 12 AM JST (9:00 AM PT, 11:00 AM ET, or 9:30 PM IST). Though, depending on your platform, you might have to wait a few hours or even days to watch the anime in some regions. More on that in the next section.
Chainsaw Man Episode Release Date and Time
The first season of Chainsaw Man will have 12 episodes, with one airing each week starting from October 11. Unless the show goes on a winter break in December, the release schedule should look like this:
Chainsaw Man Episode 1 – October 11 
Chainsaw Man Episode 2 – October 18 
Chainsaw Man Episode 3 – October 25
Chainsaw Man Episode 4 – November 1
Chainsaw Man Episode 5 – November 8
Chainsaw Man Episode 6 – November 15
Chainsaw Man Episode 7 – November 22
Chainsaw Man Episode 8 – November 29
Chainsaw Man Episode 9 – December 6
Chainsaw Man Episode 10 – December 13
Chainsaw Man Episode 11 – December 20
Chainsaw Man Episode 12 – December 27
At What Time Does a New Episode of Chainsaw Man Release?
Based on your region and streaming platform, the exact air time of CSM anime might be different for you. But, if you are watching it on Crunchyroll or real-time streaming websites, every episode of Chainsaw Man will come out at the following time:
Australia – 2:30 AM ACDT (Wednesday)
British – 5:00 PM GMT (Tuesday)
Central – 11:00 AM CT (Tuesday)
Eastern – 12:00 PM ET (Tuesday)
European – 6:00 PM CEST (Tuesday)
India – 9:30 PM IST (Tuesday)
Japan – 1:00 AM JST (Wednesday)
Pacific – 9:00 AM PT (Tuesday)
Philippines – 12:00 AM PST (Tuesday)
How to Watch Chainsaw Man Anime Online [Globally]
We have covered all the different regions where Chainsaw Man will be telecasted in separate sections below. Check the platforms, timings, and availability of the anime in your area. All the information is based on official announcements sourced from the Chainsaw website. You can refer to it for additional details.
Japan
Chainsaw Man will be telecasted on six TV Tokyo network stations at 24:00 (12:00 AM) on 11th October 2022. Then, an hour later, it will be available to stream on Amazon Prime Video Japan from 25:00 (1:00 AM JST).
Following the initial release, this anime will sequentially become available on other streaming platforms from the 12th of October. Though, every platform might delay the availability as per their own policies. The supported platforms are ABEMA, Disney+ JP, Hulu JP, Netflix JP, dTV, and more.
USA, Oceania, the Middle East, and Europe
Crunchyroll is the primary distributor and promoter of Chainsaw Man globally, and the anime will be simulcast on this streaming platform.
Chainsaw Man will be available to stream on Crunchyroll on October 11 at 9:00 AM PT in North America, Central America, South America, Europe, Africa, Oceania, the Middle East, and CIS. Moreover, in the US, Chainsaw Man is also going to be available to stream on Hulu alongside Crunchyroll.
Depending on your preference, you will get subtitles for this anime in English, Latin American Spanish, Brazilian Portuguese, French, and German. There is currently no official word on the English dubbed version release, so stay tuned for more information.
How to Watch Chainsaw Man in India and Other Asian Countries
Moreover, please note that even though Crunchyroll is available in most Asian countries, Crunchyroll is not distributing Chainsaw Man in any of those countries. As per Chainsaw Man's official website, here are the main distributors of the anime in Asian countries:
Bilibili (only available in China)
Animax Korea (mainly available in South Korea)
Ani-One
From the looks of it, Ani-One's YouTube channel will be the main platform to watch Chainsaw Man for most Asian regions, including India. They are allowed to distribute the anime as soon as it airs in Japan. But, depending upon the distribution service, the actual release date and time might differ drastically. If you're in this region, it's best to keep an eye out on the Ani-One YouTube channel (visit) for some hope.
How to Watch Chainsaw Man Anime for Free and Legally
Legally, the only way to watch Chainsaw Man for free is when the anime drops on Ani-One's YouTube channel. However, there's a chance that you will need to buy a channel membership for Ani-One to stream the anime, so it might not be completely free after all.
Alternatively, you can also get a free trial on Hulu, Crunchyroll, and other premium platforms to watch the Chainsaw Man anime for free. Since these trials usually only last a month, you won't be able to finish Chainsaw Man, which will follow a one episode per week release.
Chainsaw Man Story: What's the Plot of the Anime?
Note: This paragraph contains spoilers for the opening segment of Chainsaw Man. We suggest you skip this section if you do not want any spoilers and want to watch the anime with no background.
Chainsaw follows a young man by the name of Denji, who is a devil hunter that lives with the Chainsaw devil called Pochita. Together, they work for the Yakuza gang and eliminate devils in order to pay back the loan of Denji's father. But this partnership faces a fatal betrayal that Denji cannot survive without a contract with the devil. That's when Pochita offers his heart to Denji, turning him into Chainsaw Man. Now, this new human-devil combo has to find its place in a world full of devils and monstrous humans.
The Chainsaw Man anime is based on a manga of the same name by Tatsuki Fujimoto. Its first arc concluded back in 2020 and included 11 volumes, comprising a total of 97 chapters. We expect the first couple of seasons of the anime to focus on the same. Though the manga is still ongoing, and there is no end to the adventures of Chainsaw Man at the moment.
Moreover, the anime is being produced by MAPPA, which is the same studio known for Jujutsu Kaisen and Attack on Titan: The Final Season. So, the stakes of this Chainsaw Man anime are extremely high.
Chainsaw Man: Characters and Voice Actors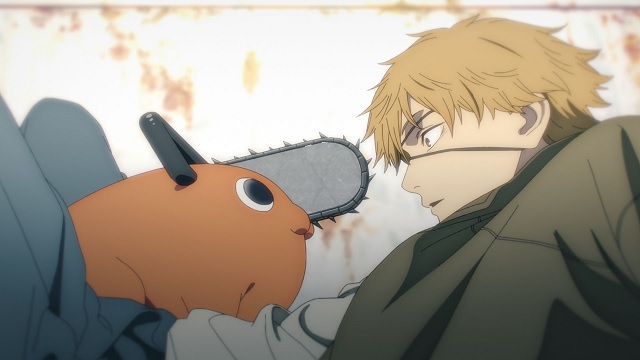 The Chainsaw Man features the following main characters:
Denji: The youngster who turns into the Chainsaw Man
Pochita: A chainsaw devil who is also Denji's pet dog
Makima: She is a public safety devil hunter who presides over Denji
Aki Hayakawa: He is also a devil hunter working in Makima's team
Power: She is a human-devil mutant (fiend) who is a part of Makima's team
The original Japanese voice cast of this anime includes:
Kikunosuke Toya as Denji/Chainsaw Man
Tomori Kusunoki as Makima
Shogo Sakata as Aki Hayakawa
Fairouz Ai Kadota as Power
Shiori Izawa as Pochita
Chainsaw Man Anime Episode Recaps
Dog and Chainsaw – Episode 1 Recap (11th October)
The first episode of Chainsaw Man introduces us to Denji, an orphan teenager whose father passed away without paying off a huge debt to the Yakuza. He meets an injured Pochita, the chainsaw devil, on his father's grave and saves his life by offering him blood. Following that, Pochita and Denji become friends and kill devils for Yakuza to pay off the debt. Unfortunately, the gang betrays Denji and tries to kill him and Pochita with the help of a devil and his zombie army.
When they are both about to die, Pochita offers to take over Denji's heart if he agrees to share his dreams with the Chainsaw devil. Denji agrees, and this contract leads to the formation of Chainsaw Man. After transforming into the Chainsaw Man, they kill all the members of the Yakuza gang as well as the zombies. The episode ends with the Public Safety Devil Hunter squad reaching the scene, and Makima, the squad's head, hugging Denji and him turning back into human form.
Arrival In Tokyo – Episode 2 Recap (18th October)
After a heavy pilot, the second episode of Chainsaw Man is a bit light-hearted. It begins with Makima escorting Denji to the Public Safety Devil Hunters' Tokyo headquarters. There, she provides him with a uniform and officially welcomes him into the PSDH association. Earlier that day, she also took him out for breakfast. It is clear from earlier that Makima treats him like a pet dog. She even tells him to answer with "yes" or "woof". Though, because of her caring personality and memories of his own pet Pochita, Denji doesn't seem to mind. No one has ever treated him with kindness, let alone offered him food.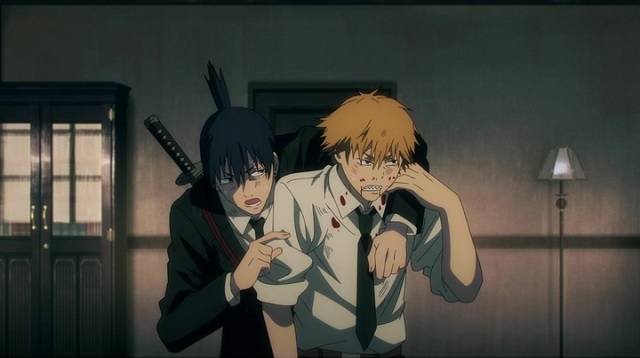 Later on, she introduces Denji to Aki Hayakawa, a senior member of Makima's special squad. They are supposed to work and live together, but Aki isn't fond of Denji. He even tries to beat him up on patrol because of Denji's lack of seriousness. But the tables turn when Denji launches multiple unexpected attacks on him. This episode also introduces us to a fiend by the name of Power. She is a member of Makima's squad and is truly wild and loud. When sent on a patrol with Denji, Power finds and kills a devil before the Chainsaw Man even has a chance to react.
Other than introducing new main characters to the show, the second episode also allowed Denji to find his motive for killing devils. As per Aki, devil hunters without a purpose to drive them don't survive long. So, after much contemplation, Denji decides that his immediate goal is to touch a woman's breasts. As silly as it might sound, our protagonist is pretty driven by his goals.
Meowy's Whereabouts – Episode 3 Recap (26th October)
This episode opens a fight scene where Power killed the Sea Cucumber devil while Denji was left behind. Makima arrives at the scene and explains that killing a civilian hunter's devil is a crime for the Public Safety team. Doing so could get Power arrested but Makima leaves her with a warning and tells her to keep herself under control. This triggers Power who then shifts all the blame on Denji claiming that he made her attack the devil. Makima remains unfazed by this and tells them to stay quiet.
Later on, Power confesses that she hates devils because one of them kidnapped her cat and she just wants to get it back. Denji fails to comprehend this love for a mere cat but claims that he would understand it if she was talking about a dog. Irrespective of that, it is clear that after realizing his strange dream of fondling someone's breasts, Denji is now more motivated than ever and Power takes advantage of the same. She offers him to touch her but only if they are able to save her pet cat Meowy from the devil.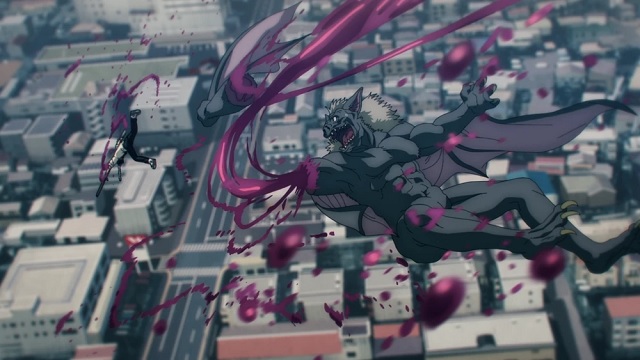 Following their discussion, Power and Denji get to the outskirts of the city to an old house where the bat devil is hiding. It turns out that this is the same devil that kidnapped Power's cat and asked her to bring him a human sacrifice to get it back. But before Denji could realize this, Power knocks him out and takes him to the devil. Then, the bat devil tastes Denji but doesn't like his tastes and this leads him to eat Meowy as a punishment to Power for bringing bad food. Meanwhile, Denji realizes that he can't get his "breasts" without Meowy, so gets ready to fight. What unfolds is a bloody massacre where Denji gets close to death but ends up eliminating the bat devil as Chainsaw Man.
On the other end of things, Makima meets with senior officials and shares details about her squad's performance. Later, Aki tells her that Denji is "disgusting" and questions Makima about her trust in Denji. Makima then explains that devils gain strength by the fear of their name and Chainsaw devil is an interesting choice. This doesn't convince Aki because he believes that Denji still lacks a real goal and is even willing to be friends with the devil.
Rescue – Episode 4 Recap (2nd November)
This episode opens in Power's dream which flashbacks to the time she met Meowy while hunting wild animals and how it got kidnapped by the bat Devil. Then, Power opens up and finds herself holding Meowy with the bat devil dead around her, thanks to Denji. A few moments later, the leech devil appears and eats Denji's arm. She is here to avenge her man, the bat devil. Denji tries turning into Chainsaw Man (go check out our list of the most powerful devils in Chainsaw Man here) to fight her but because he's low on blood, only a small chainsaw pop out of his head.
This leads to a pretty one-sided fight with Denji about to be eaten just moments before Aki shows up and gets the fox devil to eat Leech Devil's head. Later, Denji wakes up in a hospital and tells him that his arm was reattached with some blood infusion. Aki also explains his contract with the fox devil who consumes parts of his body each time Aki uses the devil's powers.
Later, Aki meets Makima and gets Makima up to date on the entire situation. She claims that Aki is now more flexible but he denies such change. The next morning, Power moves in with Denji and Aki because Makima wants him to keep an eye on her. She even states that Power has promised to behave well but that is far from reality.
Power comments on the apartment clog the toilet and even throws away vegetables from her meals. While Aki is not happy about her presence, it turns out to be fruitful to Denji when Power allows him to squeeze her chest three times. For saving meowy, killing the bat devil, and guarding her against Aki.
Gun Devil – Episode 5 Recap (9th November)
While folding Power, Denji learns that she uses pads to make her breasts appear bigger. This sends Denji into a philosophical shock and he loses all his motivation and appetite. Makima notices it and asks Denji about his mood. He claims that he is unsure about his future and if he'll ever be truly happy again. Makima then grabs his hands and bites his finger. She tells him that touching someone feels better if you know that person.
While Denji is shocked by this weird behavior, Makima starts explaining the story of the gun devil. He appeared around 13 years ago causing a series of terrorist attacks around the world and killing over 1.2 million people within 5 minutes. No one knows where he is at the moment. During the same, Aki lost his entire family. Now, Makima and other devil hunters want to kill him and she thinks Denji is the key. She gives him more details about the same including the functioning of the gun devil's bullet flesh.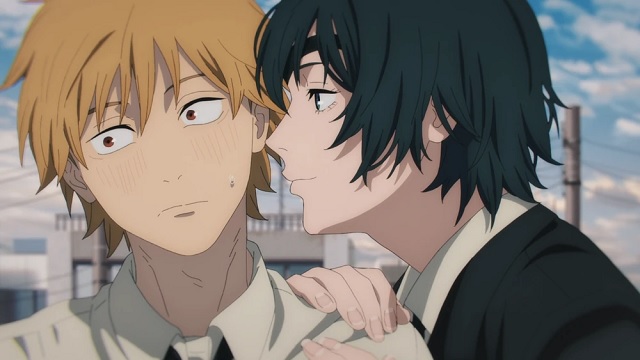 Later, Denji and other devil hunters are called to a hotel to deal with a devil. But before they enter, Himeno, a squad member who has a contract with the ghost devil, tells Denji that she'll french kiss him if he kills the devil they are dealing with. This immediately motivates Denji who then runs into the building and other devil hunters follow behind. All of them go floor-by-floor, looking for the devil that has a piece of the gun devil in it.
Soon, Hirokazu, a devil hunter notices that two floors have the same blood spatter. But he is mistaken. Instead of two floors appearing like each other, they are stuck on a floor that is looped on itself. Going up or down the stairs gets them to the same floor. Other than that, this episode also introduces us to Kishibe, a senior devil hunter. He meets Himeno and Aki at a graveyard where she mentions that all her previous teammates have died because they were terrible. Then she tells Aki, her sixth teammate, not to die.
Kill Denji – Episode 6 Recap (16th November)
As this episode opens, the devil hunters slowly realize that they are tapped inside a trick of the eternity devil. The staircase leads to the same floor and the room's windows are endlessly looped into each other. There is no escape. Hirokazu claims that other devil hunters will come to help them but Himeno hopes that they don't get stuck in the same trick. But that concern dies as soon as Aki notices that the time on all clocks has stopped. So, no one is coming to save them.
Denji being Denji treats their situation as an opportunity to get some sleep. Later, Himeno wakes up to tell that they have found some food and water supply inside one of the rooms. In the meantime, some devil hunters rest, others panic while Aki stays attentive and on the lookout for the devil. Around dinner time, they notice that the devil they killed earlier is growing at a rapid pace. The hallway is filled with a pile of body parts. The devil offers them a contract and states that it will let everyone live if they allow him to eat Denji.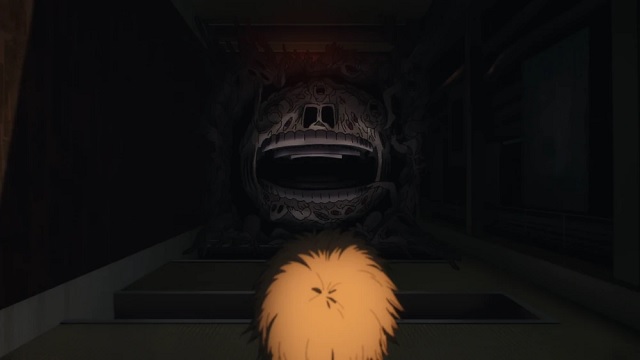 Aki tries to summon the fox devil but fails. Himeno uses the ghost devil to eat parts of the eternity devil but it ends up getting bigger. There seems to be no way to defeat it. This leads the group to a serious thinking session. Some like Power and Kobeni want to sacrifice Denji while others including Aki are not sure about it. After a series of discussions, one involving Aki risking his life span, Denji decides that he is ready to sacrifice himself.
But he claims that he won't die without trying. According to Denji, this devil can't bear the pain. It was screaming when Himeno attacked him earlier. So, Denji claims that he will try to get the eternity devil to kill itself. Then, he reminds Himeno about the kiss and turns into Chainsaw Man.
The Taste of a Kiss – Episode 7 Recap (23rd November)
Episode 7 of Chainsaw Man anime opens with Denji brutally injuring the eternity devil. Three days pass in their fight which leads the devil to give up and expose its weak spot. Denji kills the eternity devil and everyone escapes the hotel safely. Later, Himeno hosts a welcome party for the new members and invites the entire Division 4 for drinks. There, Denji brings up the kiss but Himeno claims that she has to be drunk to do the deed.
So, the part continues and Makima joins them after some time. We learn that Himeno has kissed almost every other member at some point so Denji will surely get kissed too. During the dinner time discussion, Aki wonders if there is something that Makima knows about Denji that she isn't sharing with the group. She promises to tell them if he can outdrink her and Himeno joins them as well. Makima easily wins the challenges and isn't affected at all by the alcohol.
Soon afterward, Himeno starts kissing Denji but within seconds the effects of excessive drinking kick in and she end up throwing up inside Denji's mouth. Denji swallows the vomit out of his habit of consuming everything nutritional even if it's trash. He then rushes to the bathroom and starts vomiting. Hirokazu helps him. Once the party ends, Denji is unable to walk home so Himeno takes him to her place. There, she gets on top of him and feeds him beer and mouth fresher through her mouth. Then, she lays down next to him and claims that "they should do it".
Gunfire – Episode 8 Recap (30th November)
This episode opens up with Denji in a bed and Himeno trying to seduce him. As Denji is about to give in, she pulls out a Chupa Chups from his pocket which immediately reminds her of Makima. Then Denji apologizes to Pochita and proceeds to sleep on the floor instead of with Himeno. The next morning, Himeno tells him that she will help Denji and set him up with Makima. But seems like fate has something else in mind because, around the game time, Makima and her colleagues get shot inside a train. It appears as if Makima is no more.
Similar attackers show up around all members of Division 4. This ends in a bunch of tragedies. Though, all the main characters survive. One such attack takes place at the group of Denji, Himeno, Aki, and Power at a ramen shop. Denji gets shot in the head which immediately knocks him out. The attacker turns out to be the Katana Man, a devil hybrid. Aki tries to kill the Katana Man with the help of the curse devil but a woman shows up and revives him. Moreover, Aki gets fatally wounded in the process. To save Aki's life, Himeno gives herself up to the ghost devil so that it can kill the Katana man.
Himeno dies in the process leaving only her clothes behind. But this allows the ghost devil to overtake the Katana man. Unfortunately, the woman invites the snake devil to the fight who easily defeats the ghost devil.
From Kyoto – Episode 9 Recap (7th December)
This episode picks up right where the last one ended. Sensing the tense situation, the hand of the ghost devil pulls the cord on Denji's chest and turns him into Chainsaw Man. He immediately jumps into action and starts fighting the Katana Man. The fight goes on for a while with both opponents seemingly equally strong.
On the other side, Makima, who was thought to be dead, gets up and kills her attackers. Then, the train, that she was on, reaches the Koyot station, and there, Makima meets Yutaro Kurosoe and Michiko Tendo, two local devil hunters. They are shocked to see her alive. Makima orders Yutaro to get 30 convicts who are facing a life sentence or worse and Michiko to rent a shrine at the highest altitude possible. The unsuspecting convicts are gathered at a nearby shrine.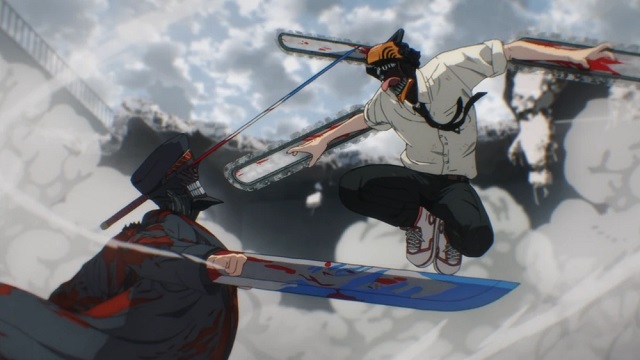 Back on the battlefield, Katana man and his men along with Akane, the woman who controls the snake devil, carry the unconscious body of Denji to their van. But before they can do something, one after another their men start dying. Akane tries to find its cause by talking to other members on the walkie talkie but turns out that the same fate is being delivered to all her men. There is a crow present at all sites, which confirms Makima's hand in the incidents. She uses such birds for spying on her enemies.
As one might expect, at the same time, Makima is performing a devilish ritual with the prisoners. Each one of them is blindfolded much like the other devil hunters. Slowly, all of the prisoners drop dead and so do Akane's teammates. For unknown reasons, Makima allows Katana Man and Akane to live. Meanwhile, Kobeni, a member of Division 4 who survived the attack, angrily arrives at the scene and starts attacking the last two enemies. She uses Denji as a shield and fires bullets at the fleeing opponents.
Bruised & Battered – Episode 10 Recap (14th December)
After an action-packed sequence, the 10th episode of Chainsaw Man anime is a slow and sad one. It opens with Aki in a hospital bed with Power and Denji reading a manga next to him. Denji updates him about the casualties of the attack and informs him that as per Makima's order, Aki doesn't have to live with him and Power anymore. When Denji leaves the room, Aki talks to the curse devil who reveals that he only has 2 years left to live. A few moments later, Denji comes back to pick up his manga but he finds Aki crying alone in the room in the memory of Himeno. Later, Michiko and Yutrao, the devil hunters who Kyoto, reach the hospital as per Makima's request.
Meanwhile, Denji and Power meet Makima at a graveyard where she introduces them to Himeno's master, Kishibe. He will be taking over the training of the two and explains that, for some reason, the gun devil wants Denji's heart. He has trained human devil hunters in the past but is now reading to train devils as well. Once Makima leaves, Kishibe asks Denji and Power to attack him. Both of them immediately agree to the same but end up getting brutally injured in the process. Kishibe is one of the strongest devil hunters and his students learned that soon enough. They spend a few days with him trying and failing to take down their master.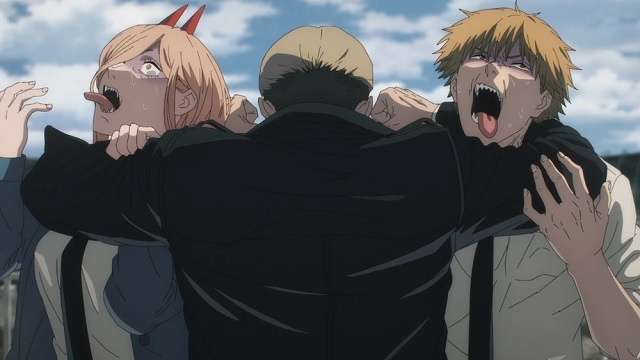 Back at the hospital, Aki tries but is unable to contact the fox devil. The two devil hunters that came to meet him were there to find out if such an incident would make Aki quit. But citing the revenge for his family, Aki claims that he isn't going to quit until the gun devil dies. Later, they take him to a special training facility to make a contract with a new devil. There, Aki meets the future devil.
Mission Start – Episode 11 Recap (21st December)
This episode opens with Aki talking to the future devil who agrees to make a contract with him if Aki allows the devil to live in his right eye. The future devil claims that it is making such a simple contract because it is interested in seeing Aki's death. Meanwhile, Power and Denji are still struggling to beat Kishibe, but they are surely making progress. Kishibe further shares that the two will be live training by fighting Akane and Katana Man along with the rest of Division 4.
Akane and Katana Man, along with their few remaining men are at a secret hideout when Akane mentions that there is no safe place when it comes to Makima. She also reveals that there is an army of zombies right beneath their hideout, made up of humans who failed to pay back their debt to her grandfather.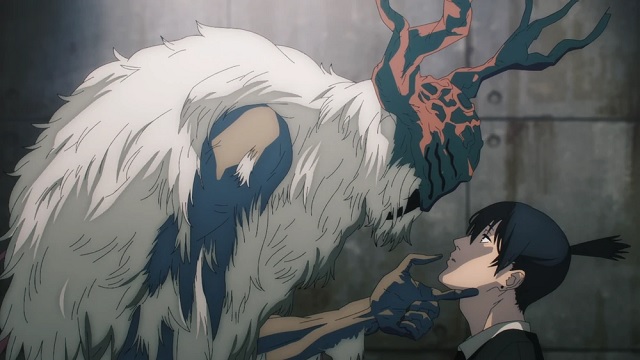 To get more information about the two enemies, Makima sets up a meeting with a Yakuza boss who is also the employer of Katana Man. There, she learns that the gang paid 20,000 yen to the gun devil to obtain guns and ammo. When she pushes him for more information, the Yakuza boss hesitates. This makes Makima pull out a bag filled with eyes that belong to the loved ones of the gang members. She also calls him out stating that his actions are not excusable even though he called them "necessary evil".
Finally, we see members of the Special Division attacking the hideout of Katana Man and Akane. We see them fighting zombies and the anime introduces us to new characters including Beam, the shark fiend who can swim through solid surfaces; Galgali, the violence fiend who dispenses poison gas; Princi, the spider devil that has a human form and immense strength and the angel devil who can reduce the lifespan of humans just by touching them.
At the same time, Aki, Denji, Power, and Kobeni go after the Katana Man and Akane by splitting up. We see Aki fighting and killing a few human shooters until finding Akane who brings out the snake devil. Then she asks it to spit out the ghost devil who appears to be under Akane's control now. She orders it to attack Aki. He tries to use the future devil's power but is easily overwhelmed by the ghost devil. The devil grabs Aki by the neck and Akane asks it to kill Aki.
Where to Watch Chainsaw Man Finale Episode
Chainsaw Man Season 1 finale (aka Episode 12) will air on December 27 on Crunchyroll in most countries, even on TV in Japan. You can check out the previous section to find a suitable streaming platform to watch the final episode in your area. The finale will stream at the following times across the globe:
Australia – 2:30 AM ACDT (Wednesday)
British – 5:00 PM GMT (Tuesday)
Central – 11:00 AM CT (Tuesday)
Eastern – 12:00 PM ET (Tuesday)
European – 6:00 PM CEST (Tuesday)
India – 9:30 PM IST (Tuesday)
Japan – 1:00 AM JST (Wednesday)
Pacific – 9:00 AM PT (Tuesday)
Philippines – 12:00 AM PST (Tuesday)
Though, if you are watching the English dubbed version of Chainsaw Man, you will have to wait three additional weeks to watch it on Crunchyroll. The dubbed version of Chainsaw Man finale will only come out in January.
Frequently Asked Questions
Is Chainsaw Man Coming Out on Netflix?
Chainsaw Man will be available on Netflix only in Japan on 13th October. But, it is also expected to reach other Asian countries following the initial release. Though, no official plans have been revealed for now.
When will Chainsaw Man Anime be English Dubbed?
Even though the voice actors for the English dub of Chainsaw Man have been revealed, there is no word on its release. It might premiere alongside the Japanese release, or it might release a few weeks later. You will have to wait for the official announcement to find out.
Is Chainsaw Man Appropriate for 13-Year-Olds?
Chainsaw Man manga is rated 18+, so we expect the anime to get a similar rating in most regions. Due to the sinister theme, graphic imagery, and gore content, it is not suitable for younger viewers.
Watch Chainsaw Man Anime Legally Online
With that, you are now ready to join the Chainsaw Man anime fandom at the perfect time. But since its release is still a few days away, we suggest you fit another popular anime into your schedule. Our list of best anime websites will give you enough options to browse through and binge-watch. Though, keeping the theme of a young character with supernatural powers in mind, it's best to start with an anime like Black Clover. Having said that, which platform are you going to watch Chainsaw Man anime on? Will you need to use these best VPNs to stream it? Tell us in the comments below!
---
Load More