The wait is over! One of the most anticipated manga adaptations of recent years is finally getting its own anime, and it's only a couple days away from its release. Unless you are living under a rock, you must have heard about the Chainsaw Man anime. It features an overpowered human with a chainsaw coming out of its face and arms. You wouldn't have seen anything like it before. So make sure to grab your popcorn and be ready to find out where you can watch Chainsaw Man anime! Because you wouldn't want to miss this!
Where Can I Watch Chainsaw Man Anime? (2022)
First, we will discuss the release date and streaming platforms where you can watch Chainsaw Man. It will be followed by the basic details of the anime, including the storyline, characters, and voice actors. If you are already familiar with the anime, use the table below to skip to learn about your region's streaming platforms.
Chainsaw Man Release Date: When is the Anime Coming Out?
The first episode of the Chainsaw Man anime will release on 11th October 2022 at 12 AM JST (9:00 AM PT, 11:00 AM ET, or 9:30 PM IST). Though, depending on your platform, you might have to wait a few hours or even days to watch the anime in some regions. More on that in the next section.
Chainsaw Man Episode Release Date and Time
The first season of Chainsaw Man will have 12 episodes, with one airing each week starting from October 11. Unless the show goes on a winter break in December, the release schedule should look like this:
Chainsaw Man Episode 1 – October 11 (Confirmed)
Chainsaw Man Episode 2 – October 18 (Confirmed)
Chainsaw Man Episode 3 – October 25 (Confirmed)
Chainsaw Man Episode 4 – November 1
Chainsaw Man Episode 5 – November 8
Chainsaw Man Episode 6 – November 15
Chainsaw Man Episode 7 – November 22
Chainsaw Man Episode 8 – November 29
Chainsaw Man Episode 9 – December 6
Chainsaw Man Episode 10 – December 13
Chainsaw Man Episode 11 – December 20
Chainsaw Man Episode 12 – December 27
Note: An official list of release dates for all Chainsaw Man episodes hasn't been revealed yet. So, the dates are subject to change without prior notice.
At What Time Does a New Episode of Chainsaw Man Release?
Based on your region and streaming platform, the exact air time of CSM anime might be different for you. But, if you are watching it on Crunchyroll or real-time streaming websites, every episode of Chainsaw Man will come out at the following time:
Australia – 2:30 AM ACDT (Wednesday)
British – 5:00 PM GMT (Tuesday)
Central – 11:00 AM CT (Tuesday)
Eastern – 12:00 PM ET (Tuesday)
European – 6:00 PM CEST (Tuesday)
India – 9:30 PM IST (Tuesday)
Japan – 1:00 AM JST (Wednesday)
Pacific – 9:00 AM PT (Tuesday)
Philippines – 12:00 AM PST (Tuesday)
How to Watch Chainsaw Man Anime Online [Globally]
We have covered all the different regions where Chainsaw Man will be telecasted in separate sections below. Check the platforms, timings, and availability of the anime in your area. All the information is based on official announcements sourced from the Chainsaw website. You can refer to it for additional details.
Japan
Chainsaw Man will be telecasted on six TV Tokyo network stations at 24:00 (12:00 AM) on 11th October 2022. Then, an hour later, it will be available to stream on Amazon Prime Video Japan from 25:00 (1:00 AM JST).
Following the initial release, this anime will sequentially become available on other streaming platforms from the 12th of October. Though, every platform might delay the availability as per their own policies. The supported platforms are ABEMA, Disney+ JP, Hulu JP, Netflix JP, dTV, and more.
USA, Oceania, the Middle East, and Europe
Crunchyroll is the primary distributor and promoter of Chainsaw Man globally, and the anime will be simulcast on this streaming platform.
Chainsaw Man will be available to stream on Crunchyroll on October 11 at 9:00 AM PT in North America, Central America, South America, Europe, Africa, Oceania, the Middle East, and CIS. Moreover, in the US, Chainsaw Man is also going to be available to stream on Hulu alongside Crunchyroll.
Depending on your preference, you will get subtitles for this anime in English, Latin American Spanish, Brazilian Portuguese, French, and German. There is currently no official word on the English dubbed version release, so stay tuned for more information.
How to Watch Chainsaw Man in India and Other Asian Countries
Moreover, please note that even though Crunchyroll is available in most Asian countries, Crunchyroll is not distributing Chainsaw Man in any of those countries. As per Chainsaw Man's official website, here are the main distributors of the anime in Asian countries:
Bilibili (only available in China)
Animax Korea (mainly available in South Korea)
Ani-One
From the looks of it, Ani-One's YouTube channel will be the main platform to watch Chainsaw Man for most Asian regions, including India. They are allowed to distribute the anime as soon as it airs in Japan. But, depending upon the distribution service, the actual release date and time might differ drastically. If you're in this region, it's best to keep an eye out on the Ani-One YouTube channel (visit) for some hope.
How to Watch Chainsaw Man Anime for Free and Legally
Legally, the only way to watch Chainsaw Man for free is when the anime drops on Ani-One's YouTube channel. However, there's a chance that you will need to buy a channel membership for Ani-One to stream the anime, so it might not be completely free after all.
Alternatively, you can also get a free trial on Hulu, Crunchyroll, and other premium platforms to watch the Chainsaw Man anime for free. Since these trials usually only last a month, you won't be able to finish Chainsaw Man, which will follow a one episode per week release.
Chainsaw Man Story: What's the Plot of the Anime?
Note: This paragraph contains spoilers for the opening segment of Chainsaw Man. We suggest you skip this section if you do not want any spoilers and want to watch the anime with no background.
Chainsaw follows a young man by the name of Denji, who is a devil hunter that lives with the Chainsaw devil called Pochita. Together, they work for the Yakuza gang and eliminate devils in order to pay back the loan of Denji's father. But this partnership faces a fatal betrayal that Denji cannot survive without a contract with the devil. That's when Pochita offers his heart to Denji, turning him into Chainsaw Man. Now, this new human-devil combo has to find its place in a world full of devils and monstrous humans.
The Chainsaw Man anime is based on a manga of the same name by Tatsuki Fujimoto. Its first arc concluded back in 2020 and included 11 volumes, comprising a total of 97 chapters. We expect the first couple of seasons of the anime to focus on the same. Though the manga is still ongoing, and there is no end to the adventures of Chainsaw Man at the moment.
Moreover, the anime is being produced by MAPPA, which is the same studio known for Jujutsu Kaisen and Attack on Titan: The Final Season. So, the stakes of this Chainsaw Man anime are extremely high.
Chainsaw Man: Characters and Voice Actors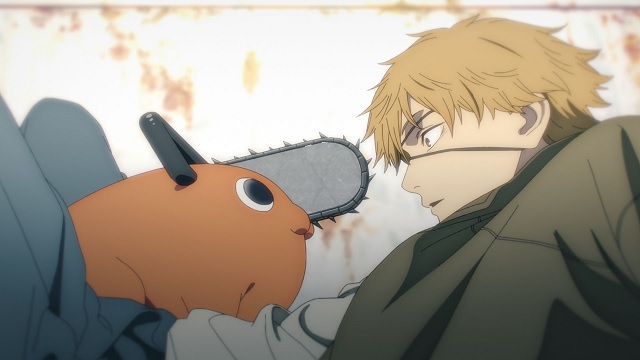 The Chainsaw Man features the following main characters:
Denji: The youngster who turns into the Chainsaw Man
Pochita: A chainsaw devil who is also Denji's pet dog
Makima: She is a public safety devil hunter who presides over Denji
Aki Hayakawa: He is also a devil hunter working in Makima's team
Power: She is a human-devil mutant (fiend) who is a part of Makima's team
The original Japanese voice cast of this anime includes:
Kikunosuke Toya as Denji/Chainsaw Man
Tomori Kusunoki as Makima
Shogo Sakata as Aki Hayakawa
Fairouz Ai Kadota as Power
Shiori Izawa as Pochita
Chainsaw Man Anime Episode Recaps
Dog and Chainsaw – Episode 1 Recap (11th October)
The first episode of Chainsaw Man introduces us to Denji, an orphan teenager whose father passed away without paying off a huge debt to the Yakuza. He meets an injured Pochita, the chainsaw devil, on his father's grave and saves his life by offering him blood. Following that, Pochita and Denji become friends and kill devils for Yakuza to pay off the debt. Unfortunately, the gang betrays Denji and tries to kill him and Pochita with the help of a devil and his zombie army.
When they are both about to die, Pochita offers to take over Denji's heart if he agrees to share his dreams with the Chainsaw devil. Denji agrees, and this contract leads to the formation of Chainsaw Man. After transforming into the Chainsaw Man, they kill all the members of the Yakuza gang as well as the zombies. The episode ends with the Public Safety Devil Hunter squad reaching the scene, and Makima, the squad's head, hugging Denji and him turning back into human form.
Arrival In Tokyo – Episode 2 Recap (18th October)
After a heavy pilot, the second episode of Chainsaw Man is a bit light-hearted. It begins with Makima escorting Denji to the Public Safety Devil Hunters' Tokyo headquarters. There, she provides him with a uniform and officially welcomes him into the PSDH association. Earlier that day, she also took him out for breakfast. It is clear from earlier that Makima treats him like a pet dog. She even tells him to answer with "yes" or "woof". Though, because of her caring personality and memories of his own pet Pochita, Denji doesn't seem to mind. No one has ever treated him with kindness, let alone offered him food.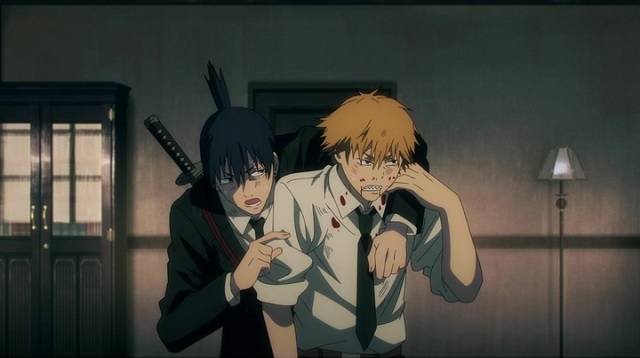 Later on, she introduces Denji to Aki, a senior member of Makima's special squad. They are supposed to work and live together, but Aki isn't fond of Denji. He even tries to beat him up on patrol because of Denji's lack of seriousness. But the tables turn when Denji launches multiple unexpected attacks on him. This episode also introduces us to a fiend by the name of Power. She is a member of Makima's squad and is truly wild and loud. When sent on a patrol with Denji, Power finds and kills a devil before the Chainsaw Man even has a chance to react.
Other than introducing new main characters to the show, the second episode also allowed Denji to find his motive for killing devils. As per Aki, devil hunters without a purpose to drive them don't survive long. So, after much contemplation, Denji decides that his immediate goal is to touch a woman's breasts. As silly as it might sound, our protagonist is pretty driven by his goals.
Frequently Asked Questions
Is Chainsaw Man Coming Out on Netflix?
Chainsaw Man will be available on Netflix only in Japan on 13th October. But, it is also expected to reach other Asian countries following the initial release. Though, no official plans have been revealed for now.
When will Chainsaw Man Anime be English Dubbed?
Even though the voice actors for the English dub of Chainsaw Man have been revealed, there is no word on its release. It might premiere alongside the Japanese release, or it might release a few weeks later. You will have to wait for the official announcement to find out.
Is Chainsaw Man Appropriate for 13-Year-Olds?
Chainsaw Man manga is rated 18+, so we expect the anime to get a similar rating in most regions. Due to the sinister theme, graphic imagery, and gore content, it is not suitable for younger viewers.
Watch Chainsaw Man Anime Legally Online
With that, you are now ready to join the Chainsaw Man anime fandom at the perfect time. But since its release is still a few days away, we suggest you fit another popular anime into your schedule. Our list of best anime websites will give you enough options to browse through and binge-watch. Though, keeping the theme of a young character with supernatural powers in mind, it's best to start with an anime like Black Clover. Having said that, which platform are you going to watch Chainsaw Man anime on? Will you need to use these best VPNs to stream it? Tell us in the comments below!