New laptops and PCs running Windows 10 or even new MacBooks come with very high resolution displays and if you have recently bought one, you might have encountered a weird issue with the Chrome browser. Some of the webpages don't really play well with the high resolution displays, the text on these webpages are either abnormally large or small. Well, you can fix that by using the zoom option in Chrome.
Chrome does let you temporarily zoom-in or out using the Ctrl +/- shortcut or you can hit the three-dot menu button on the top right corner and use the Zoom option but what if you want to permanently change the default zoom or text size in Chrome.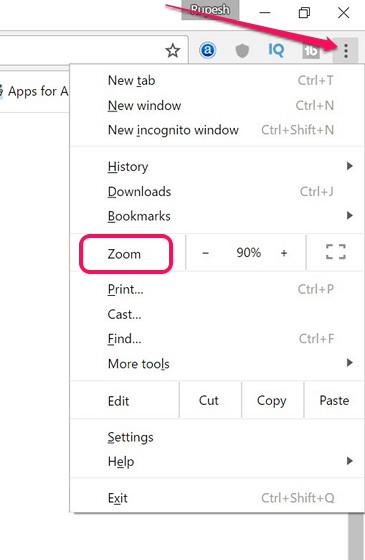 Change Default Zoom in Chrome
To permanently set the zoom of webpages in Chrome, just head to Chrome Settings. Here, scroll down below and click on "Show advanced settings".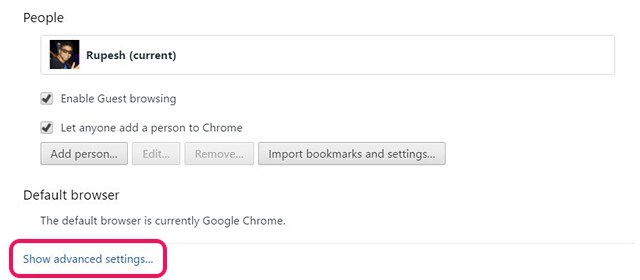 Then, under the "Web Content" section, click on the "Page Zoom" drop-down menu and select the zoom percentage that lets you view webpages better.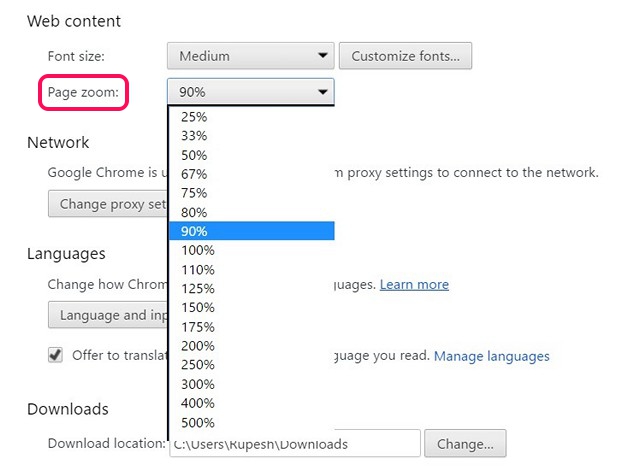 Change Text Size in Chrome
If you just want to make sure the text in webpages is larger or smaller, you can change the text size in Chrome. In the Web Content section of Chrome Settings, you also have an option to change the font size from very small to very large.
You can also click on the "Customize Fonts" option to change the fonts of different text in Chrome, as well as the encoding.
If you want to change the font of different languages, you can check out the Advanced Font Settings extension.
Note: Some webpages use fixed fonts and in that case, changing the text size in Chrome won't help and you should use the zoom feature. 
Change Text Size in Chrome Android
If you happen to own one of the latest Android flagships that pack in QHD/2K displays and you are seeing webpages load up weirdly in Chrome, it's probably a good idea to change the text size. To do it, you can go to Chrome Settings->Accessibility and drag the text scaling slider to the percentage you want. Here, you can also enable "Force Zoom" to zoom-in on any website.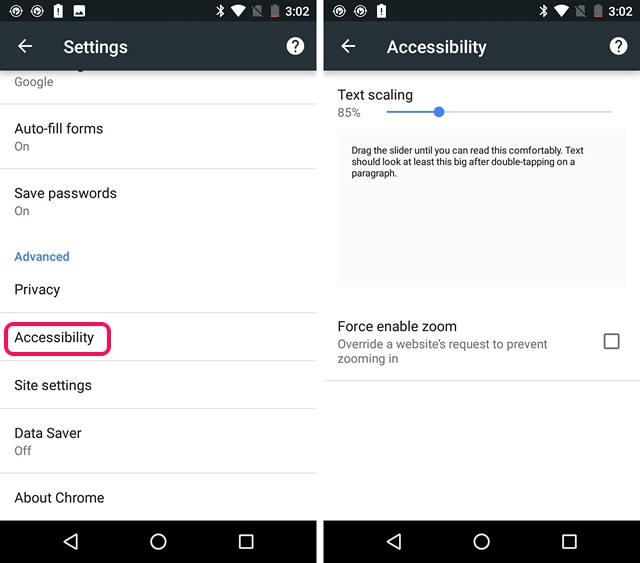 SEE ALSO: 8 Cool Chrome Tricks You Do Not Know About
View webpages better through these options in Chrome
If you are like me, you browse the web a lot and if you do it on Chrome, it's important that you customize the various aspects like text size, zoom to meet your preference. Thankfully, Chrome offers pretty straightforward options to change default zoom or text size. So, try out these options on your Windows PC or laptop, Mac or Android smartphone and do let us know how they work out for you. Sound off in the comments section below.
---
Load More