The new Game of Thrones season (Season 6) is here and we can't wait to see what's next for our favorite Westerosi characters (and dragons). We all want to watch the new episodes as they are aired in the US but sadly, not all of us can do it. There are a number of reasons for that like the unavailability of HBO or its services like HBO Go/Now in different countries, late arrival in local channels etc. Well, "the web is dark and full of spoilers", which means the moment you come online, you will be presented with a ton of spoilers around the new episode you haven't watched yet.
That's not a good feeling, is it? Especially at a time when Game of Thrones book fans are at par with the TV show fans on what's going to happen next. Thankfully, there are ways to block all Game of Thrones spoilers and here's how to do it:
1. Block Spoiler Posts on Chrome and Firefox
There's an extension for Chrome aptly dubbed Unspoiler, which should really help you out in blocking Game of Thrones spoilers. Just install the extension and add the keywords like "Game of Thrones", "Game of Thrones Season 6" and the extension will make sure to put up a red banner hiding every post that might bring a spoiler, saying "Warning! This may be a spoiler for Game of Thrones". The extension works on Facebook, Twitter, Google and every other webpage, so you don't have to worry about coming across any spoilers anywhere on the web. Moreover, the extension notifies you at the top of a page when the page has spoiler content down below.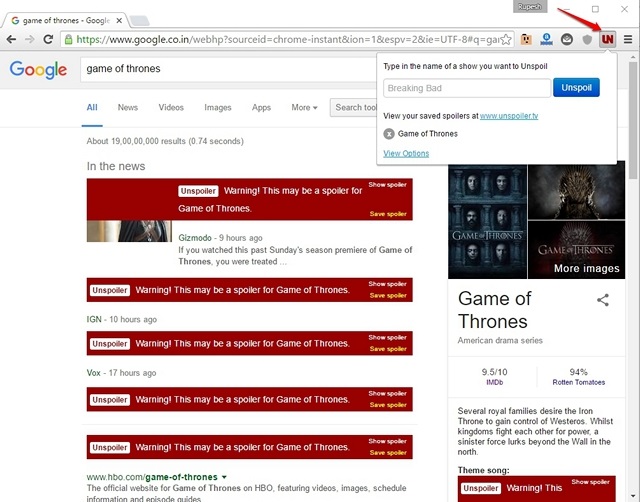 There are also buttons to see spoiler or save spoiler for later viewing. If you don't mind consuming Game of Thrones content from a particular website, you can add them to the Whitelist. If you are a Firefox user, you can use the ProCon extension to block Game of Thrones spoilers.
2. Block Comments on the Web
Social media posts and articles are the biggest source of spoilers but trolls also love posting spoilers in the comments section of a YouTube video or a forum thread. Well, you can block all the comments on the web to make sure there's no way to read spoilery comment. You can install the Shutup extension for Chrome, which blocks all the comments related to Game of Thrones across the web. You can choose to unblock comments on a particular page and the extension will remember that, which is pretty handy. Firefox users can use the Comment Snob extension.
3. Block Spoilers on Twitter Web and Mobile
Tweetdeck has always been known as "Twitter for power users" and rightly so! The web client of Twitter lets you exclude tweets based on keywords. If you are using Tweetdeck and want to block Game of Thrones spoilers from your feed, hit the settings icon on top of a column and click the drop-down menu on "content". Then, enter keyword you want to block from the timeline in "Excluding".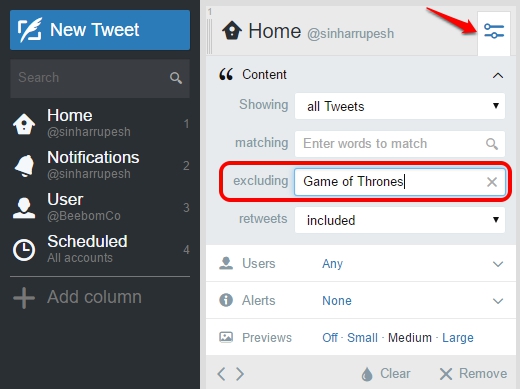 If you are on phone, there are a few third party Twitter clients like Falcon Pro, TweetCaster, TweetBot (iOS) etc. that let users mute hashtags as well as some specific users from the Twitter home feed. So, you can easily add the hashtag "GameofThrones" to the mute list on these apps and that should make sure you don't see any tweets around Game of Thrones.
SEE ALSO: How To Stop Autoplay Videos on Facebook, Twitter, Instagram and Other Sites
Ready to defend yourself from the terror of Game of Thrones spoilers?
These browser extensions should make sure that you are protected from spoilers when browsing the web on a computer. However, the fact remains that the best way to remain spoiler free is by not using your smartphone or using the web at all. That's also because there aren't many ways to block spoilers on a smartphone. Well, we certainly hope we helped you out in your endeavor to block Game of Thrones spoilers.
Do you have another way to block spoilers? Let us know in the comments section below. Valar Morghulis!