After tasting success with the Honor 8X in the mid-range segment in India, the brand is now following it up with the launch of the much-anticipated Honor 8C in the hopes of carving a spot for itself in the jam-packed budget segment as well.
On paper, the Honor 8C has a lot going for it. The Honor 8C (starts at Rs 11,999) is the world's first-ever device with the Snapdragon 632 chipset and well, how it performs is one thing we will be exploring thoroughly in this review. It also has an attractive rear panel design, and a 4,000 mAh battery in a slim form factor.
Well, I have been using the top-end (4GB+64GB) variant of the Honor 8C in Aurora Blue and I'm here to share my experience over the past week. We'll take a look at whether the Honor 8C offers anything extraordinary, except for the stunning rear panel design. So, let's dive in and take a look:
Honor 8C: Specifications
Before we talk about my experience with the device, let's take a quick look at the specs table for the Honor 8C:
| | |
| --- | --- |
| Dimensions | 157.2 x 76 x 7.98 mm |
| Weight | 167 grams |
| Display | 6.26-inch HD+ IPS, 19:9 aspect ratio |
| Processor | Snapdragon 632 |
| GPU | Adreno 506 |
| RAM | 4GB |
| Storage | 32GB/64GB |
| Rear Camera | 13 MP (f/1.8) + 2 MP (f/2.4) depth sensor, with LED flash, PDAF |
| Front Camera | 8MP (f/2.0) with soft LED flash |
| Software | Android 8.1 Oreo-based EMUI 8.2 |
| Battery | 4,000mAh |
| Connectivity | Wi-Fi 802.11 b/g/n, Wi-Fi Direct, Bluetooth 4.2, A-GPS, GLONASS, BDS, microUSB, 3.5mm jack |
| Sensors | rear-mounted fingerprint sensor, accelerometer, compass, magnetometer, proximity and light sensor |
| Colors | Aurora Blue and Midnight Black |
Honor 8C: What's in the Box
Like any other Honor phone, the Honor 8C also comes packed inside a blue cardboard box but this time Honor has added a photo of the phone on top, which is new. Open this box and you will in be greeted by the stunning device clad in plastic, followed by all the remaining contents, which are as under:
10W Power Adapter
micro-USB Cable
Quick Start Guide
SIM Ejector Tool
Screen Protector (x1)
Silicone Case
The complimentary screen protector is a pleasant surprise and is something we now see being offered with more and more budget smartphones.
Honor 8C: Design and Build
There's no doubt that Huawei knows how to make some beautiful phones, and Honor has learnt a thing of two. While Huawei is taking things up a notch with the Mate 20 Pro's twilight back, the "cat's eye effect" on the Aurora Blue Honor 8C I've been using looks stunning as well. It's definitely not like any other phone in this price range.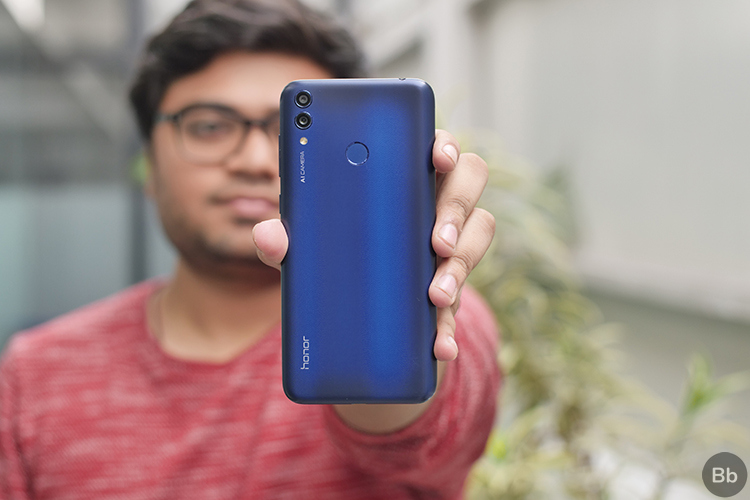 Honor told us that the rear design of the Honor 8C is an evolution of the Honor 8X, which was instant eye-candy. It doesn't have the same dual-tone finish that was rather attractive, but the Honor 8C's deep and bright blue tone combo is a great nonetheless.
The company hasn't used glass to build the Honor 8C but instead there's a 3D nano-level texture design technique which gives the back panel a shiny and soft-touch finish, with a mixture of glossy and matte surfaces. The rear cameras, fingerprint sensor, and the branding placement on the rear are identical to the Honor 8X.
Well, I really like how the back panel of the device lights up in various lighting conditions and even everyone at Beebom was mesmerized when they saw and held the device. The shiny back has even drawn questions from strangers in the Delhi Metro, who came up to me to ask about the phone. So, good job on the beautiful design, Honor!
As for my daily experience, the in-hand feel and lightness of the Honor 8C is worth the praise as well – especially since it includes a massive battery but doesn't feel like it. The curved back and slim body make for a super comfortable user experience, giving you an overall sturdy build, but it's still difficult to use with one hand.
Finally, the Honor 8C also includes a set of likable and clicky buttons on the right edge. It packs a micro-USC charging and data transfer port (still no USB-C on budget phones) at the bottom and 3.5mm headphone jack at the top to round up the ports.
Honor 8C: Display
Well, the display on the Honor 8C came as a pleasant surprise to me. First, let's get the specs out of the way. The device includes a 6.26-inch HD+ IPS LCD display, with a 19:9 aspect ratio and a display resolution of 1520×720 pixels.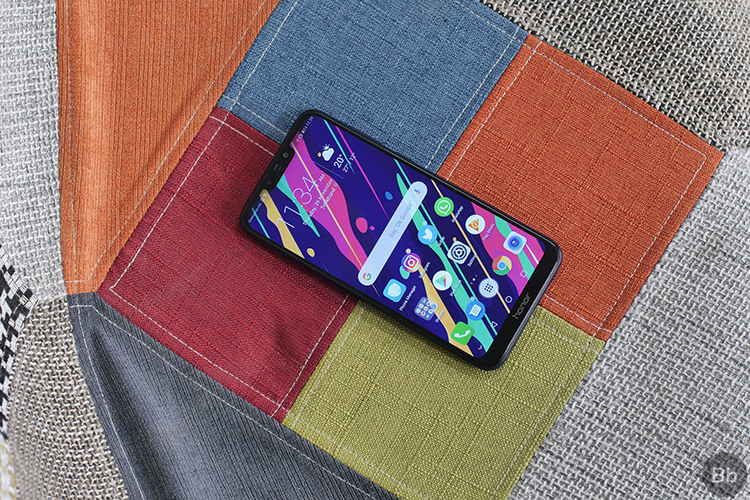 The almost edge-to-edge screen, with a moderately-sized notch and a big chin with Honor's logo, makes for an 86.6% screen-to-body ratio. The notch is justified as it includes everything from the earpiece, selfie camera, a soft LED flash, and even an LED notification light – something that's missing on the Realme U1.
Even though the company has included only an HD screen on this device, you will notice that it has great color reproduction right off the bat. Tet and images look really crisp on this massive screen, making my daily Instagram ritual a lot of fun. The Honor 8C's notched screen usually gets pretty bright – not just indoors but under direct sunlight as well, has good viewing angles, and is great for watching content.
However, I have a major qualm against the Honor 8C's display and this small detail has been bugging me since I unboxed the smartphone. The corners of the display are a bit too rounded for my taste and it gets in the way of the experience. The battery icon on the right and telecom operator names on the left are too close to the curved edges- almost touching it and I hate that.
Honor 8C: EMUI 8.2 Experience
The Honor 8C is backed by Android 8.1 Oreo-based EMUI 8.2 and one cannot find any shortcomings on the software front as EMUI is one of the best Android skins – along with Xiaomi's MIUI. It's feature-packed, fluid, and extremely easy to use as don't need a tutorial to learn your way around it.
In my daily use over the past few days, I didn't come across any hiccups in the user experience. EMUI even offers you the Google News Feed by swiping right from the home screen, something which I love on stock Android. It gives you access to a ton of features such as the option to hide the notch, Eye comfort (certified by TüV Rheinland), App Twin, and many other handy features that I used almost every day.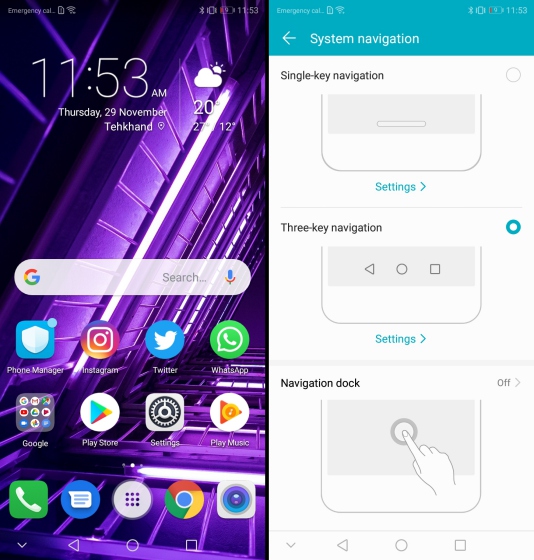 Since Honor 8C is a huge device, one-handed use won't be the easiest task on the list of users with small hands. Thus, EMUI 8.2 provides you the option to a gesture navigation system (offering you a number of alternatives), along with gestures for opening camera, seeing notifications, and other similar functionalities.
The software, however, also comes with a myriad of Huawei apps pre-installed and well, there's no need for them as they're just bloatware – adding clutter to the experience.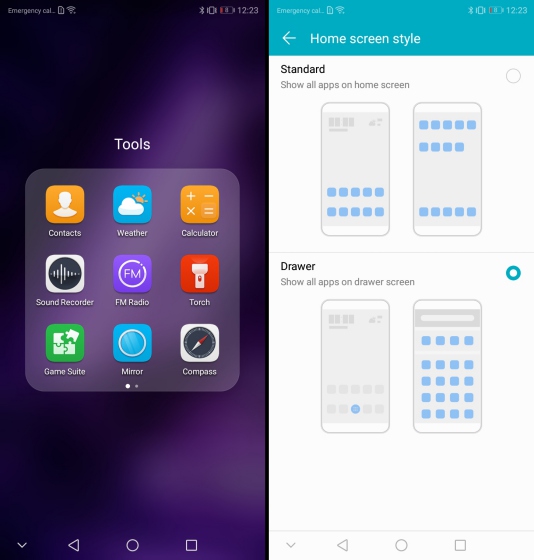 Additionally, if you're someone who doesn't want to keep scrolling through several home screen to find the app you need urgently, then you can also jump into the settings to get the app drawer back in place. It is super handy and helps you keep your home screens a lot cleaner than otherwise
Honor 8C: Performance
While its predecessor was powered by a Snapdragon 400-series processor, the Honor 8C touts to be the first-ever device to be powered by the Snapdragon 632 chipset. It is paired with 4GB of RAM and two storage options – 32GB and 64GB. We have the latter, the higher-end variant of the Honor 8C with us and it has been a breeze to use the phone, except for a few janks and stutters in the UI.
The Snapdragon 632 isn't as powerful as the Snapdragon 636 or Helio P70, however, my time with the device has been quite satisfactory. I didn't observe any lags from the phone or frame drops in animations – even while multi-tasking. The device is able to handle multiple apps thrown at it without any bad consequences, and memory management is also decent.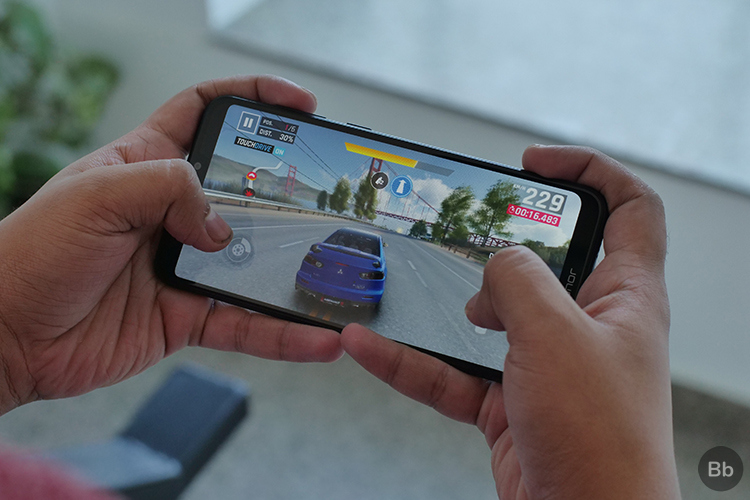 Turning our attention to the gaming performance, well, you can comfortably pick up the device and run some of the more taxing games. I had been playing Asphalt 9, PUBG Mobile (which has the same notch support problem as Poco F1 at launch), and Mortal Combat X on my device regularly and I didn't experience any frame drops or lag during any of the gameplay.
It may take the device a tad bit longer to load up games, which can be expected from a budget phone, but the games run smoothly and the device doesn't even show any major signs of heating either. You would obviously not be able to enjoy the game at highest graphics but it does justice to the gameplay for the price and I'm happy about it.
Honor 8C: Antutu Benchmarks
If you're someone who cares for and judges the performance by benchmark figures, the Honor 8C touts a single-core score of 852 and a multi-core score of 2942 on Geekbench whereas the AnTuTu benchmark score misses the 100k mark only by a couple thousand.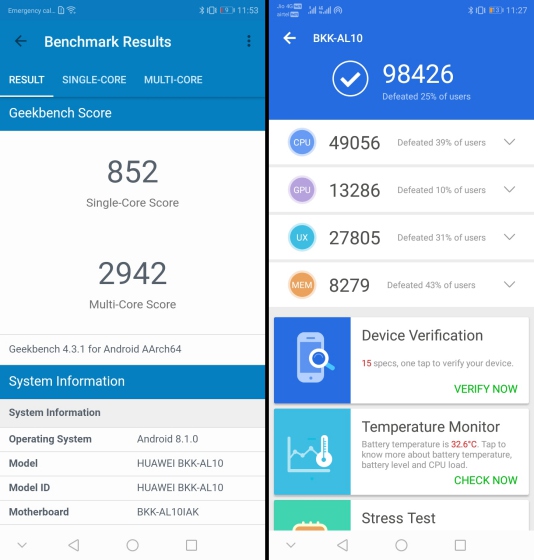 Comparing it to similarly-priced rivals, the Snapdragon 636 usually touts a Geekbench 4 single and multi-score of about 1300 and 5000 so the Honor 8C is underpowered, as can obviously be seen. The Realme U1 that I reviewed yesterday has benchmark scores even higher than the Snapdragon 636 SoC, and by extension the Honor 8C, and it comes for the same asking price.
However, one cannot really judge the real-world performance of the device simply by its benchmarks and the Honor 8C, even though it scores less on benchmarks, actually does perform pretty well in everyday use.
Honor 8C: Cameras
Turning our attention to the cameras on Honor 8C, the device brings along a dual camera module, with a 13 MP (f/1.8) primary sensor and a secondary 2 MP (f/2.4) depth sensor on the rear. It also packs an 8MP (f/2.0) selfie camera on board, with a soft LED flash both on the front, as well as the rear. And they're just average, something that has  disappointed me about this smartphone.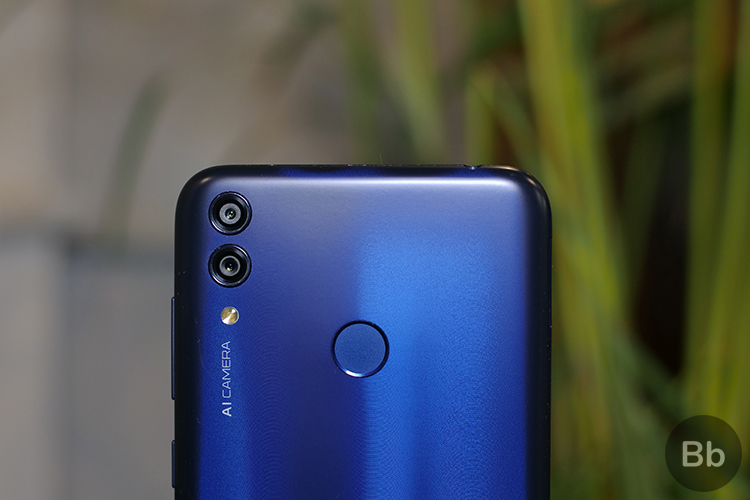 The camera on the Honor 8C comes backed by AI, making it capable of recognizing more than 22 categories and 500 scenes. This worked well in most scenarios for me, where the device knew that I was clicking the picture indoors or of a plant, or human subject. You can check out some of our camera samples attached below:
Honor 8C Camera Samples: Daylight
You can see how the Honor 8C saturated the red and greens in the pictures below, thanks to the AI, making them pop and the photos ready to be shared on social media. However, the camera here is a hit and miss, which was also the case with the Honor 8X, and ouput generally isn't under your control. The camera is able to retain details and highlights but I'm not completely satisfied with its performance, overall.
Honor 8C Camera Samples: Low Light
The low light performance of the Honor 8C's camera is the worst thing about the phone, and you can see that there's a lot of noise in each and every photo we captured. While the AI here tried to retain details in the shadows and highlights in low light, it's not doing any wonders here. The selfies in low light are even worse. Check out the samples below:
Honor 8C Camera Samples: Selfies
However, the regular selfie photos captured using the Honor 8C are quite good in daylight conditions. The shots captured are able to retain details but are a bit on the softer side, which could possibly due to the AI in play. You can, however, use the adjustable selfie light to click better pictures at night – just marginally better, though.
Honor 8C Camera Samples: Portrait Mode
Are you ready for more bad news? This one is not so grave but portrait mode on Honor 8C is only on for the rear camera. Yes, it seems Honor totally forgot that selfie portraits are popular among users. That's a shame as the edge detection and background blur in the samples below, make us want to see it in the front camera too. Having said that, some of these photos do look oversharpened and oversaturated.
Honor 8C Camera Samples: AR Lens and More
Honor 8C also brings in tow a number of other features that are buried under the "More" tab in the camera app. Here you'll find not only an HDR mode and Pro mode but also a comical "AR Lens" feature that allows you to change the background as well.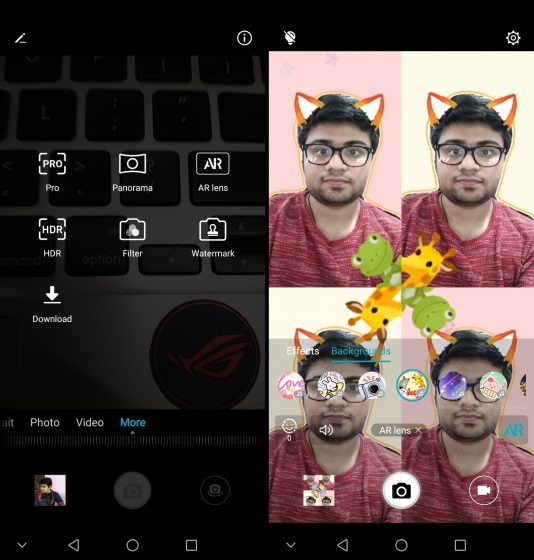 Honor 8C Camera Samples: Videos
Finally, on the video front, the device is capable of capturing Full-HD (1080p) videos at 30fps from the rear cameras and only HD (720p) videos at 30fps via the selfie lens. The video quality, just like the photos, is sub-par, but one can make do with the same at this price point.
Honor 8C: Connectivity
There's no dearth of connectivity options on the Honor 8C. It includes a triple-slot tray, which allows you to use two nano SIM and a microSD card at the same time. More and more phone makers are steadily making a switch to the triple-slot tray to offer users a chance to upgrade their storage.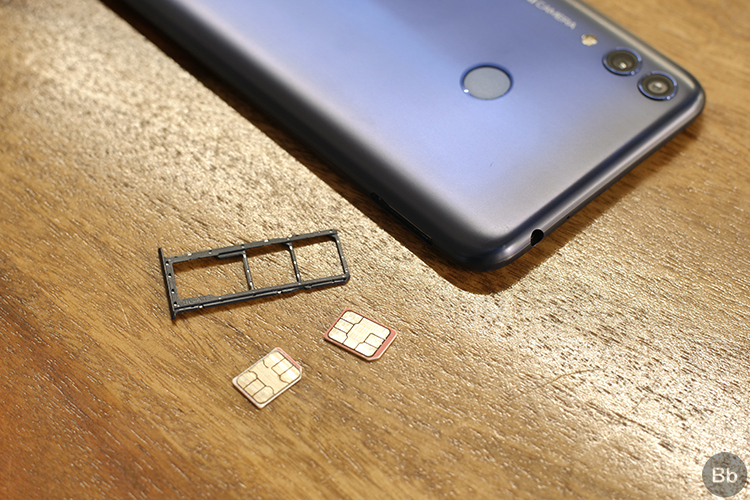 The device also features a 3.5mm headphone jack that is still present in all the budget phones (because who has extra money for wireless headsets) and a micro-USB port for charging and data transfer purposes. This will soon be a major problem and I wish that OEMs make the switch to USB-C sooner or later.
In addition, you get all of your usual connectivity options including 802.11 a/b/g/n (no 5GHz support here), and Bluetooth 4.2 low energy, along with A-GPS, GLONASS and BDS for better location-based features.
Honor 8C: Audio and Telephony
I think I would soon be tired of repeating that most budget phones nowadays feature only a single bottom-firing speaker and it is not the most reliable location. It's ridiculously easy to muffle the speaker while playing games.
The company could've ditched the Honor logo on the front and added an extra speaker to offer a stereo sound experience, but that's just wishful thinking.
As for the sound quality, well, the speaker sounds a bit tinny and doesn't output any bass or treble, simply punching up the vocals and making the music sound dull. It's sufficiently loud to make everyone take note in a silent office space but isn't the loudest speaker out there in the budget segment.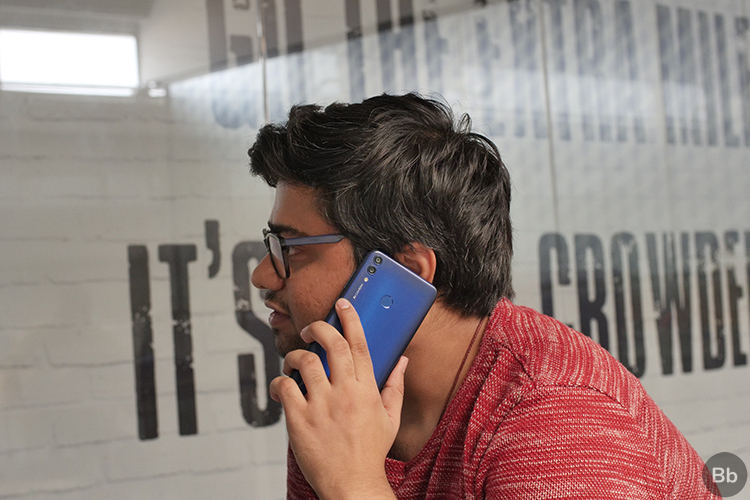 It offers you access to 15 volume steps, which is a decent number but the sound only kicks in at around 50% and before that you hear murmur. The sound output using the headphone jack is great and I have no major complaints there.
Turning our attention to telephony, I have been using both my Jio and Airtel SIM with Honor 8C for a week now and haven't faced any reception and calling woes. All my calls went smoothly, where I was able to hear the caller pretty clearly and from the feedback I gathered, they were also able to hear my voice well, with no major background noise affecting the experience.
Honor 8C: Battery Life
The Honor 8C comes packed with a massive 4,000mAh battery pack and it's one of the highlights for the device. The company promises battery life of up to two days, under regular conditions, on a single charge.
Well, over my week with the phone, the Honor 8C did manage to amaze me and lasted one and a half day on regular use. I was either texting friends and colleagues, playing PUBG, watching videos or listening to music on the way back home, and more. It died in the middle of the day on the second day of use, which is pretty good.
As for the charging, the Honor 8C comes equipped with a 10W power adapter that helps juice up the 4,000mAh battery on board from 10% to 75% in about 80 minutes. This may not be as fast as OnePlus, but it's good enough and would get the job done, completely charging the device in around 2 hours.
Further, the battery setting on the device comes with a plethora of features, especially "Smart Resolution" that lowers the resolution when the battery is about to be depleted. This helps save some extra juice, which you can push further by enabling the 'power saving' or 'ultra power saving' mode.
Honor 8C: Is This Shiny Budget Phone Worth Buying?
Well, we have made it to the final and most exciting section of the review. This is where we'll talk about whether Honor 8C (starts at Rs 11,999) makes for a good buy or not. Honor 8C is one attractive device with its bright rear panel, notched display, the Snapdragon 632 (which isn't half bad) chipset, and fluid EMUI software experience.
However, the cameras on this device aren't as good as one would have expected to be, plus when you couple that with the price of the Honor 8C then you're in a for pity party. The Honor 8C gets a big no-no from me if you're looking for a power-packed budget phone, but if looks matter to you the most, then there's nothing better out there in this segment.
Compared to the Honor 8C, smartphones such as the Realme U1, Redmi Note 6 Pro, and even the company's Honor 8X (Rs 14,999) make an even stronger case. I know, you will have to pay some premium to grab these devices but they'll be worth the expense.
If you're looking for a great all-rounder device, but can compromise a bit on the camera front, then the recently launched Realme U1 (starts at Rs 11,999) should be your go-to option. However, if it's the cameras that are of utmost importance for you, then Redmi Note 6 Pro (starts at Rs 13,999) is much better than these competitors.
PROS
Eye-grabbing design
Fluid software
Strong gaming performance
Great battery life
CONS
Overly-rounded corners
Lackluster cameras
No selfie portrait mode
Overpriced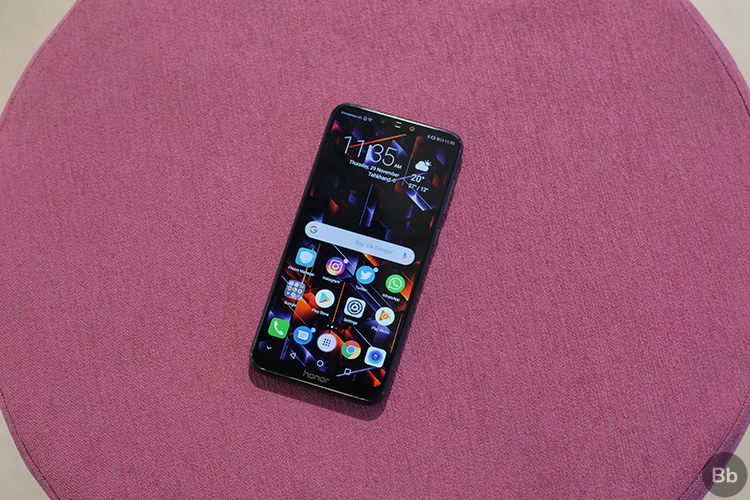 SEE ALSO: Realme U1 Review: Good Value for Money, But Not The Best
Honor 8C Review: Can Beauty Make up for Poor Cameras?
Ultimately, the Honor 8C may be a worthy upgrade from its predecessor, but, the appeal of the device and it's mesmerizing rear panel is somewhat lost in the light of the poor camera.
While the Chinese company may have hit a home run with the Honor 8X, its attempt at a similar budget-centric device didn't live up to all the hype. There are better options available in the market in the same price segment and there's no denying that fact.
Are you still interested in buying the Honor 8C? If so, please let us know your thoughts in the comments section down below.
Buy Honor 8C from Amazon (starts at Rs 11,999)
REVIEW OVERVIEW

SUMMARY

Honor 8C is definitely a looker and there's no denying that fact, but the cameras, which is a major factor for budget smartphones, are a big letdown. This leads to a heavy loss against the competition from Xiaomi, Realme and others. After knocking it out of the park all year, Honor has missed the mark.