Google has partnered with Danish hearing aid manufacturer, GN Hearing, to bring native hearing aid streaming support to Android. The feature will allow people with an auditory impairment to link their smartphone with their hearing aid so that they can clearly listen to the sound generated by their smartphone, just like Apple did with iOS 12. Google is currently working with GN Hearing to create a new open specification for hearing aid streaming support, a feature that will soon arrive with a future build of Android.
What this means is users will no longer have to rely on intermediate devices to amplify the audio signals, and can now directly connect their hearing aid with an Android smartphone to call friends, listen to music and do a lot more.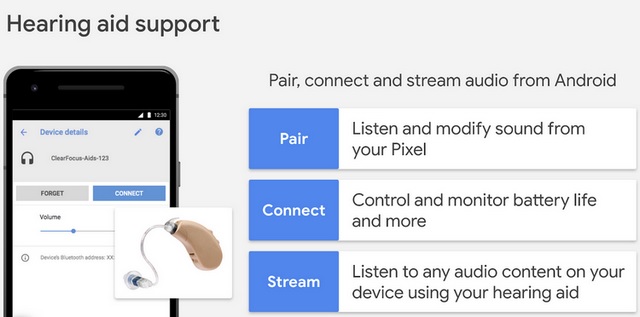 Users with hearing loss will be able to connect, pair, and monitor their hearing aids so they can hear their phones loudly and clearly.
In an official blog post, Vice President of Google's Engineering Division, Seang Chau revealed that people suffering from hearing impairment desire clear audio with minimal latency from their connected hearing aid, and at the same time, don't want the audio streaming feature to affect their smartphone's functionality and its battery output.
Google has taken into account all the requisites and has published a new hearing aid spec for Android smartphones called Audio Streaming for Hearing Aids (ASHA) on Bluetooth Low Energy Connection-Oriented Channels. As per Google, ASHA has been designed to minimize battery drain while simultaneously providing crystal clear audio with minimal latency to people who rely on hearing aids.
Thanks to the ASHA hearing aid spec, which is now available for developers and OEMs, hearing aid manufacturers can now integrate native hearing aid streaming support for Android on their devices. According to a press release from GN Hearing, direct audio streaming from Android smartphones to hearing aids will first arrive on the recently launched ReSound LiNX Quattro and the Beltone Amaze hearing aids via an update.