The redesigned Subscriptions Center in Google Play, which was announced at I/O 2018 in May, is now widely available to all users. Subscriptions Center is the place manage your app subscriptions and discover new apps worth subscribing to.
In an official blog post, Google revealed the tools in the new Subscriptions Center that would allow developers to manage their revenue stream more effectively.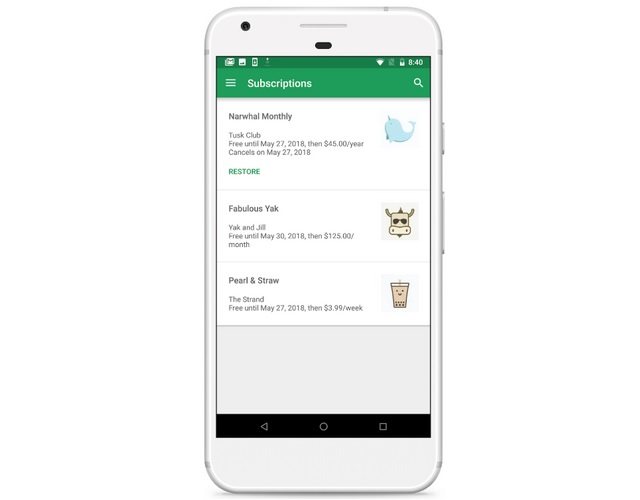 For users who are yet to subscribe to an app, the Subscriptions Center now has a 'Get Started' link that directs them to a page where they can discover subscription apps and choose from an extensive catalog curated by Google Play. Tapping on an app here shows details about such as the subscription cost, primary payment method, renewal date, etc.
In addition to it, the Subscriptions Center now allows users to change payment methods, update banking information and set up another payment method as a backup. You can also renew and cancel subscriptions, and restore canceled subscriptions
Moreover, when users cancel a subscription, a feedback survey will automatically pop-up to find out why they have decided to leave. Google has also launched new 'Deep Links', which can be utilized by developers to let users manage their subscriptions from the app, via the web or over email.
Google has also announced a host of new changes for developers that will arrive in the near future. Developers will soon be able to notify users about changes in subscription pricing via in-app notifications, push notifications and emails. And if users fail to accept the new pricing structure before the renewal, the subscription will be canceled.
With more and more developers adding subscription to their apps so users have to pay every month instead of a one-time purchase, it makes complete sense for Google to focus on this aspect for its next major improvements to the Play Store.