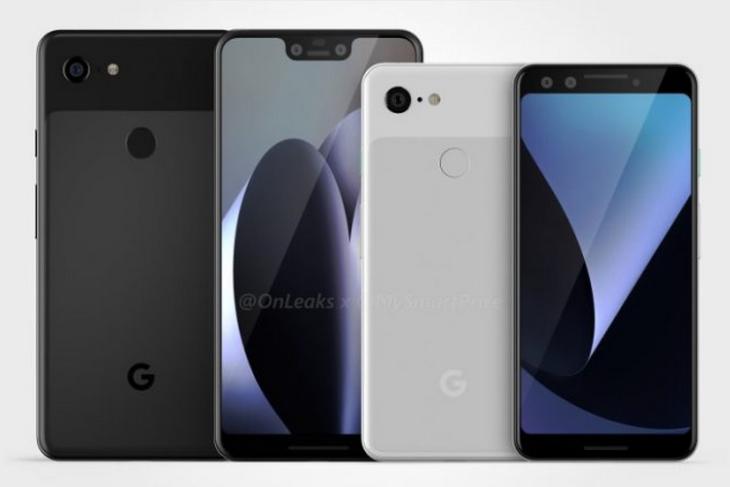 As the launch time for Google's Pixel 3 smartphones comes closer, new leaks and rumours have started making rounds once again. Renowned tipster, @OnLeaks has now leaked high quality renders of the Pixel 3 and Pixel 3 XL which are claimed to be based upon actual factory CAD (Computer Aided Design) files.
The tipster claims that the Pixel 3 XL will feature a 6.2-inch display with a notch, while the smaller Pixel 3 will come equipped with a 5.3-inch display without a notch. The new leak corresponds with previous reports which claimed that the only the Pixel 3 XL will feature a notch design, while the Pixel 3 will make do with a conventional front design with slim bezels and rounded corners, mirroring last year's Pixel 2 XL.
Here comes your very first look at the Google #PIXEL3 + a fresh new look at the #PIXEL3XL! (360° videos + gorgeous 5K renders + dimensions (as usual, based upon factory CADs)), on behalf of @mysmartprice -> https://t.co/tnW2qMmgRG pic.twitter.com/q6fasFiVP6

— Steve H.McFly (@OnLeaks) June 27, 2018
These renders once again show that Google is going with the much-derided notch design and the Pixel 3 will supposedly have an LG-made OLED display with a 23.8mm wide notch in the middle. As for the smaller Pixel 3, it will come equipped with a regular AMOLED screen with slim top and bottom bezels, rounded edges and an 18:9 aspect ratio.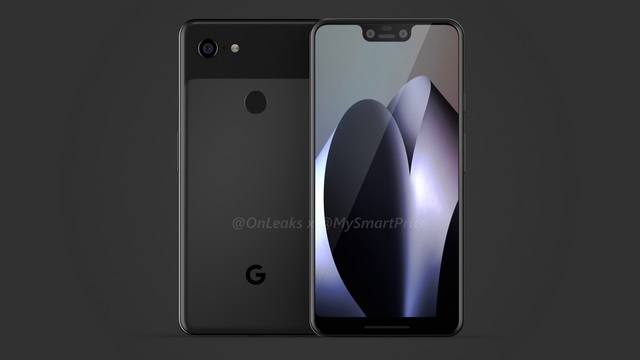 Interestingly, the renders show that both the devices will pack dual front-facing cameras but only a single rear sensor, which falls in line with earlier reports. It appears that Google is finally betting on a dual cameras for hardware-based face unlock, improved selfies and possibly augmented reality applications. Also, the renders show a prominent speaker grill on the top and bottom bezels of each device, suggesting that the Pixel 3 duo might come with stereo speakers, which is a welcome retention.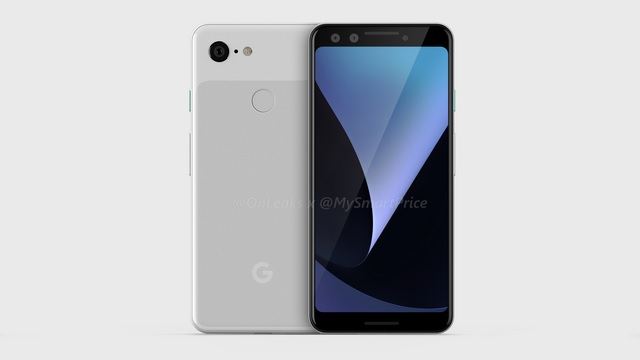 The rear looks familiar but different. It seems to be more contiguous and the two different sections have rounded corners just like the front. It remains to be seen which material is used for the back as there have been reports of wireless charging in Pixel 3. The left side is barren while the right side houses the volume rocker and the power button.
The SIM slot on both the devices is located on the bottom edge beside the USB Type-C port and there's no headphone jack.
As per the leaked renders, the Pixel 3 XL will measure 158 x 76.6 x 7.9mm, while the Pixel 3's measurements stand at 145.6 x 68.2 x 7.9mm.
The Pixel 3 pair will reportedly retain the Active Edge feature and will have support for dual-band simultaneous Wi-FI. As far as specs go, not much is known besides the Snapdragon 845 SoC in the Pixel 3 phones. Here are a few images from the renders for you to feast your eyes on: