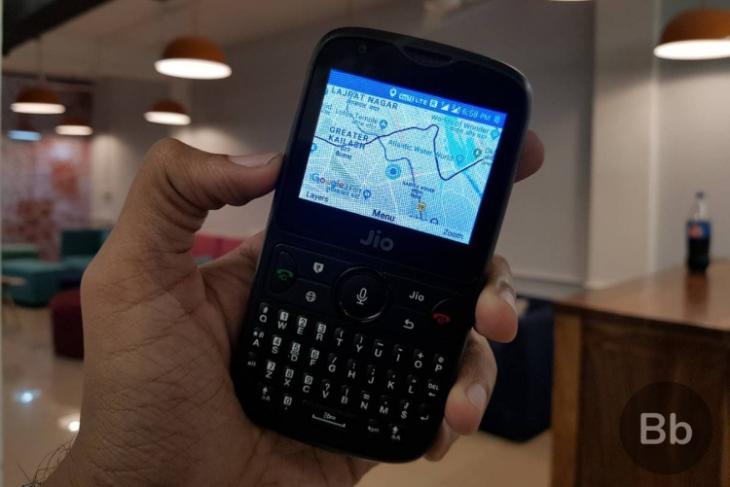 Reliance recently announced its second-gen smart feature phone, the JioPhone 2, and we are currently getting it ready for a review at the Beebom office. It's a lightweight and compact device with a horizontal screen and physical QWERTY keypad, which is a definitive upgrade over its predecessor.
The JioPhone 2 is powered by KaiOS 2.5, giving us access to a ton of features and apps including Google Maps for navigation (yes, the device has GPS support). It gives you access to important info such as geolocation, Places, directions, and more.
The Google Maps app doesn't come installed by default on the JioPhone 2, so you will first need to the Jio Store, scroll through the available apps (or navigate to the Utilities tab), and install the app. It takes a mere second or two, that's it.
How To Use Google Maps on JioPhone 2
Once you open the Google Maps app, you'll see that the interface isn't at par with the iOS or Android experience, but there are some similarities in the UI. Now, if you want to see your location, nearby restaurants or directions, follow the steps below:
1. JioPhone 2 doesn't come with geolocation enabled by default, so you will need to go to 'Settings > Network & Connectivity' and scroll down to the geolocation option. Tap the center button and select 'On' to turn on GPS services.
2. Now, navigate to Google Maps, where you will be asked to allow the app permission to see your location. This will only work once you've completed step 1, or else the app won't be able to pinpoint where you are right now.
User Experience
You are now ready to use Google Maps on the JioPhone 2 to look for nearby restaurants, petrol pumps, and other landmarks via the search option, see your location on the map, get directions to a particular location, as well as navigate via 'turn-by-turn' directions on the screen. You can also choose map layers, which comes as an added touch to the app.
My experience with Google Maps on the JioPhone 2 has been quite good, except for the fact that all the information appears on a tiny screen. The app takes a good 30-40 seconds to pinpoint your location and the turn-by-turn navigation is also not that great on the tiny screen, which isn't the most sane thing to do while driving. You will just have to get used to that.
Everything else, including search and directions feature works quite fine and loads almost instantly. You can even get details about restaurants or supermarkets around you with just a few clicks on that keyboard.
The Google Maps app works the same way on the first-gen JioPhone as well, so if you've got any of these two devices, you can try out Google Maps right away. Do let us know what you thought about the app and the experience on JioPhone 2.