Reliance Jio launched its second generation 'smart' feature phone, the JioPhone 2, at its 41st Annual General Meeting early last month and its first flash sale is scheduled to start at 12PM tomorrow on Jio.com. The JioPhone 2 will be available at an attractive price of Rs. 2,999 during the flash sale, provided you're quick enough to book one for yourself as soon as the sale goes live. If you're not familiar with the JioPhone 2, here's everything you need to know about the second gen 'smart' feature phone from Jio:
QWERTY Keypad
One of the most noticeable differences you'd find on the JioPhone 2 is that the second-gen device sports a full QWERTY keypad in place of a T9 keyboard found on the original JioPhone. The device, however, retains the four-navigation keys with a dedicated voice command button at the center to bring up the Hello Jio voice assistant.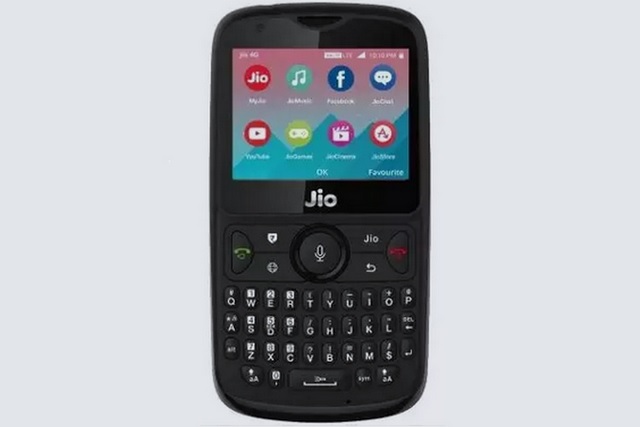 Updated Design
While the JioPhone 2 features the same 2.4-inch QVGA 320×240 display found on the original JioPhone, it's now in landscape orientation much like old Blackberry devices. Overall, the JioPhone 2 looks a whole lot better than its predecessor and the full QWERTY keypad will really come in handy if you use this device for messaging.
Storage
Even though the JioPhone 2 isn't powered by Android, it has plenty of internal storage for your music, videos, etc. The smart feature phone packs in a 1.2GHz dual-core processor coupled with 512MB of RAM and 4GB of internal storage. Along with that, the JioPhone 2 also packs in a microSD card slot, which will allow users to expand their device's storage up to 128GB.
Video Calls
Unlike the previous iteration, the JioPhone 2 features a 2MP rear camera and a 0.3MP front-facing camera, which will allow users to make video calls. While the specifications might not sound that great, it'll be decent enough for video calls and thanks to Jio's VoLTE support, video calls will be free for users beyond the prepaid plan they select. The JioPhone 2 is powered by a 2,000mAh battery which, the company claims, will provide a standby time of 360 hours.
Connectivity
The dual-SIM JioPhone 2 includes support for VoLTE and LTE Cat.4, along with 2GB support on 900MHz and 1,800MHz frequencies. It also includes support for VoWiFi, which will allow users to make calls over WiFi. Other than that, the JioPhone 2 packs in FM, WiFi 802.11 b/g/n, Bluetooth 4.1 Low Energy, GPS and NFC, as connectivity options.
Software Features
Powered by KaiOS, the JioPhone 2 will allow users to make use of social media apps like Facebook, instant messengers like WhatsApp and also video streaming services like YouTube. Along with that, there's a bunch of Jio's own app, which cover everything from entertainment to news. The JioPhone 2 also includes support for 24 regional languages, which will allow more users to get onboard the Internet wave.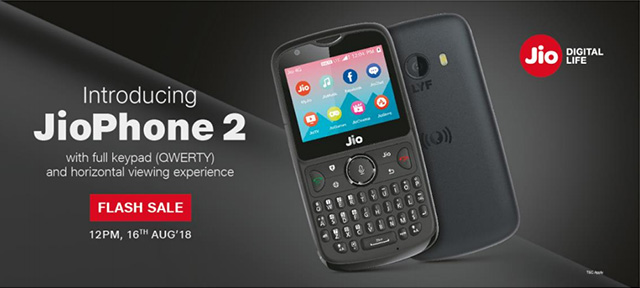 As mentioned earlier, the JioPhone 2 will go on sale tomorrow at 12PM on Jio.com at a price of Rs. 2,999. Thanks to Jio's recently announced Monsoon Hungama Offer, any feature phone user will also be able to exchange their old feature phone for a new JioPhone for an effective price of just Rs. 501.