It goes without saying that, right now, none of us can imagine getting by without a cloud storage service. Google Drive is undoubtedly the undisputed king here, but there are certainly better alternatives out there. But, why look for one in the first place? Google Drive, although super versatile, can get pretty slow (especially the upload speeds). Moreover, if you are new to the whole cloud storage service thing, the Google Drive interface is confusing, to say the least. So, we tried focusing on those cloud storage services that bring the best of everything to the table, from seamless uploads/downloads to an easy-to-use interface. Here are the 10 best cloud storage services that you should use if you are tired of Google Drive in 2023.
Note: This list doesn't rank the cloud storage options from best to worst. You should read the description and choose the one that best fits your requirement and use-case scenario.
1. Dropbox
If you are looking for a mainstream cloud storage service with features that are comparable to or even more than that offered by Google Drive, Dropbox is your best option. If somehow you don't know, Dropbox was the first company that made cloud storage a common phenomenon. And since its launch in 2007, it still is one of the best and most used cloud storage out there.
Dropbox has a lot of things going in its favor and we will discuss the best of them here. Firstly, Dropbox's sync is unparalleled. It supports all platforms including Android, iOS, macOS, Windows, and even Linux. Back in 2007, Dropbox introduced the sync model which is used by most of the cloud storage service providers today.
Once you install the app, you will get a dedicated folder on your device, and anything you put in there will be uploaded to their servers. Although other cloud storage providers have incorporated this feature, Dropbox still leads the pack with its block-level file transfer algorithms. When you upload something on Dropbox, the full file is uploaded only the first time. From the next time onwards, only the changes that you make to your files are synced.
This results in lightning fast sync time with less data usage. This is one of the main reasons behind using Dropbox. My other favorite thing about Dropbox is it is compatible with almost every other service that I use. I use services like Zapier to automate my workflows. All my writing is done on the Ulysses app and that also syncs with my Dropbox. These are just one of the few instances of Dropbox being useful to me owing to its compatibility with other services.
Dropbox Key Features
2GB free cloud storage
Real-time super fast data sync
ISO 27018 international privacy and data protection standard
| PROS | CONS |
| --- | --- |
| Super easy to use | Just 2GB of free cloud storage |
| Excellent upload speeds | |
| Seamless sync | |
Dropbox Price: Free | Paid plans start from $11.99/month
2. Tresorit
Although Dropbox is the best for people looking for Google Drive alternatives, there are other services that excel in their own way. For example, Tresorit is a service that focuses on providing military-grade encryption services for your cloud storage, which sadly neither Google Drive nor Dropbox offers. The service is so secure, the company is offering a reward of $50,000 to anyone who can breach their security, now that's the confidence I want to see. If you are keeping sensitive data on the cloud, Tresorit might be the one for you.
Tresorit promises end-to-end encryption with cryptographic key sharing technologies. In addition, you can share your files with others on Tresorit as easily as you can do on Google Drive or Dropbox. However, whenever you share a file with someone, a secret key is generated which should be given to the person who is going to access your files. This ensures that your files are not accessed by an unintended person.
Not only that Tresorit also follows Zero-knowledge authentication. That's just a fancy way of saying that your service provider (Tresorit, in this case) does not save any of the passwords and encryption keys, making it impossible for anyone, even the workers at Tresorit, to access your file.
Needless to say, the service is pretty secure and your data is safe in their hands. However, this also means that you will have to pay a premium for using their services. For starters, Tresorit doesn't offer any free account and you will have to subscribe to them if you want to enjoy their services. I think, it is a small price to pay for someone looking for secure cloud storage services, and Tresorit is one of the best Google Drive Alternatives, that does that.
Tresorit Key Features
End-to-end cryptographic key sharing technology
Zero-knowledge authentication
Offers up to 4TB of encrypted cloud storage
| PROS | CONS |
| --- | --- |
| Unparalleled security | Expensive |
| Clean and easy-to-understand interface | |
| File sharing made as easy as possible | |
Tresorit Price: Plans start from $18/month | Pricing can be requested for Enterprises
Free Storage Space: Not Applicable, Free 14-day trial
3. pCloud
pCloud is a service that was not so popular before but is gaining popularity slowly. This is because they offer excellent service with flexible plans which anybody can pick and choose from. We will discuss its flexibility in detail below, but first, let's see what makes it different from other cloud providers on the list.
Unlike other cloud service providers which provide you with a dedicated folder, pCloud can sync anything and everything present on your desktop. This means that pCloud doesn't take up any physical space on your drive and also ensures that all your files are in their designated places. Of course, you can select the files that you want to sync, and it is very easy to do that.
Now coming to the flexibility part, pCloud allows you to choose between different storage plans and its plans start at prices as low as $4.99/month for 500 GB of storage. You can also buy "pCloud Crypto" separately which brings the same military-grade encryption with zero-knowledge protection as provided by Tresorit. Considering the fact that pCloud is a Swiss company, its focus on security doesn't come as a surprise.
You also get 20GB of free storage when you sign up (pCloud Crypto is not free). If you are looking for a secure and flexible cloud storage provider, pCloud is the best Google Drive alternative that you can use.
pCloud Key Features
10GB free cloud storage
Uses TLS and 256-bit AES encryption standards
| PROS | CONS |
| --- | --- |
| 10GB free storage limit | May seem a bit frustrating to unlock data at first |
| Very easy to use | |
| Crypto enabled | |
pCloud Price: Free | Paid plans start at $4.99/month
4. OneDrive
Among the mainstream cloud storage providers, OneDrive is the one that gives fierce competition to both Google Drive and Dropbox. Although it's a product by Microsoft, the service is not limited to Windows users and has a client for both Android and Apple (iOS and Mac) platforms. It can be one of the best Google Drive alternatives as it is similar in functionality, has cross-platform app support, and the sync is fast and instantaneous.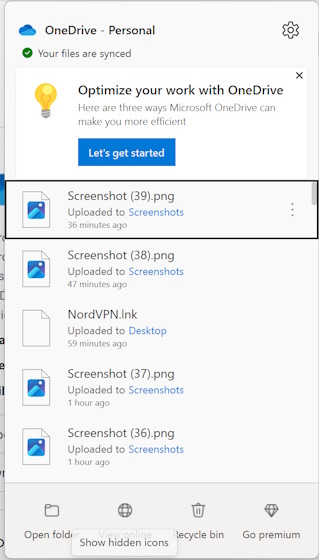 However, maybe the biggest advantage of using OneDrive is that when you opt to become a paid member you get access to the whole Office suite at no additional cost. If you are someone who already pays for Office 365 subscription, this one is no brainer for you.
Apart from Office 365, you also get access to OneNote, which is one of the best note-taking apps out there. This means that with OneDrive, you get a lot of freebies that otherwise would have cost you a lot of money. OneDrive is also cheaper when compared to Google Drive or Dropbox. Its free version is a bit limited and provides you with 5GB of free storage, which is neither much nor less. However, the paid version starts with prices as low as $1.99/month (100GB), and you just pay $6.99/month for 1TB of storage.
OneDrive Key Features
5GB free cloud storage
256-bit AES encryption
| PROS | CONS |
| --- | --- |
| Secure and reliable | More of a sync-centric than backup-centric platform |
| Super fast uploads and sync | |
| File sharing is as easy as it gets | |
OneDrive Price: Free | Paid plans start from $1.99/month
5. Icedrive
As you can probably tell by now, most of the free cloud storage services offer 5GB of cloud storage. To get access to more storage, you need to pay up. Of course, you could do that, or, go with Icedrive instead. Icedrive offers you 10GB of free cloud storage, which is pretty good!
In addition, Icedrive brings to the table a 256-bit Twofish encryption standard which is considered to be very secure. There is, in fact, a separate encrypted space for you to store files. That is pretty convenient and honestly, for folks who have never used a cloud storage service before, the interface will seem surprisingly self-explanatory. That is always a good thing.
So, if you are someone who is tired of the perplexing Google Drive interface, Icedrive will seem like a breath of much-needed fresh air. Not only does the interface look good, it follows a minimalist pattern. Organizing and sharing your files is also pretty easy, with there being separate sections for each. Overall, Icedrive is undoubtedly one of the best Google Drive alternatives indeed.
Icedrive Key Features:
10GB free cloud storage data
256-bit Twofish encryption
| PROS | CONS |
| --- | --- |
| 256-bit Twofish encryption to protect files | Upload/Download speeds could have been better |
| Neat interface | |
| Significant amount of free cloud storage | |
Icedrive Price: Free | Paid plans start from $4.17/month | Lifetime plans start from $99
6. Zoho WorkDrive
Zoho is synonymous with work at this point, with many organizations using their tools to streamline their processes. No wonder their cloud storage service is called Zoho WorkDrive. However, that does not mean that you as an individual cannot use it. Absolutely anyone can use it for free. The catch? You get 5GB of cloud storage. If you ask me, I'd say that is pretty darn good for a free service. Of course, nowhere near Google Drive's 15GB threshold. Still, for a Google Drive alternative, it's a good number.
However, what makes Zoho WorkDrive really stand out is its upload and download speeds. I uploaded a total of 361 high-quality screenshots in just approximately 3 minutes. That is insane, especially when most of the platforms out there are taking forever to upload files. Gives WorkDrive a major leverage. Additionally, you also get access to tools like Zoho Writer, Zoho Sheet, and Zoho Show integrated within WorkDrive itself. The uploaded files themselves are protected by 256-bit AES security standards, which is top-of-the-line.
Zoho WorkDrive Key Features
5GB free cloud storage
Offers tools like Zoho Writer, Zoho Sheet, Zoho Show, and a screen recorder for free
Uses 256-bit AES and PFS security standards
| PROS | CONS |
| --- | --- |
| Offers several free work tools to use | Paid plans offer up to 100GB storage, which is not enough |
| Uses AES-256 and PFS security standards | |
| Super fast upload speeds | |
Zoho WorkDrive Price: Free| Paid plans start at $12.99/month
7. Mega
If you are someone who is looking for a cloud service where you don't have to pay a dime to use it, Mega may be your only option. Of course, with a free plan, you will get limited storage, but unlike others, Mega offers 20GB of free storage. Now, it might not be enough for you and me, but there are users who used cloud storage for just uploading their songs, photos, and an odd file here and there. For them, Mega can be a great solution as they won't have to pay for it.
Apart from this free treat, Mega also offers end-to-end encryption for your files along with easy collaborating tools. Now neither its encryption nor its collaborative tools can be compared to services like Tresorit or Box, but still, you are getting a lot of features for free here. If you do decide to go for the paid subscription, you can choose from plans starting at 200GB. This is the best for people looking for free Google Drive alternatives.
Mega Key Features
20GB free cloud storage
Uses 256-bit encryption standard
| PROS | CONS |
| --- | --- |
| Great cross-platform sync | Could do some with some more app integrations |
| Very easy to use | Web interface can be pretty slow |
| Great cross platform sync | |
Mega Price: Free | Paid plans start from $10.94/month
8. SpiderOak One
SpiderOak One is another cloud storage service provider just like Tresorit which focuses a lot on security. It has all the security features that we have come to expect from a secure cloud storage platform including end-to-end encryption and Zero-knowledge authentication. SpiderOak also offers its users more granular control over its services.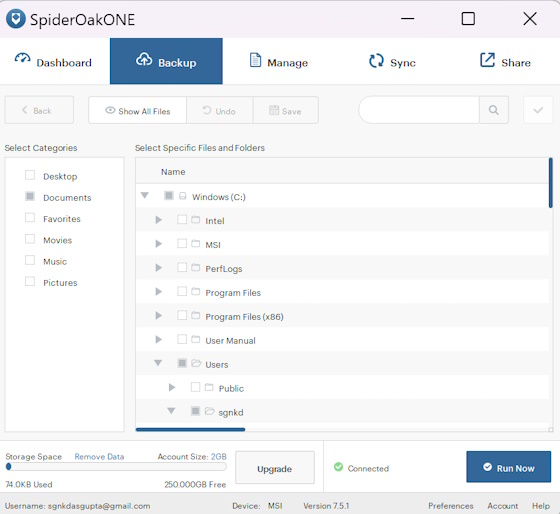 However, this also means that SpiderOak is a little hard to use and is not easy as services like Google Drive or Dropbox. One major drawback of using SpiderOak is that since its servers are based in the US, your privacy is not protected from the government as securely as by the services that use EU-based servers. Also, SpiderOak offers more of an enterprise-based solution, and hence individual users might be at a disadvantage here. Still, till now the service has maintained an excellent track record till now and you should check it out.
SpiderOkay One Key Features
250GB free cloud storage during the free trial
2048-bit RSA and 256-bit AES security standards
| PROS | CONS |
| --- | --- |
| 250GB of storage during free trial | Difficult to use and understand |
| Excellent encryption standards for security | |
| App is snappy and efficient | |
SpiderOak One Price: 21-day free trial | Paid plans start from $5/month
9. Box
Box is one of those cloud storage service providers which focus more on business users than on individual ones. This means that if you are looking for a cloud storage service for your personal use, you should probably stay clear of it. However, if you are a business user and looking for a service that not only saves your data on the cloud, but, allows your employees to collaborate easily, this is the one to get.
Box provides one of the best collaborative tools in the market. It achieves that by integrating various third-party apps. For example, Box has inbuilt Microsoft Office suite support, which allows you to edit your documents online without even downloading them.
Not only that your team can collaborate on a document on a real-time basis. There's also chat support which allows you to chat with people collaborating on the document without leaving it. Just like Office 365, Box has integrated with numerous third-party service providers, which means that it supports a large number of file types, that you can store, view, and edit online, together with your team. If you are looking for team-oriented cloud storage platform, Box is the one to get.
Box Key Features
10GB cloud storage during free trial
Uses ISO 27001 global encryption standard
App integration for several apps like Zoom, Google Workspace, Slack, etc.
| PROS | CONS |
| --- | --- |
| Several features to make use of | Interface loading times are slow |
| Clean and aesthetic interface | |
Box Price: Free Trial | Plans start at $5/month
10. NordLocker
Whether you have been watching YouTube videos or just casually browsing the web, it is hard to not have come across NordVPN ads. NordVPN is excellent as a VPN service, yes. However, they also offer cloud storage services, and are one of the most reliable out there. However, instead of 5GB on most of the cloud storage platforms, you get 3GB. It is mostly to serve as a digital locker for your files. Storing important documents and pictures are what NordLocker can be best used for.
Most importantly, your files are protected by 256-bit AEC security standard. So, you won't have to worry about the security of your files. Of course, the privacy of your files are completely up to you, depending on who you share them with. It is easily one of the best most secure Google Drive alternatives out there if you are looking to store small files.
NordLocker Key Features:
3GB free cloud storage
Uses AES-256 and ECC security standards
Security Key for added protection
| PROS | CONS |
| --- | --- |
| Noob-friendly interface | Uploading speeds are below average |
| Great security protocols and standards using AES-256 and ECC | |
NordLocker Price: Free | 14-day free trial, $8.99/month after that
Visit: Website