iOS and Android have been long-standing competitors. There are times when Apple takes inspiration from Android. Similarly, Google brings new privacy features taking a cue from iOS. At this point, both the ecosystems are quite polished and have matured by leaps and bounds, especially Android. However, there is one aspect that makes iOS stand out and that is privacy controls. Every year, Apple adds new privacy controls to iOS which makes Android users wanting for more. So in this article, we bring you a handy guide on how to get iOS 14 features on Android including privacy and other useful features. So without further ado, let's get started.
Get the Best iOS 14 Features on Android
Here are the best iOS 14 features that you can get on Android right now. You can go through the list below and click on the link to move to the corresponding feature. We have mostly included iOS 14 features that are natively not available on Android devices.
List of iOS 14 Features on Android
1. Camera and Mic Indicator
During the release of iOS 14, Apple made some big announcements regarding privacy and one feature that stood out was camera and mic indicator. On iOS 14, whenever an app uses the camera or mic, a dot indicator appears at the top of the screen. This is done to alert the user that an app is snooping on you. Further, you can find the app name in the Control Center and uninstall it right away.
So if you want this iOS 14 feature on Android, you can use Access Dots (Free, offers in-app purchases). The app allows you to get a similar indicator as iOS 14 for mic and camera usage. The best part is that you can even customize the colors and change the size and position of the dot. So go ahead and get this awesome iOS 14 feature on Android by using the Access Dots app.
2. App Library Folders
After years of pestering, Apple finally caved in and brought an app drawer on iOS 14. Similar to Android launchers, now a separate pane houses all the apps on iOS 14. But that is not all about the new app drawer. There is something called App Library which automatically organizes all of your apps into a folder depending on the app category.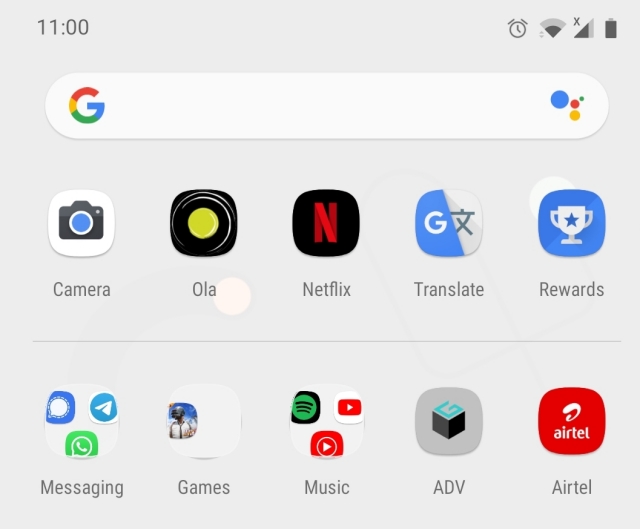 To get the App Library feature on Android, you just need to download a third-party launcher such as Microsoft Launcher (Free) or Lawnchair (Free) or Nova (Free, $4.99). All these launchers allow you to create app folders right into the app drawer. However, keep in mind, these launchers don't sort the app automatically so you will have to do it on your own. If you want automatic categorization then you can use Poco Launcher (Free), but instead of app folders, it offers you separate windows.
3. SMS Filtering
With the announcement of iOS 14, Apple added a big feature to its messaging app. Now, spammy texts, OTPs, and promotional messages will be filtered out and put in separate folders. This completely changes the messaging experience, especially in India where you get so many junk texts every day.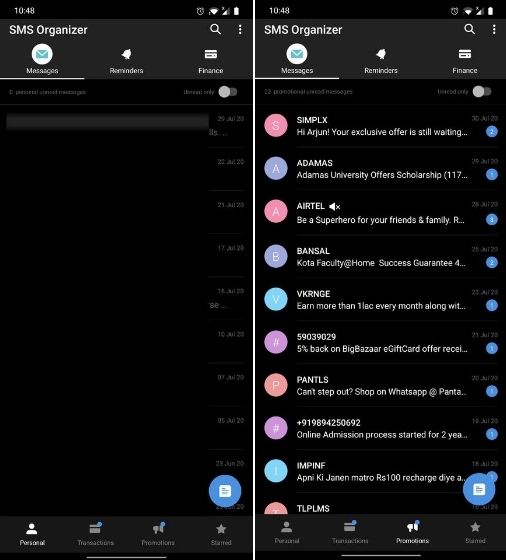 On Android, SMS filtering is not available natively, but you can install a third-party messaging app that filters texts automatically. You can install SMS Organizer (Free) by Microsoft to get iOS 14's SMS filtering feature on Android. It's one of my favorite apps on Android and you must give it a try.
4. Back Tap
To make iPhones more accessible and easier to use, iOS 14 brings something called Back Tap that allows you to invoke an action by double-tapping on the back of the phone. You can just double-tap on the back and take a screenshot or ask Google Assistant some questions. That's quite cool, right?
To get this iOS 14 feature on Android, you might have to wait a bit longer. Google is developing a similar feature for Pixel phones which might get released with Android 11. However if you want it right now, Quinny899 from XDA has come to the rescue. He has developed an app called "Tap, Tap" that allows you to double-tap on the rear and invoke actions of your choice.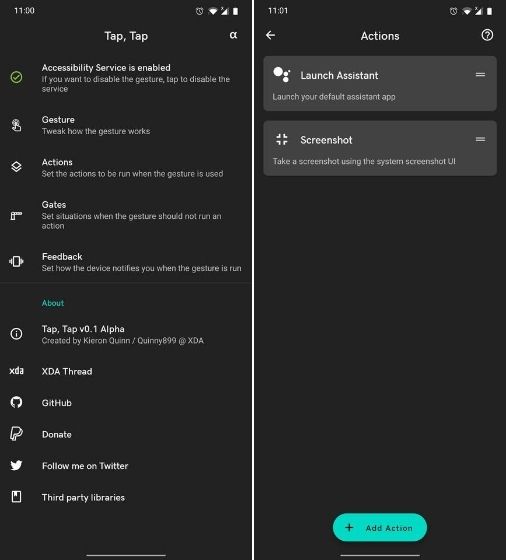 If you are wondering how it works, well, the app is using gyroscope and accelerometer readings and comparing it with machine learning models that Google has trained for Pixel devices. It works surprisingly well on my OnePlus 7T and if you want iOS 14's Back Tap feature on Android then Tap, Tap is here for you. You can download the app from here.
5. Privacy information on the App Store
To make people aware of privacy malpractices, on iOS 14, Apple will be displaying privacy information of each app on the App Store in easily understandable language. For example, before you download an app, you can find out what data the app can use to track you and what data the app will have access to. This goes a long way in understanding what sort of privacy policy does the app practice so that you can either choose to install an app or discard it.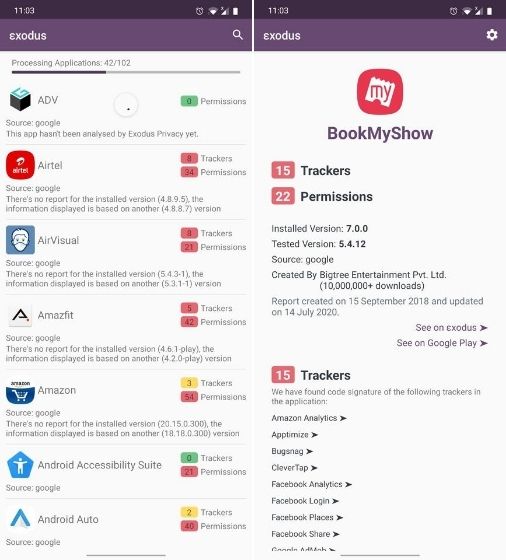 While Android does not have this feature natively, you can install an app called Exodus (Free). It scans all your installed apps and displays all the trackers that the app is using to track you. Apart from that, you can also find out all kinds of permissions that app has been granted by default. This will allow you to understand how much data the app is seeking from you. So go ahead and get this iOS 14 feature on Android to strengthen your privacy.
6. Temporary Permission
Apple brought "Allow once" permission dialog last year with iOS 13 and now we are hearing that Android 11 will sport this feature. On top of that, Android users might also get auto-revoke permission feature. The way it works is, if you have not used an app for some time, sensitive permissions will be automatically revoked.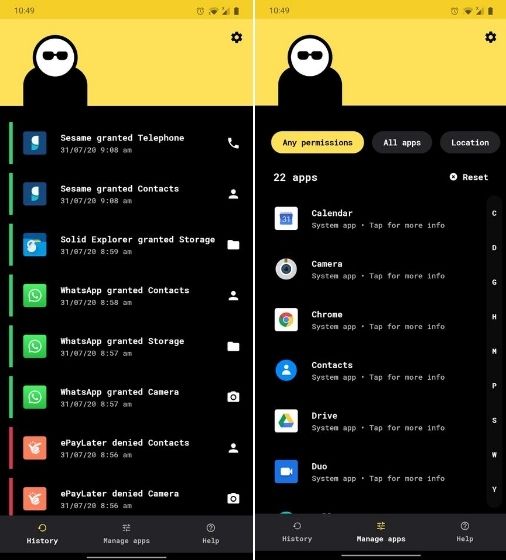 However, not everyone is going to receive the Android 11 update so if you want this excellent privacy feature on your Android right now, you can install Bouncer ($1.99). It allows you to grant temporary permission to an app and the moment you exit from the app, the permission is automatically revoked. That's really great, right? So go ahead and get this iOS feature on Android right away.
7. In-App Search
With iOS 14, Apple has overhauled how the search works. You can now perform in-app searches which basically means that you can search for your library or songs in Apple Music right from the search bar. No need to open the app and look for the content.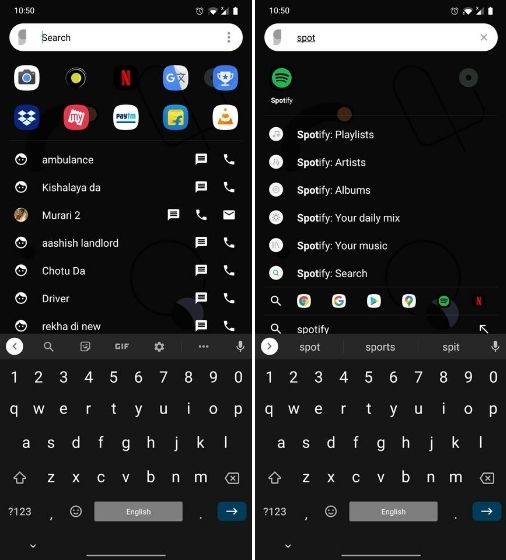 If you want this iOS 14 feature on Android then you can install Sesame (Free, offers in-app purchases). The app is one tap away from searching for your music, contacts, system settings, Instagram stories, favorite apps, and more. Simply put, you will have access to everything in just one tap.
8. Assign Reminders
With iOS 14, you can assign reminders to people you share lists with. And they will be reminded according to the schedule. This feature is amazing and can help you split tasks and accomplish them without any fail. You can also get this iOS 14 feature on Android by just using the Google Assistant.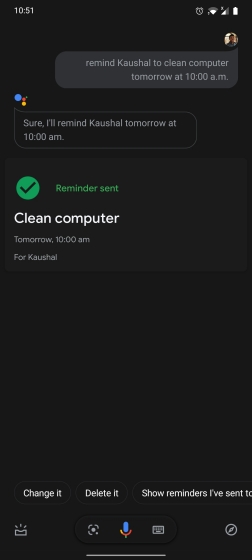 If you are part of a family group then you just need to say "Hey Google remind X to…" and the reminder will be assigned to the said person. You can find your family group from the Google App -> 3-dot menu -> Settings -> Google Assistant -> Your People. And to customize assignable reminders, move to the "Services" tab under Google Assistant and open "Assignable Reminders".
9. Website Privacy Report
During the announcement of iOS 14, Apple discussed many new features of Safari and how it has been finetuned for a more privacy-friendly experience. Among the many features of Safari, I liked the Website Privacy Report. Basically, you will be able to see what trackers and cookies the website is using and the cross-site trackers that Safari has blocked.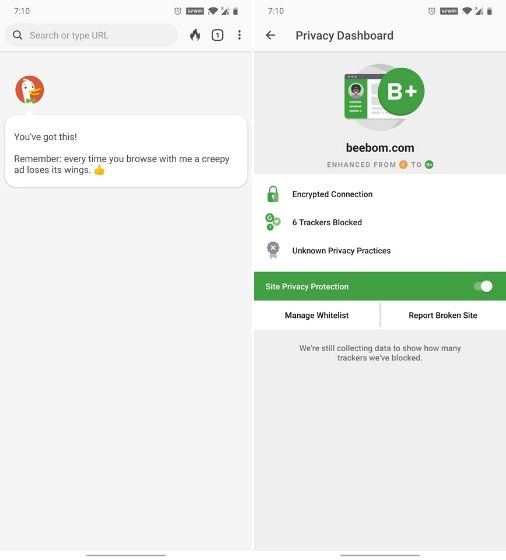 On Android, Chrome does not offer such a report which is disappointing (learn how to get Safari features on Chrome). Anyway, if you move to DuckDuckGo (Free) or Firefox (Free) or Brave (Free) on Android then it shows you all the cookies and trackers that the browser has blocked. DuckDuckGo even gives a privacy rating to the websites you visit. In tandem, if you want iOS 14's Website Privacy Report on Android then the DuckDuckGo browser would be a great choice.
10. Conversation Mode
With the iOS 14 release, Apple announced a new Translate app that looks really promising. It has offline capabilities and language detection is on point. What caught my attention was Conversation Mode which allows you to say something, and the Translate app transcribes the voice on the screen, followed by the translated audio. It works really well.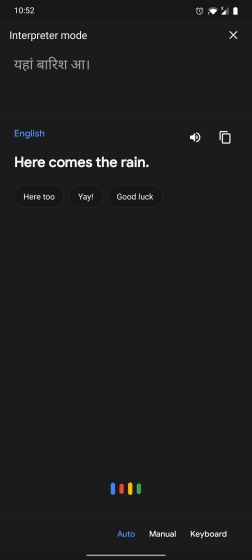 If you want something like Conversation Mode on Android then Google Assistant will be of your great help. Google Assistant comes with a dedicated Interpreter Mode which works very similar to iOS 14's Conversation Mode. Just say "interpreter mode" to Google Assistant and you will have your voice transcribed on the screen with translated audio. As an aside, you can learn more about Apple Translate vs Google Translate from our in-depth article.
Bonus: Block Clipboard Access
iOS 14 has made many internal revisions to protect your privacy. For example, now you get a notification on iOS 14 whenever an app tries to access the clipboard. You can have anything — password, sensitive information, banking details — copied to your clipboard, and apps getting easy access to it is not right.
Android 10 has already restrictions in place as to what apps can access the clipboard and what cannot. However, if you are running an older version of Android then you can find out apps with clipboard access and you can even block them from reading your clipboard again. Here are the steps to follow.
1. Set up ADB and move to adb shell. Now, execute the below command to find all the apps with clipboard access.
cmd appops query-op --user 0 READ_CLIPBOARD allow
2. Note down the package name of the app that you want to block and execute the below command. This will block the app from reading the clipboard again. If you want to enable it then just replace ignore with allow.
cmd appops set <packagename> READ_CLIPBOARD ignore

Get iOS 14 Features on Android Right Now
So that is how you can get iOS 14 features on Android without much tweaking or rooting your device. It's no secret that every year Apple brings new features to iOS and sets the bar high for Android and the rest of software makers. I love the fact that Apple pushes hard for protecting user privacy and that revitalizes Google to do more when it comes to the privacy front. Anyway, that is all from us. If you found the article helpful then do comment down below and let us know.
---
Load More