Now that Google has released the first developer preview for Android 11, we are officially entering Android 11 features, changes, and updates time of the year. If you're a Pixel user, you can install Android 11 right away and that's great, but the only problem is that not everyone uses a Pixel smartphone, or has one just lying around; which means you may not have been able to experience the latest features, such as the new temporary permissions that Android 11 brings. Well, fret not, because we're here to tell you how you can get Android 11's temporary, one-time permissions on any Android phone without root.
Get Android 11's One-time Permissions on Your Phone
The great thing about Android phones is the fact that third party apps can really extend the capabilities of your phone, and that's exactly how we'll be getting the Android 11-like temporary permissions feature on phones without Android 11 — a third party app called 'Bouncer'.
First up, install Bouncer ($1.49/ ₹75) from the Play Store. Launch the app and tap on 'Enable Bouncer'. Now, under 'Downloaded Services' tap on Bouncer and turn it on.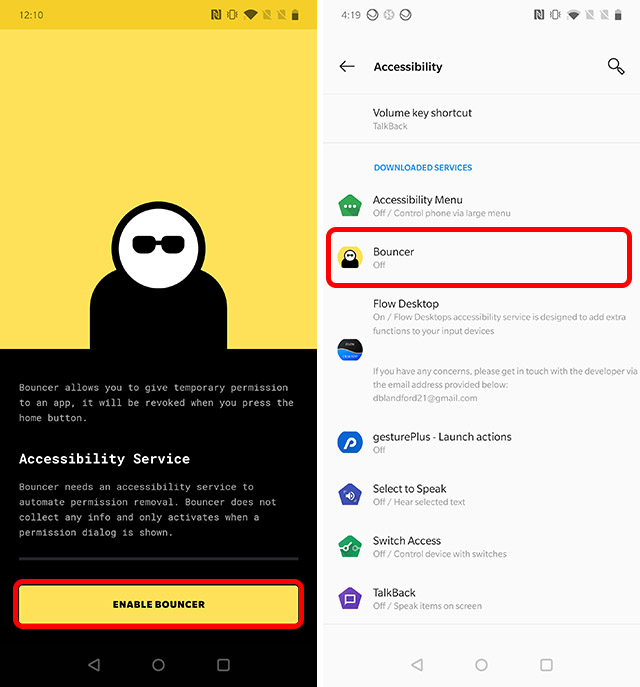 Follow the on-screen instructions to set-up Bouncer on your phone. Bouncer only works for newly granted permissions. I would recommend that you reset your permissions for all apps using the in-app option just to make sure no app has undue access to any permissions.
Now that Bouncer is set-up on your phone, you can continue using your phone just as you normally do. Any time an app asks you for permissions, you can grant them as you see fit, and the moment you press the home button to exit the app, Bouncer will ask you if you want to revoke the permissions from the app. It's very straightforward and easy to use.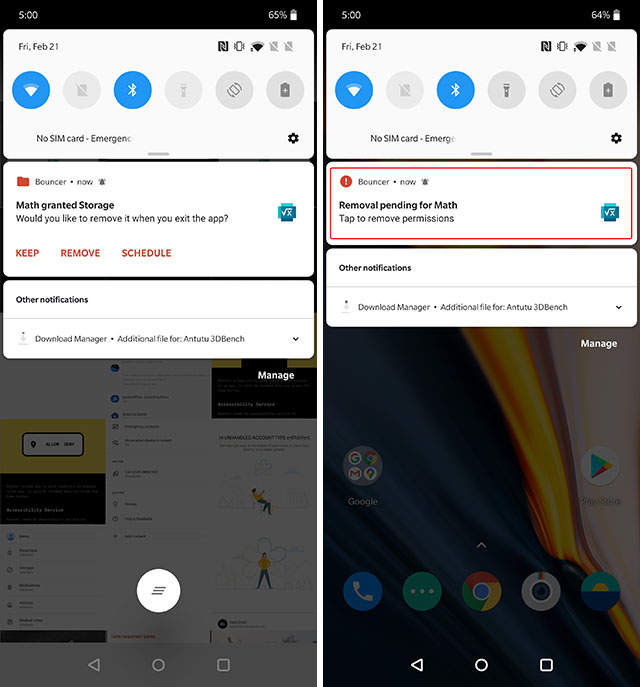 Also, if you're granting a permission that you don't want Bouncer to revoke, you can simply tap on "Keep" to tell Bouncer to keep the permissions enabled.
Note: Bouncer doesn't check for the back gesture or back button presses. So, you'll need to exit apps by pressing the home button if you want Bouncer to recognise that you've quit the app, and revoke permissions.
Use Android 11's Temporary Permissions on Your Smartphone
While it's not exactly the same as Android 11's revamped permissions dialog boxes which put more control in the hands of the user, Bouncer does bring similar functionality to any Android smartphone regardless of whether it's running the latest version of Android. With Bouncer, you can ensure that apps don't get unrestricted access to your camera or microphone — something that's a big privacy concern these days.
So what do you think about Android 11's temporary permissions feature and have you used Bouncer yet? Let me know in the comments.