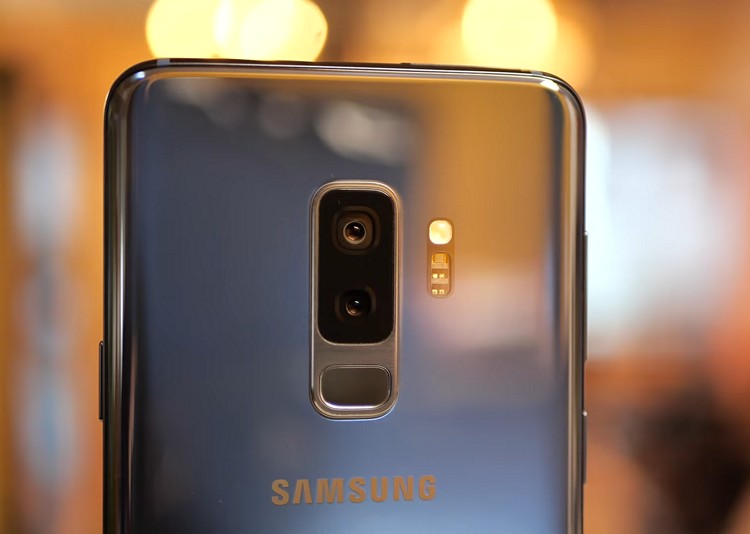 Samsung's Galaxy S9 pair are all-out flagships which promise unparalleled raw performance, appealing aesthetics and above all that, superior photography. The Korean giant has equipped the Galaxy S9 with a revolutionary camera set-up whose aperture can be changed, something which no smartphone in the market has to offer. Photography enthusiasts will surely love the feature, but there are a host of new software tricks and functions that make the Galaxy S9 a formidable imaging machine.
But are on-paper specs and corporate claims enough to label the Galaxy S9 as the king of smartphone photography? Absolutely not. We put the Galaxy S9 Plus' camera to test to assess how it stacks up against the likes of the Pixel 2, which has won accolades for its excellent camera output. So, without any further ado, let's check the Galaxy S9 Plus' camera performance:
Galaxy S9 Plus Rear Camera Performance
While Samsung has upgraded the Galaxy S9 as well as S9 Plus' camera set-up, the major enhancement has been made to the bigger Galaxy sibling, which is now equipped with dual rear cameras. The Galaxy S9 Plus features a 12MP telephoto lens and a 12MP wide-angle lens, both of which have OIS (Optical Image Stabilization) technology for negating the blur caused by movements. Moreover, the Galaxy S9 Plus' wide angle lens is unique in one more respect i.e. its aperture can be adjusted between f/1.5 and f/2.4, which is claimed to provide more control over image quality, especially in low-light conditions. Check out the samples below to see how the rear camera performs:
Low-Light Photography
The Galaxy S9 Plus can take impressive shots in dimly lit conditions, and its camera output is further enhanced when the aperture and ISO values are adjusted in the Pro Mode. The images are rich in detail, but there's a tinge of over-saturation which is common with Samsung's cameras, and also, there is an aggressive smoothing which somewhat reduces the sharpness aspect of an image.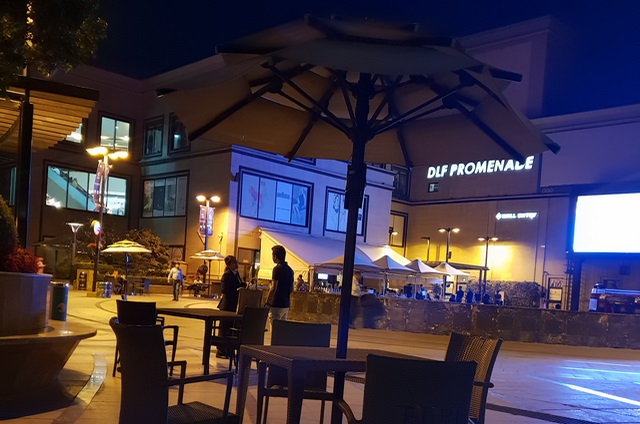 As is visible from the images (above and below), the low light shots are quite good and there is minimal noise, but color reproduction is a hit or miss. Moreover, details are often quite low for a device of the Samsung Galaxy S9 Plus' caliber, but then, there is hardly any other smartphone in the market which can take perfect low-light shots in dark environs. Nitpicking aside, the low light photos captured by the Galaxy S9's rear camera are actually pretty good and vibrant.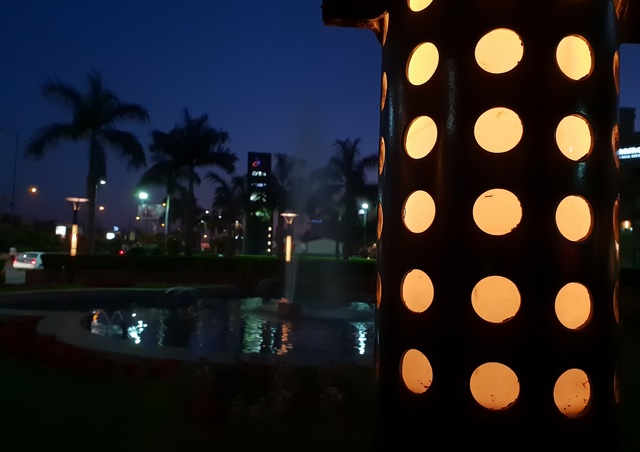 However, when compared with the low-light shots taken by the Pixel 2, the Galaxy S9's camera output appears to be a bit inferior. It is clearly evident that the Galaxy S9's image processing algorithm slightly washes off the natural colors, while the Pixel 2 reproduces the shades perfectly without any aggressive filtering.

Moreover, well-defined object boundary and surface texture are another key difference between the images clicked by the Pixel 2 and the Galaxy S9 Plus in dimly lit conditions.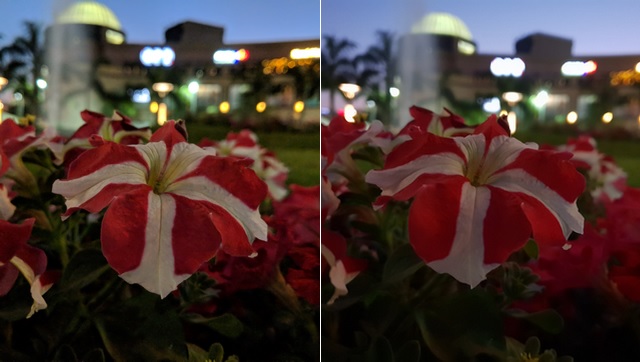 A special mention has to be made of the variable lens aperture of the Galaxy S9 Plus here. One can adjust the sensor's aperture between f/1.5 and f/2.4 values to adjust the light taken by the lens and enhance image quality, but in real life testing, it could not create a noticeable difference in terms of sharpness. Yes, the amount of light taken by a camera sensor can affect image output, but that is more suitable for DSLRs. In case of smartphones (the Galaxy S9 Plus here), it could only result in a brighter photo and reduced noise with no major effect on the image's depth or detail.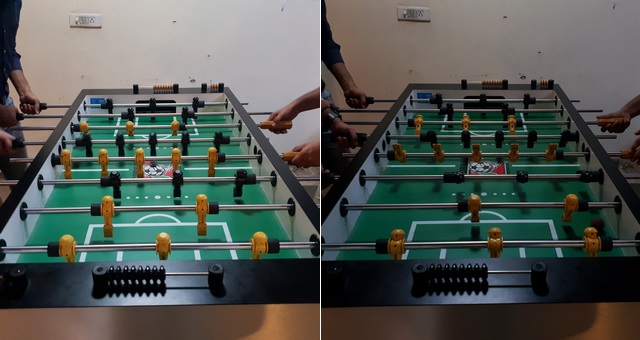 Pictures Clicked in Well-lit Conditions
The Samsung Galaxy S9 Plus shows its true imaging capabilities in well-lit conditions with abundant natural light. Daylight shots clicked by the device are simply stunning, with punchy colors, high amount of detail and sharpness. The auto mode is more than sufficient to click superior-quality photos, but if you know your way around camera settings, the Pro Mode of the Galaxy S9's camera app is nothing short of scoring a lottery. Here are a few samples of photos clicked in outdoor conditions by the Galaxy S9 Plus: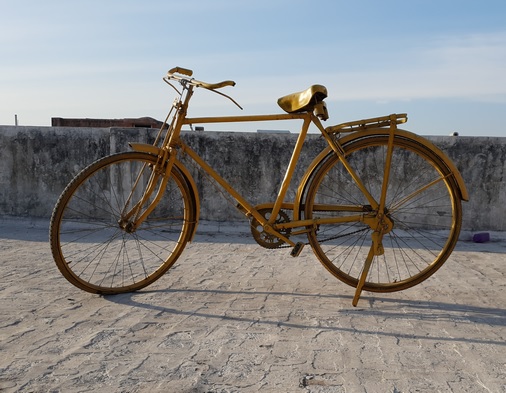 But again, when compared with the photos captured by the Pixel 2's camera, there is a noticeable difference between aspects hues and sharpness. However, it boils down to your personal preference whether you like the raw colors captured by the Pixel 2 or the slightly processed images taken by the Samsung flagship, which trades clarity for vibrancy.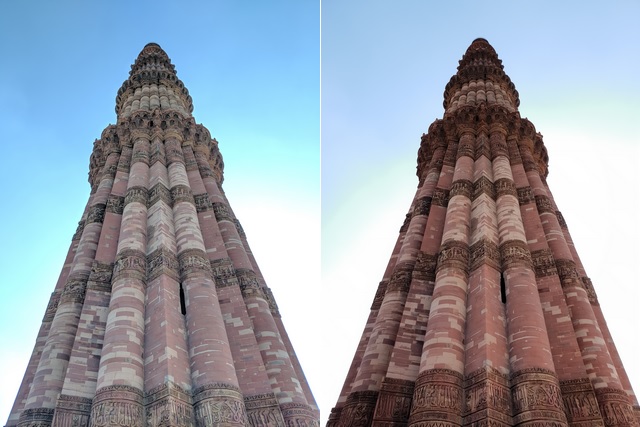 Another notable difference between the images clicked by the two devices is the depth effect, which is more pronounced in the case of Pixel 2 than the Galaxy S9, but that is not necessarily a big deal unless you are taking a portrait shot.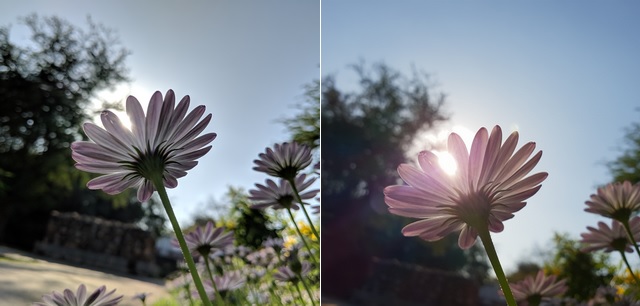 Live Focus aka Portrait Mode Shots
Talking of portrait shots, the Samsung Galaxy S9 Plus' dual camera set-up appears to be tailor-made for capturing images with bokeh effects, and as expected, it performs exceptionally well. Samsung has introduced a new feature called 'Live Focus' with the Galaxy S9, which allows users to click high-quality shots with background blur effect. In our test, this feature worked like a charm and produced some really nice shots with rich detail and object sharpness, but what's even more impressive is that you can manually adjust the blur effect's intensity. And since the device saves two versions of a single portrait mode shot, you can view it in a 'close-up' format with bokeh effects and a 'wide-angle' shot without the blur effect. Here are a few samples: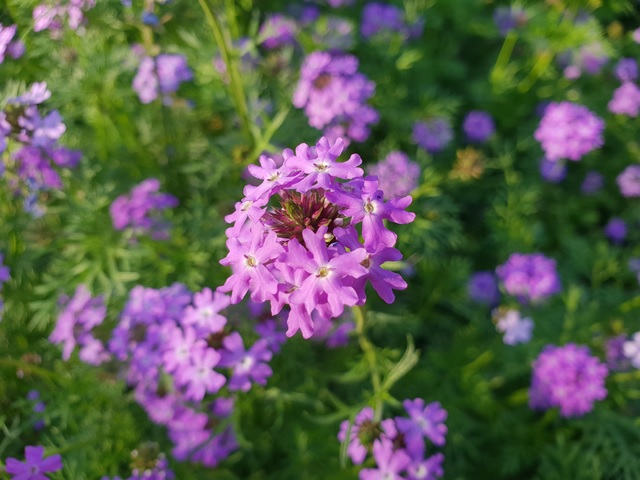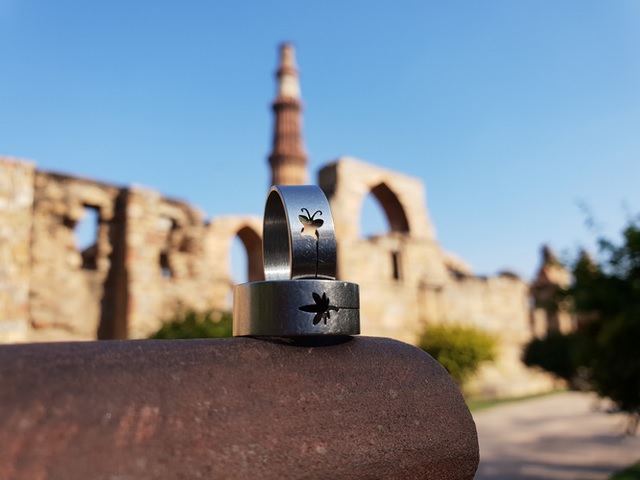 The bokeh images captured by the Galaxy S9 Plus' camera are simply gorgeous, but for a person who has tested the same effect on the Pixel 2, I have a few qualms. Following are a few comparison shots that show the subtle difference between the background blur effect created by the two flagships: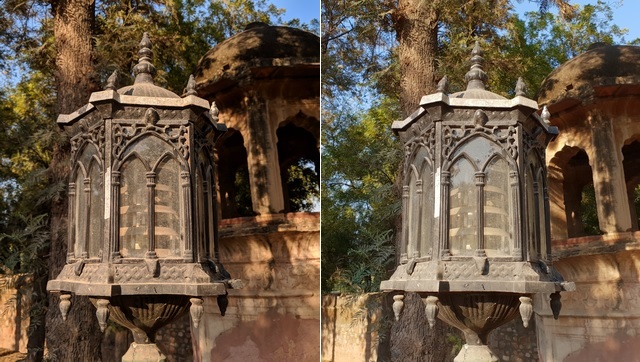 As is evident from the photos, the portrait mode shots clicked by the Pixel 2 preserve the natural color and have more depth compared to those clicked by the Galaxy S9, which are brighter and more vibrant but lag behind in depth and sharpness.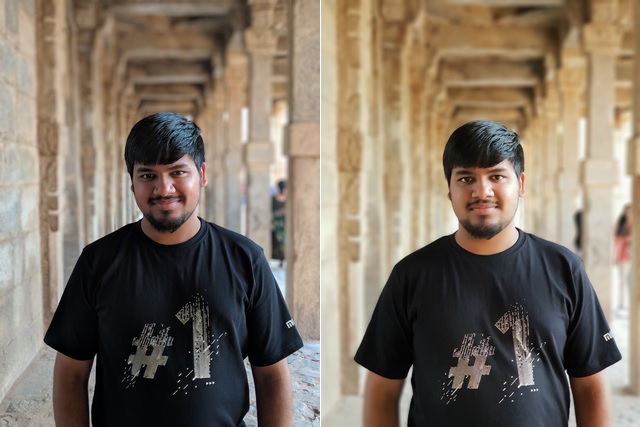 Video Recording
When it comes to video recording, the Galaxy S9 has a couple of aces up its sleeve. The first remarkable feature is the ability to record Super Slow-Mo videos at 960fps. I tested the feature, and it worked perfectly. Samsung has integrated a motion detection functionality in the Super Slow-Mo mode, which automatically detects activity in the selected area of the screen and records a 0.2-second clip which is stretched to 6 seconds. The results are simply stunning, and if taken in well-lit conditions, the Super Slow-Mo clips can rival the quality of videos captured by DSLRs.
Another noteworthy feature of the Galaxy S9 is the ability to record UHD (3840 x 2160) videos at 60fps, whose output is nothing short of butter smooth and audio is crystal clear too. But there is a limitation, as you can only record 5-minute clips of UHD resolution at 60fps. Moreover, there is a lot of flickering if you are capturing videos at UHD, especially at 60FPS, and it can only be removed if you manually adjust the ISO value. However, you always have the option to shoot UHD videos at a lesser frame rate, FHD videos (at 60fps or lower) or shoot clips at multiple other resolutions.
All in all, the video output is something that won't leave you wanting for more, be it in terms of final quality or availability of controls.
Galaxy S9 Front Camera Review
The Galaxy S9 Plus is equipped with an 8MP f/1.7 sensor to handle selfies. On paper, it appears to be underpowered compared to the 13MP or 20MP sensors crammed by other manufacturers in their smartphones, real-life results narrate an altogether different story. The photos clicked by the Galaxy S9 Plus' front camera are simply brilliant, as they capture rich amount of details and are quite sharp.
Selfies Clicked in Well-lit conditions
The Galaxy S9 can capture some really good shots with its 8MP front sensor, rendering nice punchy colors, adequate sharpness, minimal noise and high amount of details. A huge advantage of using the Galaxy S9 Plus' camera is the number of controls you have at your disposal, especially in the Pro Mode, but that doesn't mean that the Auto mode is not good enough.
In the testing phase, I realized that the Galaxy S9's selfie game is excellent, however, if you compare it with selfies clicked by other devices, you will notice a significant difference in color reproduction. Samsung's image processing algorithm slightly tweaks the true colors, especially the skin tone, but again, it all comes down to your personal preference. All in all, if you ask for the final verdict, I'll say that the Galaxy S9's front camera is an excellent option if you are into clicking a lot of selfies and wide-angle group photos.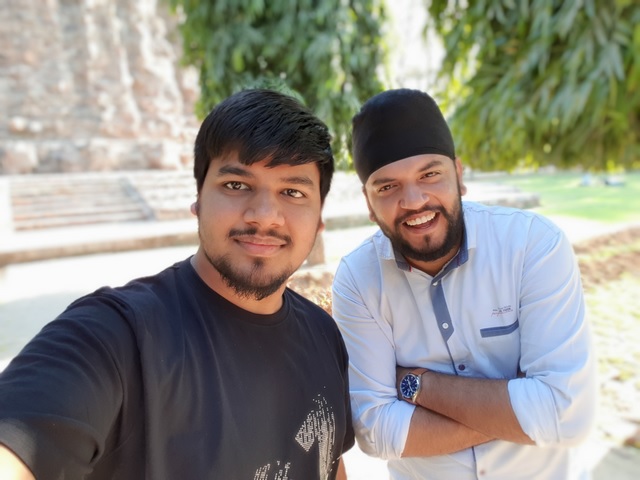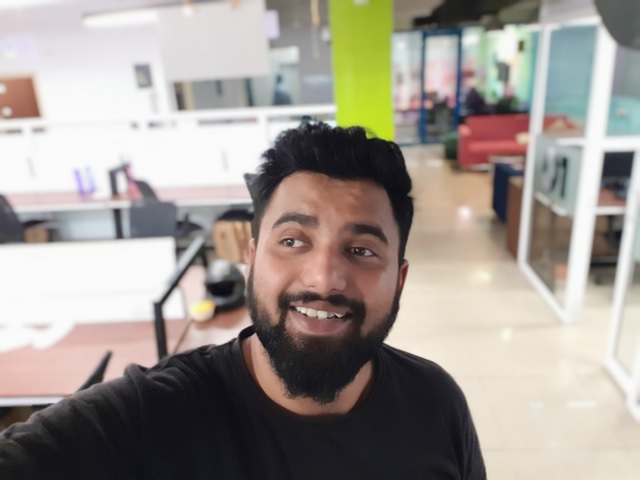 Low-light Selfies
Shots captured in low-light condition are a mixed bag of results. Sharpness and colors are intact, which is a good thing as these two parameters usually matter the most in case of shots clicked in dim environs illuminated by artificial light. Focus speed is blazing fast and the details aspect is well-covered too, which is not something many smartphones are capable of providing.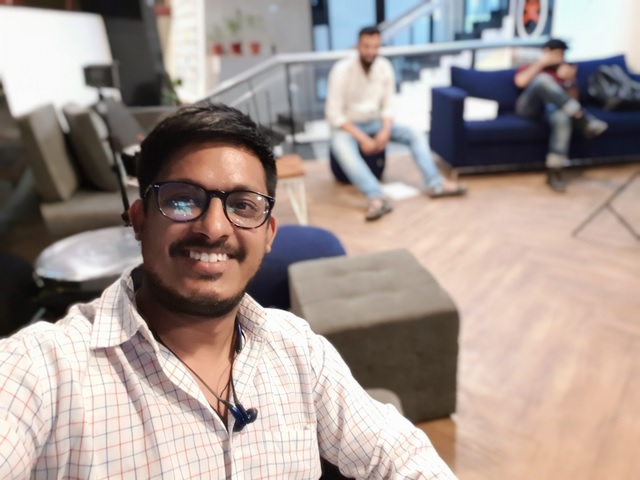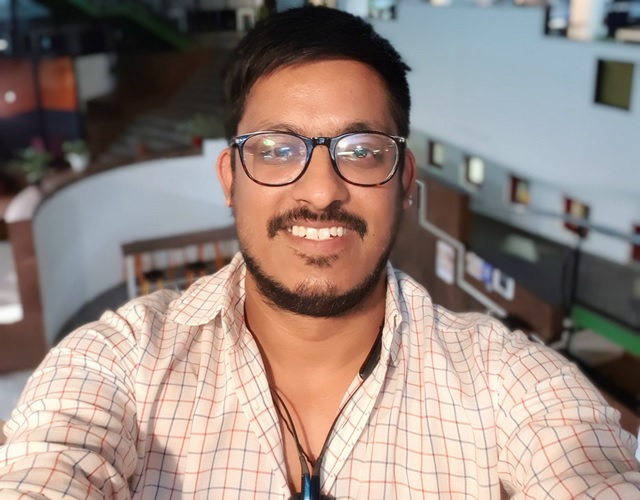 Portrait Mode Selfies
The Galaxy S9's camera app features a dedicated mode called 'Selfie Focus' for clicking portrait mode shots with the front camera, and it works really well. The bokeh effect selfies turn out to be really good in well-lit conditions, with a rich amount of detail, natural color output, and excellent background blur effect. On the other hand, portrait mode shots clicked in low-light conditions are just fine, but to compensate for the lack of illumination, the Galaxy S9's front camera seems to over-process the fine details in this case.
My only gripe is that the boundaries of the object in focus and the blurred background are not well-defined, and they noticeably lack the sharpness which is visible in the bokeh images captured by the Pixel 2 or the iPhone X. But comparisons aside, the portrait mode selfies clicked by the Galaxy S9 won't leave you wanting for more, unless you are nitpicking minute imperfections. Here are a few samples: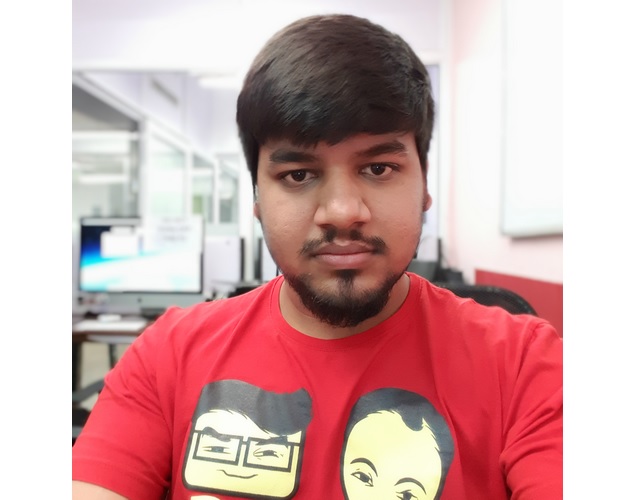 However, if you do a side-by-side comparison of the bokeh mode shots clicked by the Galaxy S9 and the Pixel 2's front camera, you'll notice that the amount of depth and color reproduction varies.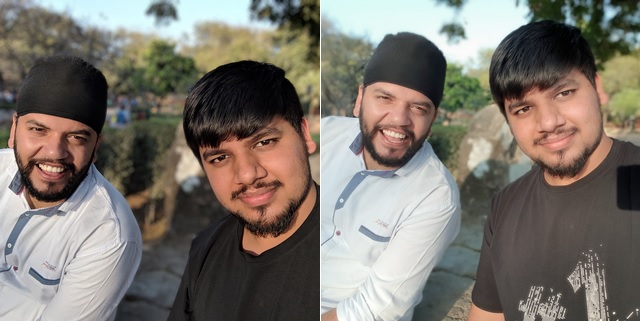 As is clearly evident, the bokeh selfies captured by the Pixel 2 have noticeably more details compared to those clicked by the Galaxy S9 Plus. Moreover, the skin color is more realistic and the fine details are more pronounced in the images captured by the Pixel 2, which is another area where the Galaxy S9 Plus lags behind.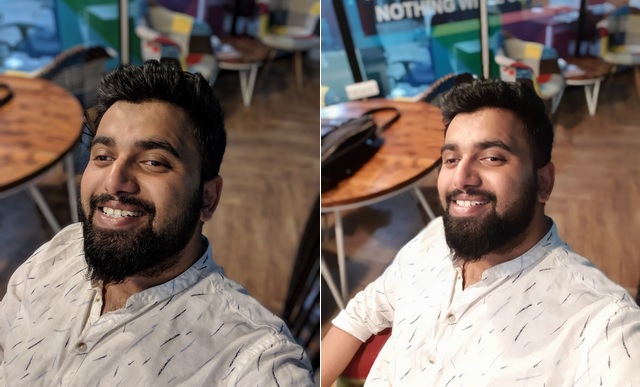 Front Camera Video Recording
If you like to livestream or record short videos on a regular basis, the Galaxy S9 is one of the most capable devices out there, thanks to its brilliant front camera which captures high-quality videos with excellent visual clarity, stability and audio output. In my personal experience, I found the Galaxy S9's front camera more polished than its rear camera, because there is hardly any nick or imperfection you can spot in the videos captured by it. Be it sharpness, detail, color output or any other parameter, Samsung has absolutely nailed it with its front camera, and if you delve into the wide array of controls provided in the camera app, you can record some good quality videos worth uploading on YouTube and Facebook.
SEE ALSO: 15 Best Accessories for Galaxy S9 and S9 Plus You Can Buy
Samsung Galaxy S9: Brilliant, But Not The Best
Before the Galaxy S9 Plus' camera review can be concluded, I'd like to say that it has one of the most capable camera set-ups you can find on a smartphone right now, and it is definitely the best on a Samsung device. Be it still photography or videos, it produces stunning results and won't leave you wanting for more, especially if you know how to play with camera settings and variables. However, if you compare it with devices like the Pixel 2 or the iPhone X, you'll notice some differences in the color profile and some other minor details, which are a result of different processing algorithms applied by the manufacturers.
The comparatively lesser depth and lack of sharpness in portrait mode shots as well aggressive color processing are a few areas where the Galaxy S9 lags behind rivals like the Pixel 2 and iPhone X. However, the Galaxy S9 makes up for its minor shortcomings in still photography with its brilliant video output. After having tested the Galaxy S9 in various conditions, I can confidently say that it offers one of the best smartphone photography experiences out there, and yes, you can rely on it in even the most demanding scenarios.
---