Whether it is a business, a website or an educational report, a picture is crucial for proper presentation. Using a copyrighted image is illegal and can even get you sued, and hiring professional models or visiting faraway places for photography is quite expensive. Fortunately, there are stock photos available that you can easily get for free or very cheap. However, finding high-quality free stock photos isn't really an easy task. There are many free stock photos websites, but many of them offer low-resolution photos. There are still some stock photo websites that offer quality photos for free, you just need to dig a bit deeper to find them. Good for you that we have done the digging part for you and created this list of 20 best free stock photos websites.
Sites for Getting Royalty Free Stock Photos (2022)
1. Flickr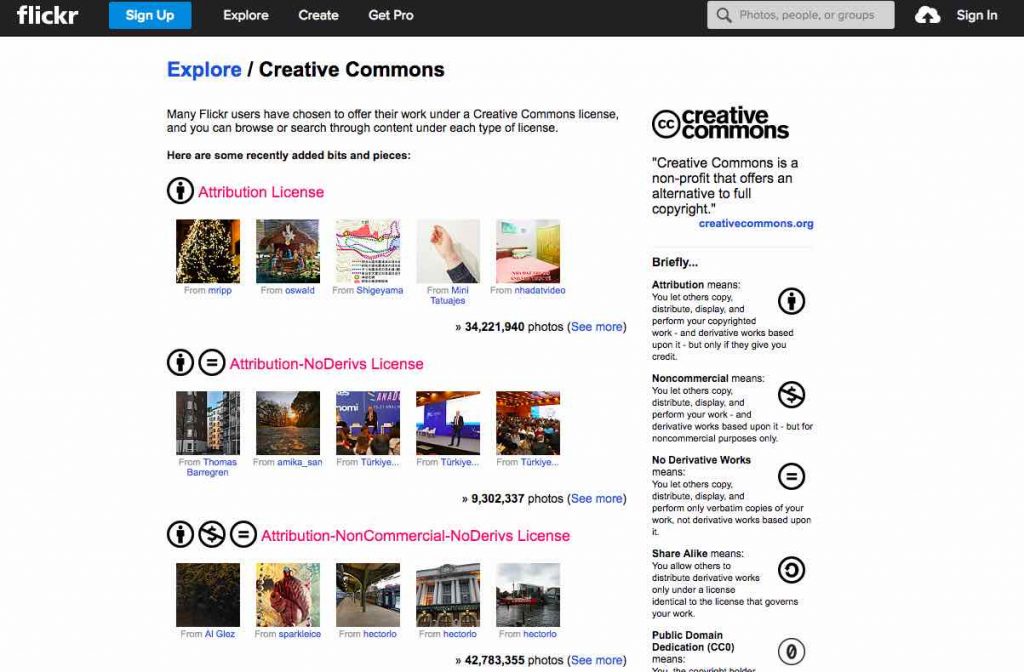 While there are a lot of websites like Flickr, it is still is one of the biggest photo sharing websites. Most photos are copyrighted and cannot be used for commercial use or without providing the original source. However, there are still many contributors who upload images on Creative Common license enabling them to be used in any way. All you need to do is access Creative Common license photos on Flickr and use them as you please. Although, you will see some other similar licensed based photos there, including Attributes License, but make sure you only go for CC0 (Creative Commons Zero) license photos.
Before using any stock photos from Flickr, make sure you read the copyrights. There are many similar rights or some people might have restricted some types of distribution. Flickr has a huge collection of stock photos for free that you can use anywhere. If you are willing to be a bit careful, you will be able to access thousands of stock photos.
Popular Categories: Trending, Flickr VR, World Map, Galleries, Camera Finder, FlickrBlo
2. Pexels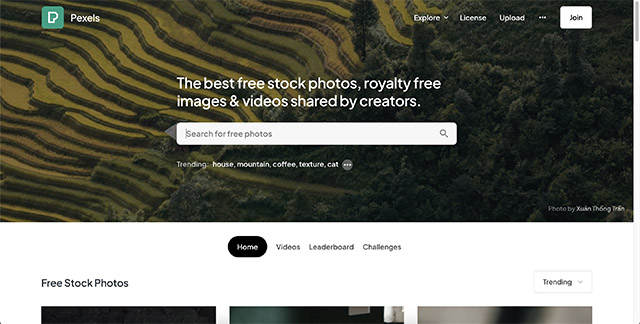 Pexels is relatively new free stock photos website, which is why you might not be able to find a huge collection of photos. However, they offer quality in every aspect. All photos available here are high quality and based on Creative Commons license which means you can use them freely for personal or commercial purposes, and you don't have to provide any attribution.
The website is also quite intuitive and user friendly with all the information served in front of you. There is a big search button on top which you can use to find the photo of your choice, and you will find popular searches below it to see what other people are searching for.
You can check out both new and popular photos right in the main interface. Even though the website is still new, it is growing up quite steadily. The developers add 10 photos everyday, 7 days a week, that are hand picked from different free image sources. So far, there are only 4000+ images, but images with high quality and easy search gives Pexels enough credit to rank at the second spot in our list.
Apart from images, Pexels now provides you with royalty free videos as well which is something unique.
Popular Categories: Art, Black-and-White, Car Building, People, Vintage, Technology.
3. StockSnap.io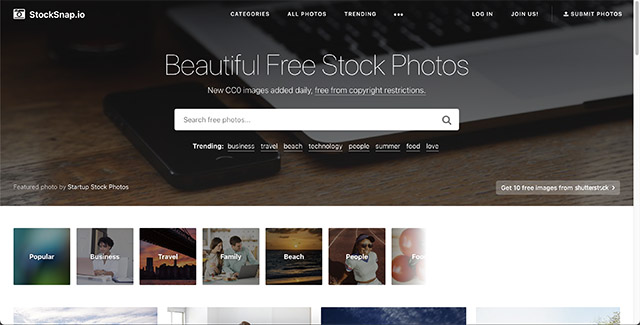 StockSnap.io is another popular website for downloading free stock photos with high resolution. All photos uploaded here are under CC0 license, which means you can use each and every image here in any way you like for both personal and commercial use. The website is also quite attractive with a search bar at the top and newly added photos shown below it.
They don't have years of presence in this field, but still they have quite a big database with thousands of photos from every genre. New photos are added every day and hundreds of photos are added every week.
You can also become a part of the community and upload photos yourself. All you need to do is sign up with them and start uploading photos. However, photos must be uploaded under the CC0 license and must not have prior copyrights.
Popular Categories: Beach, Love. Nature, Business, Design & Patterns, and more.
4. Pixabay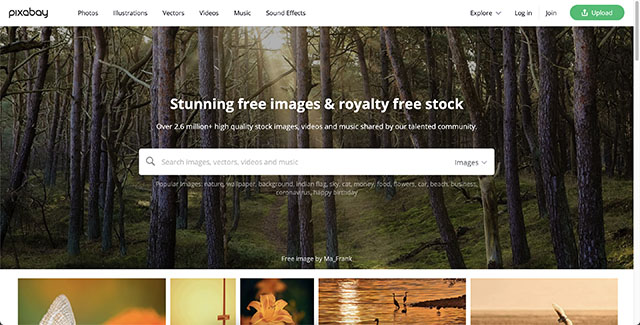 Pixabay has a huge database of over 2.6 Million royalty free photos and videos, and new being added everyday. All images are uploaded under CC0 license, and you will even find stock videos here. You can search the website with any query and you should be able to find lots of free stock photos on it.
It has an amazing filtering feature, which lets you filter your search to get the most precise results. Here you can specify media type, like Photos, illustration, videos or Vector graphics. There is also a big list of categories from which you can specify in which genre your search lies. To make things even more precise, you can also select color of the picture you want.
You can also contribute to the website by taking photos and uploading them to Pixabay. The photos must not have any copyrights and the photos will be under CC0 license, once uploaded. There are two main categories as well, Editor's Choice and Photographers which you can use to search beautiful photos.
Popular Categories: Animals, Education, Monuments, Religion, Emotions, Travel, sports, Food, Technology.
5. Free Images
Free Images offers both paid and free images and they have a huge collection of photos. They have over 380,000 photos and these are just free ones. You can get more than 2.4 million premium photos. It is quite simple to navigate the website, you can either use the search bar or browse the categories.
Each category shows total number of photos and you can just click on any image to open its details page. In the photo details, you will find tags, author name, download button and a button to favorite the image. You can also search photos by tags, if you are comfortable with it.
The photos are uploaded by both editors and community. You can create an account and start uploading CC0 licensed photos, although do check out their term and conditions before starting.
Popular Categories: Architecture, Animals. Fashion, Religion, Games, Festivals, Home Designs, Education, Celebrities.
6. SplitShire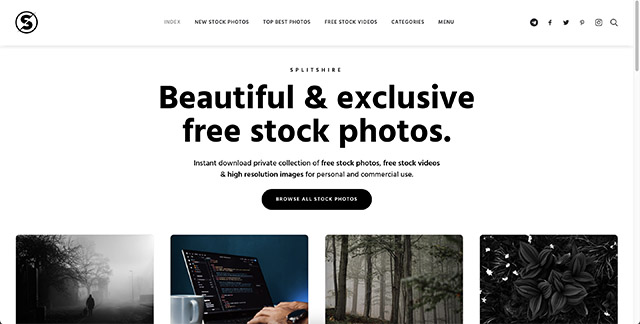 SplitShare is a simple free stock photos website with to-the-point interface. It is not a huge website, but it has some very creative photos with high resolution. You will find a simple search bar where you can search for the photo you need, or just use the categories mentioned below it, to find the photo of your type.
There is also a premium subscription that will let you download photos in bulk. Even if you use free version, you can still access all the photos, but you will have to manually search and download each photo. With premium membership, you can download all photos and even 30+ videos with just a single click and at great quality.
Popular Categories: Animals, Automotive, Blur Backgrounds, Bokeh, Bundle, Instagram, Interiors, Still Life, Street.
7. Openverse (Previously: Creative Commons)
Openverse, previously known as the Creative Commons Search, is not actually a website that offers free stock photos, instead, it works as a search engine. It is created to search for images, videos and music that is royalty free using the most famous websites in this field.
All you need to do is enter your query in the search bar and select the name of the website from which you want the CC0 licensed photos. You will see immediate results in the interface of the specified website.
After entering the query, you can click on different website to check their results quickly. This makes this tool perfect for faster search of your required photos from the best sources like, Flickr, Europeana, Open Clip Art Library and Pixabay.
Images sources: Flickr, Open Clip Art Library, Google Images, SpinXpress, Pixabay, Wikimedia Commons.
8. Getty Images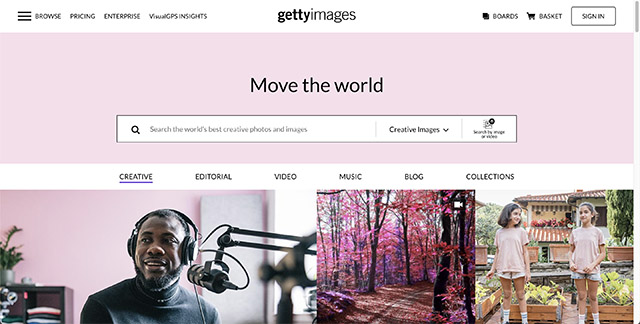 Getty Images is one of the biggest hub for free images with over 35 million stock photos available for free. However, they charge for the commercial use of their photos. You can use photos from Getty Images for personal use, editorial use or even on blogs, etc. for illustration purposes. But you can't use them for advertising of a company or products, and other similar commercial use.
All you need to do is hover your mouse cursor over a picture and click on the embed icon (</>). Now, just copy the code and paste it over your website/blog. The picture will be displayed on your website while being hosted on Getty Images.
If you would like to use these images at commercial level, then you will have to pay $500 for each picture. This amount can be decreased to anywhere between $380 to $500, if your purchase images in bulk.
Searching images is simple, you just enter the name or type in the search bar and make sure "Royalty free" option is checked.
Popular Categories: Health, Energy, Family/Kids, Office, Nature, Sports, Business, Food.
9. Unsplash
When it comes to quality stock images, nothing can beat Unsplash as far as free stock photo websites are concerned. I mean just click on the link below and look at the photos. You will be blown away by the images that are hosted on this platform. Add that to the fact that Unsplash hosts more than 200,000 images, you have got a platform which can provide you with photos for most of your needs.
What I love most about Unsplash is that its platform is driven by its awesome community. There are more than 41000 photographers who upload photos on a regular basis so you will never run out of new photos. The best part is that you don't have to attribute images, if you don't want to. Unsplash is also good for finding beautiful wallpapers for your mobile and desktop. So even if you don't use the platform for commercial purposes you can use it to get awesome wallpapers. This is one of my most favorite stock photo platforms and I cannot recommend this enough.
Popular Categories: Architecture, Animals. Nature, Business & Work, Design & Patterns, and more.
10. Burst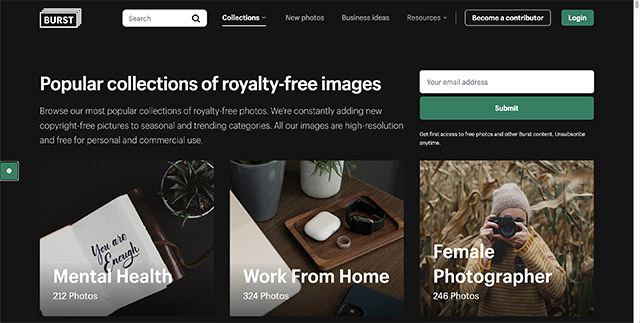 Burst is a free stock photo platform made by the creators of Shopify. If you have never heard of Shopify before, it's basically a platform which allows you to create your own website for e-commerce without having to learn any coding. Burst is a free service given by Shopify to its users so that they can use high-quality images on their website. The good thing about Burst is that you don't need to be a Shopify customer to utilize the photos.
While the number of photos here nowhere near match any of the other platforms on this list, the photos themselves are of higher quality as they have been taken by paid professional photographers. Also, Burst is mainly focused on serving businesses, hence the photographs that you will find here are quite unique. If you run a business or represent one, there is no better place to find royalty free images. The collection of photos on Burst is also constantly increasing, so you'll almost always be able to find new photos for any category you're interested in.
Popular Categories: Business, Retail, Fashion, Food, Urban Life, and more.
11. Google Images
Google Images is also a great source for finding free stock photos. If you add some filters, Google Images can search for photos that are free to use and only show these photos to you. Although, the quality of the images cannot be guaranteed as Google will search the whole web to get royalty free images, including low resolution images.
The process is simple, go to "Google Images" and click on "Search Tools" in the above menu. A tiny menu will open below it, here, click on "Usage rights" and select your option to filter the search. Here, choose "Creative Commons licenses" to get images with the CC license.
Although, there are many other options too if you want to search for different licensed based photos. This is handy if the current search is too limited and doesn't provides the right image.
12. Reshot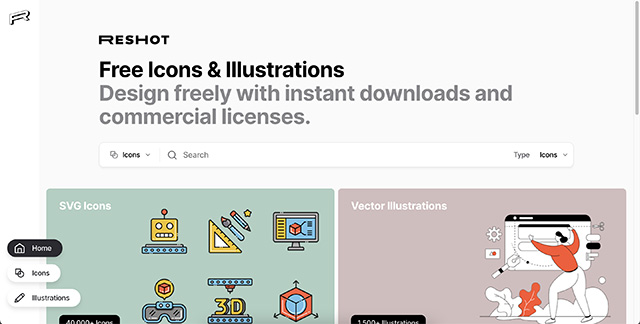 Boasting a huge library of free stock images, Reshot has long been one of the best sites. The website is designed for freelancers, startups, and creators who want to have professionally captured images for free. From active lifestyle pack to everyday technology pack, to flat lay pack, the site has got you fully covered. Additionally, Reshot is going to add an option to let anyone create an account soon so that users can have a personalized experience. If you wish to be in the loop about its upcoming version, you can register to get the monthly updates via email.
Popular Categories: Flat-pack, active lifestyle pack, everyday technology
13. FoodiesFeed
For those looking for a site to explore thousands of nice-looking food photos for free, FoodiesFeed appears to be the right answer. Backed by an ever-growing community, the site has a solid library that features a variety of food images. From yummy picks of cake to delicious shots of pizza, it's got the quality to be a great platform for food bloggers. The site has a simple design and also offers some handy tools to filter images. And if you like specific images, you can share them via email and even social sites like Facebook, and Twitter.
Popular Categories: Trending, top view, healthy, close up, fresh, and fruit
14. Gratisography
As someone who has a liking for high-resolution images, I have found Gratisography up to the mark. Claiming to be the world's best platform for creative images, the site has got both a big library and variety to be a great platform. As they are available for free and that too without copyright restrictions. So, you can use those professional-looking images for various purposes without any limitations. Some of my favorite categories include fashion, animal, whimsical, and nature as they look pleasing to the eyes.
Popular Categories: Business, fashion, animal, food, nature, people, and urban
15. Freestocks
When it comes to offering top-notch free stock images, Freestocks is second to none. Probably the best part about this site is a wide variety of images. So, it doesn't matter what you are looking for, the site can let you pick photos that can fit into your taste. To let you easily dive into respective categories and find out specific images, it offers various filters. Furthermore, you also have the option to share images via several mediums including email, Facebook, Twitter, Pinterest, and more.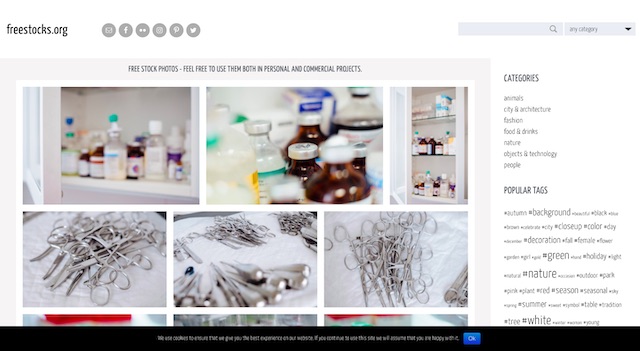 Popular Categories: Animals, technology, people, food and drinks, and fashion
16. Foca
While Foca may not be as popular as some of its well-known rivals mentioned in this roundup, it's got most of the essential aspects covered to be a notable platform. First and foremost, the site has got a fairly good collection of high-resolution free stock images, videos, and templates. Second, they have been compiled in many categories namely workspace & business, city, technology, spring, architecture, people and more. And third, they are all available at your disposal for free so that you can use them without having to spend any bucks.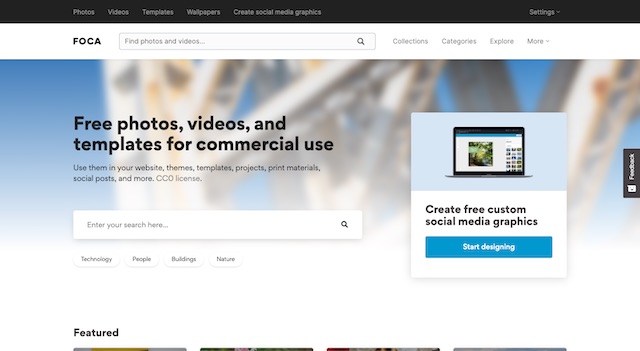 Popular Categories: City, technology, city, people, landscapes, food and drinks
17. Picjumbo
Simply put, there are very few free stock image websites which pics look as fascinating as those of Picjumbo. Being available in several categories including vintage, traveling, abstract, business, food, nature and more, they can cater to both personal and professional demands. Beyond variety, the site has got a modern-looking design and makes it pretty straightforward to explore images and dive into respective categories with ease. Not just that, it also comes with a dark mode so that you can browse the collection at night without straining the eyes.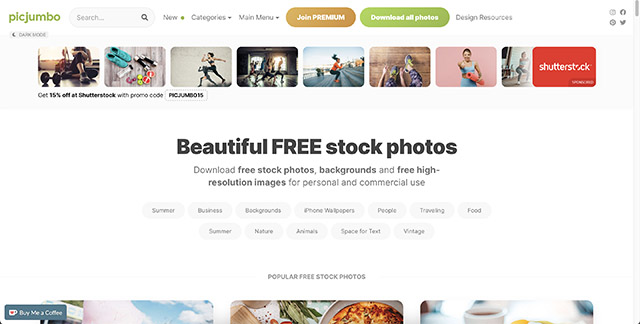 Popular Categories: Business, backgrounds, abstract, people, traveling, and more
18. Kaboom Pics
When there is a hunt for top-notch free stock images, missing out on a reliable platform like Kaboom Pics wouldn't be wise. The biggest highlights of this site is a library of thousands of royalty-free stock images which you can use without paying any bucks even for your commercial use. Among the wide variety of categories, photoshoots, vintage, and COVID-19 have called for my attention as they appear standout. Oh yes, the carnation backgrounds also look quite beautiful!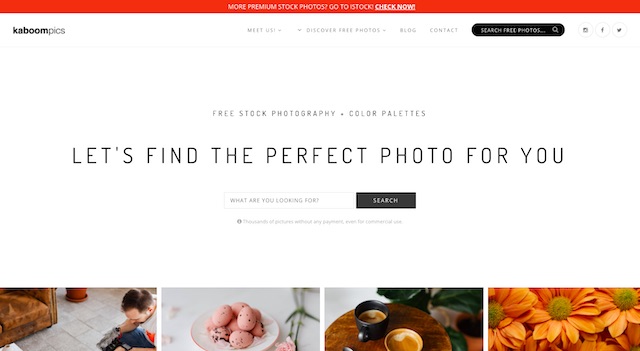 Popular Categories: Carnation backgrounds, COVID-19, vintage, photoshoots, coffee, and great masterwort
19. Picography
Whether you are a freelancer, graphic designer or a full-time blogger, Picography can be immensely helpful. What makes this site one of the better free stock photo platforms is the enviable collection of images. Available in several categories such as technology, food, fashion, music, sport, nature, festive, landscapes, and more, they can fit into various needs. Furthermore, they are professionally designed and boast high-resolution. So, I expect them to cater to your different needs without any complaints.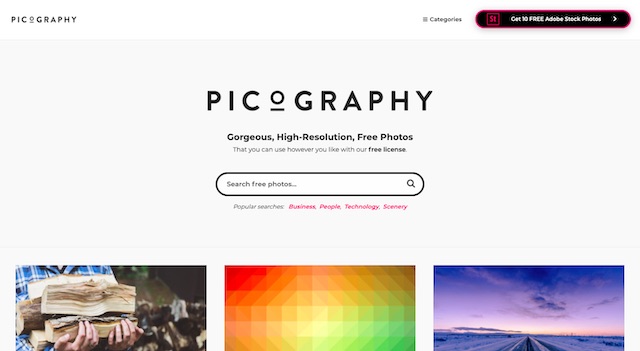 Popular Categories: Food, fashion, city, technology, business, scenery
20. Smartmockups
Stock photos are great, but what if you're looking for stock photos of things like smartphones, laptops, and more? Especially, if you want a stock photo with a screenshot that you've taken, just in order to customise the photo for your own use-case? Well, smartmockups is a website that will let you do just that. It does have a bunch of premium photos, but there's more than enough variety available for free as well. Simply search for the kind of image you want, whether it's a smartphone, a tablet, or anything else. Then, upload your image to be applied into the photo and download a free version of the image.
Visit Smartmockups
Choose the Top Royalty Free Stock Photo Websites
So, these are the top royalty-free stock photo websites from where you can download professionally-designed images both for your personal and professional needs without having to dole out any bucks. Have I missed out any notable sites? If yes, feel free to let us know their names in the comments down below. Also, share your thoughts about this roundup.
---
Load More