After the pandemic, people are increasingly looking for remote jobs and freelance work. Freelancing, in particular, is a great way to make money without losing flexibility. So in this article, we have curated the 12 best freelancing websites where you can find work in various fields and categories. Whether you are a writer, designer, developer, or marketer, we have added all the top freelancing websites for you. On that note, let's jump to the list.
1. Upwork
If you are looking for the best freelancing website to find all kinds of work, Upwork is the one-stop destination for you. It's a leading platform for freelancers that connects you to various businesses across a variety of fields. From content writing to sales, marketing, coding, translation, graphic designing, etc., you can find just about any work suited to your skill. The cool part about Upwork is that it attracts both beginners and professionals who are looking to do freelancing due to a smooth onboarding process.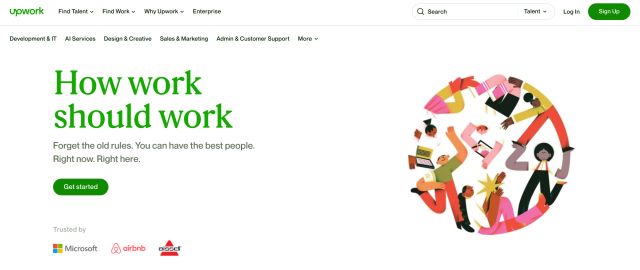 Recently, it started posting AI-based jobs as well. So if you are good at building AI apps, websites, and services, Upwork will help you find the right job for you. As for transfer fees and charges, Upwork charges $30 for each wire transfer and 10% of the contract as the service fee. Overall, Upwork is the best place to get hired for freelancing work across domains and you should definitely begin your journey here.
2. Fiverr
If you have been looking for freelance gigs actively, it goes without saying that you have come across Fiverr. Fiverr is another global marketplace where you can find many freelance services. It offers digital services in more than 500 categories and has a huge number of certified businesses where you can find your calling. In recent times, Fiverr has come up as a potential alternative to Upwork for smaller, one-time tasks. What sets apart Fiverr is that it has a fixed price for projects which starts at around $5. Whereas Upwork generally pays based on the hours of work you have done or whatever the contract has been agreed upon.
As for fees and charges, well, Fiverr is a bit costlier than Upwork. 20% of the earning goes to Fiverr as a service fee compared to Upwork's 10% fee. However, to transfer the earnings to your local account, you will have to pay only $3 per transfer which is awesome. If you are a logo designer, or digital marketer, or have skills in programming and tech, Fiverr is one of the best freelancing websites to go for.
3. Freelancer
Freelancer is one of the largest freelance marketplaces on the internet. It was started in 2009 and since then it has posted more than 22 million freelance jobs with over 66 million registered users. It offers services in over 1800 categories so freelancers from various fields and domains can find work with reliability. Be it website designing, developing phone apps, proofreading, photoshop editing, ghostwriting, or data entry, you can discover a plethora of businesses interested in your skill.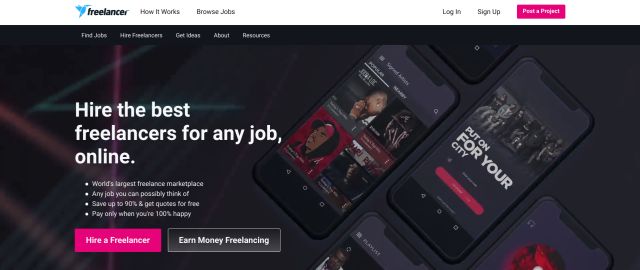 In terms of fees and charges, Freelancer is quite good. It charges only 3% or flat $3 for fixed-price projects. That's much lower than Upwork and Fiverr. And for every wire transfer to your local bank account, you would have to pay $25. Overall, for the wide category of work it offers, Freelancer is a solid platform to find jobs.
4. PeoplePerHour.com
PeoplePerHour is a UK-based company that has been hosting freelance jobs since 2007. More than a company, it's a community of freelancers where people can post a project for free, and professionals can find a job without any fuss. It has more than 1 million businesses that regularly post job offerings for freelancers from different fields.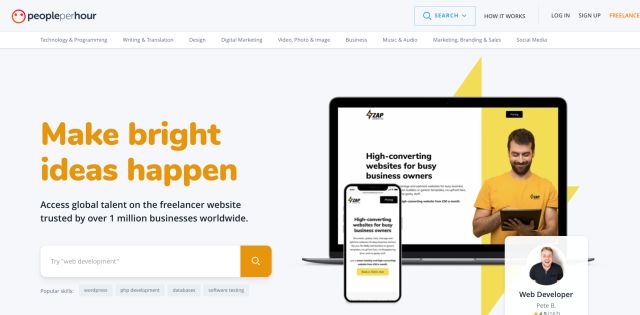 Starting from technology to programming, writing, translation, designing, music editing, social media management, etc., you can find a suitable job best suited to your skill on PeoplePerHour.com. Talking about service fees, it charges freelancers 20% initially and then reduces it to 7.5% after £250 of billing. Once you cross the £5000 mark, the service fee comes down to 3.5%. Overall, PeoplePerHour is a great website for freelancers looking for diverse jobs, especially in the UK.
5. FlexJobs
Unlike other freelancing websites on this list which are mostly free to use, FlexJobs is a subscription-based service. It essentially curates a selection of remote and flexible jobs so that you can find the right work-from-home job. With the subscription, you also get a team of experienced coaches who provide guidance to freelancers.
According to FlexJobs, the subscription allows you to access 22,299 hand-screen flexible jobs. You can use the built-in search engine to find the job that matches your preference. Additionally, you will be given skills tests, courses, checklists, and expert content so that you can easily land your next job. Simply put, if the traditional freelancing websites have not worked for you so far, you can take a look at FlexJobs.
6. Behance
You may know Behance as a platform to showcase creative work. However, it also allows you to find freelance work in creative fields like design and photography. Not just that, Behance also has a job listing page where you can find full-time roles in a company. Since Behance has a large audience, you may get good traction for your original work. As a result, it might attract high-paying clients for your design work.
Yes, Behance charges a small fee to showcase work in search results, but its service fee is capped at $10%, and after $500 of earnings, the charge is reduced to 5.5%. I would say if you are a UX/UI or web designer, illustrator, 3D artist, colorist, etc., Behance is an awesome website to find freelancing jobs.
7. Dribble
Dribble is a leading platform for creatives to share their designs and build a strong portfolio around their work. It's where the creative community meets to share, grow, and get hired by companies like Starbucks, Facebook, Asana, Amazon, and more. Freelancers who have skills in graphic designing, animation, branding, illustration, logos, web design, etc. can post their work on Dribble and businesses can hire you based on your work profile.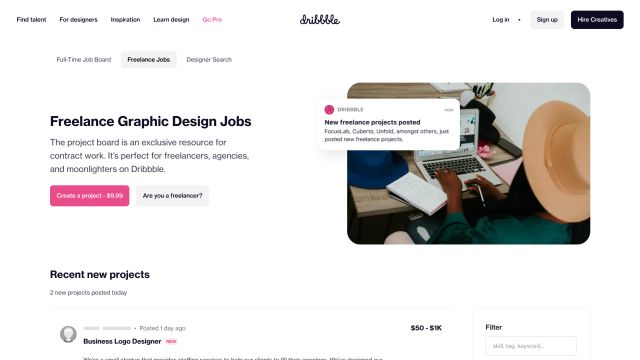 Apart from that, Dribble also offers a freelance job section and a full-time job board. Small startups to big companies regularly post job offerings requiring freelance designers to create logos, landing pages, illustrations, and more. To sum up, if you are looking for the best freelancing website for designers, Dribble is the way to go.
8. 99designs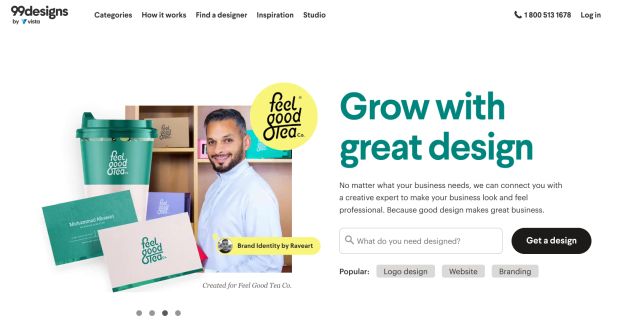 99designs is a unique website where you can upload your design work and businesses or individuals can hire you for a 1-to-1 project. This way, you can set your own price, and get paid upfront. Keep in mind, when you work with a new client, you will be charged $100 as an introduction fee. And for every project, you will have to pay 5% to 15% as the platform fee depending on your designer level. Yes, the charges are quite high, but 99designs frequently get new clients and businesses. If you are looking for freelancing websites in graphic design, make sure to check out 99designs.
9. Toptal
Toptal, as the name suggests, is an online marketplace where you can find the top 3% of freelance talent in the market. It does not have a wide range of services, but if you are a business and looking to pick the best developer, designer, finance expert, project, or product manager, Toptal is your best shot. You can get the onboarding process done in just 48 hours so hiring is pretty smooth on Toptal.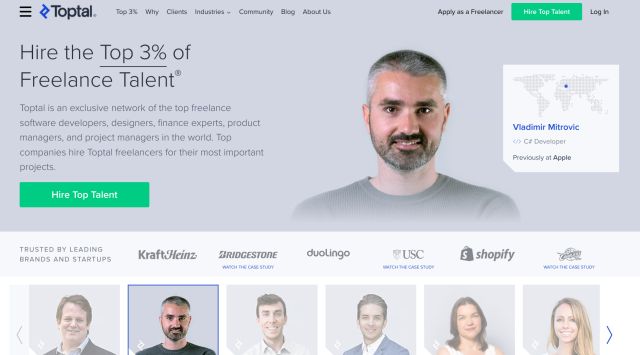 According to the website, its pool of top talents is rigorously tested and vetted. What makes this one of the best freelancing websites is that companies can also work with the new team member on a trial basis, and you only need to pay if you are satisfied with the work. This ensures that you pick the right person for your company. To sum up, for organizations and businesses who want to hire top freelancers from across the world, Toptal stands up to the purpose.
10. Guru.com
In case you are not aware, Guru.com is one of the oldest freelance marketplaces on the internet. It was started in 1998 under emoonlighter.com and now Guru.com has paid over 1 million invoices. The website is a great place for businesses to hire expert freelancers in programming, app development, designing, web designing, and more. You can even find system administrators for networking and hardware, database designers, analytics freelancers, etc.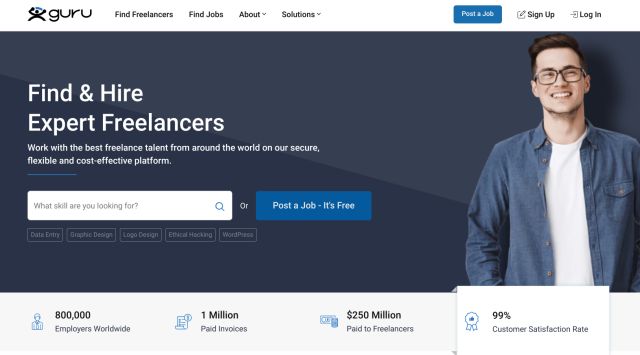 From core engineering jobs to web designers, Guru.com has you covered in all aspects. It offers credibility, flexibility, security, best-in-class support, and most importantly, value for your business. So as a business entity, if you are looking for professional freelancers in core computing domains, Guru.com is the best freelancing website for your need.
11. We Work Remotely
We Work Remotely is another popular website highly recommended by remote work communities and freelancers. However, it's not for beginners and only professional freelancers can apply on We Work Remotely. It has over 4.5 million visitors every month and companies like Google, Amazon, GitHub, and Basecamp regularly offer jobs on the platform.
It does not have a wide range of services, but if you are good at programming, designing, DevOps, Management, Finance, Sales, Marketing, etc., then We Work Remotely has plenty of jobs for you. The best part is that you don't have to pay any fee to apply for a position. So freelancers who want remote jobs in the tech and finance fields, do give a shot at We Work Remotely. So, if you are someone who has a lot of experience in the technology and finance space, this is easily one of the best websites to find freelancing gigs.
12. Wellfound (AngelList Talent)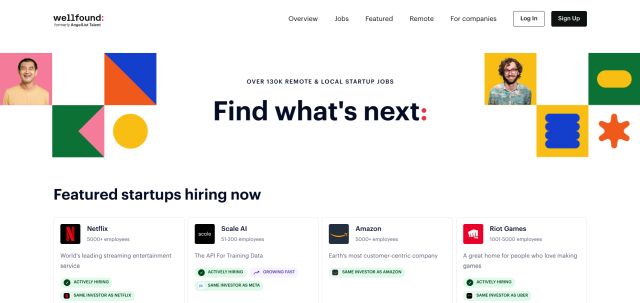 If you are good at programming, you can take a look at Wellfound which was earlier known as AngelList Talent. It's a place where startups and big companies look for potential hires. Companies like Cloudflare, HubSpot, Box, Splashtop, Unity, etc. are currently looking for computer engineers, product designers, AI engineers, and more. Basically, if you are in the tech domain, Wellfound is an excellent place to find both freelance and full-time jobs.
---
Load More