A VPN service has become almost a necessity for internet users. Content censoring, surveillance and ad tracking are just some of the reasons why people need a VPN. However, the last time we checked, most people want an easy way to access VPN while they're browsing. And, that is exactly where Google Chrome VPN extensions come into play. Google Chrome is a powerful browser and Chrome extensions are its best assets. Using Chrome VPN extensions, we can access the internet in a secure environment even if we are on a public WiFi. Here are the 10 best free Chrome VPN extensions you can use in 2020.
Best Free Chrome VPN Extensions
Before we get into our list of the best free Google Chrome VPN extensions, let us first see why we need these extensions. After all, we all have been using Chrome without a VPN extension till now, haven't we? Well, here are some of the reasons why using Chrome VPN extensions is valuable. By the way you can use the quick links below to directly skip to VPN list if you want.
Quick Links
Why Use Chrome VPN Extensions
Apart from the security advantages such as anonymous browsing, tracking prevention, secure network, and more, VPN extensions for Chrome also bring added advantage over full-fledged VPN services that you might use on your devices.
Other applications on your computer will still connect to the Internet directly. That's something very convenient.
If you use Chrome for your regular browsing needs, this is the best way to get away from geo-location-based censoring and surveillance.
Compared to a fully-fledged VPN app, a Chrome extension offers easy access to the service.
Let's admit that, Chrome collects a lot of information from your side. So, you may want to use a VPN dedicated to Chrome.
What Can a Chrome VPN Extension Do?
While Chrome extensions may seem quite lightweight as compared to the full-fledged versions, they are more than handy in letting you browse the web anonymously. Furthermore, you can also use them to unlock geo-restricted content or websites.
Being easily accessible, they allow you to connect to a fast VPN network and even switch servers. Though the VPN Chrome extensions don't offer the same level of customization as the full-fledged app, you may not have to look beyond for carrying out basic tasks.
Now that we know the basics, let's explore the article, shall we?
Free Chrome VPN Extensions
In this roundup, we are covering two types of Chrome VPN extensions. The first type is those Chrome VPN extensions that are completely free and doesn't cost you a dime. The second is the freemium Chrome VPN extensions which offer some part of their service for free while charging you a premium if you want to use their full features.
1. TouchVPN
TouchVPN is one of the most deserving Chrome VPN extensions out there. It's completely free to use, and offers an easy way to manage your VPN connection. As soon as you install the extension, you would find the TouchVPN icon near other extensions. You don't have to create an account for using TouchVPN, though. The set-up process is super-easy that way.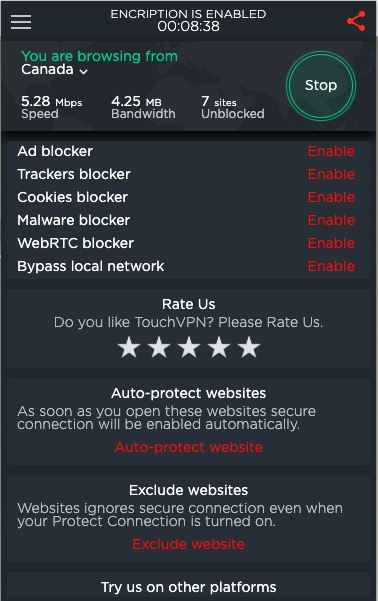 You can choose from seven server locations while using TouchVPN. There is an automated option where the app would make the selection as well. Once connected, TouchVPN shows you some information such as the connection speed, status of blocking elements and a quick way to stop the connection. You can also decide to auto-protect and exclude certain websites.
It comes with an ad blocker, cookie blocker, malware blocker, WebRTC blocker and tracker blocker. It means you can not only unblock global content but also get enhanced protection. And, in case you need the same experience elsewhere, you can install the apps on other platforms as well. In total, we believe TouchVPN is one of the best free Chrome VPN extensions.
Pricing: Completely Free
Data Cap: No
Availability: Chrome, Android, iOS, macOS and Windows
Check Out TouchVPN for Chrome
2. uVPN
Unlimited VPN, better known as uVPN, is also a great consideration when you want a great VPN extension for Chrome. This is what you would call the most minimalistic Chrome VPN extension out there. Once you've installed this extension, accessing the VPN is a click away. However, it does not offer many customization-focused features.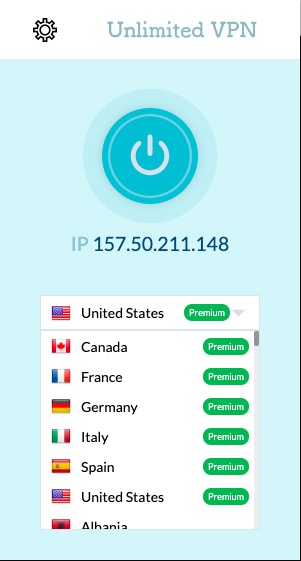 Just like the previous option, uVPN also lets you choose from a set of server locations. With eight datacenters across the globe, it offers a better choice when it comes to locations though. Choose the location and hit the button: boom, you're connected. The Connected screen simply shows the location you're connected to and the IP address.
As we said, uVPN does not have any advanced features per se. Of course, they assure you unlimited service, and that's something. We understand it's all relative, but the speeds offered by uVPN were lesser than those of TouchVPN. Despite all these, if you are looking for a super-minimal Chrome VPN extension, uVPN surely deserves a shot.
Pricing: Completely Free
Data Cap: No
Availability: Chrome, Android
Check Out uVPN for Chrome
3. Free VPN
Free VPN is yet another easy-to-use Chrome VPN extension you can try out today. It does not have any kind of bells and whistles, but it lets you access the whole web. Compared to other VPN services, however, this free VPN extension lets you choose from a wide variety of server locations. However, we wouldn't say it's the fastest VPN for Chrome.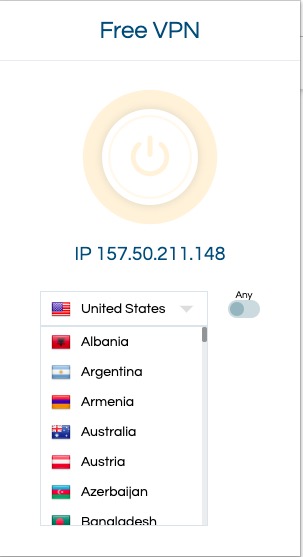 It does not have any kind of additional feature. All you have to do is to select the desired location and press the button. There is also an option where 'any' server would be okay. If you are looking for something more advanced, Free VPN isn't your spot. On the other hand, when simplicity is your motive, you cannot go wrong with this.
Once again, the speeds don't impress us. We found that Free VPN takes more time to establish a connection when compared to others. Also, the lack of details on the connection dashboard isn't the most convenient thing you'd expect from a VPN service. That having said, because you are not ready to pay, this should be a shot.
Pricing: Completely Free
Data Cap: No
Availability: Chrome
Check Out Free VPN for Chrome
Freemium Chrome VPN Extensions
4. VeePN
VeePN is a freemium Chrome VPN extension you should give a try. It means the service has a fully-functional free version, but there is a Premium version too. The problem with the free version is that you can choose between three server locations only and works on a single device. Also, the free version offers lower speeds when compared to premium.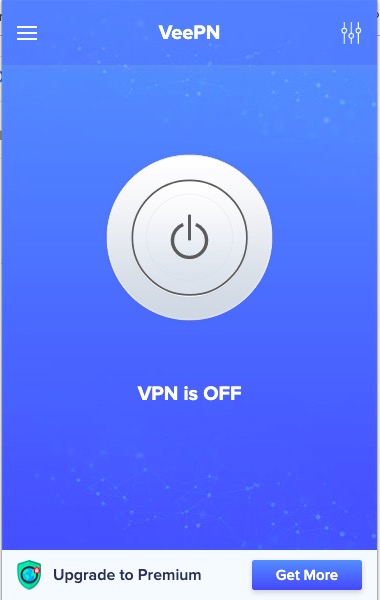 These things apart, it's incredibly easy to use VeePN on Chrome. Once you have selected the desired server location, VeePN will connect you in no time. There is also an option to enable WebRTC protection as well as the option to bypass local networks. Both these can offer you an advanced layer of protection while browsing the web.
It should also be noted that VeePN doesn't offer any kind of crazy speeds. You can, however, have a simple way of connecting to the VPN and vice versa.
Pricing: Free, $1.67/month (if paid for five years otherwise $10.99/month)
Data Cap: No
Availability: Chrome, iOS, Android, PC, Mac etc.
Check Out VeePN for Chrome
5. Hide.me
Hide.me is another freemium VPN extension available for Chrome. The free version comes with restrictions of course. For instance, you can have a maximum data transfer of 2GB only. If you want further data and the perks of multi-device support, you will have to purchase the premium version. The company, however, says that the free version offers almost 100% uptime.
There are also some other perks, such as the lack of ads. Hide.me is one of the very few VPN extensions that don't put ads in the free version. This means you can enjoy the perks of security and access. At the same time, using the free version, you can connect to just three locations. It should be noted, however, that the connection procedure is super-cool and the speed is super fast.
Considering all these, Hide.me is a great choice when you want a simple VPN extension with no intrusions. It has, however, a serious data cap.
Pricing: Free, $5.41/month (billed annually)
Data Cap: 2GB
Availability: Chrome, iOS, Android, PC, Mac etc.
Check Out Hide.me for Chrome
6. Betternet VPN
Betternet VPN surely deserves a spot in this, because it's offering one of the smoothest VPN experiences we have had. Through advertisements and sponsored posts, Betternet VPN makes sure that the service is free to use. There are, however, all sorts of prompts to upgrade the service to premium. For instance, the free version allows you to connect to four server locations only.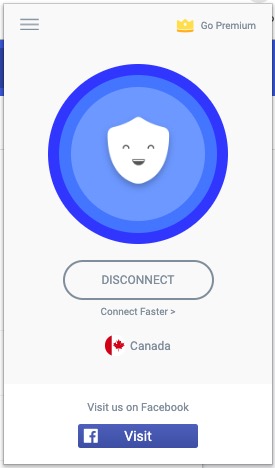 If you want more locations, you have to go for the premium version of Betternet VPN. That having said, this VPN extension doesn't put a restriction on bandwidth. Compared to other VPNs we tested, it offers a better line of speed as well. It's also great that you can have the same good experience on other platforms such as Android and iOS.
We would be recommending Betternet VPN if you want something simple and unrestricted. It can help you unlock geo-blocked content, but it's not a good choice if you're looking for specific-country access.
Pricing: Free, $2.99/month (billed annually)
Data Cap: No
Availability: Chrome, iOS, Android, PC, Mac
Check Out Betternet VPN for Chrome
7. Browsec
Browsec is what we would call the most advanced free Chrome VPN extension out there. It brings a number of features that we have found in premium versions only. First things first, there are restrictions when we'd consider the number of servers. However, even before connecting, Browsec shows you the potential speed and security of each location.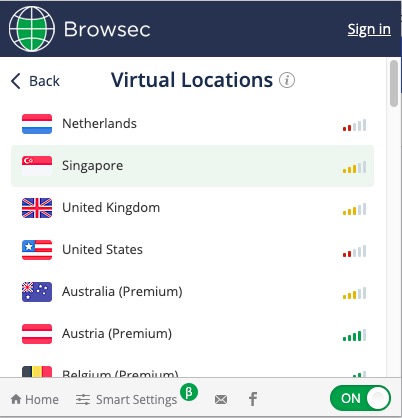 On the bright side, Browsec does not limit the amount of data you can transfer. There are some additional features like browser time zone optimization and WebRTC protection. You are actually getting a package of features useful for every pro internet user. Unlike other VPNs, however, Browsec shows some intrusive ads on the interface.
All in all, Browsec is a great choice when you want top-notch VPN security and advanced features. We really loved the advanced features and customization options.
Pricing: Free, $3.33/month (billed annually)
Data Cap: No
Availability: Chrome, iOS, Android, PC, Mac etc.
Check Out Browsec for Chrome
8. Windscribe VPN
Windscribe VPN also brings some additional VPN and ad-blocking features to Chrome. These features are so cool and can help you navigate through the web. Compared to other VPNs, Windscribe VPN is pretty quick and offers easy selection options. You can either choose individual server locations or go for Cruise Control, which is an automatic way of server picking.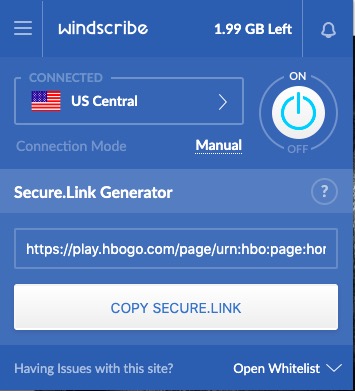 So, if you have that sudden rush to watch an HBO GO movie but you're outside the US, Windscribe VPN will be the best bet. The only problem here is that you have to create an account and there is a data cap. Even if you are in the free version, there are advanced features like ad-blocking and secure whitelisting. You will also be able to create and share secure links.
Windscribe VPN will be top of our recommendation when you want a Chrome VPN with extra features. That is if you are okay with the data cap.
Pricing: Free, $4.08/month (billed annually)
Data Cap: 10GB
Availability: Chrome, iOS, Android, PC, Mac etc.
Check Out Windscribe VPN for Chrome
9. TunnelBear
TunnelBear is one of the most trusted VPN services in the world right now and it offers a free plan. There's a lot of restrictions in the free plan, but it's worth a shot. For instance, TunnelBear offers an incredibly simple way to establish a connection. You can choose from a wide variety of countries and the connection happens so quickly.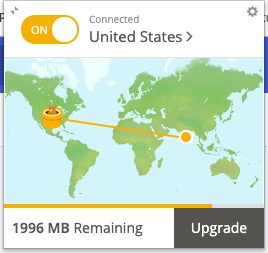 Talking about the restrictions, you can have 500MB of data per month. There are, however, ways to increase the monthly quota by referring TunnelBear to others. We'd say the TunnelBear Chrome extension is faster than the actual software we use for connections. TunnelBear does not compromise the actual speeds either and it'd be super-useful for streaming.
TunnelBear is atop our recommendation list when you are looking for something secure and easy to use. We also loved the actual speeds, suitable for streaming.
Pricing: Free, $4.99/month (billed annually)
Data Cap: 500MB a month
Availability: Chrome, iOS, Android, PC, Mac etc.
Check Out TunnelBear for Chrome
10. DotVPN
Last in the list but not the least, DotVPN is a cool-looking Chrome VPN extensions you can try today. Another freemium option in the list, DotVPN allows you to connect to certain locations, free of cost. Even before you establish the connection, DotVPN shows the ping time and other details. Once connected, it would show you the actual speed.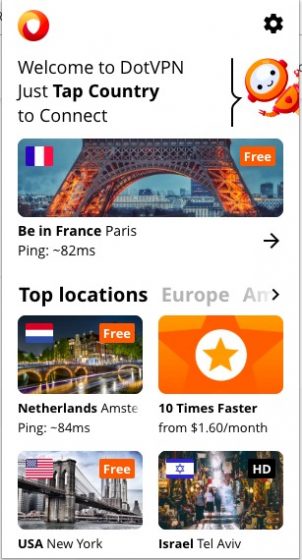 There are, however, limitations as you guessed. For instance, the speed is comparatively lower, and the firm actually acknowledges that. Despite all these disadvantages, I really loved the way DotVPN allows you to connect to VPN and use the service. It's actually cool that you can know the place you are connecting to. It's also guessable that the premium version offers a lot more.
DotVPN will be our suggestion if you want the best-looking Chrome VPN extension out there. It is easy to use and offers an intuitive UI.
Pricing: Free, $2.99/month (billed annually)
Data Cap: No
Availability: Chrome, iOS, Android, PC, Mac etc.
Check Out DotVPN for Chrome
Bonus: RusVPN
When it comes to offering a fast network connection and reliable online browsing experience, RusVPN is at par with the best in the business. So, you can count on this free VPN Chrome extension to safeguard your online privacy while surfing the web. With 338 VPN servers, it also has decent coverage.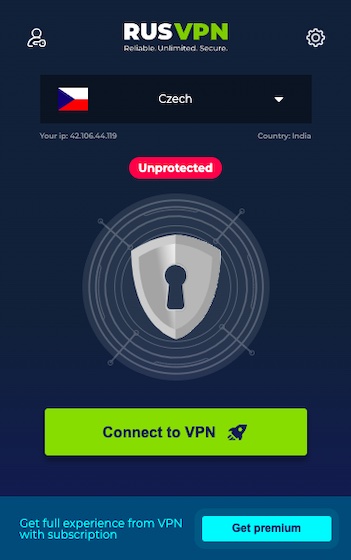 You can use RusVPN to not only browse the web fast but also stream Netflix and BBC Player without having to encounter sluggish connection. Notably, it offers a pretty straightforward way to switch locations. As for the interface, the VPN extension looks quite clean. Being lightweight, it runs smoothly without slowing your browser. Everything considered; RusVPN is a very competent VPN Chrome extension.
Pricing: Free, $9.99/month 
Data Cap: No
Availability: Chrome and Windows 
Check Out RusVPN for Chrome
Frequently Asked Questions
Does Chrome have its own VPN?
No. Unfortunately, Chrome doesn't have its own VPN. Thanks to the availability of a ton of free VPN extensions, you can choose from a variety of options to browse the web with the needed privacy.
Should I install a free Chrome VPN?
If you want to surf the web with the desired privacy without having to dole out any bucks, a free Chrome VPN can be super handy for you. So, the answer is – yes.
What is the Best VPN Extension for Chrome?
Though there are several VPN extensions that can stake the claim for being the best, VeePN and Hide.me are slightly ahead of the rivals. These two VPN extensions excel in most aspects including fast connection and security.
How Do I Add free VPN Extensions to Chrome?
Adding a free VPN extension to Chrome is a breeze. The process is pretty similar to adding any other Chrome extension. Once you have found a free VPN Chrome extension, click on Add to Chrome and then confirm the action.
Do Chrome VPN Extensions Work?
Yes. As mentioned above, Chrome VPN extensions work reliably. Though not every VPN extension does what they advertise, VeePN, Hide.me, and all the other extensions listed above have a very good track record.
Enjoying These Free Chrome VPN Extensions or Not?
So, these are the best free Chrome VPN extensions you should use today. We have included both free and freemium VPN extensions for Chrome in the list and it's up to you to choose. Even the freemium VPNs are offering a no-cap plan, which is great. At the end of the day, when you want to browse with extra security and power, this list has a lot of options. Hope it helps.