One of the best TV series on Netflix is Our Planet, and thankfully, you can stream it in 4K for the ultimate experience. Similarly, there are many exciting Netflix movies that offer a great visual experience, thanks to the Ultra HD streaming. However, users are unable to enjoy Netflix in 4K due to some software and hardware issues. Users report that Netflix is not streaming in 4K on PC despite all the settings configured correctly. So we took a deeper look to find the reasons behind Netflix's 4K streaming issues on Windows PCs. On that note, let's dive in and find a fix.
Is Netflix Not Streaming in 4K on Your PC? Find the Solution Here (2021)
In this article, we have first discussed hardware requirements to stream Netflix in 4K. After that, we have mentioned some vital points on the software side so that you can play Netflix in UHD resolution. Use the table below to jump to a section relevant to the issue you are facing.
Make Sure You Have a 4K Display
Yes, the first hardware requirement to run Netflix on your Windows 10 PC is that you must have a 4K-capable display. Netflix does not downsample its content, unlike YouTube, to play 4K content on a Full HD screen. Apart from that, the monitor must have a refresh rate of 60Hz.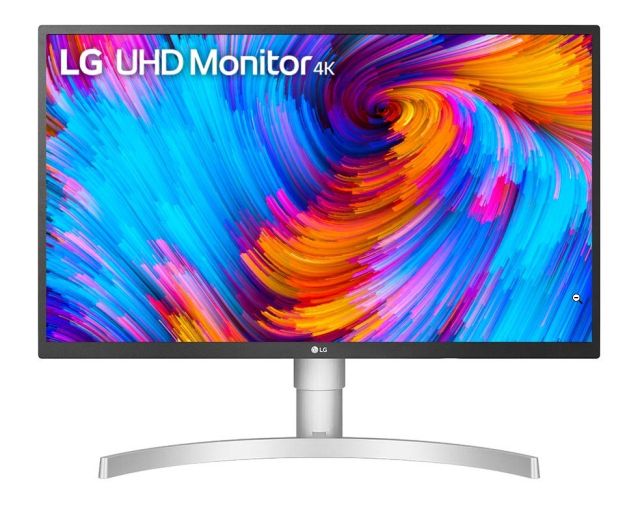 Check Your Monitor Supports HDCP 2.2
If you are using an external monitor and Netflix is not streaming in 4K on your PC, it might have to do with HDCP. HDCP or High-Bandwidth Digital Content Protection is a way to protect copyrighted content while streaming over an external monitor. It is used on HDMI connections for digital streaming devices like monitors, smart TVs, and streaming sticks like Roku, Mi Box 4K, and Fire TV.
Netflix specifically states that HDCP 2.2 must be supported by the monitor for 4K streaming to work. Also, you need an HDMI 2.0 cable to connect the monitor and PC. You can confirm HDCP 2.2 availability on your monitor's instruction manual or by going to the manufacturer's website. Some monitors and smart TVs also label the HDMI ports with the HDCP 2.2 label, so you can check for that as well.
CPU and GPU Compatibility
To play 4K content on a Windows 10 PC, you must have an Intel 7th-Gen or newer CPU or an AMD Ryzen CPU. Netflix added the 7th-gen (Kaby Lake) or newer requirement because the integrated GPU in these processors can handle 10-bit HEVC decoding. As 4K content streaming is a heavy-duty task, you need a powerful GPU to handle hardware decoding in the background.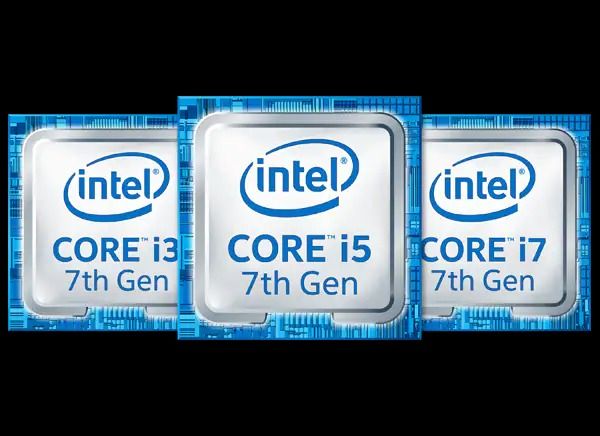 If you are using a discrete GPU from Nvidia, you must have GeForce GTX 1050 or a newer GPU. AMD users should have Radeon RX 400 series or newer GPU to play 4K content on their Windows 10 PCs.
Update Windows 10
It may seem obvious, but to clarify, you need Windows 10 to stream 4K content on your computer. Netflix does not support Windows 7 or 8 or 8.1. Moreover, you should be on the latest version of Windows 10 to be able to take advantage of PlayReady 3.0, a DRM system developed by Microsoft.
So if you have not updated Windows 10 for a long time, it's time you update your PC to the latest build. It may fix 4K streaming issues on Netflix.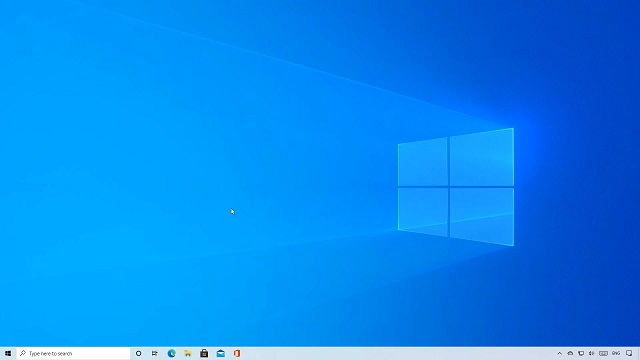 Currently, Netflix has not added Windows 11 to its list of officially supported operating systems. But you can expect Windows 11 to be supported before its official release in October 2021.
Install HEVC Video Extension
If you meet all of the hardware criteria mentioned above and still can't stream Netflix in 4K resolution on your Windows 10 PC, you need to install the HEVC Video Extension from Microsoft Store ($0.99). It's a paid extension, and you will have to add your card to the Microsoft Store to buy it.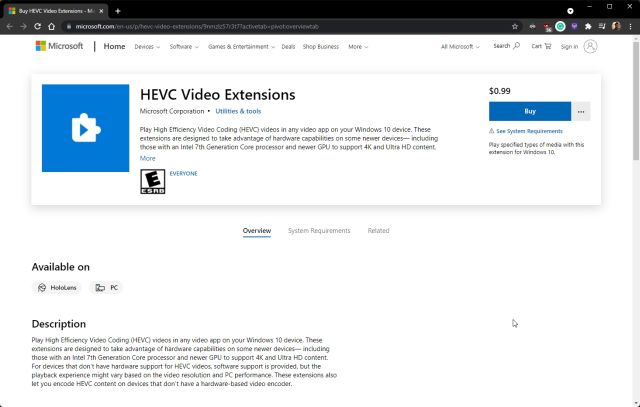 Netflix says the HEVC extension is a must to play 4K content on Windows 10. But keep in mind that some Windows 10 computers already come with this extension, so they don't need to purchase it separately.
To check if the HEVC extension is installed on your PC, follow these steps. Record an H.265 video, transfer it to your PC, and open it with the Movies & TV app. Now, if the video starts playing right away, your PC supports the HEVC extension, else you will see a pop-up error window. It reads – "To play this video, you need a new codec" and includes a link to the Microsoft Store.
Use Microsoft Edge or The Netflix App
Netflix does not support 4K playback on Chrome or Firefox. Yeah, you read that right. It only supports 4K streaming in the new Chromium-based Microsoft Edge browser (Free) or the official Netflix app (Free) available on the Microsoft Store. So go ahead and install one of these programs to enjoy Netflix in all its 4K glory.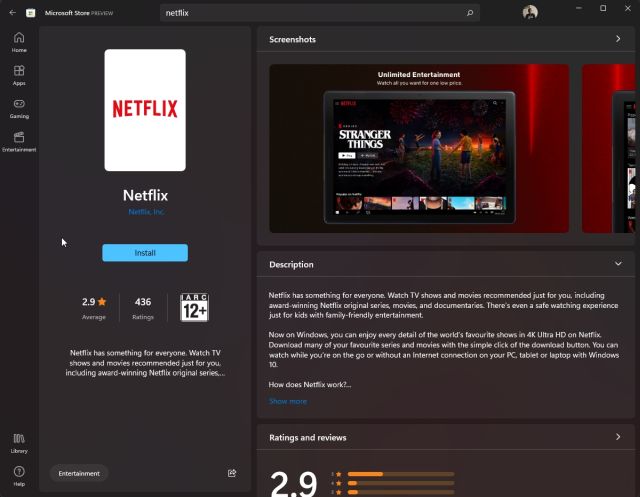 Move to the Premium Subscription Plan
Netflix only offers 4K playback to its top-tier Premium plan, which starts at $17.99 per month. In India, the Premium plan is priced at Rs. 799 per month. So if you are on the Basic or Standard plan, click here to move to the Premium plan, and you will be able to play 4K content on Windows 10.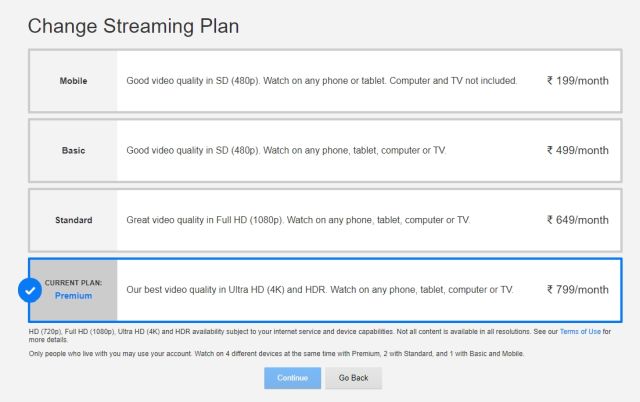 Change Streaming Quality from Settings
If you meet all of the requirements above and yet Netflix is not streaming in 4K, you might have misconfigured the streaming quality. To fix that, follow the steps below:
Head over to the Playback settings page on the Netflix website. Then, change the streaming quality setting (labeled as data usage per screen) to either "High" or "Auto". Keep in mind that these playback settings are profile-specific. So you need to change the streaming quality for your specific profile by going to Account -> Expand your Profile -> Playback settings -> Change.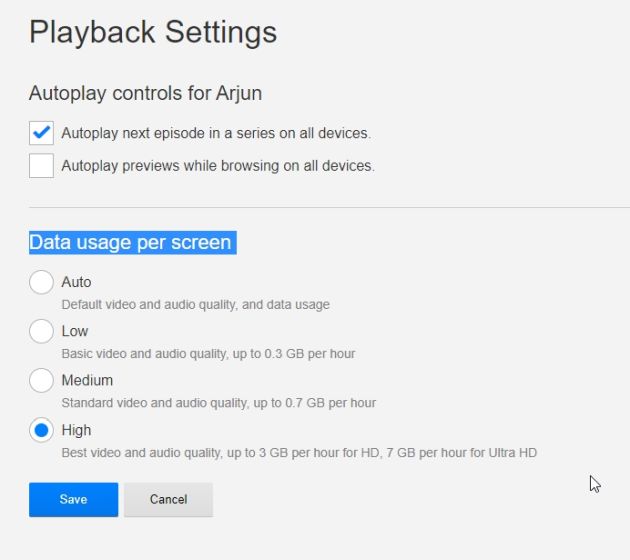 Upgrade Your Internet Connection
To stream 4K content, Netflix recommends that you have a steady and fast internet connection, with a speed of 25Mbps or higher. So after applying all the settings and ensuring that your PC meets the hardware requirements, Netflix may fail to play content in 4K due to your slow internet connection. So yeah, we suggest you upgrade that to enjoy the best Bollywood movies, AI movies, and other amazing content on Netflix.
Netflix Not Showing Ultra HD 4K Logo? Resolve the Issue Right Here
So these are the ways you can fix the 4K streaming issue on Netflix. Most users would be dissatisfied by the 7th-gen Intel Core or newer CPU requirement and no 4K downsampling on a Full HD screen. But if you meet all the hardware requirements, then apply the settings on the software side to fix the problem. I am sure you will be able to enjoy Netflix in Ultra HD resolution if you adhere to this handy guide. In case nothing works out, you can contact Netflix Help over here. And if you want to learn about Netflix tips and tricks, head over to our linked article. Finally, if you have any questions, let us know in the comment section below.