There are times when you have two different contacts for the same person. Duplicate contacts don't seem like a huge problem but they can certainly create some confusion. If you have duplicate contacts on your Android smartphone, you might get confused on which one is the right one. You might even end up sending a message to an older or a wrong number.
So, how are duplicate contacts created? Actually, Android lets you import contacts from various sources like email accounts, SIM cards, social media accounts or older contact backups. Occasionally, we have the same contact synced through different accounts, which results in duplicate contacts. Then, there are empty or useless contacts imported from our social media accounts. The good news is you can easily find, merge or remove duplicate contacts on Android.
Ways to Find, Remove and Merge Duplicate Contacts on Android
Note: Some smartphone manufacturers include the ability to de-duplicate contacts on their default contacts app. Samsung's Contacts app has a "Manage similar contacts" option in settings, which lets you find and merge duplicate contacts with ease. Similarly, HTC's People app has a "Manage Contacts" option, where you can merge or remove duplicate contacts. Xiaomi's MIUI ROM also has this functionality in Phone settings->Organize contacts->Merge duplicate contacts. Likewise, you might find an option to manage duplicate contacts in your phone or contacts settings, if your phone is not running stock Android. 
While stock Android does pack an option to link or merge contacts in its Contacts app, it's a manual and lengthy process. Instead, you can use one of the methods below to manage duplicate contacts without any hassle.
1. Using Google Contacts on Web
Note: This method will only work if you have your contacts saved in your Google account. Also, make sure to go to Contacts->Accounts->Google and sync your contacts, so that Google Contacts is up to date.
Once logged in, you will be able to see all your contacts. In the left pane of Google Contacts, click on the option to "Find duplicates".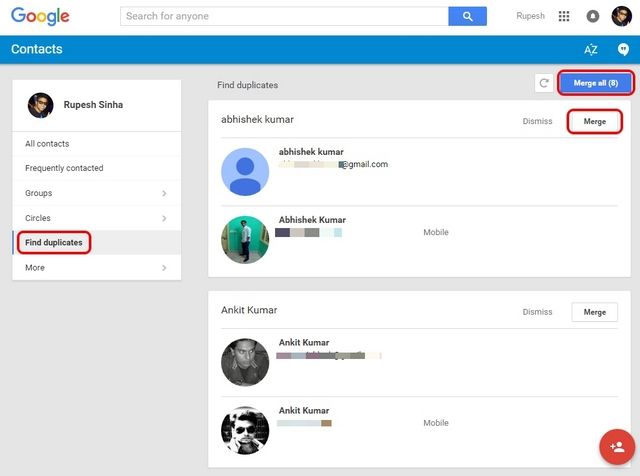 You will see all the duplicate contacts you have and there'll be options to merge them individually or merge them all. Choose whichever one you prefer and your duplicate contacts will be merged into one.
2. Using Third Party Apps on Android
Note: As a precaution, make sure to make a backup of your contacts before using any app mentioned below. The simplest way to do that is by going to Contacts->Import/Export->Export to .vcf file.
There are a number of apps on the Play Store that bring you the ability to merge duplicate contacts with ease but we like Simpler Merge due to the fact that it brings the best user experience among all. The app shows you duplicate contacts by name, phone numbers and emails. Furthermore, it also lists down faux or useless contacts and contacts which have never been used. So, here's how you can use the app to find and merge duplicate contacts:
The app will automatically show you all the duplicate contacts by in a heading aptly dubbed "Duplicates".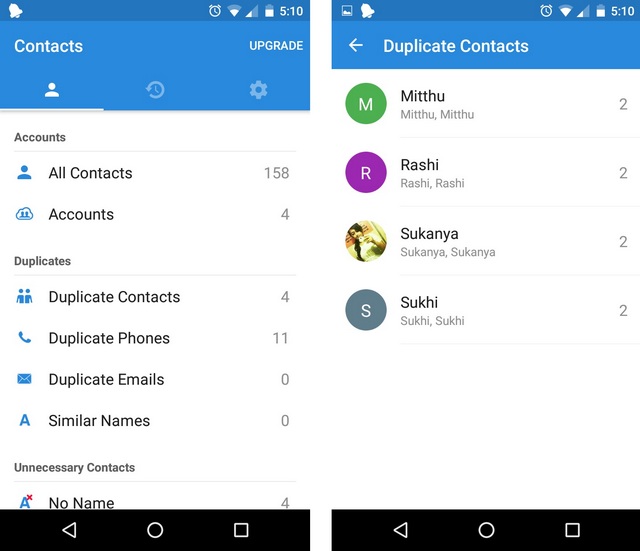 Note: To make sure that the app is searching for duplicates between all accounts, go to "Settings" on the last tab of the app. Tick search "between accounts". 
Enter "Duplicate Contacts" and select the contact you want to merge.
You will find the options to merge a contact or "merge all duplicates". You can also choose to ignore a contact if you want.
Once you have tapped Merge or Merge all, the duplicates will be deleted and merged into one contact.
Simpler Merge is a great app but its free version only lets you merge duplicates one by one. To merge all duplicate contacts with a tap, you will have to buy the Pro version through an in-app purchase of $2.89.
If Simpler Merge doesn't seem to be a good choice for you, try Merge+. It also lets you merge the duplicate contacts (all in a go and that too for free). But it's functionality is very basic and you won't find a lot of options in it. However, the good thing is that it gets the job done pretty well.
SEE ALSO: Here's How to Backup And Restore Your Android Device
Get rid of confusing duplicate contacts on Android
There are other methods and apps that let you remove duplicate contacts on Android but we found the aforementioned ways to be the easiest. Do try them out and let us know if you face any issues. Also, if you have a different method which you feel is better, sound off in the comments section below.