Facebook, the largest social networking service in the world has over 1.5 billion active users, all posting status updates, liking photos, and doing stuff like that on a daily basis. That being said, a large number of people utilize their smartphones to access Facebook, via the official app.
If that includes you, you probably already know what a massive battery hog Facebook's official Android app is. And it not only drains the battery, but also slows down launching/using other apps, thus degrading the overall performance of the Android device seriously. In fact, users have reported a battery life improvement of up to 20%, on uninstalling the official Facebook app. Maybe you should do the same. But then, how will you use Facebook?
Alternatives, folks! And that's why we've curated a listing of the best Facebook app alternatives for Android. Not only are they lighter and less resource hungry than the official Facebook app, but pretty feature loaded as well. So here they go!
1. Access Mobile Version of Facebook in Google Chrome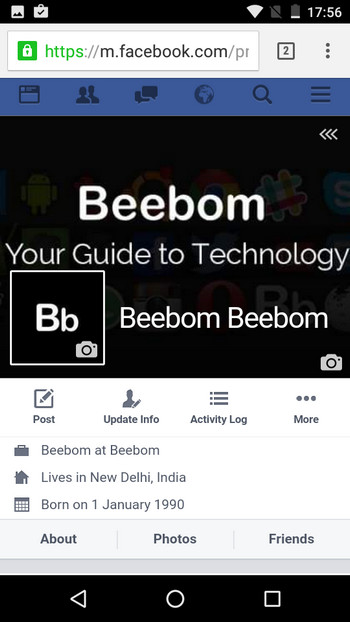 If you use Android, it's a given that you use Google Chrome as well. And if that's the case, you've got Chrome as a perfect Facebook app alternative for Android. That's because you can simply access the mobile website of Facebook in Google Chrome, to get an "almost equal" official app like experience, sans the battery drain. All regular features of Facebook can be conveniently accessed this way, and if you don't want to launch Google Chrome every time you want to use Facebook, simply pin Facebook's mobile website to your phone's home screen for instant access. To do this, tap the "three dots" icon, and select the "Add to Home screen" option.
Interestingly, using mobile version of Facebook via Google Chrome also lets you access Facebook's push notifications. However, they have to be first enabled. Here's how to do it:
Step 1: Access Facebook mobile's settings > Account settings.
Step 2: Notifications > Mobile > Turn On (Push Notification). Check the screenshot below for reference.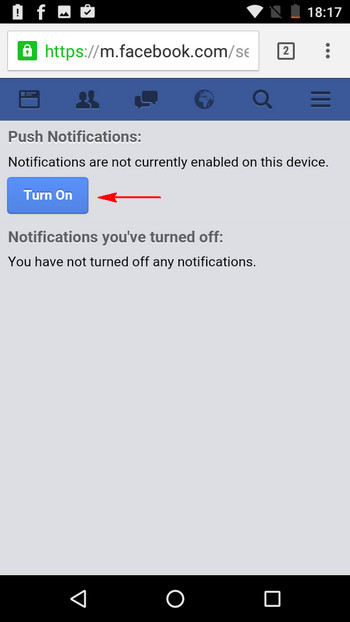 Download Chrome
2. Metal for Facebook and Twitter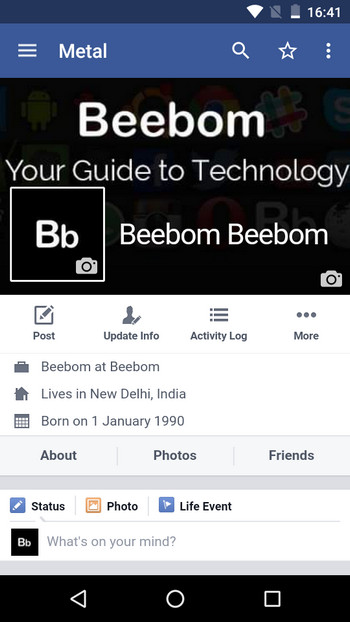 Lightweight (just about 3 MB) and easy to use, Metal for Facebook and Twitter is one of the best third-party Facebook apps for Android. As a web wrapper app, Metal loads up really fast, and lets you access all of Facebook's standard features (friend requests, news feed etc.) via a handy sidebar. It has numerous data/battery saving features, such as the ability to manually specify update sync frequency, and it lets you block images as well.
Metal fully supports push notifications, and even has a floating widget that stays in your Android phone's notification area, and lets you quickly access actions like composing messages, and acting on friend requests. Then there's the fact that it's forever ad-free. And if you haven't guessed it already by its name, Metal for Facebook and Twitter supports Twitter as well. So it's not just a Facebook app alternative, but a Twitter app one too.
Note: Metal is based on Tinfoil for Facebook, another great third-party Facebook app for Android.
3. Folio for Facebook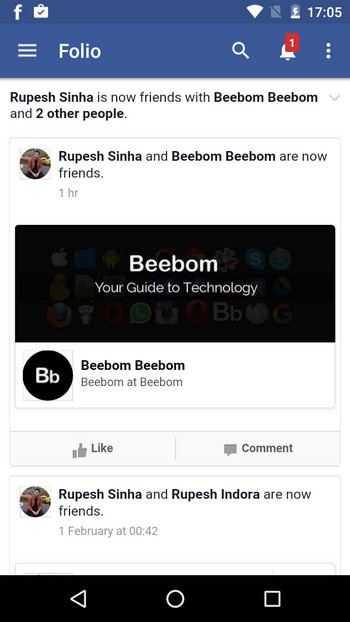 Despite being a web wrapper app, Folio for Facebook packs in quite some goodness. It's a heavily customizable Facebook app for Android that lets you tweak Facebook's layout itself by enabling/disabling certain sections. For example, you can disable the "People You May Know" section. Folio lets you manually set the update interval (5 seconds – 6 hours) for Facebook updates, as well as disable images to conserve battery and data, which itself makes it a worthy Facebook app alternative.
The app has full support for push notifications, which itself can be customized (e.g. vibration, notification LED). Oh, and Folio also has add-ons for other social networks like Twitter and Instagram; however, you need to pay for them. Other customization features include the ability to tweak font size, and a whole bunch of themes.
Download
4. Facebook Lite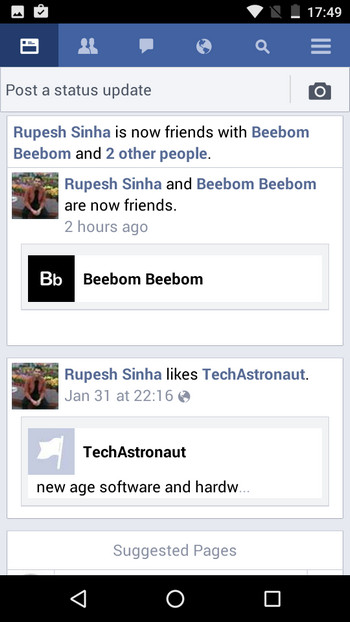 If you don't really like the idea of using Facebook via third-party apps, Facebook Lite is just what you need. Developed by Facebook itself, the app, as the name makes it clear, is the "light" version (just over 500 KB) of Facebook's official app, aimed primarily for developing countries with slow network connections. Facebook Lite lets you use almost all the standard features (acting on friend requests, posting updates etc.) of Facebook. You can also specify the font size, as well as image download quality to further conserve data and battery. It even lets you check the data consumption (both download/upload).
That being said, Facebook Lite isn't without its downers. The app has to be manually refreshed every time you want to see any updates, and the overall experience is just average. Moreover, despite being advertised as supporting push notifications, the app's push notifications arrived pretty late, at least during our testing. All in all, Facebook Lite works as a lightweight and basic Facebook App alternative for Android. Just don't expect too much from it.
SEE ALSO: Top Facebook Alternatives for Different Social Media Types
Use alternative Facebook apps and conserve battery
It's almost surprising that an app as popular as Facebook's official Android client is so poorly optimized and battery chugging. Gladly, there alternatives (as discussed above) that let you enjoy Facebook on your Android smartphone, without having to worry about keeping a charger handy at all times. Try them out, and let us know your favorite(s) in the comments below.