Back in June last year, the Consumer Affairs Ministry amended the Legal Metrology Rules and put the updated Packaged Commodity Rules into effect starting January 2018. The new rules made it mandatory for e-commerce portals to list every product's MRP clearly, besides details like 'best before' span, manufacturing/expiry date, net weight etc. or else face penalties. However, a new survey has revealed that e-commerce players in India are brazenly flouting the government's guidelines and are not listing a product's MRP on their online shopping platforms.
Conducted by LocalCircles, a leading community social media platform, the survey's findings state that a majority of participants were unable to spot a packaged product's MRP on e-commerce sites and could only find a product's list price, which is in violation of the updated guidelines.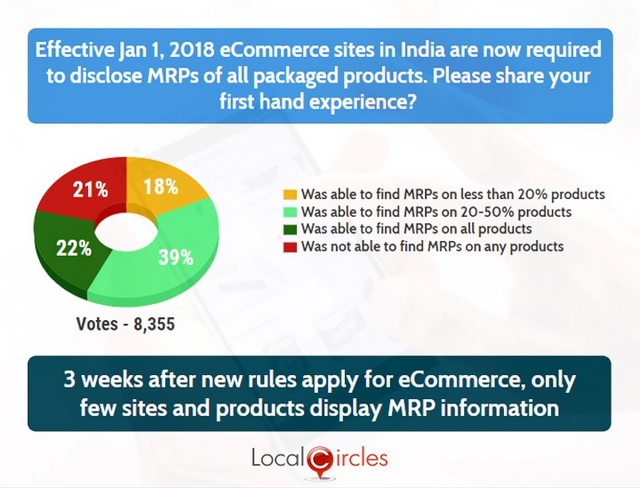 The survey was conducted in two stages over a span of three weeks since the new Packaged Commodity Rules were implemented, and registered over 16,000 votes from participants. Out of the total participants, 78 percent said that they couldn't find a packaged product's MRP listed on an e-commerce website to varying degrees, with 21 percent of the surveyed folks revealing that they did not see an MRP on any product's listing on online shopping portals.
Thirty-nine percent of the participants mentioned that they could only find MRPs on just 20-50% of the products they've seen on an e-commerce site, while 18 percent of those surveyed pointed that they only came across MRPs on less than 20% of the products being sold by an e-commerce site. Only 22 percent of the polled participants noted seeing an MRP.
It must be noted that e-commerce companies often inflate a product's MRP and then list it at a slightly reduced cost on the pretext of a hefty discount to lure customers, a practice that the new Packaged Commodity Rules intend to end. The survey will hopefully attract the attention of concerned bodies who will take the findings into consideration in order to reprimand e-commerce players – Amazon and Flipkart, in particular – and enforce the rules.