If you're the kind of person who can't keep their phone without a case, you must have bought a functional case when you bought your brand new iPhone 7. However, a case is usually more than just a layer of protection for your phone. For some people, their phone case is an extension of their personality and style. If you're one of those people, and are looking for cute iPhone 7 cases that match your personality, here are 10 cute iPhone 7 cases you can buy:
1. Valfre Chill Pill iPhone 7 Case
This silicone case from Valfre is just perfect for keeping your iPhone 7 safe, while showing off your style. The case is styled like a giant pill, and is apparently meant to tell you to "take a chill pill" when you need a reminder to slow down, and take life one step at a time. The case features a cut-out for the camera (duh!), and covered buttons for added protection. I don't know why the case specifies 20mg as the dosage, though. But, like Valfre says, "take a chill pill".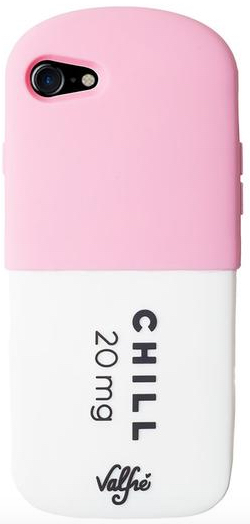 Buy from Valfre: ($38.00)
2. MC Fashion 3D Cat iPhone 7 Cute Case
If you're a cat person, this 3D cat case from MC Fashion is probably the best case you can get for your brand new iPhone 7. The case features 3D cat ears that protrude out of the top of your phone, along with a cat-nose, and whiskers print on the back. The camera cut-out makes it look like the cat-case-thing is winking at you in a manner much creepier than what I'm accustomed to seeing. It is made out of high quality silicone, and will definitely keep your iPhone 7 protected against the elements. There are proper cut-outs for the camera, and the charging port as well.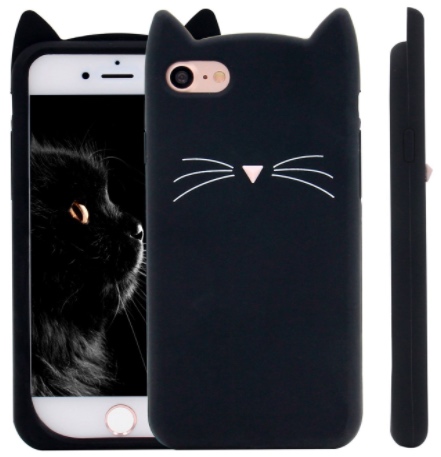 Buy from Amazon: ($9.35)
3. PHEZEN Liquid Glitter Case for iPhone 7
For people who just love glitters on everything they own, the Phezen Liquid Glitter case is probably the best bet on this list. Not only is the case filled with glitter, the glitter is floating in a liquid, which makes it flow according to the way you're holding the phone, giving it a very beautiful (and sometimes nauseating) look. The case is made of hard plastic, so as to offer decent protection to your phone.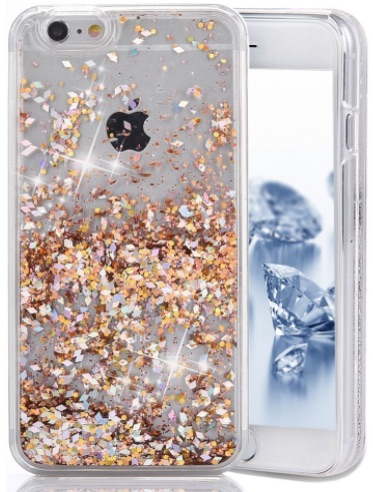 Buy from Amazon: ($10.99)
4. Dimaka Floral Pattern iPhone 7 Case
One of the more simple designs on this list, the Dimaka floral pattern case for the iPhone 7 is definitely a rather cute looking case. The case comes with a raised lip design, and is made with shock-proof materials to protect your phone, while ensuring that it looks good, and reflects your personality. The dual-layer case is made from soft TPU, and a polycarbonate hard shell, ensuring that your phone remains protected.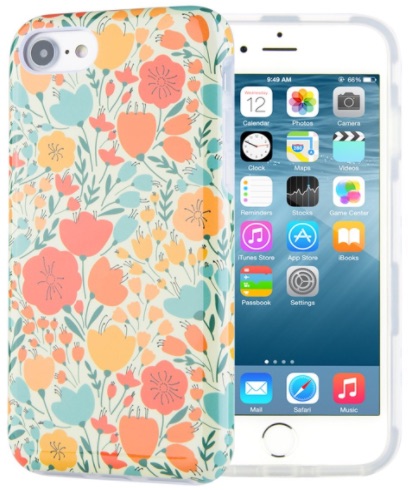 Buy from Amazon: ($9.99)
5. Dreamfly Bling Case for iPhone 7
If you're the kind of person that just needs everything to be blingy, with studded glass, and glitter all over, the Dreamfly Bling Case is perfect for you, and will surely satisfy any magpie-like tendencies you may have. The case does come with a kickstand built-in, so you can easil watch videos, and take FaceTime calls with ease. It is made of high quality soft silicone which will provide you with a great grip, while protecting your phone.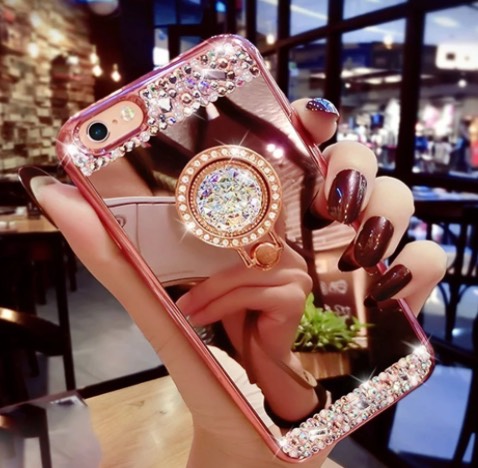 Buy from Amazon: ($7.99)
6. Robiear Plush Fur Cute iPhone 7 Cover
If fur is your thing, and you prefer having covers with fur, this case from Robiear is probably going to be your new favorite case for your iPhone 7. The case comes in a variety of colors including (what I'm sure will be the favorite among most people) a hot pink option. The case is completely a fashion accessory, and if you're expecting it to protect your phone from drops, you're in for a surprise! For solely fashion-related purposes, though, the fur case definitely looks good.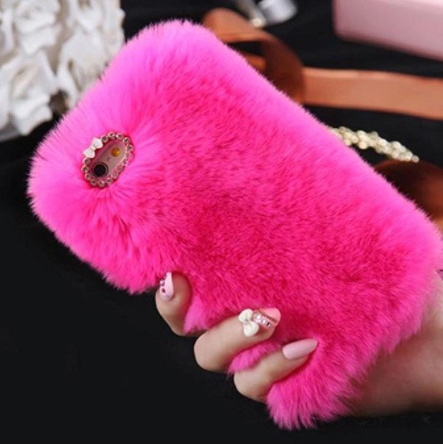 Buy from Amazon: ($5.69)
7. CHOCOCASE Chill Pills Silicone Case
Remember that Valfre Chill Pill case on the top of the list? Well, if that 20mg dose isn't really cutting it for you, Chococase actually provides an entire box of chill pills for your iPhone 7. This cute iPhone 7 case is designed with soft silicone, making it easy to put on/take off, while being durable, and washable. The case also has thick bumpers, which will protect your phone in case you end up dropping it.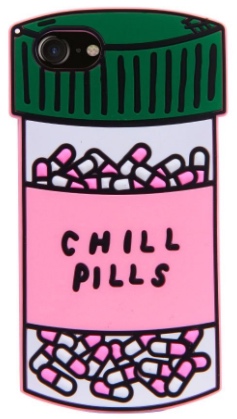 Buy from Amazon: ($9.99)
8. MC Fashion Starbucks iPhone 7 Case
Who doesn't like a Caramel Frappuccino at their local Starbucks? Well, if you're addicted to Starbucks, and want even your iPhone 7 to scream out your addiction to their drinks, this case from MC Fashion is definitely meant for you. It is made out of high quality silicone, to protect your phone, while making it comfortable and soft to hold. The case is designed like a Starbucks drink, and it really is detailed. Go get it, and hope to god that Starbucks doesn't sue you for carrying their logo on an unauthorised product.
Buy from Amazon: ($9.95)
9. CarterLily Art Pattern iPhone 7 Case
For fans of intricate designs, the CarterLily "colorful Mandala Henna white flower art pattern" cover is the best option to go with. The cover features some nice art, and it really is intricate. CarterLily sends a 3 pack of this case for the price of one, with each one featuring a different color of the art. The case is made out of TPU, to ensure that your phone doesn't get scratched.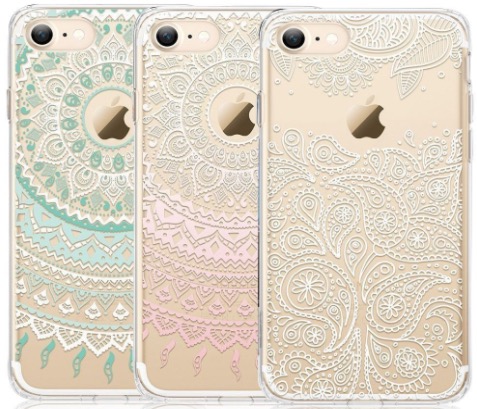 Buy from Amazon: ($5.99)
10. MC Fashion Minion Cute iPhone 7 Case
Okay, so who doesn't like Minions, right? Except for that one time in Despicable Me 2, when they went all purple and crazy. My point being that Minions are awesome, definitely qualify as cute, and therefore, you should definitely check this case out! It is made out soft silicone, to provide a good grip, and make the case comfortable to hold. Plus, the minion is yellow, so I'm happy.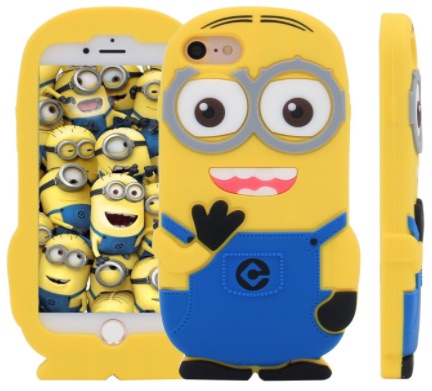 Buy from Amazon: ($9.35)
SEE ALSO: 12 Cool iPhone 7 Red Accessories You Can Buy
Use These Cute iPhone 7 Cases to Spruce up Your iPhone
If you're always on the lookout for cases and covers that'll make your iPhone look even better than it already does, you can definitely find a case to your liking on this list. There are cases for a variety of different people, including things like Minions, fur covers, or just blingy things to protect your phone, so no matter what kind of cute iPhone 7 case you're looking for, but you should find at least one to your liking on this page.
So, do you use cute cases on your iPhone? If not, what case do you use, and if you don't use one, do let us know why not. Also, if you know of any other cute iPhone 7 cases that you think deserve to be on this list, do let us know about them in the comments section below.
---
Load More