The Amazon Echo has become a hugely successful device and Amazon recently launched two more follow-ups to the device, the Amazon Tap and Echo Dot. While all three Amazon devices are different in their own right, the Amazon Tap is the one that's arguably the most unique, thanks to its portable nature. The smart speaker runs on a battery, unlike Echo and Dot and you can take it along wherever you want or use it at your home as well. However, its portability comes with a trade-off, that is the device does not support the "Alexa" voice command to wake up. Instead, you have to press the mic button on the Tap to start giving commands.
That does not make the device any less capable though, as it packs in all the Alexa features, which means you can get news, weather details, control various lights & electronic devices. However, you can always do more with your Amazon Tap with the ton of accessories available on Amazon that cater to Alexa-enabled devices. So, if you have bought an Amazon Tap and you are looking to enhance its functionality, here are 10 cool Amazon Tap accessories you should be buying:
1. Amazon Tap Sling Cover
The Amazon Tap is a pretty durable & good-looking device but you cannot take that for granted, isn't it? Plus, the device is portable, so you can expect the device to get into rough situations. Thus, it's important to use a cover to protect the device from wear & tear and what better way to do that than Amazon's official sling cover. The Amazon Tap Sling Cover is made up of durable silicone and is designed in a way that the Tap is always protected from bumps and drops, while the buttons and ports are easily available to you.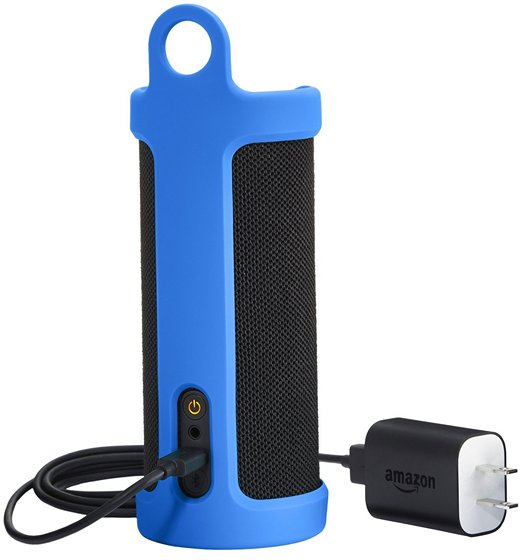 The cover is available in six beautiful colors including Blue, Green, Magenta, Tangerine, along with the usual Black & White. If you are looking for more covers, you should check out our list of the top 1o Amazon Tap covers.
Where to buy: Amazon.com
Price: $19.99
2. Philips Hue Starter Kit 2nd Gen
The new updated Philips Hue 2nd generation starter kit includes a couple of hue bulbs along with a Philip Hue bridge. The starter kit comes with increased brightness for the bulbs and extra storage in the bridge for added functionality. You can use Amazon Tap with the kit to dim the light, set timers & alarms, control lights and automate it via automation products from Wink & Zigbee. If you are looking for an alternate smart bulb, you can also check out LIFX.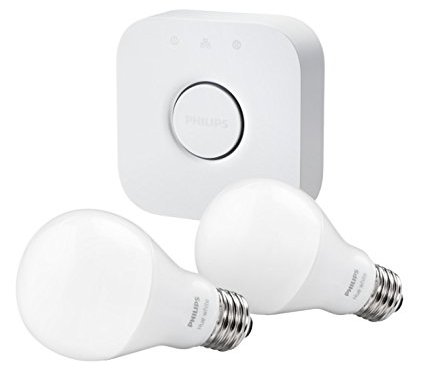 Where to Buy: Amazon.com
Price: $79.99
3. Lutron Caseta Wireless Dimmer
The Caseta wireless dimmer lets you use your Amazon Tap to control the lights, shades and temperature of devices. The wireless device even features buttons of its own, so you can use that too. However, you can use Alexa to schedule the lights to turn on at a specific time. The product also includes a smart bridge, that supports 50 devices including the likes of Lutron's Serena remote controlled shades, thermostats from Nest, Honeywell and more. While the Lutron device is a great dimmer, if you are looking for something simple to control only via your Amazon Tap, you can check out GE Z-Wave Smart Dimmer.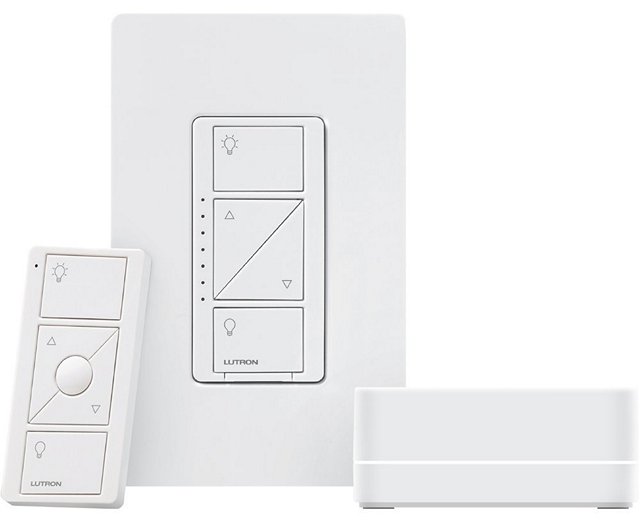 Where to Buy: Amazon.com
Price: $99.95
4. Wemo Light Switch
If you are using an Amazon Tap, it's time for you to get rid of the old switches in the house and instead get a Wemo Light Switch. You can use your Amazon Tap to schedule your lights and any other electrical appliance to turn on via the Wemo switch. The switch even works with Nest thermostat, plus it's very easy to set up, so what's not to like? If you have something against Wemo, you can also check out TP-Link's Smart Light Switch.
Where to Buy: Amazon.com
Price: $44.03
5. TP-Link Smart Plug with Energy Monitoring
The TP-Link WiFi Smart Plug lets you use your Amazon Tap to control electronic devices connected to the smart plug with ease. You can use Alexa to schedule devices to turn on or off at certain times. For instance, you can schedule the lights connected to the plug to light up at dusk and turn off at dawn. There's also an away mode, when the plug automatically turns off devices connected to it. Moreover, the plug even monitors the energy consumed by these appliances. You can also check out Wemo's Insight Switch, which is a similar device that supports Amazon Tap.
Where to Buy: Amazon.com
Price: $39.99
6. Haiku Home Ceiling Fan
The Haiku Home Ceiling Fan is not your usual ceiling fan, as it includes cool integrated LEDs with 16 distinct brightness settings that you can obviously control with your Amazon Tap. You can also use Alexa to schedule it to start at specific times. Other than that, the fan justifies its high price with an energy star certification, premium quality and great performance.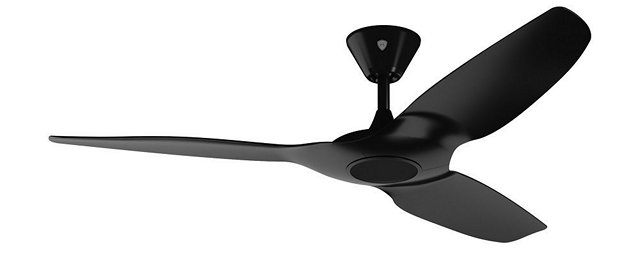 Where to Buy: Amazon.com
Price: $475
7. Amazon Tap User Guide
The user guide book might not be a hardware accessory to your Amazon Tap but it's still a worthy addition to your Amazon Tap. If you are new to the world of AI and Alexa, it's important that you know all their features & tricks. The Amazon Tap User Guide offers an overview, troubleshooting of the Tap along with a guide to Alexa, Amazon Prime and Amazon Music. Overall, it has got you covered when it comes to all the Amazon Tap capabilities.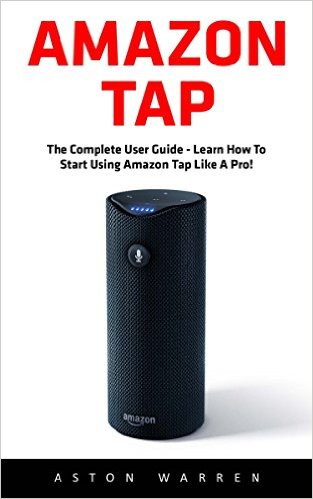 Where to Buy: Amazon.com
Price: $8.95 (Paperback), $2.98 (Kindle)
8. Philips Hue Bloom
The Philips Hue Bloom device lets you lighten up your room with beautiful & colorful lights and as you must have guessed, you can control it with your Amazon Tap. You can set different colors, set alarm & timers, dim the lights and do more through your voice via Alexa. However, the LED device requires you to have a Philips Hue bridge (available with the Starter Kit) to work. You can also check out Philips' other products like Hue Go and Lightstrip to beautifully light things up in your room.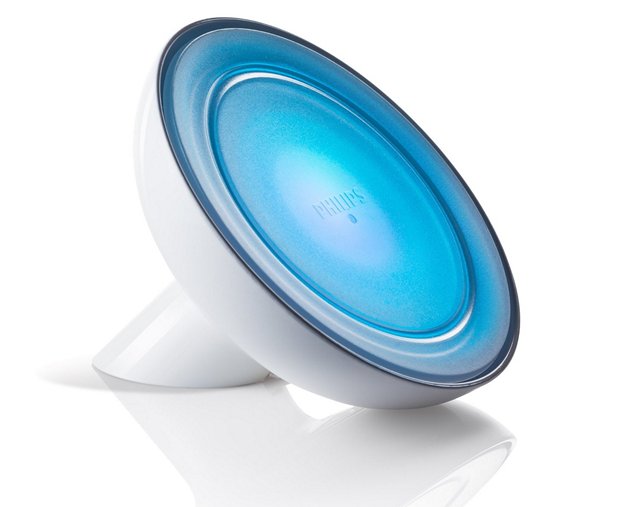 Where to Buy: Amazon.com
Price: $49.97
9. Samsung SmartThings Hub 2nd Gen
Samsung offers a number of smart home products but we especially like its SmartThings hub, which lets you control a number of electronic devices via your Amazon Tap. You can command lights and control appliances like A/C units, coffee machines, portable heaters and fans with Alexa. Moreover, you can buy other Samsung devices like outlet (to get details about your appliances), motion sensor (get alerts when unexpected motion is detected), water leak sensor, multipurpose sensor (alerts if anything is moved) & arrival sensor and control them all with the hub. If you are looking for a hub other than Samsung's, the Wink Connected Home Hub is another great device.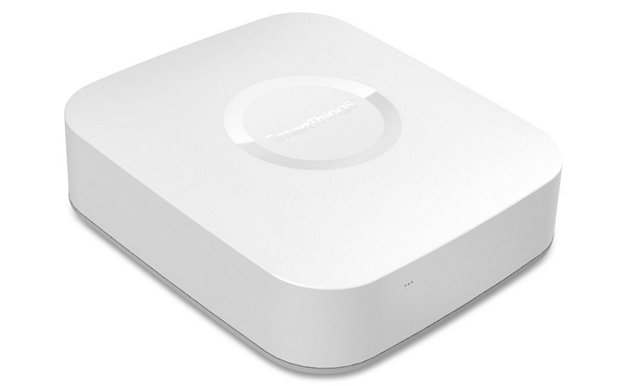 Where to Buy: Amazon.com
Price: $99.99
10. Nest Learning Thermostat 3rd Gen
We are all aware of Nest Learning Thermostat but if you aren't, it's a home automation device that learns from you and optimizes your cooling and heating devices to suit you better while saving energy. And the good news is, it supports Amazon Alexa devices including the Amazon Tap. You can use your voice to control temperatures of cooling & heating systems in your house through the Nest thermostat. If you are not okay with Nest, you can try a number of alternative thermostats that work with Amazon Tap and Alexa like Honeywall, ecobee3 and Sensi.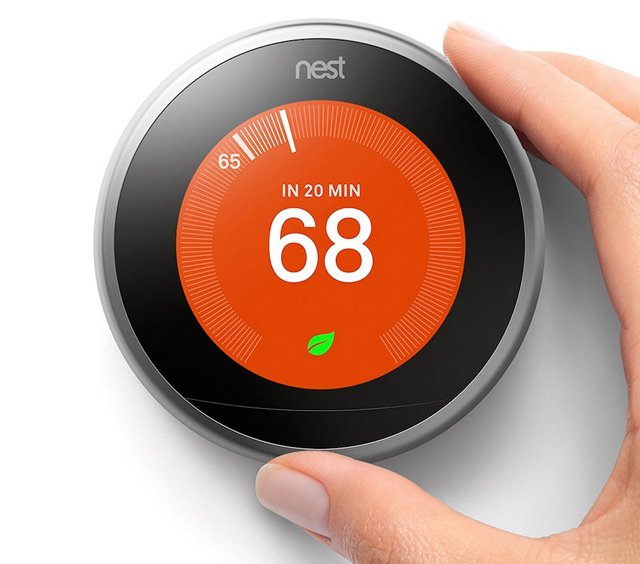 Where to Buy: Amazon.com
Price: $249
Bonus:
2-Year Protection Plan plus Accident Protection for Amazon Tap
The Amazon Tap might not be a very expensive device but it's still a decent amount of money you are shelling. Thus, you should check out SquareTrade's accident protection & protection plan for the Amazon Tap. The plan is compatible only if your Tap is not more than a month old. You can make up to 3 claims during the time of the device's warranty and you will get a replacement device within 2-3 days if your claim is indeed valid.
SquareTrade also lets you cancel the plan anytime but the money will be fully refunded only if you are in the first 90 days of buying it. There are options to buy a 1, 2 or 3-year plans but we'll recommend you the 2-year plan because it's the most value for money.
Where to Buy: Amazon.com
Price: $34.99
SEE ALSO: Top 10 Amazon Echo Accessories Worth Buying
Give your Amazon Tap more functionality with these cool accessories
The Amazon Tap is a very capable device but if you plan on using it as a smart home device, you need some accessories to go with it. Also, Amazon Tap's portability makes it the best contender for a smart home device because you can control things remotely. So, if you are an Amazon Tap owner, check out the aforementioned 10 cool Amazon Tap accessories and let us know the one you plan on buying.