China is the world's largest smartphone market whose rapid growth in the last decade has been nothing short of impressive, but it now appears that that the country's smartphone market is reaching a saturation point as growth has stalled, while shipment figures have plummeted. The latest quarterly figures reveal that smartphone shipments in China have witnessed the biggest ever decline since 2013, amounting to a huge 21% downfall on a YoY basis in Q1 2018.
According to the latest report from Canalys, only 91 million smartphones were shipped in China in Q1 2018, which marks the first time that the shipments have dropped below the 100 million mark since 2013. With the exception of Xiaomi and Huawei, all domestic and international OEMs suffered from the slump, with Apple dropping to the fifth spot in the Chinese smartphone market after being overtaken by Xiaomi.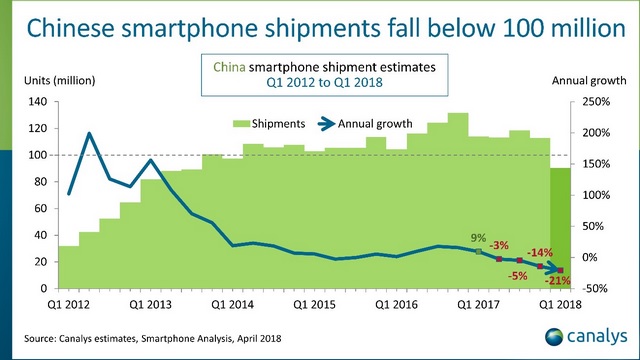 Samsung, Gionee, and Meizu were hit the hardest by the negative growth as their shipments plummeted sharply in Q1 2018, falling below half of the numbers recorded last year. In defiance of the market trend, Huawei's shipment figures grew by 2%, while Xiaomi recorded an impressive 37% growth by shipping 12 million units in 2018's first quarter, a spurt which saw the company overtaking Apple as the country's fourth-largest smartphone vendor.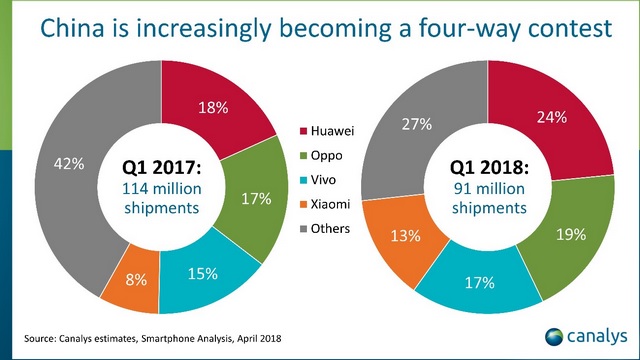 It now appears that China has become a fatal four-way battle between the top four smartphone vendors viz. Huawei, Oppo, Vivo and Xiaomi, as their combined shipments in Q1 stood at a hefty 73% of the net market figures. Meanwhile, the total market share of companies outside the top five reduced from 34% in Q1 2017 to just 19% in Q1 2018.
However, there is some good news too, as the Chinese smartphone market is expected to make a turnaround in Q2 2018 and return to growth track as new devices from OEMs like Oppo, Vivo and Huawei hit the shelves. "The inventory issues that Oppo and Vivo suffered in Q4 and Q1 are now behind them. New smartphones will definitely entice people to upgrade, but vendors are more careful of avoiding oversupply in the channel", Canalys Research Analyst Mo Jia said.