If you own a WordPress website, you'd know that forms and surveys are fairly important to connect with your customers. While there are a number of great form and survey plugins for WordPress, if you want an all in one solution, we have the found the right choice for you: CaptainForm.
The CaptainForm plugin lets you set up fully featured forms & surveys and it includes a ton of features and app integrations to make sure that you wouldn't need any other form or survey plugin. In fact, according to the folks at CaptainForm, you won't need any separate add-on once you've installed their plugin. So, if you've been looking for a form and survey solution for your WordPress website, here's our review of CaptainForm to seal the deal for you:
Features: What CaptainForm offers?
As we mentioned, CaptainForm is a very feature rich plugin, so without further ado, let's check out its best features, shall we?
Different Form and Survey templates
There's no need for you to create a form from scratch, as CaptainForm offers more than 30 form & survey templates. All of these templates are fully customizable, so you can refine them according to your needs. There are different form types with templates like contact forms, event registration forms, poll form, file upload form, survey and more. Moreover, all these templates and form types are available to use for all types of accounts, including the Free ones.
A form plugin is no good if it does not pack in decent editing features and thankfully, that's where CaptainForm shines. The best thing about CaptainForm's editing capabilities is its drag and drop support, which means you don't have to go through the hassle of editing form codes. The editing interface is modern and you get the ability to edit multiple fields along with different layout options. Moreover, you can check out different themes for the forms or create your own custom themes. Also, it lets you edit forms right from the plugin dashboard, which makes things a lot more user friendly.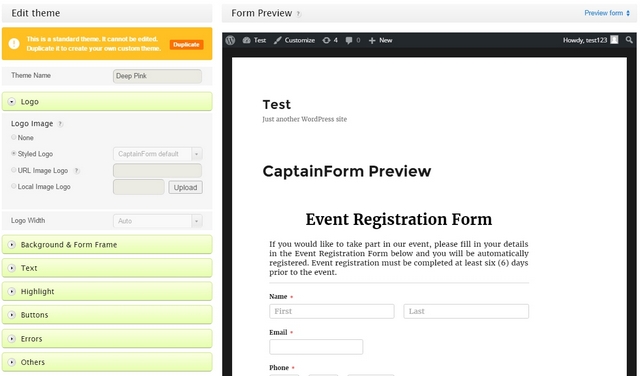 Integration with various Apps
Another important factor when we consider form plugins is the third party app integration they pack. Well, the good news is, CaptainForm integrates a number of great apps including the likes of PayPal for payments, Dropbox/Google Drive for file uploads, Mailchimp for email marketing, Salesforce for customer relationship management and more. So, you can easily use one of these apps to add functionality to your forms and surveys.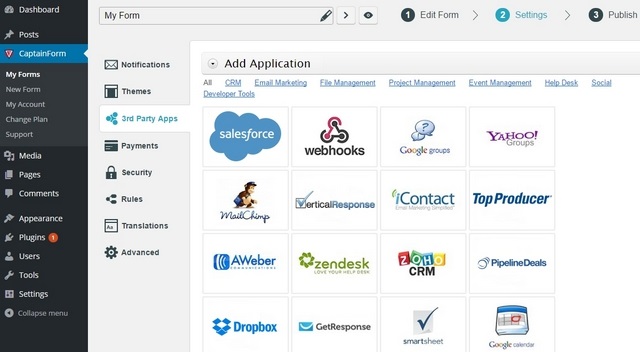 Data Organization and Security
If you are creating forms for your customers to fill in their details or answer questions, you can expect a lot of data at your disposal pretty soon. Thus, data security and organization are of paramount important and as you might have guessed, CaptainForm has you covered on the "data" front. Talking about data management first, CaptainForm stores all the form submissions in the "Submissions" section, where you have the ability to edit, export or print them. Moreover, you can generate charts and reports based on the submissions or export these stats in your preferred format.
When it comes to data security, CaptainForm features SSL encryption, password protection, anti-spam protection options, captcha, country filters, IP limitation and more. So, you can be rest assured that your data in the form plugin is pretty secure.
Custom Notifications, Coupon Codes and more
CaptainForm also includes the ability to send your customer an auto-response or notification based on their form submission. Moreover, it also lets you create personalized coupon codes to entice your customers with discounts and offers. You can decide the coupon name according to your business and then decide if it generates a fixed discount or a percentage of the total amount. That's not all, as other features include conditional logic-based form branching, PDF form submission and more.
Using the CaptainForm Plugin
When it comes to ease of use, CaptainForm wins brownie points because its simple and modern interface makes navigating around pretty easy. Before you start using it, you will have to download the plugin from WordPress' Plugins store or from CaptainForm's official page. Once the plugin is installed, you will have to activate it in the Plugins menu. After you're done, here's how you can use it:
The CaptainForm plugin features four main options: My Forms, New Form, My Account, Change Plan and Support. To create a new form, click on the "New Form" option and you will be presented with the different form types along with templates that you can preview. You can click on the "Use template" option to get going.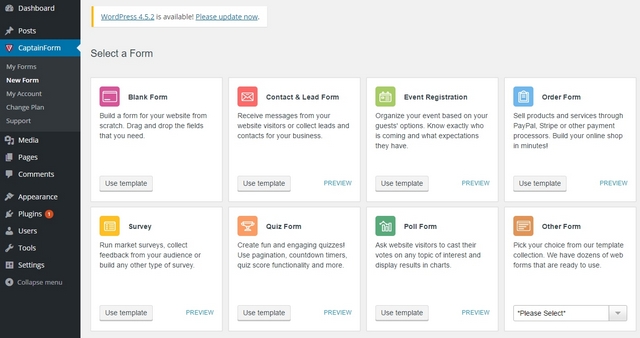 Then, you can edit the name of the form, add fields via drag & drop and edit them with ease. You can hit the "Preview Form" button to see how your form has shaped up. You can also check out "Settings" to set custom notifications, change themes, add third party apps, payment methods, security options and more.
When you are done, you can click on the "Publish" to get a shortcode, widget, popup trigger and function call of the form to use on your website.
You can manage all your forms in the "My Forms" page, where you can just tap the drop down button at the end of a form to bring out various options. There are options to edit and view the form, change its settings, publish it, get report and check submissions on the form. Here, you can even turn a form from active to inactive, duplicate, rename or delete it.
Check your CaptainForm account
In the "My Account" option under CaptainForm plugin, you can check your personal details like the email address you've provided, your company, address, country etc. There's also an option to encrypt all your CaptainForm data. Here, you can also upgrade from your current CaptainForm plan, check out your storage space and more.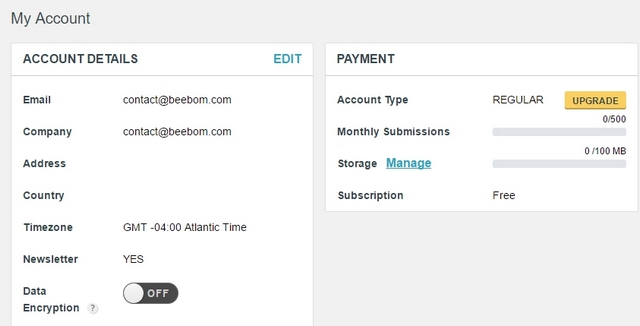 To sum things up, CaptainForm has a clean interface, which makes up for a well balanced experience. There is a learning curve when it comes to form & fields editing but you should get past that thanks to the well designed UI. Overall, you will love the user experience CaptainForm brings but there's one thing that you might not like as much. The fact that CaptainForm works from the cloud might not go down well with everyone, as people like to host plugins on their own. But if you can live with that, you'll certainly love what CaptainForm has to offer.
Plans and Pricing
CaptainForm is available in 3 paid subscription plans along with a free plan. Some features of the plugin like 30 templates, SSL encryption and stellar support are the same across different plans. Other than that, here are the most notable features that the different plans bring:
The Regular free account of CaptainForm is aimed at people who are looking to try out the plugin. It lets you use the plugin on a single website and you only get to create 3 forms with 15 fields, 500 secured entries/month, 100 MB storage space, 3 custom themes and one report. Moreover, the forms created from the free account will feature a backlink to CaptainForm.
The most affordable plan of CaptainForm is Apprentice and although it only lets you use it on a single website, it does bring unlimited forms, unlimited fields, 5,000 secured entries/month, 500 MB storage and the ability to use 5 native apps.
Unlike Regular and Apprentice, the Master plan lets you use the plugin on 3 websites and brings unlimited forms & fields, 20,000 secured entries/month, 2 GB storage space and 14 native apps.
If you plan on using CaptainForm extensively and on different WordPress websites, you can get the Hero subscription. It lets you use the plugin on unlimited websites and brings unlimited forms & fields. Moreover, it supports 100,000 entries/month and includes 10 GB storage space, 24 native apps or add-ons, multisite support, payment & coupon codes integration and more.
While we have aforementioned the basic features of different CaptainForm plans, there are a lot more features that they offer. So, for all the details on different plans, head over the pricing page in CaptainForm's official website.
Support
If you are facing problems or issues with the forms or if you simply want a demo, don't worry, the CaptainForm support is pretty good. The folks at CaptainForm provide assistance 16 hours a day, 5 days a week via email, live chat or even Skype calls. The stellar support is available for paid as well as free users. Moreover, you can also check out the plugin's Knowledge Base page, where you will find answers to most doubts. You can also get help from the Plugin directory. So, overall, we believe that CaptainForm's support to its customers is certainly very potent.
Pros:
30 form & survey templates
Modern form editor with drag & drop support
SSL encryption and other security features
Great support
Various third party apps integration
Cons:
Steep learning curve in some steps
Coupon codes & payment integration only available in Hero plan
Cloud hosted service
SEE ALSO: List of 20+ Best WordPress Plugins
Ready to build fully-featured forms and surveys with CaptainForm
The CaptainForm paid plans might seem a little pricey to some but we believe that it's all worth it, thanks to the plethora of features it brings. If you have used different form plugins for your website, you'll be impressed with CaptainForm's editing capabilities, third party apps integration and you get surveys too. Kudos to the guys at 123ContactForm, as CaptainForm looks like a seriously well thought form/survey creator plugin for WordPress.
So, download the CaptainForm plugin and try it out on your website or just try their demo. Don't forget to let us know your feedback on the tool. Sound off in the comments section below.
---
Load More