The digital world is essentially a slippery slope in 2022. One wrong step online, and before you know it, your data and your identity might be at risk. However, many rely on Virtual Private Networks (or VPNs) to mask their identity online. But in a market full of attractive VPN service offerings, it's difficult to get behind a VPN company that does what it says without making false promises. One such contender in this market is Surfshark, a VPN service provider promising total security while being light on the wallet. Does it live up to these claims? Well, I put that to the test and bought a membership recently. I've been using Surkshark VPN for a few days now, and here's what I think about the service. I will be talking about the VPN's best features, speed and performance, the ability to unlock certain streaming services, privacy policy, and pricing in detail.
Surfshark VPN Review (2022)
While my review will cover Surfshark's offerings in detail, you can always look at it all from a glance using the section below. However, I strongly suggest reading the entire review to find out if this VPN service is a good fit for your needs or not.
Surfshark VPN: Cut to the Chase
Poised to protect an online user's privacy and security, Surfshark is a VPN service that creates a secure connection and anonymizes all the browsing activity of the user. Using the fastest and secure WireGuard Protocol, Surfshark gives no substantial drop in the VPN speed while maintaining privacy with a prejudice online.
With a slew of added features, including Multi-Hop, Split Tunneling, Kill-Switch, no device limit, and a friendly privacy policy, Surfshark is an impressive VPN service. Top that off with prices that start at as low as $2.5 per month, recommending Surfshark is an easy call to make.
Surfshark VPN: Pros and Cons
Like every other service out there, Surfshark too comes with its own set of amazing features and minor annoyances. While I discuss them in detail in my review below, if you're strapped for time, check out the pros and cons of the VPN service here:
| PROS | CONS |
| --- | --- |
| Consistent speed and performance | Browser extension could use more settings |
| Fast WireGuard Protocol with capable alternatives | Occasional server-load |
| Friendly privacy policy | CleanWeb feature doesn't work well on all browsers |
| Rock-bottom prices | Some users might not like the VPN's shift to the Netherlands |
| Easy to use platform apps | |
| Knowledgable and responsive customer support | |
Surfshark VPN: Plans and Pricing
When it comes to VPNs, it's always better to go in for the long haul compared to paying out monthly. Since Surfshark isn't the only kid on the block, I decided to check out the prices of its competitors as well. However, I was pleased to find out that Surfshark has one of the most affordably priced VPN services on the market. Moreover, Surfshark unlocks all the premium features once you get a subscription instead of holding back some of them (via a different ultra-premium plan) to extort more money from you.
Compared to players such as ExpressVPN, NordVPN, and CyberGhost, Surfshark offers the most value for money in its 2-year plan. Moreover, the company itself regularly holds sales that offer discounts going as high as 81%. And if you're someone anxious about dumping a chunk of money on a VPN at once, Surfshark also has a 30-day money-back guarantee. With that said, here's how much you will have to pay to get a Surfshark VPN subscription:
| Subscription Plan Tenure | Price |
| --- | --- |
| 1-month plan | $12.95 |
| 1-year plan | $47.88 or $3.99/month |
| 2-year plan | $59.76 or $2.49/month |
With a healthy variety of affordable plans, Surfshark can be for everyone
Surfshark VPN User Experience
As a typical online user who is always short on time, I look for apps that are easy to use and still do the job effectively. Surfshark nails that right from the very beginning. A simple download and sign-in got me up and running within just 2 minutes. The VPN comes with a unified scheme of apps available on PC, macOS, iOS, Android, and even as extensions for your favorite browsers.
Mac and Windows Desktop App
Surfshark incorporates a simple two-column design on its apps and extensions. Connecting to a server itself is as simple as tapping on a country's name. That's it. Within a few seconds, your connection will be established, and you will be located in New York. While I would have appreciated a map selection to sort through countries, the list itself is to the point, and you have flags to represent the countries.
The browser extensions share the same design philosophy and are a quick way to make your browser go through a VPN tunnel. However, I advise using the PC app since it masks your IP system-wide and has more options.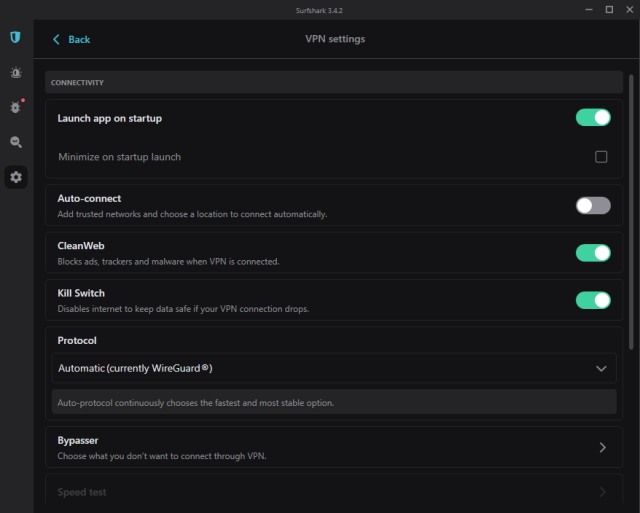 I loved the fact I didn't have to fiddle around with settings and protocols, even if I did have the option. Speaking of settings, users wanting to dive a little further need only click the settings cog in the left sidebar, and they will be led to Surfshark's customization options which are a ton. I will dive into these features in detail below, but before you even ask, Surfshark does offer dark mode.
Android and iOS Mobile App
The Surfshark VPN mobile apps on Android and iOS share the same simplicity that is demonstrated by a clean and sleek design that just works. A quick tap on a server got me to the country, and I could see the finer details at a glance, including my new IP address, encryption status, and more.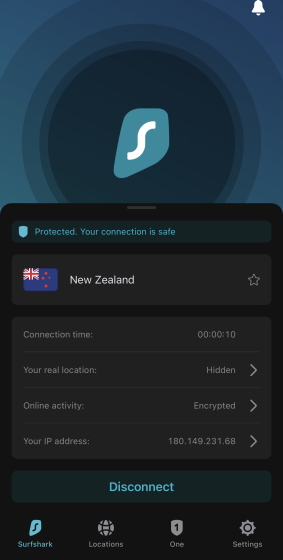 Like the PC apps, the Settings tab holds a lot of options, but if you're someone not wanting to touch anything, you can simply connect and forget about everything else. Throughout my time using these apps, I didn't encounter any major bugs or issues that caused me grief. While my iOS app did have trouble connecting to a Boston server twice, that little annoyance didn't happen after that.
If you're a daily joe who wants to connect to a VPN server without jumping through hoops, you will love Surfshark's no-nonsense approach. It makes a potentially frustrating process really simple.
Supported Countries and Server Locations
With over 3200+ servers in 65 countries, Surfshark offers a boatload of variety when it comes to VPN connections. The servers are 100% RAM-only which run on the latest updates and wipe themselves even after storing no data. If you are worried about speed, don't be, as Surfsark also provides at least a single 1GBps with more added every day.
When it comes to location, Surfshark has made sure to spread out its servers across the world. Whether you are in Europe, the Americas, Asia-Pacific or the Middle East, and Africa, there are a plethora of servers distributed. While you might encounter a loaded server once a week, the healthy variety of servers means you can easily switch to a different one and still have a fast and secure experience.
Speed and Performance
No matter how well a company packages a product, it is no good if it cannot perform. To see if the Surfshark VPN can actually give me a decent connection speed, I decided to connect to 5 different servers around the globe (London, New York, Tokyo, Singapore, and Hong Kong). Using a connection that offers me native download and upload speeds of 387 Mbps and 304 Mbps, respectively, it was now time to put the shark to the test.
Note: The VPN connection speeds vary on your ISP connection and server status at a time so expect to see a minor increase or decrease in connection speed when you connect.
The VPN service handled them all on the chin as my connection maintained extremely fast connectivity. The download speed never went below 320 Mbps, and I actually gained 10Mbps on upload speed in Singapore. The connection itself happened within seconds and was stable. I also checked the connection for packet loss by running the VPN through multiple games like Apex Legends, Fortnite, and even GeForce NOW. I encountered no packet loss, which was something I was afraid might happen.
The first I expect when connecting to a VPN is the loss of over 50% of my speed. However, I am impressed by Surfshark VPN's servers and speed retention to even far away locations. If you are a user connecting to a location to disguise your identity online, you can essentially leave Surfshark on and forget about it since you will get close to native performance.
Consistent Performance Across Protocols
One of the reasons for the high speed and stable connection is Surfshark using the new, fast, and secure WireGuard Protocol. This allowed me to connect to any server of my choosing and still retain the Internet performance I have come to know and love.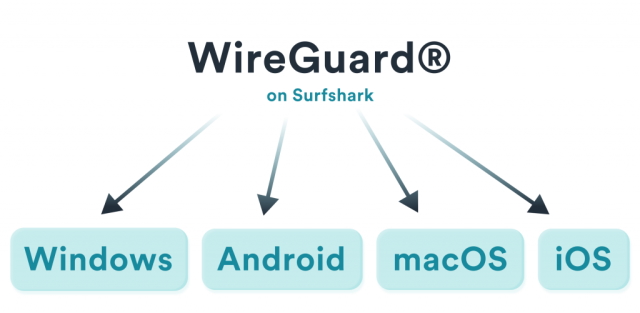 While any VPN user worth their salt would use WireGuard, Surfshark offers a lot of other popular protocol options, including IKEv2 and OpenVPN (TCP & UDP), which all perform well depending on how far is the server and the server load at that time. However, I would advise setting the Protocol set to "Automatic" and letting the VPN take over as I found that Surfshark uses the best available setting all by itself.
With fast speeds around the globe and over 3200 server locations, Surfshark is a VPN made for speed. While using the different protocols might affect your experience, I loved the general consistency and stability that Surfshark offers when it comes to connecting and expecting good bandwidth from a VPN service.
Is Surfshark Good for General Browsing?
When it comes to general browsing, Surfshark is as plug-and-play as you would expect. By simply choosing the country of your liking, you can open a web browser and get on the Internet. As you would expect, websites recognize you from the virtual country you're now in and show settings based on that. Furthermore, if you're a user living in a place that blocks VPN ports, you need not worry as Surfshark's Camouflage aka Obfuscation mode can grant you access while using the OpenVPN protocols.
A big problem while browsing online is the persistent advertisements that don't go away. Surfshark has a neat "Clean Web" feature that blocks all ads, trackers, and even malware when you're connected to the VPN. While this worked flawlessly with Chrome, I did encounter an ad or two with Opera, so maybe it still needs some work. When using the VPN through your phone, you can have even more privacy by activating GPS override and spoofing your location.
However, Surfshark performs exceedingly well when it comes to using the Internet casually and accessing websites and apps that have been geo-locked.
How Good Is Surfshark for Streaming?
Surfshark has a reputation for unblocking over 30 Netflix libraries around the world and a plethora of other streaming sites. As a Netflix user, I decided to put that to the test and connected to a few different VPN servers, including Japan, Canada, Australia, France, the US, and the UK. Surfshark performed exceptionally well when it came to streaming Netflix movies and TV series from around the globe. There was a glitch on the PC version that didn't allow me to connect initially, but I fixed that by restarting the app.
I experienced no drop in quality or performance, and Netflix did not detect the presence of a VPN during the streaming. With geo-locked shows now at my disposal, I had fun watching Japan-exclusive Netflix shows and anime while sitting in India.
However, I didn't stop there. I tested Surfshark out on other services including Disney+, AppleTV, BBC iPlayer, HBO Now, and even YouTube TV. My overall experience was amazing, and like before, I had no drop in performance or having to sit for the video to buffer. I managed to do that for all three of my devices simultaneously, considering Surfshark has no device limit.
If you are a serial binger looking to unlock worldwide shows and movie releases without restriction, expect Surfshark to do that and more with its excellent streaming performance.
How Secure Is Surfshark VPN?
Surfshark by itself is designed in a way where you don't have to worry about security. No matter which server you're connected to, nobody can see what you're up to online. It is powered by Surfshark's audited no-logs policy. This means that VPN itself keeps no records about your activity online, including what you do, download, and even your IP address. Surfshark has been audited twice by Cure53 testers to see if these claims stand true, and they still do.

The company used to operate under the jurisdiction of the British Virgin Islands, but has since shifted its HQ to the Netherlands. While the Netherlands is under the Nine-Eyes Alliance, the VPN company maintains it's under no obligation to log any of our data which means the no-logs policy stands. Users get the added benefit of RAM Only servers, which means no data can be physically taken and is wiped right after use. Besides the excellent no-logs policy, some of the Safety Surfshark features that impressed me were:
Encryption and Tunneling Protocols
Encryption is the process of ciphering data, so it's unreadable to third parties. Like other VPN services, Surfshark also has data encryption support. However, what's refreshing is that instead of the standard AES-256 encryption, the Surfshark VPN offers AES-256-GCM, which is an updated and more secure version of encryption. So if you're worried about what little data you share not being secure, don't be.
Even though I did mention the various protocols Surfshark offers, it's easy to recount them because of their sheer performance. The most modern and fastest remains WireGuard which Surfshark uses in most cases. However, the company claims that your mileage may vary, so experiment with other protocols to find the best fit if you do end up getting a VPN subscription.
Multi-Hop Makes Things More Secure
One of my favorite security features in Surfshark is Multi-Hop. It allows you to connect to two different VPN servers at the same time to make your experience even more secure. This rerouting of the connection to a different server means a malicious person cannot know your details, even if they do manage to track the server you are connected to.
The Surfshark app already has a list of Multi-Hop servers that you can connect to with just a click. If your needed sites are being blocked by the VPN, you can use the built-in Bypasser (also known as split-tunneling), which will reroute certain internet traffic without a VPN.
A thing I was concerned about was the VPN leaking DNS queries, so I resorted to checking it out myself. Using a DNS Leak Test, I found that Surfshark VPN was extremely airtight and did not leak any of my information.
Kill-Switch
Like other VPNs, Surfshark too has a kill-switch feature that will completely disable your Internet unless you're connected to a VPN. This is especially helpful when it comes to protecting your real digital identity from being leaked.
There was a time when this feature used to cut off the Internet even if one deliberately turned the VPN off. Surfshark has since fine-tuned Kill-Switch to only turn it on when the connection drops. The kill-switch is a must-have if you dabble in sensitive work online.
Clear Privacy Policy for Once
A company is no good if you cannot trust it. Most services out there have privacy policies and terms of service that all but put you to sleep. I went through Surfshark's privacy policy to look for anomalies, so you wouldn't have to. And well, I was pleasantly surprised. The company doesn't bore you with jargon and unnecessary language. Instead, the text has been broken down into simple English, and an average user can actually read and understand what it all means.
To sum it up, Surfshark promises that it does not collect important data like IP Addresses, your browsing history, traffic, or your overall network usage. This means you are free to use this VPN without being worried about timestamps or data leaks. However, the company does collect some information, including anonymized analytical data and some account information.
This is necessary to get the service working but never more than that. You even contact Surfshark and have them modify or further restrict what little data they have. There are also no third-party cookies that the company uses, which is good to hear. So yeah, as far as services go, Surshark is pretty transparent about it, and it shows on their website and offerings.
User Reviews and Customer Support
If you feel I'm being too positive about Surfshark, you're not alone. Do some digging online, and you will see this VPN regularly receives praise from users and reviewers alike. That's hardly a surprise given this VPNs performance. But does Surfshark help you out if you run into a problem?
Surfshark has wonderful customer support, which includes a full-scale knowledge base, 24/7 live chat, and E-Mail support should you need it. My experience of browsing through the knowledge base was swift as the info dump had answers to all sorts of questions.
A dedicated section called 'Surfschool' exists, and it contains guides to anything related to the service. If I had a specific question like how to use Surfshark's Smart DNS on my PS5, I typed it out in the search box and found that it had already been answered.
For the times I didn't, the support group was only a few clicks away, and I managed to chat with Sharbot or even get an agent after some generic troubleshooting questions. In general, I found my queries were resolved quickly and effectively. While I encountered no downtime when using Surfshark, it's good to know that quality support is out there if I need it.
Want Even More? Get Surfshark One
While the Surfshark VPN itself is a pretty good deal, there is even more in store if you're willing to pay just a little extra. Introduced a little while ago, Surfshark One is an added list of services that can help you better protect your data and stay safe online. Surfshark One contains three added offerings – Surfshark Alert, Surfshark Search, and the new Surfshark Antivirus.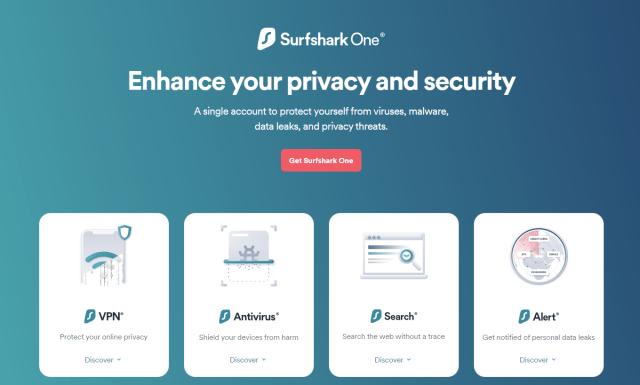 Surfshark Alert lets you protect your most important credentials, including your personal identity numbers, ID, passwords, and even credit card. In the event of a breach that involves your data, it will inform you of the same immediately, and you can take the necessary action.
Surfshark Search is essentially a search engine free of trackers that only displays organic results. This search engine is on its way to becoming one of the best Google alternatives. And finally, Surfshark Antivirus protects you from viruses and malware system-wide.
By tacking on just an extra $1.5 to your Surfshark membership, you get the VPN and all the above-mentioned services in a combined package. So if you are someone insistent on being as secure as possible, get Surfshark One.
Frequently Asked Questions (FAQ)
Q. What Is a VPN and What Can I Do with It?
A Virtual Private Network (VPN) is a software that creates a secure connection between your computer and the Internet. A VPN does that by encrypting and running your data through a virtual tunnel on servers based in remote locations. This encryption allows you to hide your identities, including your IP Address, browsing activity, and other connection details.
You can do all sorts of things with a VPN. However, most casual VPN users get it to unblock geo-locked content such as Netflix and Apple TV libraries from other countries. They also use it to visit websites their ISPs have blocked and engage in P2P file-sharing (Torrenting). A VPN keeps your data hidden while you go about your business.
Q. Why Can't I Just Get a Free VPN?
You can, but you shouldn't. Most free VPNs that offer their service do so with low data quotas. Once you exceed that, your connection is terminated, and you cannot use it until it's reset. However, what's concerning is that many free VPN services have shady terms of service that might dabble in sharing your data with third parties. It exposes you to all sorts of malicious things. Always try to opt for a paid VPN service.
Q. Should I Read the Privacy Policy Myself?
Absolutely. While Surfshark has a really user-friendly policy written in plain English, your luck might be different with other companies. Nevertheless, whenever you decide to go for a VPN service, take some time to read their policy and usage contracts. This will not only give you a better idea of what to expect, but you can see for yourself if the company does in the fine print what it claims on the website banner.
Q. Are VPNs Even Legal?
Using a VPN is legal in most countries around the globe. However, there are indeed a handful of countries like Belarus, China, Iraq, North Korea, Oman, Russia, and the U.A.E that have either strictly regulated or banned VPNs altogether. Depending on where you live, check to make sure VPNs are legal before you buy a subscription.
Q. Can I Use a VPN on My Phone?
Yes, you can. Surfshark and many providers like it have more than capable mobile applications that can encrypt your online traffic. In the case of Surfshark, you can just click a country, and your phone's connection will be routed through a Surfshark server. If you have already bought a Surfshark membership, go ahead and download the mobile app from here.
Should I Get Surfshark VPN?
I had always heard of Surfshark VPN but didn't try it out until now. Now that I have, I can safely say that I am pleased by the experience Surfshark VPN has to offer. With extreme safety features like multi-hop, split tunneling, RAM Only servers, and a privacy policy I could actually understand, I felt safe using this service.
Wallet-friendly prices made me get the two-year plan, which boils down to a mere $2.5 per month compared to ExpressVPN's $8.32 per month yearly plan. Top that off with the no device limit as a cherry on the cake, and I can wholeheartedly recommend Surfshark to use as your daily VPN driver. Overall, Surfshark is one of the most affordable and reliable VPN services available in the market in 2022. If you are using the service or choose to get a subscription, do you agree with us? Let us know in the comments section below.
Get Surfshark VPN (starts at $2.5/ month for a 2-year plan, 82% off)
---
Load More