Portable computing is not wanton spending anymore, it's basically a requirement and requires careful deliberation. With the laptop market chock full of companies and laptop models, it's difficult to filter through the noise. Even more difficult is finding a laptop that doesn't break the bank while working without problems. While searching for the best laptops under Rs 50,000 for our recent YouTube video, I found the Ideapad Slim 3, an affordable offering from Lenovo. The Ideapad series has garnered a ton of praise over the years, and this laptop looked impressive enough for me to order it and try it out. But does the Ideapad Slim 3 perform as per expectations and is it actually worth the Rs 45,000 price tag? Well, I have been test-driving the Slim 3 for a few days and this is what I think.
Lenovo Ideapad Slim 3 (82KU017KIN) Review
I will be dividing this review into different categories based on the different aspects of this laptop. Depending on what you are looking out for, use the table below to skip to the necessary section.
Lenovo Ideapad Slim 3: Specs Sheet
Before we begin with the review, you should know about the hardware under the hood. Check out the specifications of the Ideapad Slim 3:
Weight
3.5 pounds (1.6 kg)

Display
15.6- inch FHD,
TN panel, 250 nits
(1920x1080), 60Hz
CPU
AMD Ryzen 5 5500U
GPU
AMD Radeon Graphics
RAM
4GB Soldered DDR4 3200MHz + 4GB SO-DIMM DDR4 3200MHz
Storage
512GB PCIe 3.0 SSD
Ports and I/O
1x Power-in, 1x USB-A 3.2 Gen 1, 1x HDMI, 1x USB-C 3.2 Gen 1, 1x Headphone/Mic combo, 1x USB-A 2.0, 1x SD Card reader
Battery
45Wh
Connectivity
Wi-Fi 802.11ac (2x2)
Bluetooth 5.0



Design and Build Quality
With the clue in the name, it's obvious that Lenovo has tried to incorporate a design that's slim, lightweight, and modern at the same time. And for the most part, the laptop succeeds at that. The Ideapad Slim 3 is dominated by design choices that make it clear that you're getting a work/ casual-use laptop. Even though it has decent gaming performance (more on that later), there are no gamery aspects here that may indicate the same.
The build quality of the Lenovo Ideapad Slim 3 itself is plastic that covers the entirety. The A-panel (lid) of the laptop is a grey-themed non-descript one with a brushed metal look (you can't feel the texture, though). While there is no texture on this smooth lid, there is a small and iridescent Lenovo logo on the top right. And I like this minimal logo, which lets people know what brand laptop I have, without being in the face and too loud. Unlike some laptops that separate the lid from the hinge on the outer part, the entire panel here is a single construction that sports rounded corners.
The bottom of the laptop follows the same standard design, albeit with a darker and matte shade of grey. It is here the Ideapad Slim 3 has its standard rubber feet, along with a criss-cross singular vent for ventilation. The side profiles of the laptop lend it the same slim look you would expect. While it's naturally thicker near the display, it starts to sharpen out as your eyes approach the front.
Opening up the laptop reveals the interiors, which more or less follow the same Lenovo-esque design I am used to. The U-shaped keyboard caps look nice enough with their matte color while the trackpad feels a bit smaller compared to the overall space. Interestingly, the Lenovo logo is in the exact same place inside as on the outside, which is neat.
The display of the laptop itself has some prominent bezels, which you might notice from time to time. I wish the bezels would have been smaller to make the Ideapad Slim more fitting to its name. The bottom of the hinge connects well enough to the laptop and also sports two outlet vents beneath.
The build quality of the laptop is a bit above average in totality. There is a decent amount of flex in various areas, including the A panel, keyboard, and the hinge, which while not obvious is something I noticed from time to time. Speaking of the hinge, the laptop does feature a 160-degree display, which is a bit odd but still convenient. It also has an indentation to open the laptop with one hand, but you can't really do that without toppling over the bottom.
Finally, in portability, the Lenovo Ideapad Slim 3 is actually lightwight at 1.6Kgs. I found myself easily picking up the laptop and going from one place to another to work. The lightweight also helps when the machine is in your lap, and as you feel it's less of a brick. Fortunately, the 65W round tip charge matches the same aesthetic and is easy to carry around.
The Ideapad Slim 3 is a laptop that does not come with the best build quality but manages to have enough durability and more than enough portability, all in a single machine. Further, working professionals and students can easily lug this laptop around without it standing out or bogging them down.
Display
The display is without a doubt one of the most important aspects of a laptop. You're going to spend most of your time in front of it, doing your work, watching movies, and more. Unfortunately, the Lenovo Ideapad Slim 3 falls short of this crucial checkbox. To list the numbers, the laptop carries a 15.6-inch FHD (1920 x 1080) display with a 60Hz refresh rate. Sadly, you get a TN panel at this price, even though machines like Asus Vivobook OLED come with much better displays in the same price bracket. The peak brightness of 250 nits is also low for me.
Since the Ideapad Slim 3 has a TN panel, it also without a doubt has insufferable viewing angles. While working on this laptop, tilting the display even 5 degrees up or down ruined the entire experience. The display, at certain angles, had all the colors washed out and it was difficult to see the content, while in other cases, it looked just really oversaturated. I had the same experience with side angles with almost nothing being visible. While I can argue for TN panels and their high response time, this laptop is not meant for high-tier gaming, and the display was not designed for such use cases.
Another problem I had with the laptop was the peak brightness of 250 nits. As someone who likes his display bright, I am used to at least 300 nits of power in the panel that can get me through the day. The Ideapad Slim 3's display, on the other hand, boasts a brightness that feels low for my liking. I found myself unconsciously hitting the brightness-up button often, even though it was at the maximum setting. This sadly put another dent in my experience.
However, not everything is gloomy here, as the laptop does pack a decent amount of color accuracy. Throughout my time watching a variety of shows and videos, the colors seemed punchy enough and did not look washed out, provided the display was at the right angle. The black tonality of the display is also good enough with some greying here and there in dark shots. There is naturally no HDR here as this is an SDR display so I didn't go into the laptop expecting that.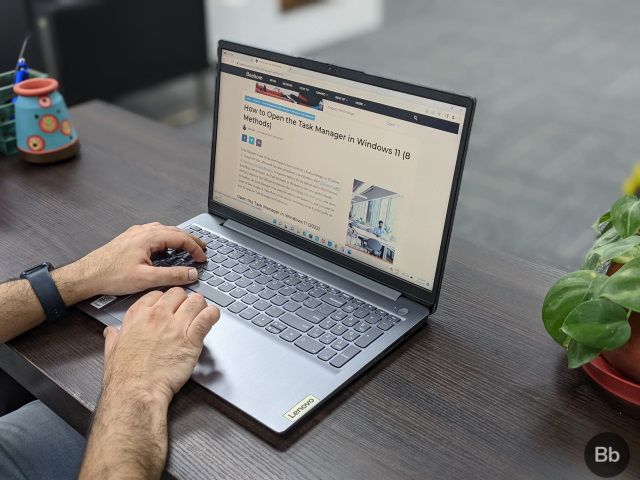 However, if you're a daily joe not concerned about any of that, you will be glad to know the display is sharp enough for your day-to-day work. The text appears sharp and legible without problems, and I could go on working long hours. Thankfully, Lenovo has also a special Eye-Care mode that filters out blue light. However, you can always use Windows Night Light for the same purpose.
Lenovo Ideapad Slim 3's display is something that could have been amazing. Decent color accuracy along with sharp details are plus points that work for this laptop. However, the constant song and dance to get the display in that sweet angle is something that irked me. If you are the type of user who sets their screen at an angle and forgets about it, go ahead with this purchase. However, if you're anything like me and move it around constantly, chances are, you won't like it.
Performance
The Ideapad Slim 3 packs an AMD Ryzen 5500U chip along with Radeon Graphics. You also have a 4+4GB DDR4 RAM combination clocked in at 3200Mhz. However, do note that one module is soldered, so minus points for upgradeability here. To add insult to injury, the laptop only shows the total RAM as 5.8 GB instead of at least close to 7 GB, which is a drawback (More on this below). For storage, you get a 512 GB PCIe 3.0 SSD.
Since the laptop does come with a decent set of hardware components, including a Radeon chip that just might be able to do some casual gaming, I figured to divide this performance section into a few sub-sections. My testing consisted of daily usage, benchmarks for metrics, and finally, a spot of gaming for the casual gamers out there. Scroll through below to your needed part.
Daily Usage
When it comes to my daily workflow, my average usage consists of around 8-10 tabs of Google Chrome with a video playing combined with software like an image editor in the background. While not the heaviest demand, this workflow gives a modest amount of load on the PC and forces it to kick it up just a notch.
The results of my usage of this laptop were a mixed bag. Right off the bat, the Ryzen 5500U inside the Ideapad Slim 3 held its own ground. Multitasking through the browser and various other apps hardly put a strain on this machine. The total utilization stood around at around 15-20%, hence, giving it a lot of room to gallop.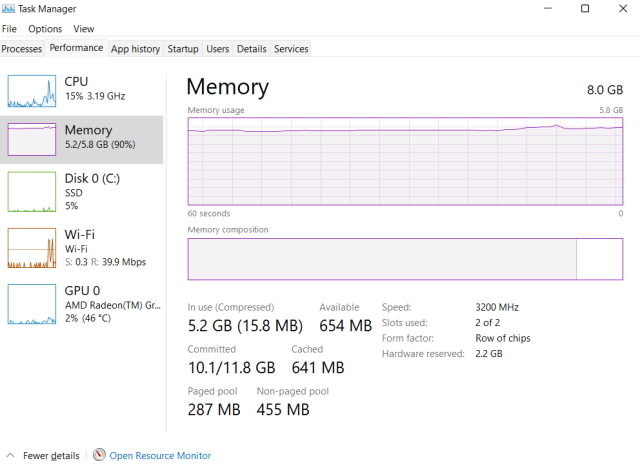 However, the low amount of RAM turned out to be the biggest enemy here. While the CPU had a lot of room to perform even more tasks, the RAM was 90% used and was on the brim. I opened a few more tabs the usage shot up to 95% and that was when I started to encounter lag.
However, a big point to note here is that the low amount of RAM is intentional, as Lenovo has dedicated 2GB of the memory to the AMD Integrated graphics for GPU VRAM. While you can tone this allocation down from the BIOS in Windows 11 and gain back the RAM, folks without intricate technical know-how will be left at a disadvantage.
Hence the default bottlenecking hampered my experience a bit. While I was confident in the 5500U's abilities to handle the heavy load, the low RAM forced me to put on the brakes and not do intense multitasking. Having said that, however, I do realize most folks aren't looking to use the Ideapad Slim 3 in ISRO's mainframe. So if you're a user who wants to put a moderate amount of stress on the laptop, the Ideapad Slim 3 will do.
Benchmarks
Benchmarks can always come in handy when you want a numerical idea of where your hardware stands compared to others in the market. To give you the data for the Ideapad Slim 3, I decided to run Geekbench 5, Cinebench R23, and Crystal Disk Mark. Here's what I found.
Geekbench 5
The quick and popular CPU benchmark dished out single and multi-core scores of 1113 and 5326, respectively. This gives the AMD Ryzen 5500U inside the laptop good standing, as it sits below the Intel Core i9-7900X, a desktop-based chip in single-core scores, and beating the Intel Core i7-10850H, a 10th-Gen 6 core performant CPU. While it doesn't reach the sky-high limits of the best out there, the casual usage test above has proved the CPU can already hold its own without problems.
Cinebench R23
Cinebench is another popular CPU benchmarking tool that many users rely upon. Running the two single and multi-core tests delivered some impressive results. The single-core score topped out at 1178, which isn't bad at all. As you can see yourself, the results are right below the i9-9880H, a high-end older chip. The multi-core results follow suit at 6885, which gives the chip below the 880H in multi-tasking but above popular chips like the i7-1165G7.
CrystalDiskMark
Since the Lenovo Ideapad Slim 3 houses a PCIe 3.0 SSD, the results of CrystalDiskMark are as fast as one would expect. I got peak read and write speeds of 3047 MB/s and 1655 MB/s. These storage speeds are more than plenty for fast data transfer, and I experienced the same when moving files around the PC or out of it.
Don't worry about getting Gen 4 speeds as given the nature of this laptop, all your work will be done without problems and fast at that.
Gaming and Thermals
While expecting performant gaming from a work-based laptop is a misstep, the Ideapad Slim 3 does have AMD Ryzen 5500U which comes coupled with Radeon Graphics. Integrated graphics while not the best out there, can perform modestly depending on the settings. To test this laptop out, I threw a mix of E-Sport and AAA titles at it. This is how it performed.
Forza Horizon 4
A good example of a modern AAA title, Forza Horizon 4 is an arcade racing game. It is where I started my gaming testing on the Ideapad Slim 3. Even though Forza 4 gave me a memory warning and said the game won't be playable, it managed to run just fine.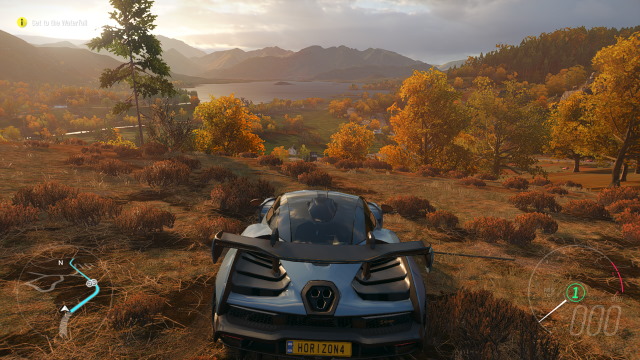 Running on 1920 x 1080P at Low Settings, the laptop rendered around 40 FPS at a steady pace. The GPU use stood at 95% so was sufficiently used. However, even though I average FPS, I did not encounter any stuttering, jitters, or problems of any kind. It was an overall pleasurable experience. To get more frames, I dropped the resolution down to 1600 x 900 and immediately got a jolt to 60 FPS. Even though the resolution had dropped a bit, the extra FPS I got really elevated the experience. As before, the laptop gave no stutter nor lag and it was a fun experience. Rest assured, select AAA titles will be able to run albeit at low settings.
E-Sports Titles: Rainbow Six Siege and Apex Legends
While E-Sport titles like R6 Siege and Apex are well optimized for most systems, they will nevertheless put a strain on a laptop with no discrete graphics. I decided to run both the games to find out if the Ideapad Slim 3 would be able to handle some strategy shooter action and battle Royale.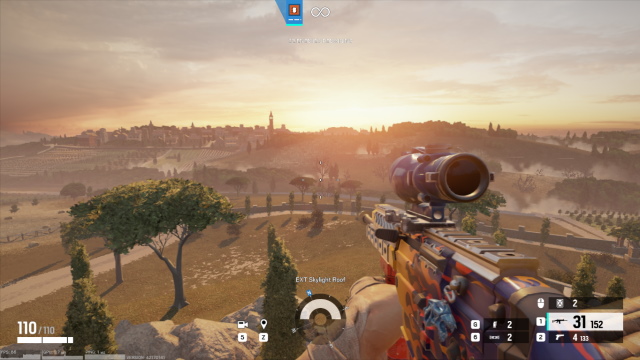 Starting with R6 Siege which I ran on 1920 x 1080 at High Settings. During my few tests runs between the matches, the 5500U managed to give me around 45-50 FPS at a relatively steady pace. There were times I encountered a few jitters but most of them were outside gunfights. So if you're a stickler to the FHD resolution, you can get a pretty decent experience. Lowering it down to 1366 x 768 instantly shot up the frames post 60+FPS and even reached 80+ at one point. While I naturally noticed some degraded graphics, Siege is a game based on quick timing so this was a big plus. I can recommend this laptop to Siegers without problems.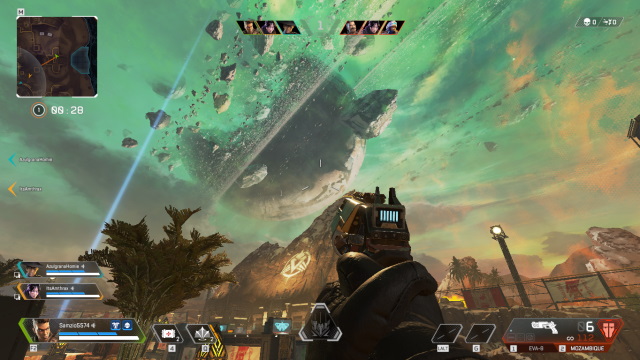 Onto the Battle Royale Apex Legends which was subjected to the same settings. Running on FHD but at low, the game gave me 35+ FPS during matches which were a bit less than ideal. Thankfully, there were no stutters. To get more FPS, I toned down the resolution to HD and instantly got 60+ FPS without any stutters. While I'm not an expert in Apex, I had fun playing as Bloodhound and having my teammates reviving me over and over again.
A point to add here is that the thermal performance in this laptop is quite amazing. Even at peak CPU and GPU use, the laptop was kept cool by the singular fan and heat pipe setup. The surface did not feel hot while working and it was an amazing experience overall.
My overall gaming experience on the Ideapad Slim 3 was more than satisfactory. While Integrated graphics don't obviously perform as well as Discrete ones, the laptop easily held its own without problems. If you're a casual gamer looking to play a few titles at low to medium settings, the Ideapad will see you through without problems.
Upgradability
A laptop out of all the machines should have enough future-proofing opportunities. As someone who upgraded his RAM and storage months after buying a laptop, it's important to me. The Ideapad Slim 3 falls on the average side in this aspect.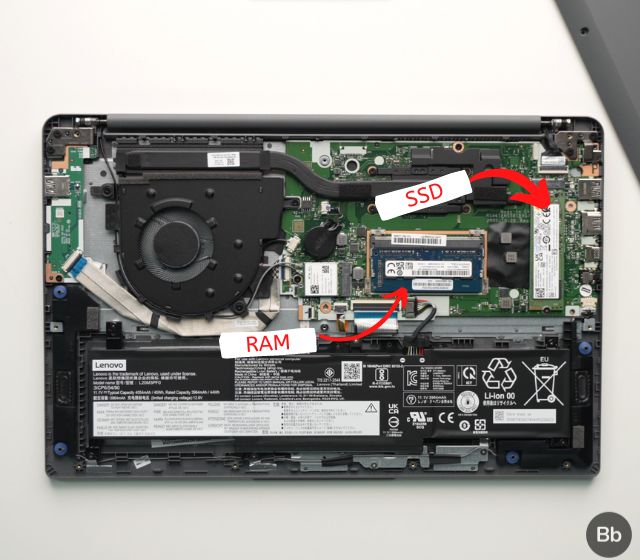 Opening up the laptop reveals the fairly modest setup here. You get a singular RAM slot that has been occupied by the 4GB stick that comes pre-installed. You can also see the 512GB SSD storage along with its filled slot here. However, there is no additional SSD slot nor an HDD bay so you must replace the existing hardware here.
I could not find an exact number when it comes to the total RAM and Memory expansion but general numbers indicate you can stock up at least up to 12GB RAM and 1 TB storage in the slots which isn't too bad.
Given that most users will likely be using the laptop for casual work and might perform small upgrades, I think the Ideapad Slim 3 offers decent opportunities for expansion here.
Software, Bloatware, and Lenovo Vantage
The Ideapad Slim 3 comes with a decent amount of software already pre-installed. For starters, you get the McAfee LiveSafe security suite for a malware-free experience. However, this antivirus also has the annoying habit of sending constant pop-ups while the laptop is in mid-use. Given how I really on either MS Defender or these best malware removal software, I disabled it.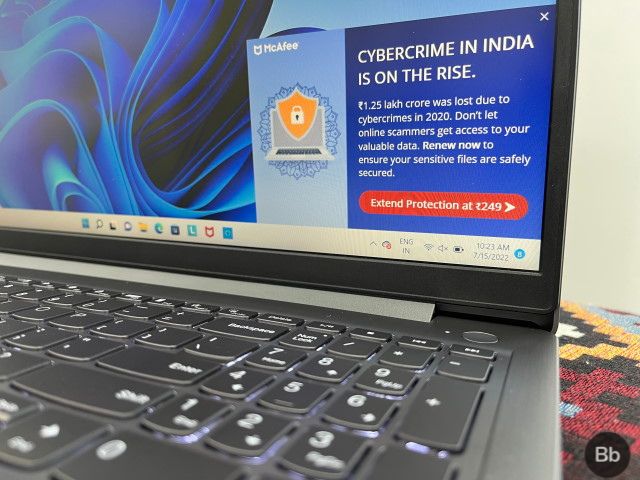 You also get Lenovo's own Vantage software, an all-in-one control center for your Lenovo machine. As was in the case of the Legion Slim 7, I could see the real-time hardware status of the CPU, RAM, and storage at a glance. Vantage also has a built-in system updater so there was no need to wander online for the latest drivers.
While the Ideapad Slim 3 doesn't have a dedicated GPU, Vantage still provides Power and Performance profiles that let me cycle through Extreme, Intelligent, and Battery saving profiles. I kept the profile on at Extreme to get the best out of the Slim 3 and it did actually pay off as the laptop remained fast and the cooling high.
Besides performance, Lenovo Vantage houses a wide variety of settings that range between various parts like Battery, Audio, Display and Camera, Input and Accessories, and even the warranty info along with upgrade options. I had quite a good amount of fun exploring the app and it definitely added value to the laptop.
You also get another handful of Lenovo apps like Smart Noise Cancellation, Welcome, Hotkeys, and Voice to name a few, and these all have their own significance. While I'll be discussing audio below, the laptop does come with Dolby Audio software. To top it all off, the Ideapad Slim 3 also contains the AMD Radeon Software to give you another option to keep an eye on your CPU and Graphics at a glance.
Besides the unnecessary McAfee, I enjoyed the software selection given in the Ideapad Slim 3.
Keyboard and Trackpad
At the end of the day, if you're going to be working, you're going to be typing. Thankfully, the Lenovo Ideapad Slim 3 has a good enough keyboard that doesn't take away from the experience entirely. The key travel of the keyboard itself is fairly small and hence I felt the impact on the plate below quickly. However, that also meant that my typing speed increased a bit as my fingers were moving between the keys with speed.
The keycaps themselves have been shaped in an ergonomic and hence do not feel too small or big. Like other Lenovo laptops, the U-shaped keys remain a tried and tested method and I'm glad the company stuck to it in the Slim 3. While typing or even gaming, I did not fat finger at all and had a pretty decent typing speed in the ballpark of 65-70 WPM. Since I'm primarily a touch-typer, I found this speed impressive for this keyboard. The keyboard is also white and backlit with two levels of brightness so if you're a fairly fast typer like me, that can continue in the night.
Using the trackpad was a fairly decent experience too. While the trackpad area should definitely have been larger and a bit more centered, it's easy to use. The smooth surface helps in fast and error-free finger registrations while the supported precision gestures make multi-tasking easier.
The laptop sadly doesn't come with a fingerprint sensor which is something a lot of other models in this price range do. This naturally puts a hit on security which is a prime concern in the throes of 2022. Thankfully, you do get a quick mic mute button positioned on the keyboard.
When it comes to the overall keyboard/trackpad combination of this laptop, I was impressed with it. The keyboard holds enough comfort for long-hour sessions while the trackpad complements it well. Sure there are things like small trackpad area and placement that could have been worked on for there's only so much one brand can cram into a machine.
I/O Ports and Connectivity
The Lenovo Ideapad Slim 3 comes with a healthy variety of ports that will suit the requirements of almost every user. The left side of the laptop holds the majority of the ports which include the pin-hole power-in, a USB-A 3.2 Gen 1, an HDMI port, USB-C 3.2 Gen 1, and a headphone/mic combo jack. I really loved the inclusion of a Gen 1 Type-C port and it is quickly becoming the modern standard.
The right side of the Ideapad Slim has a USB-A 2.0 port, an SD card reader which is handy, and indicators for headphones and battery charging. The inclusion of indicators is a nice touch while the 2.0 in USB-A should have been avoided.
Speaking of the Internet, the laptop does come with Wi-Fi 5 which gives you fast enough speeds. You also get Bluetooth 5.0 if you're in the habit of moving files around wirelessly. There is unfortunately no RJ-45 port for a wired Internet connection which might be a damper for folks wanting top-notch speed. However, I understand the reason since Lenovo wanted to keep the overall profile of the laptop Slim. I felt the ports and connectivity combo was quite good in the end.
Audio Quality
The Ideapad Slim 3 comes with a bottom-based dual-speaker audio system. While the speakers are small in size, the laptop does come with Dolby Audio which according to the app has given professional speaker tuning for Lenovo. I decided to test these tuned speakers out with a mix of my favorite YouTube tracks and Spotify songs and the experience was decent.
The overall loudness of the speakers is something that left a mixed taste in my mouth. While the speakers are not extremely quiet, they don't have the type of room-filling sound profile one would expect. The loudness falls a step below the center line. You will be able to hear the audio for yourself but sharing the tunes with others might be a problem.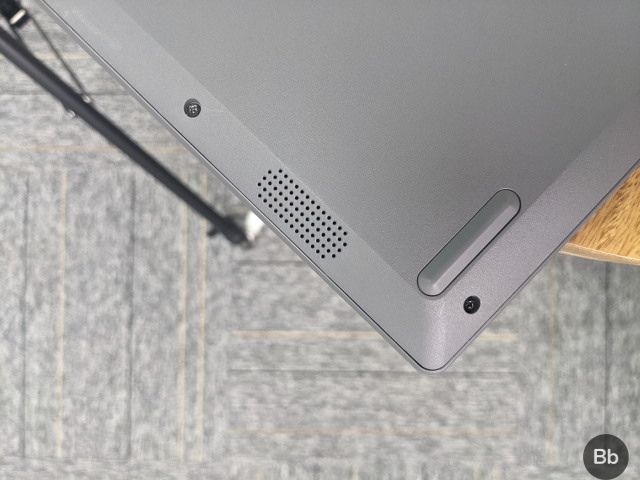 The speakers retain a decent level of detail on varying audio ranges. Thankfully, they don't crackle at 100% volume and remain audibly clean. The various ranges remain crisp and without problems. The bass is non-existent but I was expecting that from the start.
The Dolby Audio software provided in the laptop does elevate the experience by adding a little more loudness and detail to the sound but not by much. You can however sort through the various audio profiles provided in the app that tweaks with the internal settings and EQ for a more balanced sound depending on the setting.
Overall, this is a decent audio setup in my opinion. Can you use it for house parties or late-night jamming sessions? No. But they will get you through some casual tunes and professional meetings with people.
Webcam and Microphone
Like almost all laptops under the 50,000 price bracket, the Ideapad Slim 3 comes with a 720P webcam paired with a dual-microphone setup. My use of the webcam involved snapping and recording day-to-day photos and videos and the results were a bit above average. The webcam snaps shots with little to moderate quality.
Since you naturally don't get a lot of pixels and sensors to shoot with, this is expected. It handles light in an average way, sometimes over or underexposing it. While the webcam certainly cannot be used for any production scenarios, if you're a user looking for a fairly basic meeting camera, this will serve you well.
The microphones are fairly average in recording audio. The mics aren't too quiet or hypersensitive and pick-up sounds fine. The noise cancellation itself is average and nothing to boast about. However, the mics will get you through your meetings and casual Discord calls without problems. Just don't expect to sing on it.
Battery and Charging
The Ideapad Slim 3 comes with a 3 Cell, 45 Wh battery. While not the biggest battery in a laptop, Lenovo promises up to 9 hours of life on a single charge. My daily usage consists of 100% brightness placed on a Balanced performance profile. Combine this with my daily usage above, and you have a laptop that will be under moderate load.
The laptop actually did well at the end of the day. The Ideapad 3 lasted for around 5.5 hours before I had to plug it in to save my work. However, do keep in mind that I was using it on the Balanced profile. You can most likely stretch an additional hour out of it by going towards the most power-efficient plan and toning down the brightness.
Thankfully, like most Lenovo laptops, this one too comes with Lenovo Rapid charge which quickly tops off the battery. You can also carry this lightweight adapter along with you with ease. While I doubt you will be able to reach continuous 9 hours on this system, a decent length of 6.5 hours should be enough to get most folks through the day.
Lenovo Ideapad Slim 3: Pros and Cons
| PROS | CONS |
| --- | --- |
| CPU handles multitasking with ease | Default allocated RAM bottlenecks the CPU |
| Radeon Graphics good for casual gaming | The display has horrible viewing angles |
| Slim and lightweight design for portability | The peak brightness is too low |
| Good port selection | Build quality could have been better |
Lenovo Ideapad Slim 3 Review: Should You Buy or Not?
Lenovo Ideapad Slim 3 is a budget-centric work laptop that does a lot of things right. Priced at a modest Rs 45,000, the laptop holds good casual and multi-tasking performance while also keeping something for the casual gamer inside us all. Combine that with a decent speaker, camera, and mic setup, you should have a killer recipe. However, the substandard panel with its horrible viewing angles and low brightness holds the laptop back from becoming what it should have been; a perfect combination.
However, like all things in life, your mileage may vary with this machine. But to get down to brass tacks, if you are a user purely looking for an affordable machine that will get you through the day without seizing up, get this laptop. However, if a laptop's display is an integral part of your computing experience as it is mine, I recommend a hard pass. For that, you can consider the Asus VivoBook K15 OLED (Rs 45,490) for its outstanding OLED display. Furthermore, if you are willing to go a bit beyond the 50,000 price tag, then check out the MSI Modern 15 (Rs 54,990) for its good balance of performance, display, and quality.
What do you feel about the Lenovo Ideapad Slim 3? Do you think a feature like the display should dominate your entire experience? Let us know in the comments below!
Buy Lenovo Ideapad Slim 3 on Amazon (Rs 45,990)
Pros and Cons
Priced at Rs. 45,000, the Lenovo Ideapad Slim 3 is a laptop that packs good enough specs. The overall performance is satisfying and the Radeon Graphics will even satisfy the casual gamer inside you. Office workers wanting to carry it around will like its design and portable factor. However, the display is the main problem here. The TN panel packed inside the Ideapad Slim 3 makes casual usage annoying and long hours insufferable. In many ways, the laptop resembles a house without a view. Good to see from the outside but perhaps it's better to stay out.
---
Load More