There was a time when gaming laptops were few and far between. However, with the progression of technology, the market is now flooded with a fair share of portable gaming rigs that can handle popular AAA games. While Nvidia's 4000-series-laden laptops are still some time away, there are some good machines out there. One such pick is the Lenovo Legion 5i Pro Gen 7, a power-packed gaming laptop that is a 2022 refresh to the Legion 5 Pro. The machine sports all the bells and whistles, including an Nvidia RTX 3070 Ti GPU combined with an Intel 12th-Gen i9 processor. This is an upgrade over the Ryzen 7 chip and RTX 3070 GPU found on my 2021 model. As a gamer, I just had to check out the Legion 5i Pro to see what all has improved compared to its predecessor. Though the Legion 5i Pro Gen 7 starts as low as Rs 1,50,000, I got myself the fully specced out Legion 5i Pro variant and have been using it for a few days. And here's how my experience with the Legion 5i Pro has been.
Lenovo Legion 5i Pro Review (2022)
Lenovo was kind enough to loan us a unit of the Legion 5i Pro for review. However, the views and opinions in this review are unbiased as I subjected the laptop to extensive scrutiny. That said, we have discussed the display and build quality, performance, ports and connectivity options in this review.
Lenovo Legion 5i Pro Specs
Before we dive into the nitty gritties, make sure to check out the specifications below to see what you're dealing with here.
| | |
| --- | --- |
| Weight | 5.5 pounds (2.5 kg) |
| Display | 16- inch WQXGA (2560x1600), 500 Nits, 100% sRGB G-Sync, 165Hz IPS |
| CPU | Intel 12th Gen i9-12900H |
| GPU | Nvidia RTX 3070 Ti Laptop GPU, 8GB GDDR6, 150W TGP |
| RAM | 32GB DDR5 SO-DIMM 16GB x 2 (4800Mhz) |
| Storage | 1 TB M.2 2280 PCie Gen 4 SSD |
| Ports and I/O | 1x Thunderbolt 4, 1x USB-C 3.2 Gen 2,1x USB-A 3.2 Gen 1,3.5mm Audio Jack, RJ-45,1x USB 3.2 Gen 1 (Always On),1x USB-A 3.2 Gen 1, HDMI (8K @60Hz),1x USB-C 3.2 Gen 2 (Data, 135W PD, and DP 1.4) |
| Battery and Charging | 80Wh; 300W adapter |
| Connectivity | Wi-Fi 6 & Bluetooth 5.1 |
Design and Build
In a world full of gaming laptops that sport RGB lightbars and flashy designs, Legion 5i Pro manages to maintain its own identity, which is a hybrid between play and work. As someone who owns the 2021 Legion 5 Pro, the design is almost identical here, except for a couple of minor changes here and there. As you can see yourself, this model boasts a matte white finish, but the laptop comes in a Storm Grey variant as well. I personally prefer the Storm Grey variant since it blends in nicely and is stealthy, but if you want your machine to stand out just a bit, go for white.
The top and bottom panels of the laptop are encased in aluminum with a plastic deck on the inside. And to its credit, the laptop does feel sturdy and well-built. I encountered minimal to no flex while intentionally bending the keyboard, display, and other parts of the machine.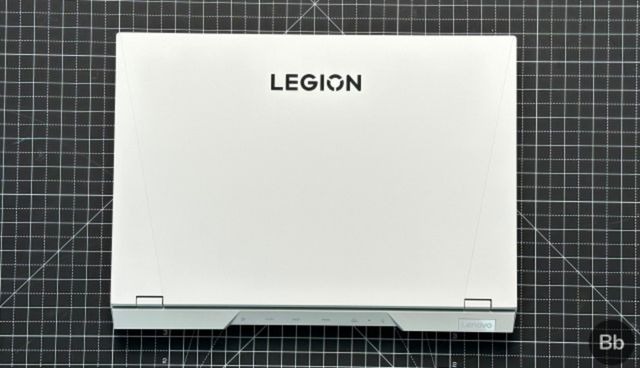 The Lenovo Legion 5i Pro's top panel is simple enough. Instead of the glowing logo found on the 2021 Legion 5 Pro, this laptop has a glossy Legion tag, which looks cool. It is further surrounded by dual slanted lines that run parallel to each other towards the end of the panel. The bottom half of the panel also connects to the I/O panel, which has handy labels for easy recognition.
The bottom of the laptop matches the top aesthetics. Clad in matte white, it features a singular big air intake mesh vent, along with raised rubber feet and slanted lines with curves. This helps the machine with ventilation when placed on various surfaces. The sides of the laptop are naturally thick since they house a big vent each. There are also big dual vents on the back, flanking the I/O panel. So while you will get some excellent cooling (more on this below), don't expect a slim rig. Also, you can also see the speakers on either side here.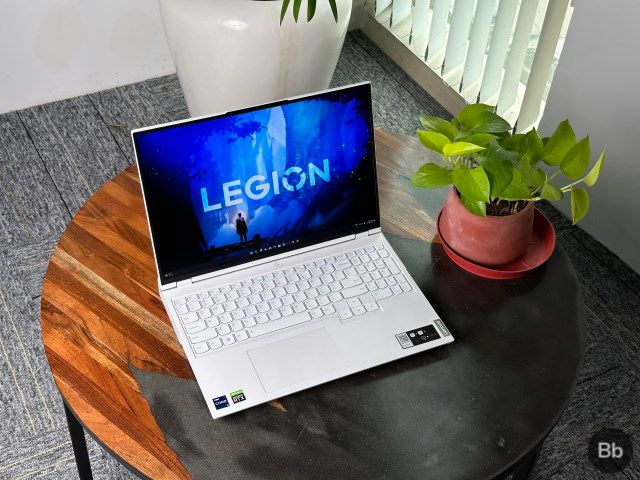 Opening up the lid reveals the gorgeous interiors, including the display, the full-size keyboard, and a big boy trackpad. The display itself has a 16:10 aspect ratio and is bezel-less for that extra space. As mentioned before, it has little to no flex, which I liked.
The Legion TrueStrike keyboard makes a return from the 5 Pro. It is full-sized and placed in a way that gives it a sunken feeling. Plus, I appreciate Lenovo keeping their U-shaped spacious keys along with a dedicated Numpad. Like most gaming laptops, the Legion 5i Pro doesn't come with a fingerprint sensor for quick biometric login. However, it does have a center-positioned power button that lights up when on battery/ charge.
The trackpad itself is fairly big for all your needs but positioned a bit to the left, which might cause problems (more on this later). You have all the standard stickers on the palm rest along with a matte Legion logo on the bottom right.
When it comes to overall portability, the Legion 5i Pro is not a laptop you can carry around with ease. The machine weighs 2.5kgs, and the bulk only increases when combined with the 800-gram power adapter. Taking this entire setup out and about for work is a chore, so I suggest keeping it in one place.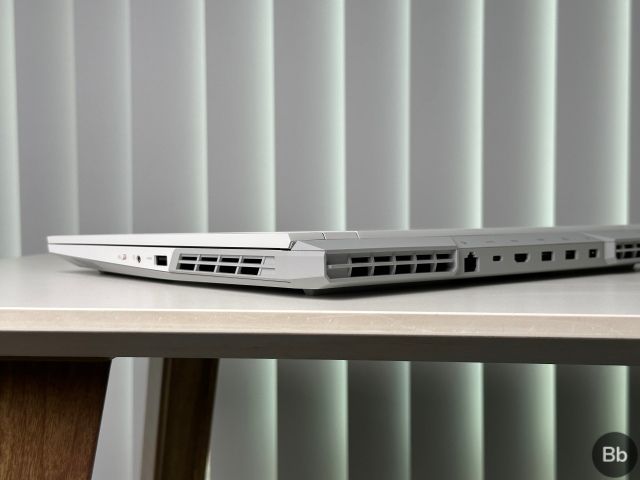 The Lenovo Legion 5i Pro pushes for a design concept that isn't exactly gamer-esque but treads the fine line, making it desirable for many AI data scientists and coders. While the laptop doesn't offer over-the-top theme colors and cutouts, you get just enough pizzazz to tell you it's a gaming machine. As a gamer who loves subtlety more than showing off, I appreciated this design choice, and I'm happy that Lenovo carried this over from the previous iteration. I do miss the glowing Legion logo, though. And this design here is kind-of boring in today's sea of gaming laptops.
Display Quality
The Legion 5i Pro comes with a 16-inch WQXGA IPS display with a 165Hz refresh rate, 500 nits of brightness, Dolby Vision, G-Sync, 100% sRGB, and a 16:10 aspect ratio. Without even breaking it down, you can already tell that it's a hell of a display on paper. And by all accounts, it performs the same too. My uses with this display ranged from routine office work and content consumption to FPS gaming.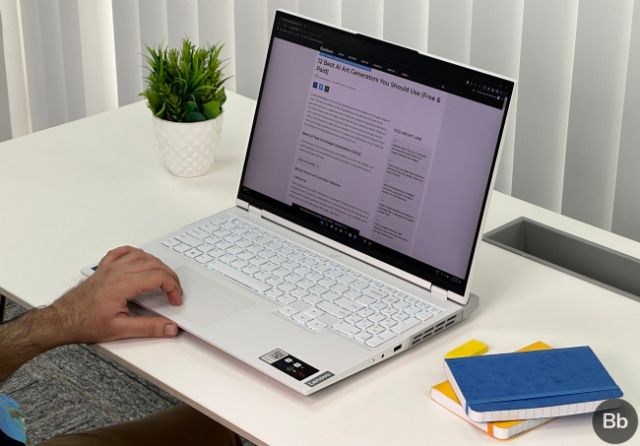 While it borders on sin to just use this laptop for work, the display performs well even if you pick it up for just that. Since it is a sharp 2560 x 1600 display, the text appears crisp and is easily legible on the screen. Combined with the anti-glare coating, this translated to longer hours in front of the screen without eye strain. Another helping factor was the extended 16:10 aspect ratio, meaning more vertical space on the Legion 5i Pro. As a writer/ lurker on Reddit, this extra space really helped me get more real estate out of these websites.
For entertainment purposes, I chose a good mix of HDR and Dolby Vision-compatible TV shows and videos. Streaming the ever-gorgeous Our Planet on Netflix was a beautiful experience. Combined with Dolby Vision, the display showcased the colors accurately and true to life. There were times when I noticed oversaturation in certain scenes but nothing too major. Now, while Legion 5i Pro doesn't have a 100% DCI-P3 display, it comes with 100% sRGB support, which is close enough. I confirmed this using the Spyder X Pro calibration tool at the Beebom office.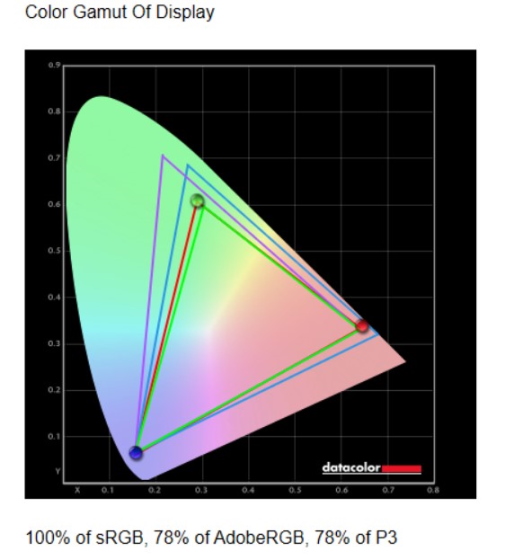 Further, Lenovo does provide an X-Rite Color Assistant with two profiles to choose from, but I didn't feel they made much of a difference. The impressive viewing experience echoed on YouTube too. Speaking of HDR support, the display does come with a very high 500 nits of brightness, which proved to be more than enough in all scenarios. Furthermore, while the display comes with a decent contrast ratio, the display gets dark enough to not give off greying. But, if you want true blacks, we suggest picking an OLED screen laptop.
However, an issue with the Legion 5i Pro's display is the inconsistent brightness adjustment. As someone who loves full brightness, it's not much of a bother. However, when you use the display at around 50% brightness, it feels too low, and you will find yourself looking for the brightness increase control. Nonetheless, if you are going to use the laptop for streaming videos, keep the brightness high, and you will have fun.
Since the laptop is meant for gaming first, I did naturally play a mixture of AAA and eSports titles on it. I will talk about the frames later on, but the display produces a good experience when it comes to gaming. The color accuracy and brightness I mentioned carry over here as scenes from Cyberpunk 2077, God of War, and Rainbox Six Siege look brilliant. further, the high color accuracy meant that the texture-rich surroundings looked true to art, and I had a good time gaming on this machine.
Lenovo Legion 5i Pro comes with a display that did not disappoint me. No matter which line of use I dabbled in, the high-brightness and color-rich screen performed in line with my expectations. So if you're looking for a big screen that can be a jack of all trades without any problems, this gaming machine is a good choice.
Performance
The Lenovo Legion 5i Pro is a laptop that comes equipped with top-of-the-line hardware to the core. Our machine comes with an Intel i9-12900H clocked at 5.00 GHz. For graphics, you get a powerful Nvidia RTX 3070 Ti with a TGP of 150 Watts. When it comes to memory, the laptop has 32GB SO-DIMM DDR5 RAM at 4800 MHz combined with a 1TB M.2 2280 PCIe Gen 4 SSD. While the RAM and storage can be upgraded, you won't need to do in the near future.
To make sure all this hardware keeps cool, Legion 5i Pro also comes with what the company calls Legion Coldfront 4.0 thermal system. To break it down, the laptop comes with a dual fan and four heat pipe setup. You also get a dedicated CPU copper heat transfer block.
As explained above, the laptop fits a multi-user category, and as such, I used it for office work and gaming to test out the 3070 Ti. However, I also ran some benchmark tests to give you an idea about the metrics of the hardware, so let's dive in.
Daily Use
A normal day of usage for me revolves around writing articles, editing a handful of images, and playing videos in the background. However, seeing as the Lenovo Legion 5i Pro is not an everyday laptop, I kicked it up a notch while also retaining my workflow.
Unsurprisingly, the Legion 5i Pro performed pretty well. Even with all my usual Chrome tabs, along with a couple more thrown in for good measure, the laptop didn't even break a sweat. It's worth mentioning that the extra tabs had 4K videos playing in the background while I made sure to use the machine as regularly do. However, CPU usage still stood at around 9%, while RAM usage stood at around 39%. Safe to say, this also means I could easily open a dozen more tabs and videos with little to no stress on the system.
I gave the Legion 5i Pro the same treatment by streaming multiple videos from multiple platforms and had a good experience. So if you are in the market for a laptop that can handle intensive work and play, you have found the right choice.
Gaming
After all that is said and done, the Lenovo Legion 5i Pro is a gaming laptop. Packing a 150W RTX 3070 Ti with 8GB VRAM and the Intel i9-12900H, I went into the testing with high hopes. To stress the system to the max, I choose a mix of demanding games and an eSports game for the Siege fanatics (me). This is how the laptop performed.
CyberPunk 2077 – QHD Ultra, Ray Tracing @ Medium/ Ultra, DLSS Balanced
It is no big secret that the now-fixed CyberPunk 2077 is an extremely demanding game that stresses the best GPUs out there. As such, I chose this futuristic game as my first subject.
Running the game at the laptop's native resolution at the settings above, I got an average of 45 FPS with frames peaking at 50 from time to time. While the Legion's cooling system went into overdrive, the 3070 Ti's temp stayed at 86 Celsius but within the safe limit. While the Ray Tracing looked good at Medium settings, it did push the frames down. I made the mistake of turning off DLSS and instantly got 12FPS. But saner heads prevailed, and I switched back on.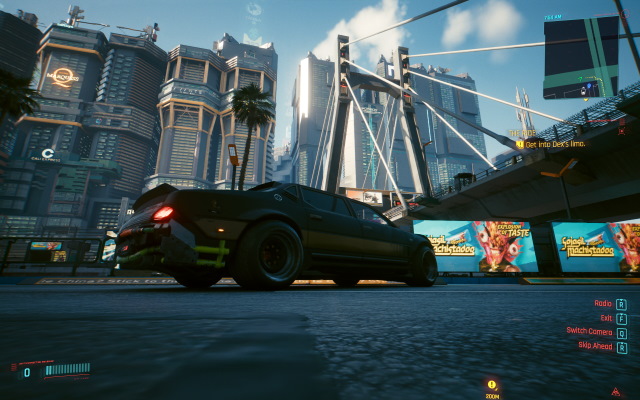 Turning down the resolution to 1920 x 1080 instantly gave me 76 FPS even with Ray Tracing at Ultra and Balanced DLSS. While this was a good experience, I could see the texture downgrade because of the lower resolution. The GPU temperature dropped by a single degree and came to 85 Celsius.
As you can see, the Legion 5i Pro is definitely capable of running 2077 in a variety of settings without problems. While you can squeeze even more FPS by turning off Ray Tracing altogether, I was fine with keeping it on at QHD and lowering some settings to get a constant 60FPS.
God of War – QHD Ultra/Original, DLSS Off
As someone waiting for God of War Ragnarok with an itchy Axe hand, I had to test out this game on this laptop. GOW is a game that fairly stresses the system with its revamped PC graphic settings and textures. While DLSS was available in the game, I opted against it to see how well the laptop can take it.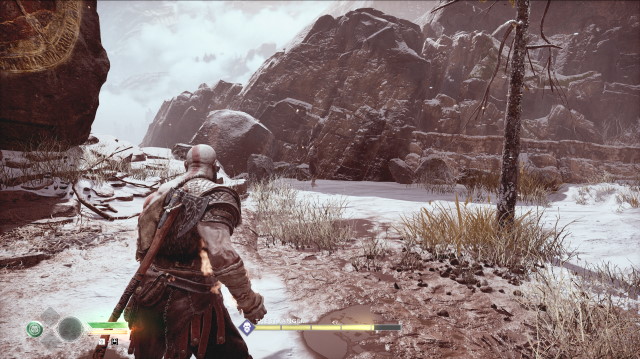 Running at the Ultra preset at native QHD, I got an average of 60FPS with a peak at 71. Keep in mind, this was during the nasty fight you have with Baldur, so there was a lot of flying around and texture spread. However, even with all this, the FPS drops were next to none and the temps remained at 85 Celsius, which was cool enough.
Later, I did turn the resolution down to Full HD, and the graphics preset to Original to give the machine more room to breathe. The frames instantly jumped to 100, with 110 FPS making a cameo every once in a while. As before, there were little to no frame drops and the temps remained the same.
I was happy to see God of War and the Legion play along so well together as my experience with the game was very nice. Since I am just fine with 60FPS, I resorted to the Ultra settings and had fun protecting my dramatic son in the game.
Rainbow Six Siege – Ultra
I cannot let a gaming laptop by without Siege being installed on it. So for all the Siege players out there, I went through a couple of rounds with the game. Siege is a well-optimized and moderately demanding game, so I jumped to the Ultra preset on native resolution.
Going through various rounds of casual matches and training grounds, the game delivered an experience of 120 FPS, which is something I was hoping for. In a game like Siege where every frame matters, 120 FPS is something that will see you winning matches (provided you can aim). I did encounter a frame skip or two, but that was quickly fixed after restarting the game.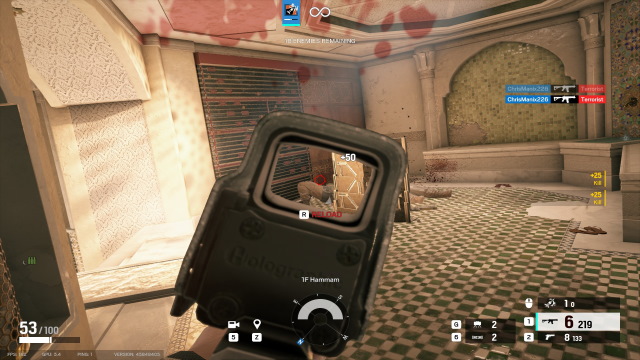 Dropping the resolution down to Full HD instantly gave me 200+ FPS, which exceeded past the display's 165Hz refresh rate. Things were naturally smoother, but as someone who prefers to have the highest textures when possible, I stuck to the Ultra preset.
To summarize, the Lenovo Legion 5i Pro thoroughly impressed me with its gaming performance. Playing the titles above displays that this gaming laptop can handle its fair share of AAA games. I also appreciate the 150W TGP GPU since for a gaming laptop, the higher the GPU wattage is the better.
Furthermore, the built-in Legion Coldfront thermals performed extremely well at keeping things cool. While they did get noticeably loud, I didn't really mind since I use headphones most of the time anyway. So if you are someone looking for a performant gaming laptop with thermals that will keep your machine cool, the Legion 5i Pro can be a good choice.
Benchmarks
While we have already seen that the Lenovo Legion 5i Pro is amazing in real-life scenarios, I did run some benchmarks to get a numerical idea of the same. Here are the results:
CineBench R23
The gold standard for CPU benches, CineBench R23, stresses the SOC inside machines by performing single and multi-core tests. Running the quick enough tests dished out the following results.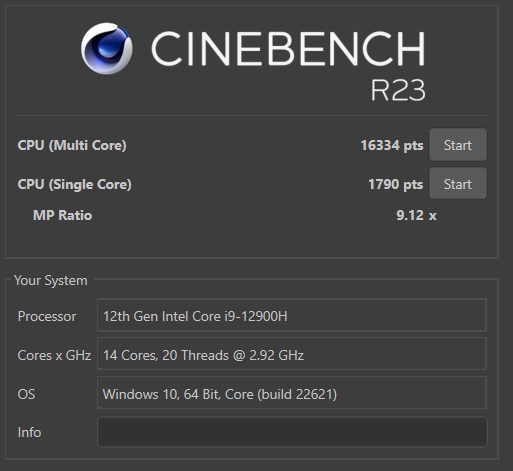 The i9-12900H inside the Legion 5i Pro gave a single-core score of 1790 and a multi-core score of 16334 points. To sum it up, these are some good CPU scores and beats a lot of competitors, including the AMD Ryzen 9 6980HX. So if the daily use case test did not convince you, safe to say these numbers should.
PCMark10
PCMark is another popular benchmark that is focused on daily work and productivity applications. A good score here means your machine should be able to handle your daily workload without problems.

While I already found that out for myself, I still ran a PCMark 10 test. The result was quite nice with a score of 7350. A score above 5000 is generally considered good, so safe to say the Legion 5i Pro has work tasks covered.
3DMark
3DMark is an intensive GPU test that runs various game-like scenarios and dishes out a score. After going through a few animations of the test, the Legion 5i Pro gave a total score of 11,762. As before, this is an impressive score that simply confirms the high-power RTX 3070 Ti performance we noticed above.
Crystal Disk Mark
Crystal Disk Mark is a simple storage test that tests the read and write speeds of your drive. It was a quick two-minute test that confirmed the PCIe Gen 4 SSD speeds I was experiencing during the fast loading times of games.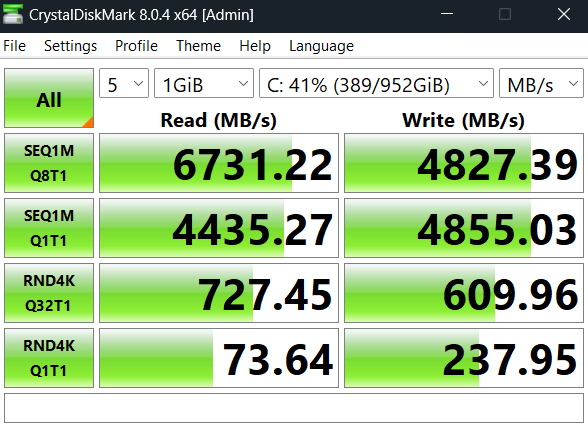 The results stood at the SSD giving read and write speeds of 6731 MB/s and 4827 MB/s, respectively. As you can see, these are blazing-fast speeds which will translate to fast transfer times and seeing fewer loading screens in-game.
Software and Lenovo Vantage
The Lenovo Legion 5i Pro does come with a fair bit of pre-installed software – some useful and others downright annoying. I will begin with the latter. The laptop comes pre-installed with McAfee Antivirus, which had an expired subscription and reminded me to renew it every other hour. As someone who sticks to Windows Defender among other antivirus software, I opted against it. The laptop also comes with a few more apps, like the Dolby Vision app, the Lenovo Smart Keys app that offers quick app shortcuts, and MS Office Home and Student.
However, the centerpiece is Lenovo Vantage, the company's all-in-one control center for controlling almost everything from one place. If you've read our review of the Legion Slim 7, you will know what I'm talking about. Since this laptop comes with Vantage right out of the box as well, it becomes incredibly convenient.
Like other hardware monitoring software, Vantage lets you monitor your CPU, GPU, and VRAM usage at a glance. So if any app on your laptop ends up using extra resources, you will know instantly. However, a big part of Vantage is also its gaming-centric controls and that's what I liked it for.
Lenovo offers the ability to choose from various thermal modes that let you choose the combination of power and thermals the laptop makes to give you either performance, balance, or silence. So all you need to do is click on these modes, choose your pick, and be done with it.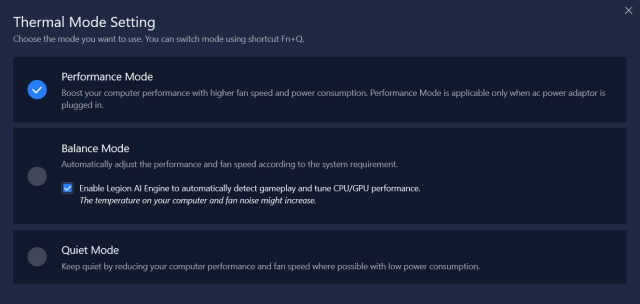 To amp up your experience even further, Vantage also offers built-in GPU overclocking that lets you adjust the GPU clock and VRAM offset to squeeze a bit more juice out of them. However, be warned that Lenovo doesn't take responsibility if there's any damage to your laptop.
Since the Legion 5i Pro also comes with a MUX Switch, meaning you get a handy GPU mode that automatically decides whether to use the dGPU or Integrated graphics for a task. You can also just let the laptop decide what's what and be done with it.
Another handy thing here is that you can update your laptop's drivers from the software itself. So thankfully, there's no need to hunt for drivers or pay for other apps. You can use our dedicated guide to update drivers on Windows 11 PC if you are facing any trouble. Besides that, you also get other finer settings that let you see your battery's health and warranty, and control the camera and keyboard settings, including the 4-zone RGB and its effects. However, we had the single blue backlight model, so the keyboard settings were MIA.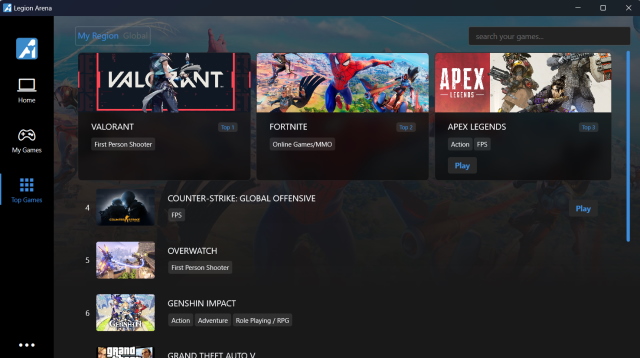 Vantage also comes with Legion Arena, a companion software that lets you see the most popular games being played at a glance. You can also see all installed games on your laptop from here. The software automatically leverages the laptop's AI to ensure your installed games run smoothly.
Keyboard and Trackpad
The Lenovo Legion 5i Pro comes with a full-sized keyboard and a dedicated Numpad. Our white model comes with a blue backlight but the Legion does offer a full 4-zone RGB variant. The keyboard is paired with a big trackpad that veers a bit to the left because of the space taken by the arrow keys.
I have always liked typing on Legion laptop keyboards, and this time was no different. The keyboard delivers a balanced amount of key travel (1.5mm) that gives feedback without being overbearing. For me, this translated to good key registration, but no pain in fingers. The keycaps are a bit curved and are U-shaped for easy grip.
Thankfully, the keys are also wide so I had little to no typing errors while touch-typing. I usually confirm my experience using one of the best typing test websites, and safe to say, my experience was mirrored with typing speeds going as high as 83 words per minute. The same swift experience was replicated while I was gaming away as movements and quick peeks in Siege felt smooth and my fingers fell on the keys naturally.
The keyboard comes with a healthy variety of quick shortcuts including a mic mute button, Lenovo smart key, brightness and volume controls among others. However, my favorite shortcut is FN+Q, which lets you quickly switch between the thermal profiles I mentioned above in the software section. You can also switch between the various keyboard effects or turn the backlight on/off with FN+Spacebar.
While the power button itself doesn't have a fingerprint sensor, it does have a small light that goes Red when the laptop is charging and white when on battery power. Something tells me this should have been reversed.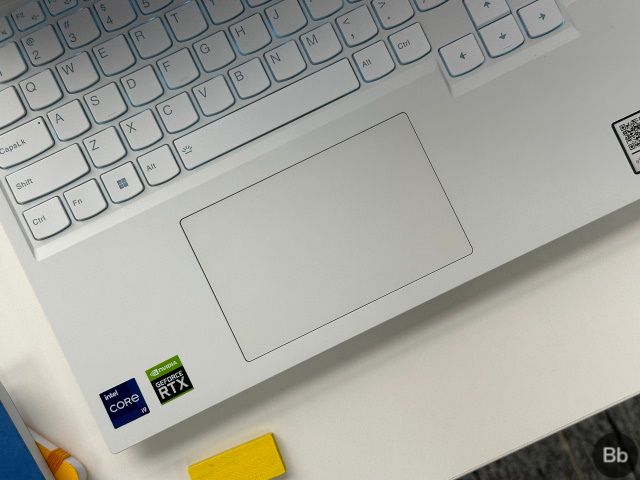 The trackpad itself is big-sized and fairly nice. It has a smooth surface, which means your fingers will glide on it without resistance. There are hidden left and right buttons, which are a bit stiff to click. However, for me, a small problem is the trackpad's position. Because it has been placed to the left, there were times my palm made random scrolls and clicks while typing. Thankfully, Lenovo recognizes that issue and includes a trackpad lock shortcut on the keyboard, but it's bothersome nonetheless.
Ports and Connectivity
Since a gaming laptop will basically be a PC replacement, it needs a good set of I/O ports to make sure all your devices can be connected without additional dongles. Lenovo does a good job of that with the Legion 5i Pro. The left side of the laptop has a single Thunderbolt 4 port (DP 1.4) along with a USB-C 3.2 Gen 2 (Data and DP 1.4). The Thunderbolt 4 will give you fast transfer times when you need it.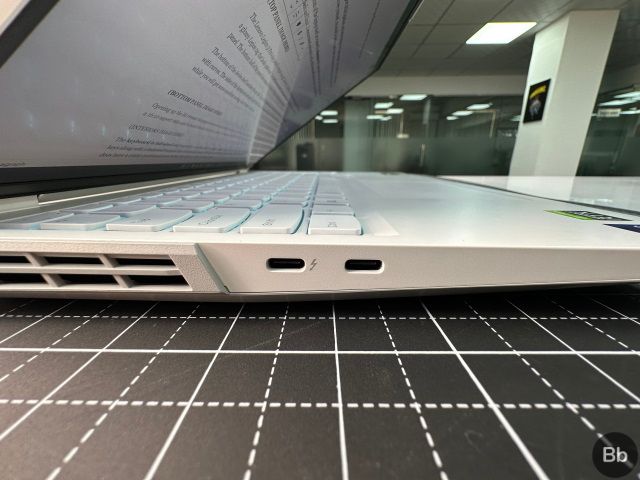 The right side of the laptop has a 3.2 Gen 1 USB-A, a 3.5mm headphone/mic combo along with a physical camera shutter that turns red when it is on. However, that's not all.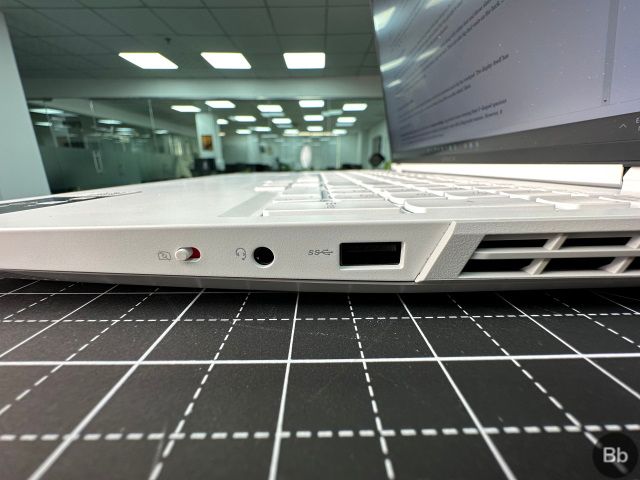 The back I/O panel of the Legion 5i Pro packs two 3.2 Gen 1 USB-A ports (one of which is always on), a 3.2 Gen 2 USB-C port (for Data, 135W PD charging, and DP 1.4), an HDMI port (up to 8K 60Hz) along with the power in port for the massive 300W charger.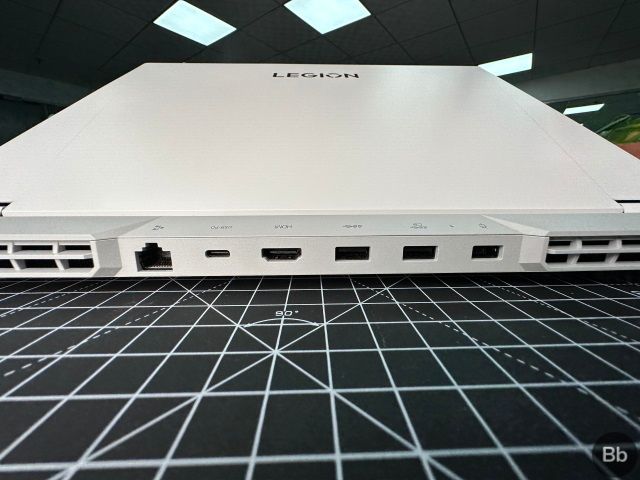 When it comes to connectivity, the Legion 5i Pro comes with Wi-Fi 6 and Bluetooth 5.1. If you want wired Internet, you get an RJ-45 port on the back too. The overall I/O selection here is vast and will easily fulfill any gamer who wants a multi-monitor setup, along with multiple peripherals.
Audio Quality
The Legion 5i comes with a dual speaker system positioned at the bottom. While there is no special tuning or Dolby Atmos, you do get the Nahimic Audio that lets you adjust various aspects such as Bass, Treble, Surround Sound, Voices, and more. The speakers, while not the best, produce good audio quality that holds up. There were times when the audio sounded a bit hollowed out but through some tuning via Nahimic, I fixed that. There is also no crackling or tinniness on maximum volume. The bass is naturally non-existent since it lacks any subwoofers.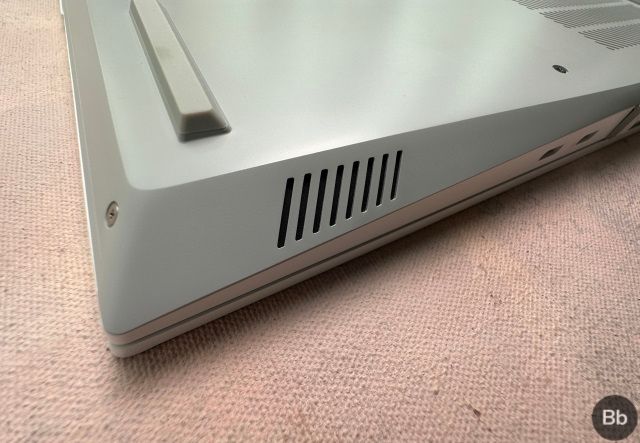 Overall, the dual speaker setup on Lenovo Legion 5i Pro is good and provides a good combination of quality and loudness. While I won't recommend playing these speakers in large gatherings, they will do nicely in solo Netflix sessions, meetings, and the like.
Webcam and Microphone
Like most laptops, the Legion comes with a standard 720p webcam that is nothing to write home about. The output photos and videos I took during my testing were decent. There were a good amount of details considering the camera quality. There were grains in shots and in low light, but it will do. The camera also comes with Tobi Eye tracking for select games. I tried it with Far Cry 6, and it worked well enough. However, as someone who prefers his controller, I stuck to it.
The dual mic setup, however, on the laptop is actually nice. It captures all manners of voice quite well and without distortion. The mic isn't overly loud and quiet and well-balanced. The mics also support Lenovo Smart Noise Cancellation, which lets you filter excess ambient noise from a variety of calls and even speakers. So you can go ahead and choose the Shared mode for all voices or Private mode for noises from certain angles.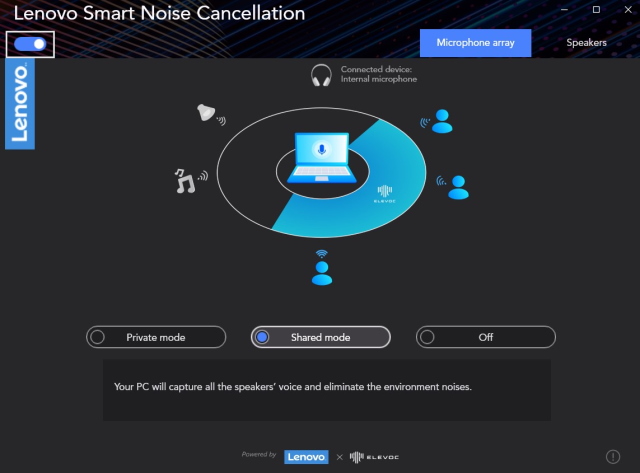 Overall, this is a decent camera and microphone combo that will easily let you attend Discord calls and watch movies together, casual and business meetings, and general use. However, I don't recommend going on Twitch and streaming with these.
Battery and Charging
Finally, the Legion 5i Pro comes with an 80Wh battery and a 300W charger. In my usage, I kept the laptop's battery at the best power efficiency plan, with the display at 60% brightness and 165Hz refresh rate. I also made sure to turn on "Hybrid" mode, so the laptop won't revert to the 3070 Ti. My overall experience with the battery life was what I was expecting.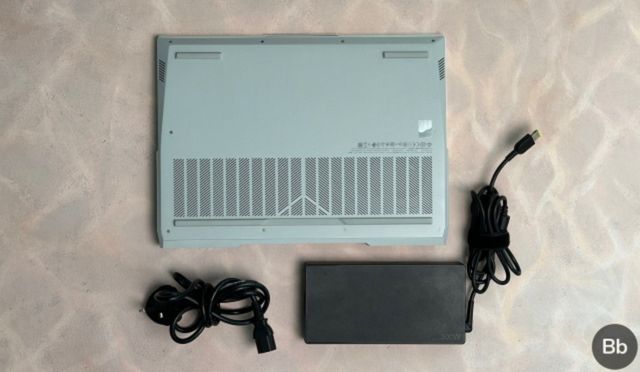 The laptop lost around 28% in one hour. Keep in mind that my use was moderate with Chrome tabs, writing, and editing. There were no 4K videos or intensive apps running. However, the laptop didn't heat up and was comfortable to use. From the time I had begun to when the machine was at 10%, the Legion 5i Pro lasted a little under 4 hours. All things considered, this is a decent number. You might be able to squeeze an hour more by turning down the refresh rate, but I like 165Hz so I didn't. Don't game on battery, though! Never!
Thankfully, the laptop comes with Rapid Charge which is insanely fast. The Legion 5i Pro charged up from 10% to 80% in 19 minutes flat. But keep in mind that Rapid Charge increases wear and tear on your battery, so don't use it regularly. For those concerned about long-term battery life, Lenovo also offers a Conversation mode that limits charging to 60% for longer life. Overall, the battery life was decent.
Lenovo Legion 5i Pro: Pros and Cons
| PROS | CONS |
| --- | --- |
| Sturdy build, no flex | Bulky build and charger |
| Overall powerful performer | 720p camera fails to impress |
| Beautiful and bright 165Hz panel | Speakers could be better |
| Satisfying typing experience | |
| Fast charging is a plus | |
Lenovo Legion 5i Pro: Brilliant Performance, But at a Hefty Price!
The Lenovo Legion 5i Pro is a gaming laptop that gets a lot of things right. The laptop offers a powerful set of specs, including the 12th Gen Intel Core-i9 CPU combined with the power of RTX 30-series GPU. With solid performance across the board in work and gaming, it's hard not to use this laptop and picture it as your next machine. However, while this 2022 model is a good refresh to the Legion 5 Pro, there's no doubt, it's also expensive. While our fully specced out variant has to be customized and costs around Rs 220,000, you can get the Intel Core-i7, RTX 3060 variant for (Rs 162,990) and customize it further according to your needs. While there are always some offers floating around, there is no doubt that the Legion 5i Pro is a tall order.
However, if the price does indeed bother you, and you're willing to change companies, there are a few alternatives. One such machine is the Acer Predator Helios 300 with an i9-12900H, 3070 Ti setup that will set you back (Rs 199,990). However, do note that it comes with a QHD/ 300 Nits screen compared to the 500 Nits QHD one on the Legion 5i Pro. If you would rather go for an AMD gaming machine, we suggest checking out the ASUS ROG Zephyrus G15 (Rs 194,990), a powerful rig hosting a Ryzen 9 6900HS combined with a 3070 Ti. While you do gain a QHD 240Hz screen, the G15 gives you half the RAM, a 120 Watt GPU, and a lower-specced CPU.
At the end of the day, it all comes down to what parts of a machine you love and what you can compromise with for the budget. However, my personal experience with the Legion 5i Pro has proven that it can handle whatever I throw at it without problems. While it definitely is heavy and not the type to lug around with you, I don't expect my gaming laptops to be feather-light. Combining the Legion's performance with a beautiful screen and solid build quality, the Lenovo Legion 5i Pro is a laptop I can see myself sinking my money into.
If you decide to get yourself a Legion 5i Pro, do yourself a favor and customize it according to your preferences to get that perfect combo. And that wraps up my review of the Legion 5i Pro. How do you feel about this gaming laptop? Do you think this 2022 upgrade is worth a buy? Or are you waiting it out for the Nvidia 4000 series mobile GPUs? Let us know your thoughts in the comments below.
Pros and Cons
The Lenovo Legion 5i Pro serves to be a good 2022 refresh of the ever popular gaming laptop series. With solid specs and performance across the board, this is a gaming laptop that takes your money and gives it back and then some. While the weight and brick charger might be something you won't like, that's the tradeoff for performance as good as this.
---
Load More