WeTransfer is one of the widely popular file-sharing services in the world, but recently the Department of Telecommunications of India banned the website in the country. The reasons cited by the ministry are "national interest and public interest". While it's unclear what that entails, at the moment, the website is unreachable on almost all the major ISPs except for Airtel and ACT Fibernet. So, if you are also suffering from this ban then worry not, we have you covered. In this article, we have curated a list of 7 best WeTransfer alternatives from where you can send files in a jiffy. Just like WeTransfer, we have also included some services that don't require you to create an account. And most importantly, we have put special emphasis on the security front of all the file-sharing platforms. So without further ado, let's go through the list.
Best WeTransfer Alternatives in 2020
1. Firefox Send
Firefox Send is my top recommendation if you are looking for a WeTransfer alternative. WeTransfer was not just popular for its quick service, but also for its well-guarded security. And Firefox Send brings all of that with enhanced protection. Firefox Send is one of the few file-sharing services that support end-to-end encryption. It uses 128-bit AES-GCM encryption to encrypt the files in the browser. For clarity, WeTransfer uses 256-bit-AES encryption at rest and TLS while in transit. By no means, WeTransfer's encryption is weak but end-to-end encryption allows decryption only on the recipient's computer, leaving no room for tampering or intercepting by third-parties.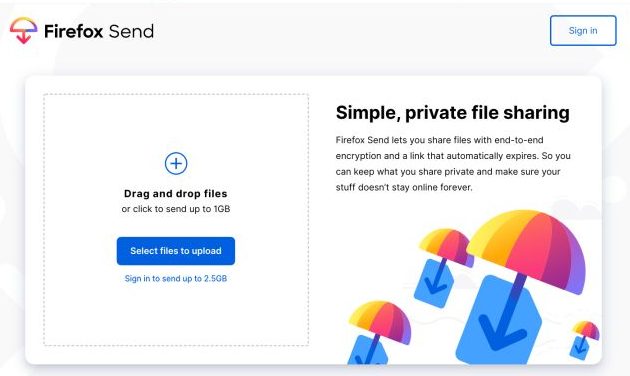 Firefox Send can transfer files up to 2.5GB, a bit higher than WeTransfer's 2GB. However, keep in mind, you will have to create a Firefox account to send files above 1GB. What's more, you can password-protect and set a download limit to your files. This will help you protect your files from unauthorized users, even if they get hold of the download link. All these features were available on WeTransfer, but only to paid users. However, you get all the essential features on Firefox Send without paying any charge. To sum up, I would highly recommend Firefox Send in place of WeTransfer and you should definitely give it a try.
Visit Website (Free)
2. Smash
Smash is another promising alternative to WeTransfer and I think you are going to love its free service. Unlike WeTransfer that has a size limit of 2GB for free users, Smash offers unrestricted file transfer which is just crazy. Smash claims that it has handled files of up to 350GB as well. However, keep in mind, if you send files above 2GB then the processing will go through the non-priority transfer route meaning the transfer speed will be slower. Nevertheless, since you are getting such an awesome service for free, you can't complain much. Further, you also get password-protection and file previews under the free tier of Smash which is just great.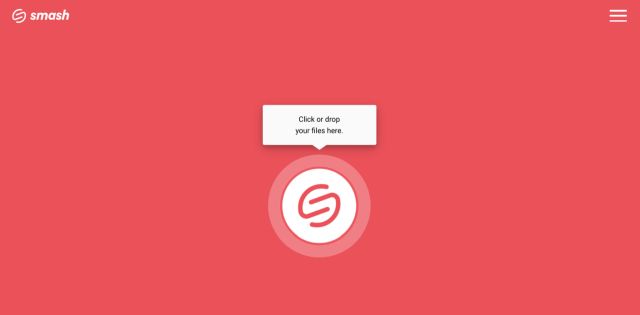 Moving to security, well, Smash deploys the same encryption technique as WeTransfer. It uses the 256-bit-AES standard to encrypt the stored files on its server and utilizes the SSL/TLS protocol during transit. As we all know, it will take millions of years before a computer can brute-force an AES encryption key so your data is in safe hands. Having said that, Smash only keeps your files for 14 days under the free service. If you want a longer duration (1 year) then you can opt for the paid plan which also brings faster speed for larger files, URL customization, and transfer management. All in all, Smash is an easy-to-use service just like WeTransfer and you should give it a shot.
Visit Website (Free, Paid plans start at $5/month)
3. Google Drive
Google Drive is an obvious choice for many users who are on a lookout for a WeTransfer replacement. While it requires you to sign in with your Google account, I think it's worth it given that you get lots of security features for free. For instance, you can upload a file and choose to send it via an email just like WeTransfer. Through the email channel, you are preemptively stopping third-parties to access your files, even if they get hold of the download link. In case, you want to share a link, you can also customize who can view, edit, or comment on the files. Basically, you are getting all the premium features of WeTransfer on Google Drive without paying a dime.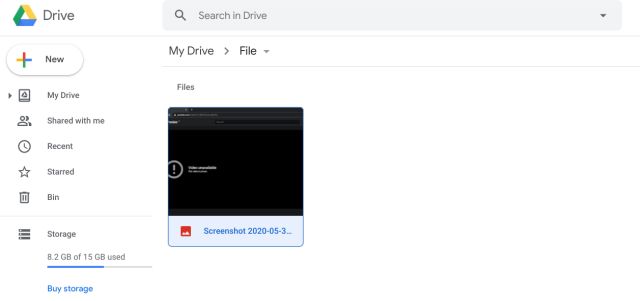 Apart from that, Google Drive offers 15GB of free cloud storage and you can send files and folders of any size within the said limit. It's again much larger than WeTransfer's 2GB size limit. Coming to security, Google Drive brings a similar level of encryption standard as WeTransfer. All your files stored on Google Drive's servers are protected using 128-bit AES encryption and 256-bit TLS encryption during transit. In simple terms, Google Drive is pretty secure and reliable. To conclude, if you can live with the sign-in requirement then Google Drive is one of the best alternatives to WeTransfer.
Visit Website (Free, Paid plans start at $1.99/month)
Note: Read our article on Google Drive tips and tricks to use it like a pro.
4. OneDrive
Similar to Google Drive, OneDrive is a cloud storage service by Microsoft. In a way, it's not a direct competitor to WeTransfer, but you can definitely use it to send large files across the web. The free tier of OneDrive allows you to upload files of up to 5GB which is decent enough and it's also much larger than WeTransfer's size limit. The best part about OneDrive is that it offers many file protection features that are only available if you opt for WeTransfer's premium plans. To begin with, you can send files to specific people through email. Further, you can set a password to add another layer of protection to your files. And you also have the option to set an expiration date which will remove access to the files from the given link.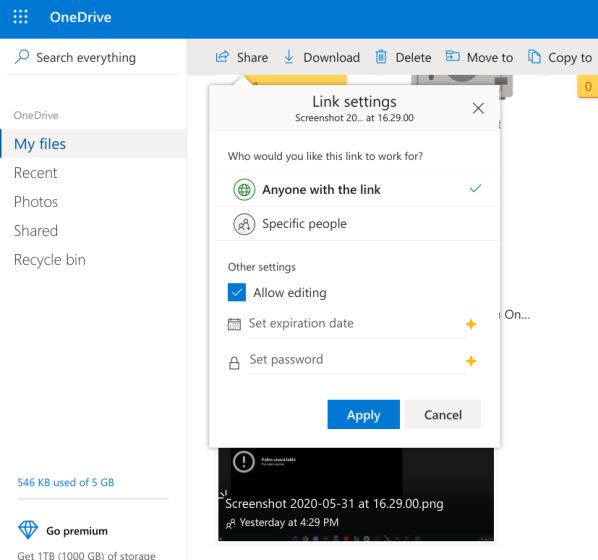 Other than that, on the security front, you get industry-standard protection, similar to WeTransfer. Files in transit from the browser to Microsoft's servers are encrypted using Transport Layer Security (TLS) protocol. And each file at rest is encrypted using a unique AES256 key. Microsoft states that these unique keys are encrypted with a set of master keys that are stored in the Azure Key Vault. All in all, OneDrive is a secure and capable alternative to WeTransfer, but bear in mind, you can't use the service without logging to your Microsoft account. If you are content with this limitation then OneDrive can easily replace WeTransfer for you.
Visit Website (Free, Paid plans start at $1.99/month)
5. Dropbox
Dropbox is a cloud storage service, but recently the company released a dedicated "Transfer" platform to send files quickly to anyone on the web. You can send up to 100MB of files which is sure nowhere near WeTransfer's size limit, but if you generally send small files then it works pretty well. You can also get a notification when your transfer is downloaded and check the number of times the file has been viewed. However, keep in mind, the upload process is not as straightforward as WeTransfer. You need to create a Dropbox account to be able to send a file, but recipients can download the file without having to log in. Also, there is password protection and link expiry feature but those are behind the premium plan. Apart from that, if you find the size limit too little then you can sign up for Dropbox Basic. It's a free account and offers you 2GB of cloud storage. You can upload your files there and send them to anyone you want.
Thankfully, Dropbox offers sharing via email which means only authorized users can access the file through the download link. Further, you can create a shareable link too which can be viewed and downloaded by anyone. Moving to Security, Dropbox utilizes AES 128-bit standard to encrypt stored files on the server and TLS protocol while communicating. If you want AES 256-bit encryption like WeTransfer then you can integrate Cryptomator (a cloud encryption service) to further enhance the security. Simply put, Dropbox Transfer is quite good for sending small files and can act as a WeTransfer alternative. And if you want more size limit then there is Dropbox Basic for you.
Visit Website (Free, Paid plans start at $9.99/month)
6. Send Anywhere
Send Anywhere is another popular service for transferring files having both small and large footprint. It's ranked among the best WeTransfer alternatives because of its vast number of features. Under the free account, you can easily send files using an Input Key. This is called the direct method where you just upload the file and get a 6-digit key. Now, enter the Input Key on the recipient's end and there you have it. Easy peasy! In case, you want to send files through a link or email then you will have to sign up for their account. As for the size limit, well, you can send files of up to 10GB under the free account so that is awesome.
Having said that, some of the essential features like password-protected links, download count, and expiration time are only available under the premium plan. Further, you will have to experience a few seconds of ads before you can get the download link or the Input Key under the free tier. In terms of security, Send Anywhere mentions that files are encrypted during transit and at rest. However, it does not state the protocol or encryption method. To put it straight, Send Anywhere is a convenient tool for sending files on the internet and can replace WeTransfer for all your needs if you choose to get its premium plan.
Visit Website (Free, Paid plans start at $5.99/month)
7. Filemail
Unlike WeTransfer that offers a free tier, Filemail is a paid-only service for sending large files across the web. The Pro plan starts at $5/month and offers 100GB of storage with 30 days of file retention. As the service mostly caters to businesses, the security is top-notch and brings some of the advanced features. You can password-protect your files, and enable 2-factor authentication. Further, you can keep track of sent and received files with a download meter and check who viewed your files. You can also customize the background image and add other visual elements to promote your brand on the download page.
The best part about Filemail is that you can integrate it with services like Zapier and other web automation platforms. As for security, Filemail deploys AES-256 key encryption for stored files and while transit between the server and the client. Basically, the protection is industry-standard and it's very similar to WeTransfer. To conclude, Filemail is not the best file-sharing solution for individuals, but if you run a business then Filemail can stand up to your expectations.
Visit Website (Free Trial for 7 days, Paid plans start at $5/month)
Keep Sending Files With The Best WeTransfer Alternatives
So those are our picks for the best replacement for WeTransfer. We have made sure to include services that offer quick file sharing features without having to sign in with an account. However, there are only a handful of them and if you need a large size limit then you will have to create an account. Anyway, that is all from us. If you found the article helpful or you have any questions for us then do comment down below and let us know. We will try our best to help you out.