The new iPhone 15 and iPhone 15 Plus come with a Ceramic Shield to keep the display safe. However, if you're serious about keeping your iPhone's screen unscratched (and uncracked), a good quality screen protector is the only way to go. So, here are the 5 best iPhone 15 and iPhone 15 Plus screen protectors you can buy.
1. Belkin Screen Force UltraGlass2
Belkin's UltraGlass2 might be considerably more pricey than any of the other options on this list, but it brings features to match. This screen guard is 2.7 times stronger than tempered glass for drop protection, and comes with 9H hardness rating so you won't get it scratched unless you're really trying. It comes with 2.5D edges that fit the iPhone 15 and iPhone 15 Plus perfectly, and thanks to its 0.29mm thin profile, you won't even feel it on your screen.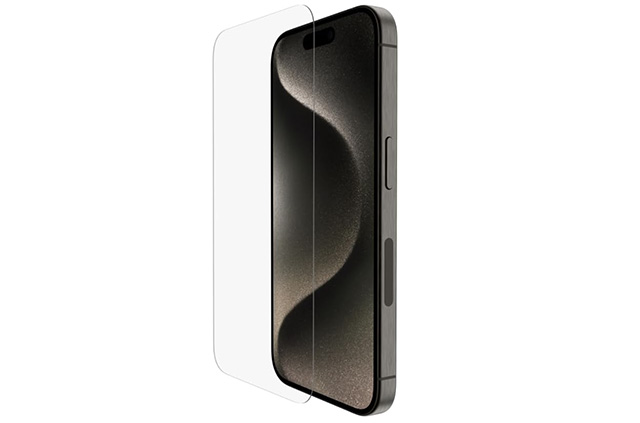 Buy the Belkin Screen Force UltraGlass2: iPhone 15 ($39.99), iPhone 15 Plus ($39.99)
2. Spigen GlasTR EZ FIT (2 Pack)
Spigen's EZ FIT series of screen protectors is my personal favourite. This tempered glass ensures that your screen is protected from drops, bumps, and scrapes, and it is rated at 9H hardness to protect your iPhone 15 from scratches. It also comes with an installation kit to make it easy for you to install the screen protector by yourself without the worry of getting air bubbles. Plus, it's a 2 pack, so you can replace your older one without having to buy a new one.
Buy the Spigen GlasTR EZ Fit (2 Pack): iPhone 15 ($17.99), iPhone 15 Plus ($17.99)
3. QHOHQ Screen Protector with Camera Lens Protector (3 Pack)
While I don't find myself worrying about this particular issue, there are many around me who are constantly fearful of scratching their iPhone's camera lens. If you are, too, you can check out this screen protector from QHOHQ which comes with camera lens protectors as well. This pack of 3 tempered glass screen guards is rated at 9H hardness for scratch protection, and is just 0.33mm thick — ensuring perfect touch response, and 99% retention of the original picture quality. The camera protectors can be applied to ensure that your iPhone's camera doesn't get scratched either. Although, if you use one of our recommended cases for iPhone 15 and iPhone 15 Plus, you won't have to worry about scratching your camera lens anyway.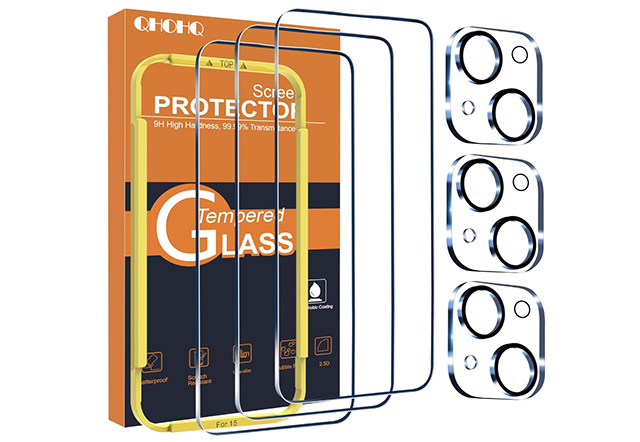 Buy the QHOHQ Screen Protector: iPhone 15 ($8.96), iPhone 15 Plus ($8.96)
4. Privacy Screen Protector for iPhone 15 and iPhone 15 Plus (3 Pack)
I don't know about you, but I find it really annoying when people around me (especially in public transport) keep peeking into my iPhone. That's where this privacy screen protector comes in. It's available in a pack of 3, and makes sure that no one can look into your screen from the side. It's a tempered glass with 9H hardness rating, so you can rest assured that it will protect your display as well. QHOHQ also includes an alignment frame in the pack for easy installation. Do note though, that privacy screen guards drastically reduce the brightness of your display.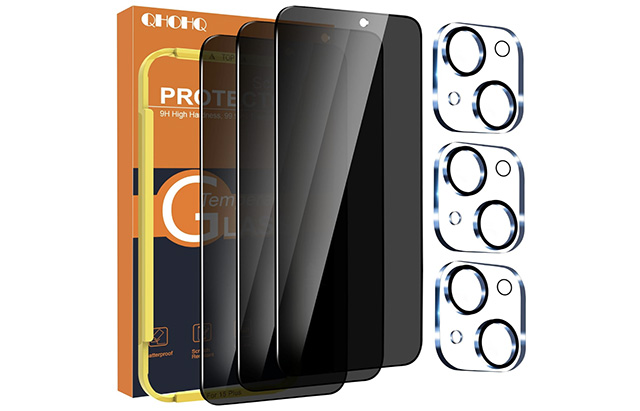 Buy the QHOHQ Privacy Screen Guard: iPhone 15 ($9.96), iPhone 15 Plus ($9.96)
5. Magglass Matte Screen Protector
Even with its ridiculously high peak brightness, the iPhone 15's glossy screen doesn't lend itself well to being used in direct sunlight. If you often find yourself blinded by reflections on your iPhone display, the Magglass matte screen protector is for you. It brings all the tempered glass goodies, including 9H hardness rating, in a matte spec, so your iPhone screen will be less reflective. It also comes with an easy alignment guide, and is backed by a lifetime warranty.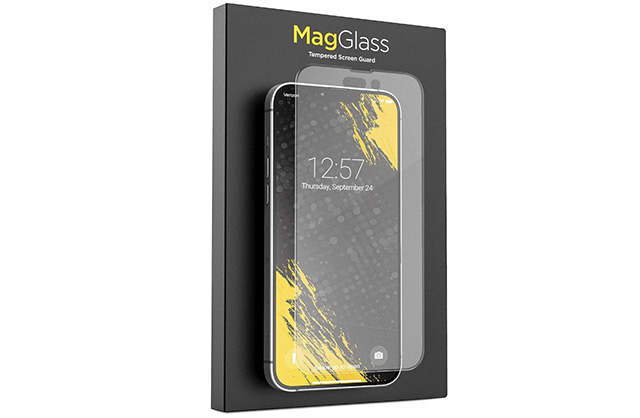 Buy the Magglass Matte Screen Protector: iPhone 15 ($15.99), iPhone 15 Plus ($17.99)